So you're planning a trip to Fort Wayne, and you're curious as to where is the best place to spend a night out on the town. Ask anyone, and their succinct reply would be "The Landing."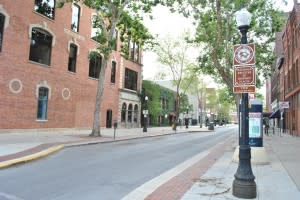 Why The Landing, you ask? Not only will you get a taste of some excellent local cuisine but the local music scene also. If not for those reasons, then for the endless dancing. All of this on one quaint little street that forms the "crossbar" of the H that is South Calhoun and South Harrison Streets. But why is it called "The Landing," you ask? Quite simply, It's called that because in a past life it was a landing—a port—for canal boats. Only a fraction of the much larger Wabash and Erie Canal system, ground for Fort Wayne's section of this pre-railroad transportation wonder was broken on February 22, 1832 and dedicated on July 4, 1843. With that, not only were Lake Erie and the Ohio River connected, but the city's incredible growth was initiated. Aside from the feat of engineering that was the canal itself, its most distinguishing features were its two boat turning basins. One, the Orbison Basin, was located on Harrison Street, and the other, the Comparet Basin, was located on Lafayette. In addition to the canal, it was also right there on The Landing that Fort Wayne's first Post Office (1820), hotel (1823), newspaper (1833), theater (1851), and railway station (1853) were built. But like so many other innovations of its kind that were born into that age of rapid progress that was the 19th century, it was destined for a short life.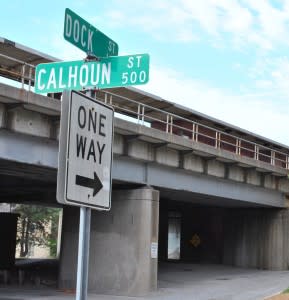 Commerce eventually moved to the rails and the canal was abandoned in 1874. It was then sold to the Nickel Plate Railroad in 1880 and closed permanently in 1882. Fortunately, a bit of it can be seen in the John Brown Canal House just around the corner on Superior Street and the elevated railway track that closely traces the its route. And, as a sort of homage, the street that runs parallel to the track is called Dock Street, because that's what it was—a dock. Now when you find yourself Downtown on The Landing standing on the corner of South Calhoun and Columbia after you've had Mexican food the way it should be at El Charrito, saw some of the local music for which Fort Wayne is famous at Columbia St. West, and danced to the best music of the last three decades at Flashback, or, only a few doors down, to the hottest Latin music in the city at the Cancún night club, you can look south, imagine the grand canal and know how The Landing and Dock Street got their names.