Family Getaways with Children
Family is at the heart of Fort Wayne, Indiana. With high-quality attractions, affordable admissions, and that big city, small-town feel - families LOVE Fort Wayne! And when you visit, you become a part of that Fort Wayne family.
Discover can't-miss attractions and insider tips to help you plan a family getaway!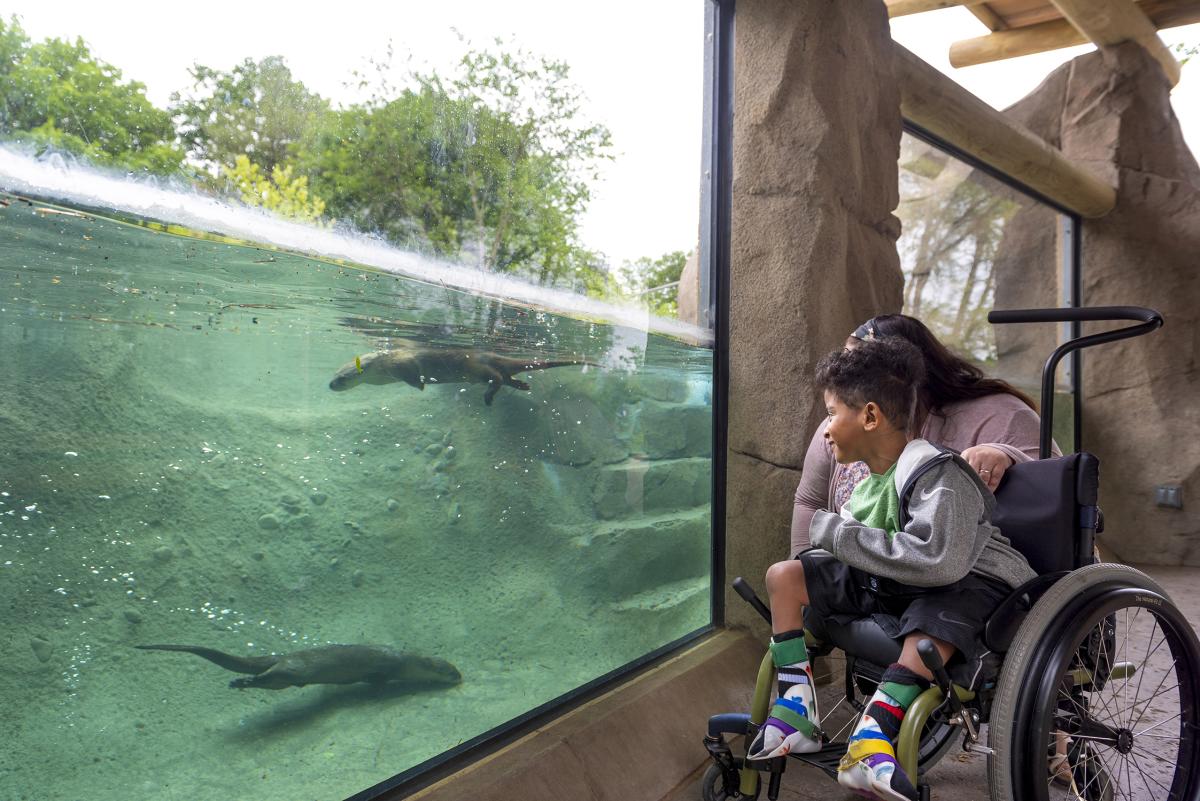 Can't-Miss Attractions
From year-round attractions to summer favorites, Fort Wayne's family-friendly attractions are the highlight of any trip.
1. Fort Wayne Children's Zoo
Enjoy a wild time at the nationally ranked Fort Wayne Children's Zoo. Feed a giraffe, tickle your toes in the treetops on the Sky Safari, or pet a stingray in the Australian Outback. At the Fort Wayne Children's Zoo, you'll find 42 acres—and countless activities to fill the day!
2. Promenade Park
Visit the one-of-a-kind Promenade Park. Locals love to relax on porch swings, kids love the accessible playground and kids' canal, and everyone enjoys a walk along the tree canopy trail or a game of ping pong and cornhole.
3. Science Central
Indiana's only hands-on science center, Science Central is a great year-round attraction for families. Spark your imagination with more than 200 exhibits including water tables for younger guests, challenging experiments for teens, or the Science on a Sphere exhibit perfect for the whole family!
4. Botanical Conservatory
Another favorite year-round attraction is the Botanical Conservatory where families can wander through a sea of lush gardens and tranquil waterfalls. The Botanical Conservatory is a lush oasis in the heart of downtown Fort Wayne, and also offers four seasonal displays with a live butterfly exhibit every summer.
5. Fort Wayne Museum of Art
Experience the Fort Wayne Museum of Art in the heart of downtown Fort Wayne, now part of the growing Arts Campus. The Fort Wayne Museum of Art is an American Art Museum that offers diverse exhibitions of contemporary and historical art from the 19th century to today. Permanent glass displays shine alongside innovative changing exhibits.

Mark Your Calendars
Festivals and events make for the perfect activity to plan your trip around. Mark your calendars for your favorites or check VisitFortWayne.com/events while in town!
1. TinCaps Baseball
Set in a gorgeous downtown park setting, a TinCaps game is truly fun for the whole family - and seats on the grass start at just $6. No wonder a TinCaps game is ranked as the #1 Minor League Experience!
Insider Tip — Be sure to stick around for the post-game fireworks throughout the summer.
2. Festivals
Every weekend of the summer, Fort Wayne comes alive with celebrations of our culture, arts, and food. Mark your calendars for festival favorites like Arab Fest, Germanfest, Greekfest, Gear Fest, the Three Rivers Festival, and Taste of the Arts!

Additional Activities
On hot summer days, nothing beats a trip to a splash pad or the shaded paths of Fort Wayne's more than 120 miles of trails. These additional Fort Wayne activities make for the perfect additions to any getaway - or they could be the whole focus of your itinerary!
1. Outdoor Adventures
Explore the great outdoors along Fort Wayne's riverfront and trails or in some of our award-winning parks! Kick up the adventure along Fort Wayne's 8 miles of riverfront in downtown Fort Wayne. Take it slow on 120 miles of trails that easily connect to Fort Wayne's parks, attractions, and riverfront. Or, cool off in one of Fort Wayne's dozen splash pads! Don't forget to sign up for the FREE Outdoor Pass to explore great trail itineraries. 
2. Mural Moments
Fort Wayne's creative canvas features murals and public art around every corner. Discover murals spanning whole alleys and new innovative sculptures with a self-guided tour on the Public Art Trail.
3. Downtown Fort Wayne
Downtown Fort Wayne is the heart of our city and home to many of the attractions and activities already mentioned. Whether you explore our urban outdoor activities, dine and shop along the Landing, or spend the day at an attraction or one of our favorite summer-time festivals - there is something for everyone in downtown Fort Wayne!
4. The Landing
Fort Wayne's oldest neighborhood has a new purpose as a food destination. On this walkable block, have a meal under the Bison Mural at Nawa's outdoor patio, munch on a s'mores pizza from Alto Grado, try new Cali-Mex flavors at Mercado, or discover new dishes at the three other restaurants located on the Landing! Plus, The Landing is located a block south of Promenade Park.
5. Electric Works
The former campus of a General Electrics factory, Electric Works features Union Street Market, an indoor dining hall and market. Explore the market and the rest of the campus daily. Just a short walk from downtown on the Broadway corridor. 

All in the Details
Your family getaway is not complete without planning some of the finer details of your itinerary including dining and hotel recommendations.
1. Restaurants
Known as the "City of Restaurants," Fort Wayne's food scene offers unique flavors, menus that cater to kids, and savory eats from all over the world.
Insider Tip — Dine at Hoppy Gnome and be sure to order the fish tacos (tortillas filled with fish crackers) for the kids!
2. Accommodations
Of course, you'll need a relaxing hotel with all of the comfort and amenities to help you feel right at home. With more than 50 choices, from luxurious full-service hotels to quaint Airbnbs, Fort Wayne has just the place for you to relax, unwind, and take a dip in the pool.
3. Deals
Fort Wayne is an already affordable destination for families, but you can save even more with our hotel packages, contest packages that put it all together for you, and more than $200 in savings right at your fingertips on the Fort Wayne Savings Pass.

Family Fun with Older Kids
If you have older kids, you'll want to add some more action to the mix with Fort Wayne's many entertainment centers.
1. Entertainment Centers
Try laser tag at Lazer X, Combat Ops Arena, or Ultrazone, or check out the bowling, arcade and laser tag mecca at Crazy Pinz.
2. Teen Trip Ideas
Discover even more recommendations for your teens with the Family Getaways with Teens trip idea!