Urban Adventure
Let the good times flow along the riverfront, sip and savor local flavors, and explore downtown attractions and activities on an urban adventure of Fort Wayne, Indiana!
Plan your adventure with some of our suggestions and grab your friends old and new to join you.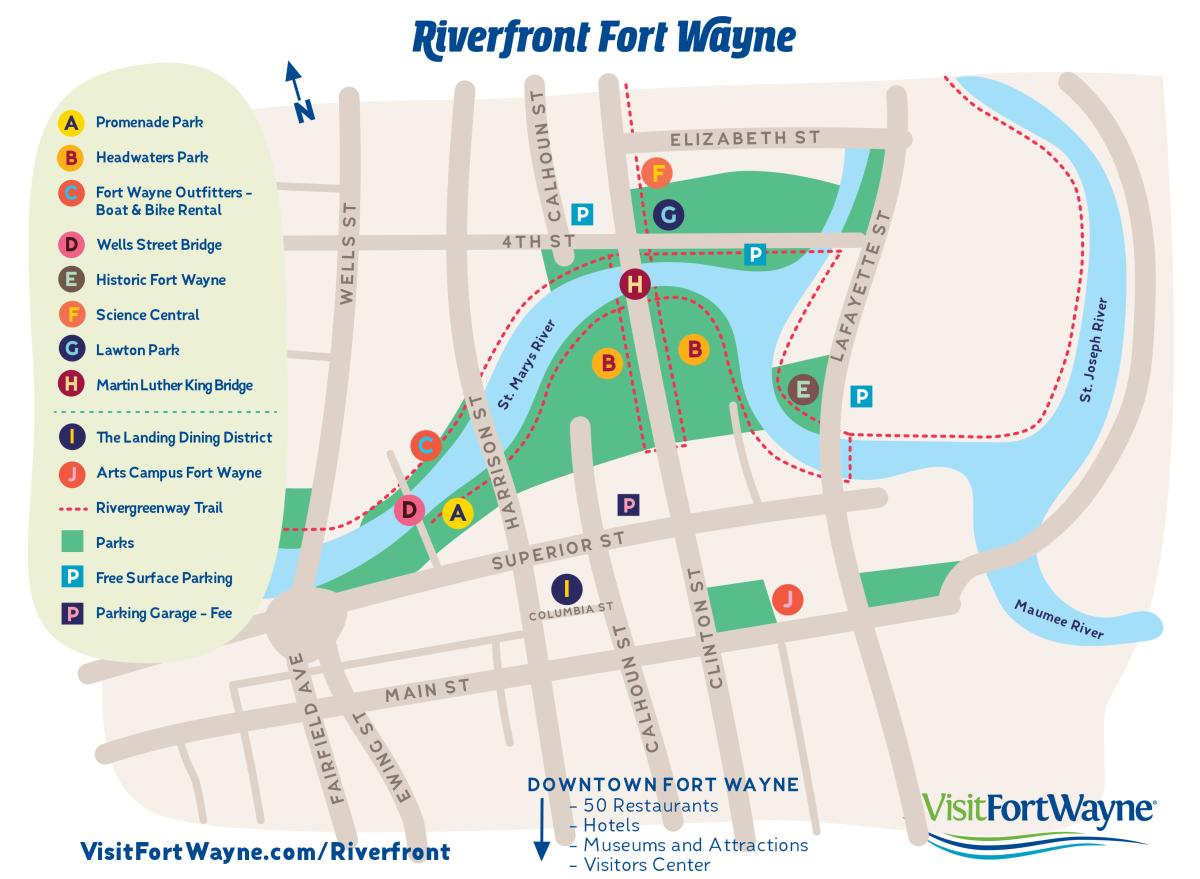 Urban Riverfront Adventures
1. Promenade Park
Fort Wayne's newest attraction is the one-of-a-kind Promenade Park. Relax along the riverfront on porch swings, have a competitive match of ping pong or cornhole, sip on a local brew in the beer garden, or take a walk along the tree canopy trail for a unique look at downtown Fort Wayne!
2. Riverfront Fun
Kick up the adventure by getting out onto Fort Wayne's 8 miles of riverfront in downtown Fort Wayne. Rent a kayak, canoe, or paddleboard from Fort Wayne Outfitters located next door to Promenade Park! 
3. Trail Connectivity
Or, take to Fort Wayne's 120 miles of trails to easily connect to Fort Wayne's parks, attractions, and riverfront! The Rivergreenway is a favorite trail that follows Fort Wayne's three rivers.
1. The Landing
Fort Wayne's oldest neighborhood has a new purpose as a food destination. On this walkable block, sip on cocktails under the Bison Mural at Nawa's outdoor patio, grab a brew and a bite at GnomeTown Brewing Co. on the Landing, try new Cali-Mex flavors at Mercado, or discover new dishes at the three other restaurants located on the Landing! Plus, the Landing is located a block south of Promenade Park.
2. Savory Eats
Known as the "City of Restaurants," Fort Wayne's food scene offers unique flavors and menus to discover. Savor foods from all over the world including, Burmese, Salvadorian, Thai, Ethiopian, and Indian.
3. Sips Worth Savoring
You can't take a tour of Fort Wayne's restaurants without also exploring our cocktail scene! Sip on specialty drinks at Copper Spoon's summer tiki bar - The Sidecar, try local spirits at Three Rivers Distilling Company, enjoy a drink with a view at Conner's Rooftop Bar, or enjoy your cocktail with a side of Jazz music at Club Soda.
4. Electric Works
Journey to the Broadway corridor to explore Union Street Market at Electric Works. Local shops and restaurants offer goods and foods of all varieties. Electric Works is the former campus of the historic General Electric factory, and buildings now feature offices, housing, and coworking spaces. 
Downtown Discoveries

1. Public Art Trail
Fort Wayne's creative canvas features murals and public art around every corner. Take a self-guided tour, snap some fun selfies, or dive deeper into the stories the murals tell.
2. Explore Attractions
Summer or winter, take a step inside some of Fort Wayne's downtown attractions and discover current exhibits at the Botanical Conservatory - offering tranquil gardens under glass, or the Fort Wayne Museum of Art - an American Art Museum with diverse exhibitions of contemporary and historical art.
3. Shop Local
Start your weekend off at Fort Wayne's two year-round farmers markets - the YLNI Farmers Market and the Ft. Wayne Farmers Markets where you'll find local treats, produce, flowers, and more. Then take your search to some of the boutique and antique shops dotted around town featuring women's apparel, homewares, art, and more! 
4. Event Highlights
Round out your weekend adventure with some of Fort Wayne's outstanding events and festivals.  Plan your adventure with a specific event in mind, or be sure to check what's going on when you get here! From TinCaps baseball to ballet performances and food festivals, there is an event for every interest. 
Bring on the adventure!
Plan the perfect itinerary or go with the flow on your next Fort Wayne adventure. No matter what you'll be cherishing these moments with friends!
Before you go, check out special hotel packages to help you save on your stay or discover unique stays to pair with your adventure.
Additional Recommendations