A City for All Abilities
Fort Wayne is a city for people of all abilities. As a major adaptive sports competition site, we understand the importance of accessibility and are intentional to provide resources for visitors and residents to experience our city to the fullest.
Getting Around
Contact one of our fine transportation services for any assistance you may need as you explore the city.
Accessible Parking
If you are getting around by car, check out this guide to accessible parking meters downtown
Clarkson Mobility
Non-emergency service in Fort Wayne, IN operating 24/7, including weekends and holidays. Private. Travels throughout Indiana.
Operates 24/7 including weekends and holidays
2916 Vance Avenue
Fort Wayne, IN 46805
(260) 745-6082
Community Transportation Network (CTN)
CTN serves as a central resource, linking those who need specialized transportation to available resources. Provides group transportation for field trips or shuttle.
Available Monday-Saturday 7 AM – 6 PM
5601 Industrial Road
Fort Wayne, IN 46825
(260) 420-3280
Citilink
Each Citilink Bus is equipped with a wheelchair lift or ramp and other equipment to assist people with disabilities. If a person is unable to access a bus due to inoperative lift or ramp, alternate transportation will be provided.
For routes/schedules: www.fwcitilink.com
801 Leesburg Road
Fort Wayne, IN 46808
(260) 432-4546
Fort Wayne International Airport
Accessible updates coming in 2023
Rolled curb style for easy loading, unloading, and transition
Low-profile baggage scales
High-contrast signage and high-contrast flooring
Sensory Room
Updated Kids Play Area with accessible play activities
Adult Changing Tables in all family-unisex restrooms
Cane Trail
Hearing loop
Service Animal Relief Area
Things To Do
Arts & Culture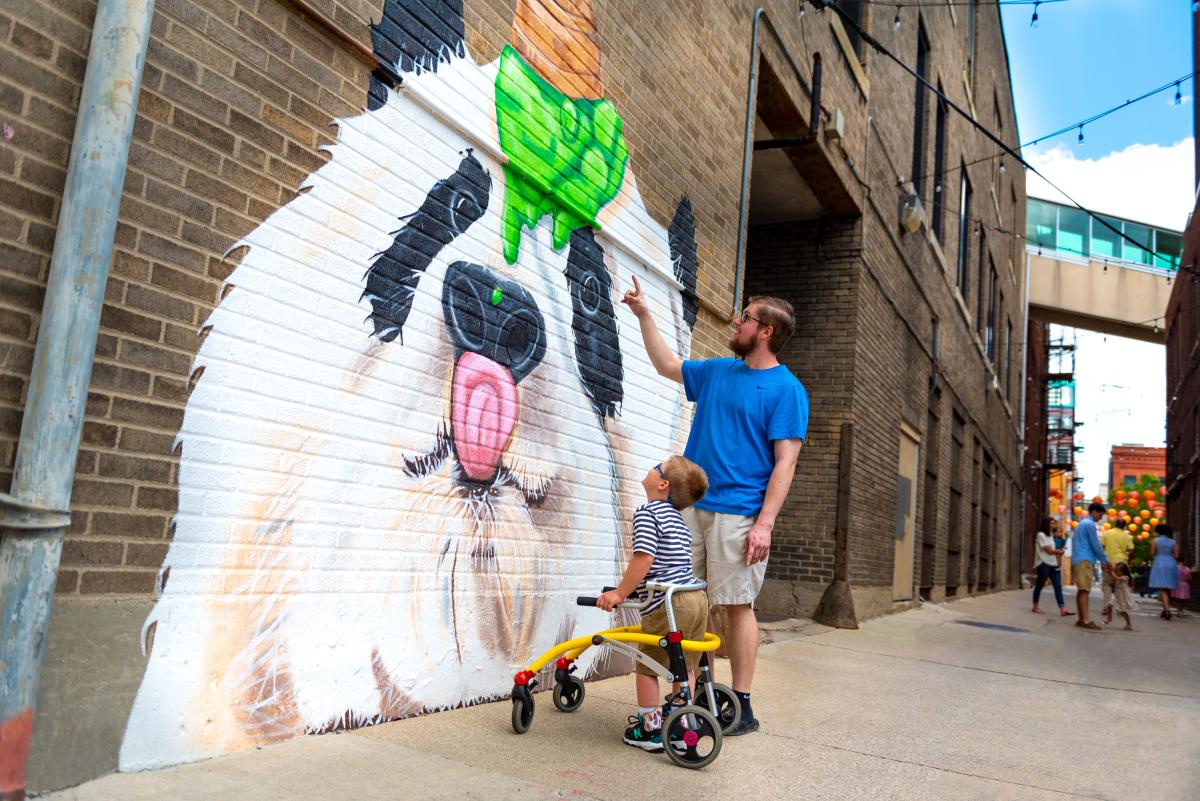 Fort Wayne is home to a vibrant and booming art scene. Eleven murals downtown are equipped with plaques, hung at an accessible height, that include a QR code to an audio file of the artist describing their work, and also feature a 3D-printed, tactile model of the artwork that allows the audience a new means of experiencing the art. Find the map of public art along with the locations of the tactile models here.
Experience live performances at the Embassy Theatre equipped with accessible seating, sensory kits and assistive listening devices. An interpreter for the hearing impaired can also be requested two weeks prior to a show. Make your way to the Fort Wayne Museum of Art with easily accessible exhibits. Both the Embassy and Museum of Art have wheelchairs available to patrons.
Check out "Project Lights Up" by the Civic Theatre at the Arts United Center. This program allows the theatre to conduct several sensory-friendly performances and are free for those with sensory sensitivities and their families.
Outdoors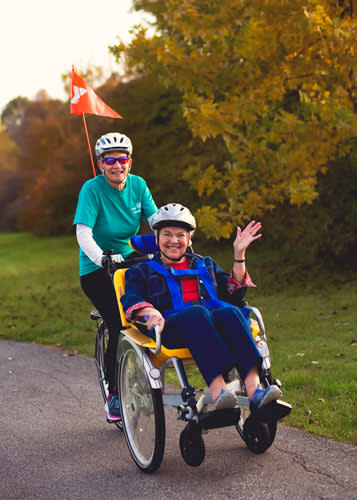 In Fort Wayne, we take outdoor recreation seriously. With dozens of parks and more than 100 miles of trails, there is plenty of open-air fun for everyone. The YMCA Trail Buddies Program assists individuals who are unable to ride a bicycle in experiencing our trails by pairing them with a trained volunteer who pedals them along a relaxing and scenic bike ride. Promenade Park on the riverfront features community space, public art, river recreation, and interactive experiences. With special wheelchair accessible grass, boat docking systems, and other inclusive features, everybody can enjoy. On the North end of town, the Parkview Family Park also offers a fully accessible playground on a cushioned surface as well as a paved trail.
Finish off a day of outdoor fun by catching a TinCaps game at Fort Wayne's award-winning Parkview Field. Built in 2008, this facility has plenty of accommodations making it easily accessible for visitors and locals. Stadium seating is accessible for wheelchairs, and electrical outlets are included for chairs that need a power source. Sensory kits are also available. These include items such as noise reducing headphones, weighted comfort items to lay on neck and shoulders, communication cards, fidget toys, etc.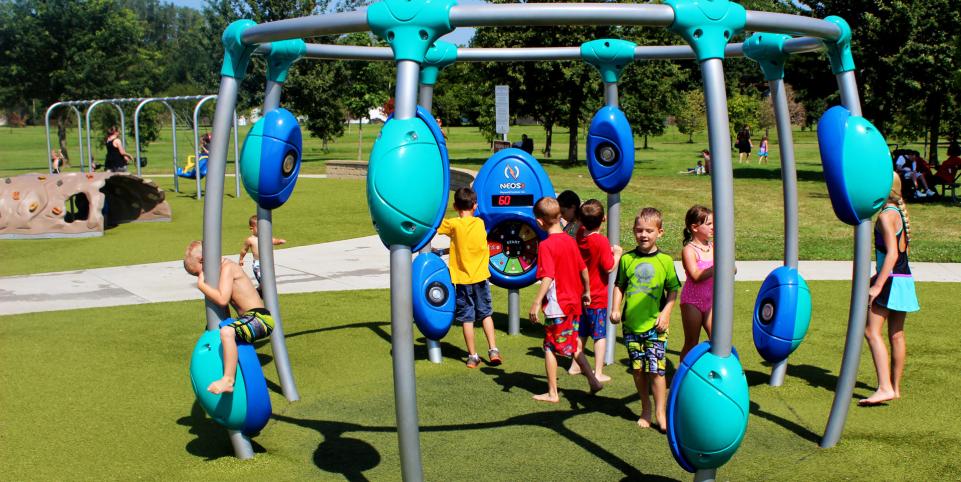 Finally, spend an afternoon with the family at Taylor's Dream Boundless Playground, inside Kreager Park, with playground equipment for children of all abilities. Climb, hang, spin and swing with ease at one of the "50 Best Playgrounds in America" designated by Early Childhood Education Zone. 
Conventions and Meetings
Coming to town for a meeting or convention? The Grand Wayne Convention Center is fully accessible and very easy to access if you are staying in the attached Hilton or Courtyard by Marriott hotels, or the Hampton Inn across the street. Wheelchairs and Sensory kits are also available for check out.
If you are attending an event at the Memorial Coliseum, you can expect accommodations for accessible entrances and seating options. All areas of the Coliseum are wheelchair accessible except the 200 level seating sections in the Arena. Wheelchairs and Sensory kits are available for check out here as well.
Science Central
1950 N Clinton St. 
Fort Wayne, IN 46805
Website
Visitors love the interactive and educational atmosphere at Science Central. Home to more than 200 hands-on exhibits, all but one are wheelchair accessible. Check out one of the daily, live Science presentations in the newly renovated (2022) Demonstration Theater which was built with accessibility in mind.
What to expect:
Accessible parking is available directly in front of the building
Each bathroom is accessible with a family friendly, gender neutral bathroom complete with an adult changing table.
All exhibits are wheelchair accessible with the exception of the Confusion Illusion Room (angled floor).
Wheelchair accessible seating is available in demonstration areas and the cafeteria.
Wheelchairs are available for checkout.
There are areas of the building and exhibits that could potentially trigger someone with sensory sensitivities. These locations are the Science on a Sphere Theater (low light), Confusion Illusion Room (angled floor), Recollections Exhibit (flashing lights), and Swap Shop (animals and smells).
Patrons may request a quiet area to rest if needed.
Science Central hosts regular Disability Days events when modifications are made to the building, exhibits and staffing to make the visit more enjoyable for all.  Each day includes special programming  to provide fun, science education for participants with intellectual and developmental disabilities. Learn more about this program here.
Fort Wayne Children's Zoo
3411 Sherman Blvd.
Fort Wayne, IN 46808
Website
Open for the season mid-April through October. A KultureCity designated facility, all families can enjoy the interactive and award-winning Fort Wayne Children's Zoo. The zoo is home to a diverse spread of exhibits and animals from lions and giraffes in the African Journey to Orangutans in the Indonesian Rainforest you can see mammals, fish, birds and reptiles from all over the world! 
What to expect:
Accessible parking is located near the main entrance.
Wheelchairs are available for checkout.
Pathways in the zoo can be accessed smoothly with a wheelchair except for the gravel paths in the Indiana Farm and Australian Adventure.
Designated areas are available for families to go if they need a quiet place to rest.
The Z.O.&O. Railroad train ride is wheelchair accessible.
Sensory kits are available for checkout.
Promenade Park
202 W. Superior Street.
Fort Wayne, IN 46802
Website
This brand new park will open on Fort Wayne's Riverfront in June 2019. The park is designed to be fully accessible and will feature trails, public art, an amphitheater, water recreation, and more!
What to expect:
 Accessible parking is available along Wells St adjacent to the pavilion.
The entire park is accessible. Outdoor tables and chairs are all movable allowing for accommodation of wheelchairs.
The grass in this park is made of special turf which allows wheelchairs to move with ease.
Accessible restrooms are available.
The garden area east of the pavilion is designed to provide visual and sensory separation from traffic and the rest of the park.
Tactile ribbon embedded in the pavement that extends throughout the park as well as small 3D printed maps are provided to help orient blind or low-vision guests.
An accessible kayak launch and universally accessible playground are both located on the north bank.
Plantings throughout the park provide positive sensory input (touch, smell, movement, etc.).
Larger than typical shade trees to provide shade and cooling.
Extra wide pathways throughout the park accommodate multiple wheelchairs. Paving patterns also vary in order to orient those with sensory difficulties.
Foellinger-Freimann Botanical Conservatory
1100 S Calhoun St.
Fort Wayne, IN 46802
Website
Stop and smell the roses at the Foellinger-Freimann Botanical Conservatory. Their serene environment and beautifully lush seasonal exhibits are sure to put you in a state of peace and relaxation.
What to expect:
Easy, accessible entrance through the Calhoun Street Entrance off of the Circle Drive.
Two accessible parking spaces are adjacent to the facility. There is also accessible parking at the Civic Center Garage, diagonally across the street, which the conservatory will validate.
Pathways are easily accessible using a wheelchair and benches are available along the way.
All restrooms are accessible.
All exhibits are accessible with the exception of two overlooks in the Tropical Garden.
A serene environment can typically be expected. However, on special event days the conservatory may become crowded and noisy. These days are publicly posted. If a patron should ever feel they need a quiet place to go they are welcome to use the Saguaro or Orchid Rooms.
Woody the Talking Tree could be triggering to an individual with sensory sensitivities. This exhibit can be avoided, just let the associate at the front desk know you would like to take a different route.
Parkview Field
1301 Ewing St.
 Fort Wayne, IN 46802
Website
Experience Fort Wayne's award-winning minor league baseball park. Home to the Fort Wayne TinCaps. The stadium was voted, "Top Minor League Baseball Experience" four times by Stadium Journey magazine.
What to expect:
Multiple ramps into the ballpark along and an elevator to all levels allow for easy access to and around the stadium.
Wheelchairs are available for checkout.
Accessible stadium seating is available along with electrical outlets to plugin chairs requiring electricity.
The stadium has accessible restrooms.
Sensory kits are available for checkout.
Staff are available to assist blind or low vision guests as needed.
Embassy Theatre
125 W Jefferson Blvd.
Fort Wayne, IN 46802
Website
Take in a show at the incredible, historic Embassy Theatre. Broadway stage, concerts of all musical formats, and cinema are all on the agenda.
What to expect:
Box office doors off of Jefferson Blvd. have automatic opening features.
There is wheelchair-accessible seating in the theater. However, the balcony and upper seating areas are not accessible. The ballroom is also fully accessible for seating. During events, the Embassy has a fire marshal, as well as other staff, who are available to assist patrons get to accessible seating.
The Embassy has two wheelchairs available for check-out.
Three large accessible family bathrooms are available with adult-sized changing tables.
Some shows may have sensory triggers, the Embassy has sensory kits available for patrons.
Patrons may request an interpreter for shows. This must be done at least two weeks prior to the event.
The Embassy also offers hearing-assist devices.
Allen County Public Library and Genealogy Center
900 Library Plaza
Fort Wayne, Indiana 46802
Website
Find your family history with the friendly and professional staff at the Genealogy Center in the downtown public library. Genealogists work one-on-one with individuals in any stage of the research process to help them discover their family heritage.
What to expect:
If you are entering the library through the parking garage, there is an elevator available. There is also an interior ramp if you enter from the Ewing Street entrance.
Exterior doors have automatic opening features.
The theatre has accessible seating to accommodate wheelchairs.
Accessible restrooms are available.
The library has a quiet and tranquil environment. Loud noises or over-stimulating sensory experiences should not be expected.
Fort Wayne Museum of Art
311 E Main St.
Fort Wayne, IN 46802
Website
Take in diverse exhibitions of contemporary and historical art at the Fort Wayne Museum of Art and bring your little ones to the Early Learning Center for some hands-on, artistic fun.
What to expect:
Entrances have automatic features.
Pathways between exhibits allow ample room for a wheelchair and accessible seating is available during programming.
The museum has wheelchairs available for checkout.
Resources
League for the Blind and Disabled
The League for the Blind and Disabled partners with Deaflink to help visitors and residents find the appropriate interpreting services for their needs.
5821 S. Anthony Blvd.
Fort Wayne IN 46816
Voice/TTY: (260) 441-0551 or (800) 889-3443
Videophone for Deaf and Hard-of-Hearing: (260) 440-3013
DeafLink Emergency Pager: (260) 481-8153
Turnstone / Plassman Athletic Center
A U.S. Olympic/Paralympic training site, Turnstone offers fitness facilities for Olympians and Paralympians traveling through the area. The fieldhouse also offers drop-in rates for travelers looking for accessible workout facilities. 
(260) 483-2100
Fort Wayne Autism Center
The Fort Wayne Autism Center has three locations that offer services ranging from teaching social skills to therapy and support for children on the spectrum of autism.
(260) 245-1455
Easterseals Arc of Northeast Indiana
Easterseals Arc offers a broad range of services including employment services, day programs, residential services, recreation, and respite for individuals with intellectual and developmental disabilities.
4919 Coldwater Rd
Fort Wayne, IN 46825
(260) 456-4534
AWS Foundation
AWS Foundation supports community initiatives to make our city more inclusive for individuals with disabilities. Check out a list of some of these resources here.
YMCA of Greater Fort Wayne
The YMCA offers a wide range of Adaptive & Inclusive facilities and programs. 
---
Information Collected by Visit Fort Wayne
This page is intended to be a useful guide for Fort Wayne visitors and residents with disabilities to easily access all that our city has to offer. Visit Fort Wayne intends to continue developing the content of this page to ensure this information is up-to-date and helpful. If you have a suggestion of more attractions, transportation, resources or other helpful information that should be included, please contact our staff.