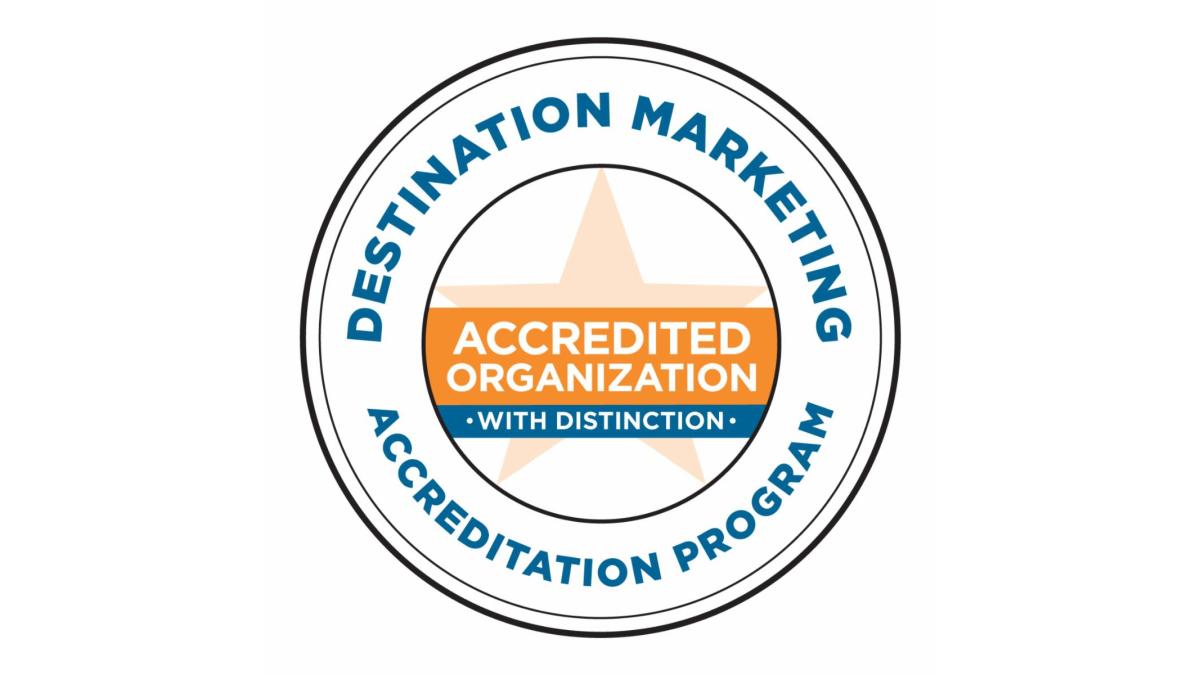 Last week at the Destinations International Annual Convention in Dallas, Texas, Visit Fort Wayne, Fort Wayne and Allen County's official tourism destination marketing and management organization (Convention and Visitors Bureau), was awarded the Destination Marketing Accreditation Program (DMAP) official seal in recognition of the organization's rigorous meeting of 118 industry standards of performance and accountability in the travel and tourism accreditation program. The seal denotes the organization's commitment to operational excellence.
Visit Fort Wayne was awarded "Accreditation with Distinction," the highest possible recognition for a destination organization. "With Distinction" indicates that the organization far exceeded the minimum requirement for accreditation and that the independent DMAP Board found no opportunities for the organization to improve its submissions to the required standards.
"We are pleased to have Visit Fort Wayne join our distinguished group of professionals," said Don Welsh, President & CEO of Destinations International, an international association serving and educating members in the travel and tourism industry.
This international accreditation program requires a destination organization to successfully comply with a multitude of mandatory and voluntary standards that span a variety of performance areas to gain this momentous achievement. The standards cover nearly all aspects related to the management and marketing of destination organizations including governance, finance, human resources, technology, innovation, policy, planning, sales, communications, ethics, advocacy, research, and destination development.
Accredited organizations must renew their status every four years by meeting new operational standards set forth by the DMAP Board.
"Last September we set our sights on an accreditation vision to elevate our already exceptional organization and its mission to bring wealth from visitor spending to our communities. Every employee contributed as we raced to the deadline, all with the board of director's support and encouragement," said Jill Boggs, President & CEO of Visit Fort Wayne.
"We couldn't be prouder of the team for their focus and tenacity in earning accreditation with distinction for this community organization we value. I hope the standing ovation they received at our last board meeting expressed that to them," said Kelly Updike, Chair of the Visit Fort Wayne Board, and President & CEO of the Embassy Theatre.
Visit Fort Wayne joins the ranks of only 200 destination organizations worldwide who have obtained the coveted DMAP designation.
##
For additional information or media interviews, please contact:
Jill Boggs, Visit Fort Wayne President/CEO
jill@visitfortwayne.com
(260) 424-3700
Kristen Guthrie, Visit Fort Wayne VP of Marketing
kristen@visitfortwayne.com
(260) 424-3700
##
Visit Fort Wayne, is the official destination marketing organization for Fort Wayne and Allen County. Each year, over 7 million people visit Fort Wayne and generate $803 million in direct economic impact.
Destinations International is the world's largest resource for official destination organizations, convention and visitors bureaus (CVBs) and tourism boards. Destinations International is about serving destination marketing professionals first and foremost. Together with more than 4,700 members and partners from nearly 600 destinations in approximately 15 countries, Destinations International represents a powerful forward-thinking, collaborative association; exchanging bold ideas, connecting innovative people and elevating tourism to its highest potential. For more information, visit www.destinationsinternational.org.