At the core of Creative Women of the World, a boutique in downtown Fort Wayne, is the desire to build strong relationships through storytelling, sharing, and connecting with not only customers but creators and anyone wanting to empower each other to grow! At the center of that mission is Lorelei Verlee, the creator of Creative Women of the World. 
Join us in learning more about how Creative Women of the World is fulfilling its mission in the heart of Fort Wayne.
Locally Loved Fort Wayne: Lorelei Verlee
Q: What inspired you to open Creative Women of the World?
I've done a lot of traveling in my life, and in every country I visited, I realized there was an absolute genius in the women who were making things, but they didn't always have a voice or access to a market that met their needs sufficiently. I realized oftentimes that lack of voice and access was tied to a lack of business education or a lack of connections. 
Creative Women of the World teaches women about entrepreneurship, which empowers these women to change the world. 
As I like to say: "If you give a person a fish, that person will eat for a day. If you teach that person to fish, they will be able to feed their family. However, if you teach a woman how the fishing industry works, she'll change the world."
Q: What can visitors expect when they visit Creative Women of the World?
Visitors will be amazed by the quality of work that women from more than 50 countries are creating. Much of which (50-60% of products) is made from recycled materials! Our work teaches women to not just care about profit, but to care about the triple bottom line of protecting profit, people, and the planet. At Creative Women of the World, we connect the consumer with beautifully made products and the stories behind the creators and the products.
A project that I love is this beautiful jewelry we stock by The Nozomi Project, which means hope in Japanese and started from an idea to help a community in Northern Japan that was devastated in 2011 by an earthquake, radiation leak, and a tsunami that wiped out 18,000 people from one village. Nozomi's tagline is Beauty from Brokenness and creates jewelry from dishes that washed up on the beach from one of the many homes destroyed by the tsunami.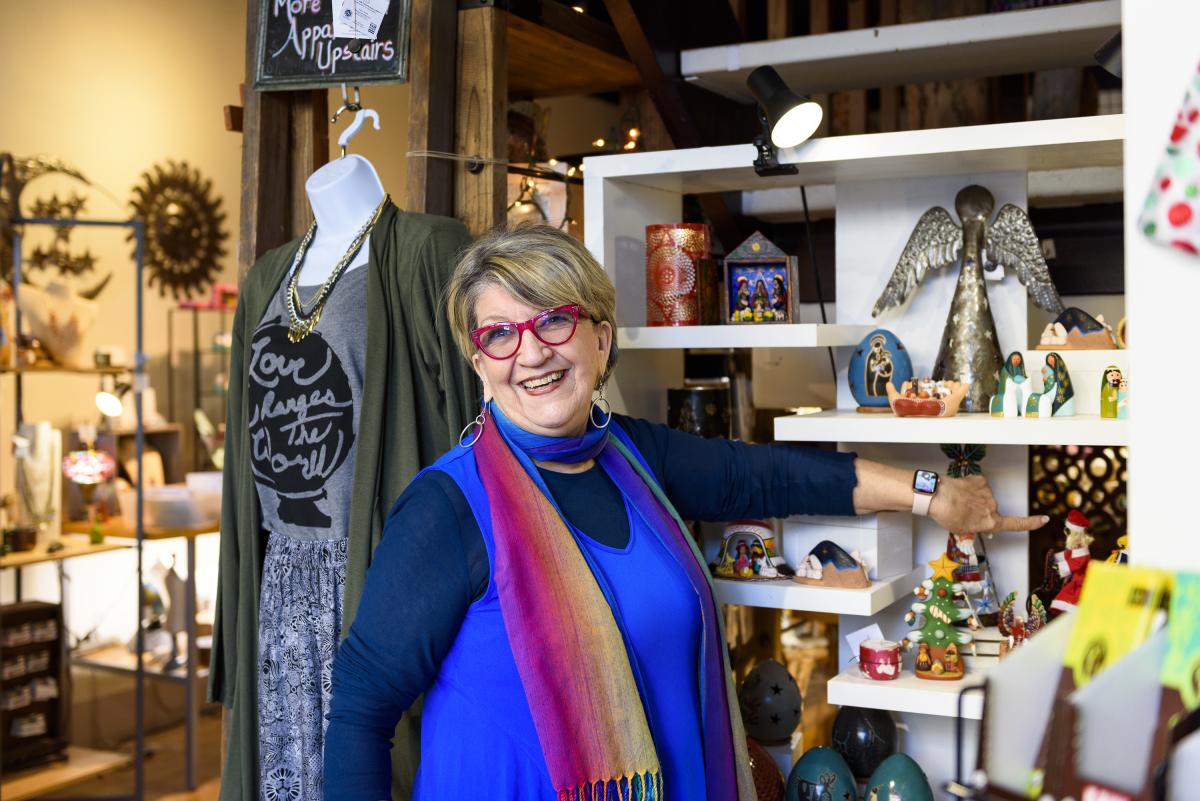 Pictured: Verlee showing off her favorite products in Creative Women of the World.
Q: What are your hopes and dreams for the store?
While I am no longer involved in much of the day-to-day operations of the store, but my hope is to have more women not only in other countries but also right here in Fort Wayne empowered by entrepreneurship.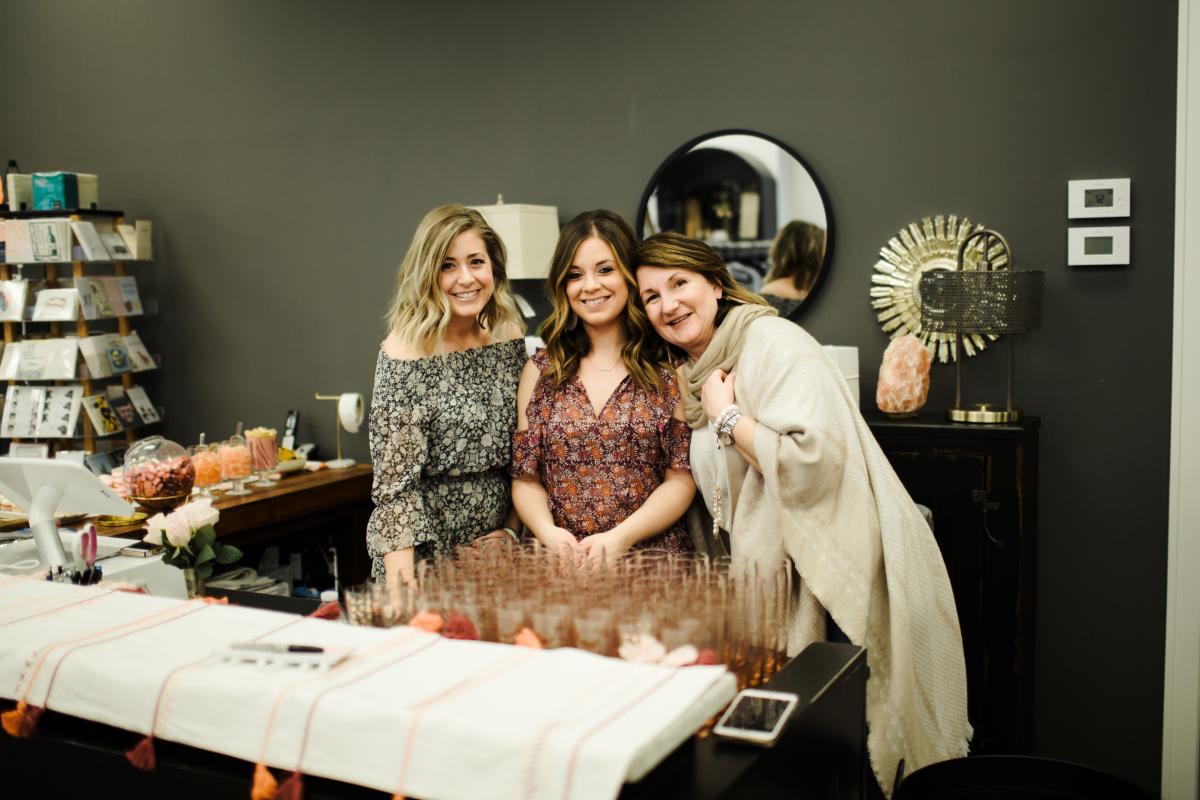 Pictured: Owners and team at The Find boutique in downtown Fort Wayne.
Q: Speaking of Fort Wayne, what makes Fort Wayne and our boutiques special?
I love the fact that at any of Fort Wayne's boutiques, you immediately get to know the people working there. There are so many boutiques that inspire relationships like Smiley's Joy, The Find, and of course, Creative Women of the World. Relationships are what we are all about.
And Fort Wayne is the biggest small city you'll ever meet. We have all the grandness that allows you to have sports, culture like the fabulous orchestra, and all the amenities of great education, but you don't have to contend with ridiculous traffic.
Q: If you have a free day in Fort Wayne, what do you like to do?
There are not too many free days, but I love to go to the downtown library to hang out. It is a great place to have a meeting or just relax, and it is such an amazing resource that we are lucky to have in the community not only for residents but for visitors! After stopping at the library, I would maybe stop at one of the many coffee shops around town, visit The Landing, which has grown so much.
Pictured: The bone marrow from Tolon.
Rapid Round Visitor Questions
1. Do you have any restaurants you recommend? Are there specific menu items you always order?
There are several restaurants I love, but one is Tolon, where I love their bone marrow. I had no idea that was something so good to eat. It is something so unusual, and I am that person that picks the weirdest thing on the menu. I also love Nawa, where every morsel I put in my mouth does a happy dance.
2. What is an event you can't miss?
My absolute favorite event is the Fort Wayne Philharmonic's Patriotic Pops that takes place every year around the 4th of July at Parkview Field. Every time I attend that event, my heart gets so full and inspired. 
3. When you host out-of-town guests, where do you like to take them?
Of course, I bring my guests downtown where we can just walk around. We might start down at First Wayne United Methodist Church and stop at the farmers market where you can't miss GK Baked Good's cinnamon rolls. I can't wait until they open their bakery downtown! I will probably take my guests on a tour of The Bradley, stop at Tolon for a meal, and take them to Utopian Coffee on The Landing. Utopian Coffee also has a great story where they are focused on fair trade and helping coffee farms change from growing cocaine to coffee beans. I would also stop at the library, Parkview Field to admire the Iris sculpture by my friend Diane Thornhill Miller, and go by the Botanical Conservatory.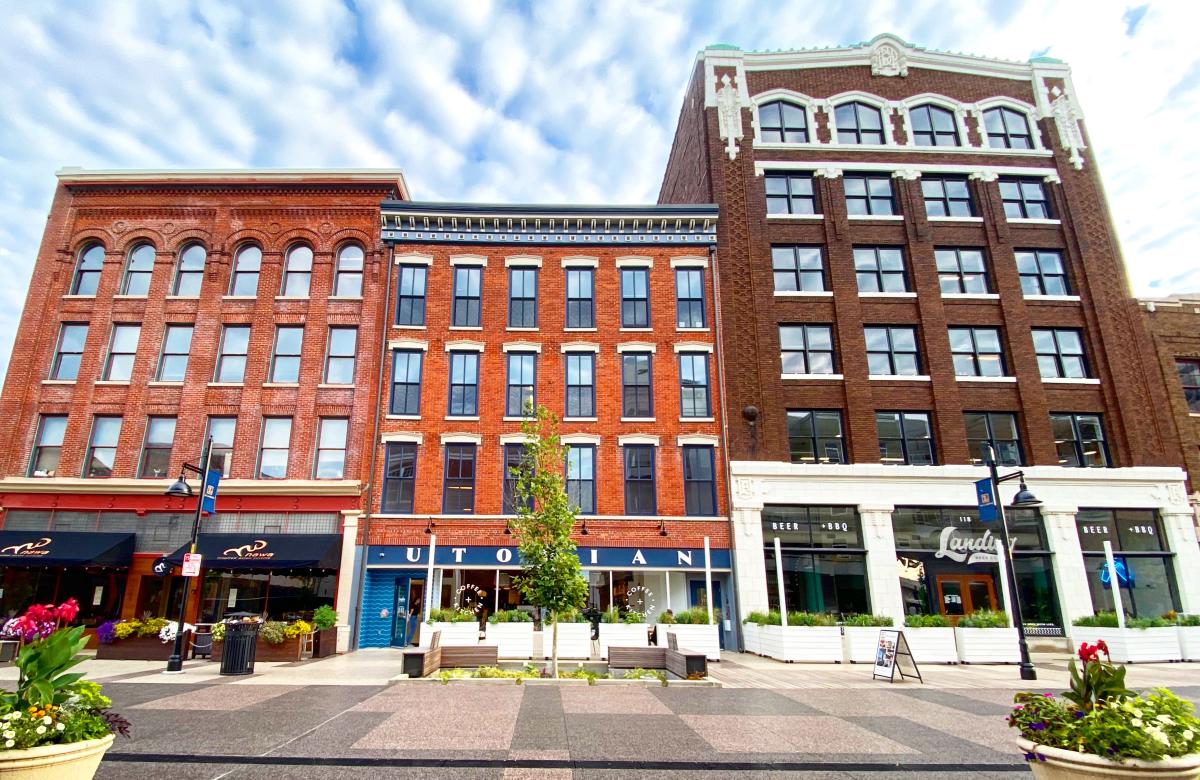 Pictured: The storefronts and buildings located on The Landing in downtown Fort Wayne.