We are blessed in Fort Wayne to be home to the marvelous Fort Wayne Ballet, which presents The Nutcracker each Christmas season. This year, you have another Nutcracker option. The Moscow Ballet will be coming to present The Great Russian Nutcracker at The Embassy Theatre. Probably no other country is as famous for its ballet feats as Russia.
Both productions promise to be wonderful, so instead of choosing just one this year, why not treat yourself to two Nutcracker performances?
The Great Russian Nutcracker
The Nutcracker was first performed in 1892, in -- no surprise here -- Russia. Over the years, it made its way west, and the ballet has been a holiday tradition for many American families since the 1940s.
What makes the Moscow Ballet's Nutcracker different? If you're a ballet aficionado, you may notice the difference in dance styles between Russian and American dancers. The stories are also slightly different: the American tale centers on Clara, while the Russian version names her Masha.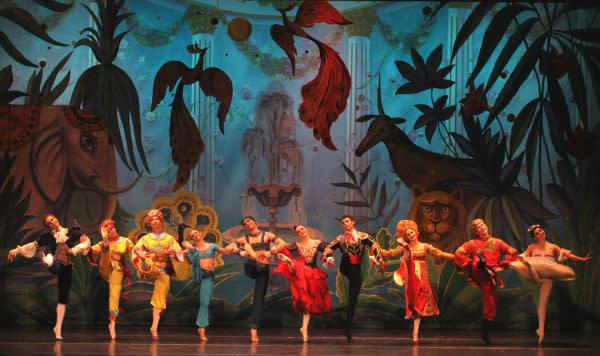 In America, Act II of the ballet takes Clara and the Nutcracker Prince to the Kingdom of Sweets. The Russian counterpart sees the two transported to The Land of Peace and Harmony, where people and animals coexist peacefully. The act begins with the Moscow Ballet's exclusive "Dove of Peace," in which two dancers balance to create a dove with a 20-foot wingspan.
You can, of course, expect to hear the soaring, passionate Nutcracker music, composed by Tchaikovsky. He is Russian, after all!
The rich, colorful sets used in The Great Russian Nutcracker, designed by Carl Sprague, will be another aspect of the show you'll want to savor. Children and adults alike will love the visual spectacle that the sets and costumes create. The Nutcracker is truly a feast for the senses.
Local Angle
If some of the dancers in the production look familiar, there's a reason: several local dancers were chosen by audition to participate in The Great Russian Nutcracker. You may spy them performing as mice, snowflakes, angels, snow maidens, and children in the party scene.
Make it an early Christmas treat by indulging in a full evening of fun. Why not eat dinner at your favorite downtown Fort Wayne restaurant and then head over to the Embassy for a quick trip to Moscow?
Wednesday, December 7, 2016, at 7 PM
Embassy Theatre
125 W. Jefferson, Fort Wayne 46802
Tickets: $32 - $178
Phone: 1.800.745.3000