My favorite thing about traveling is the food.  My favorite thing about home (Fort Wayne, Indiana) is how we keep improving in so many ways. We get better at welcoming and entertaining guests every year, and one area that's going strong is dining. Read on for a review of the newest brunch spot in Fort Wayne.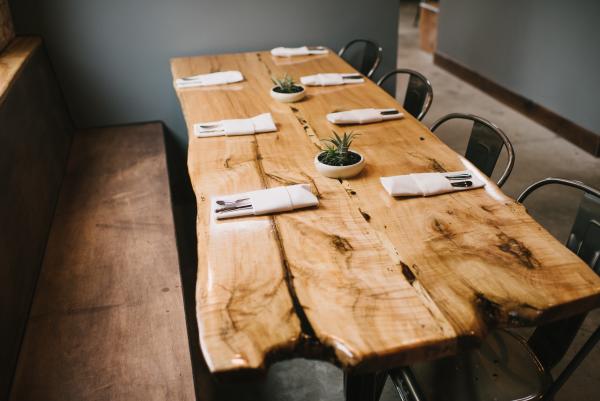 Junk Ditch Brewing Company just opened to the public, serving farm-to-fork food and craft beer in a trendy, rustic atmosphere. The owners have operated a food truck for several years and also hosted pop-up brunches at a brick-and-mortar location.  Now they've gone brick-and-mortar themselves.
Junk Ditch Brewing Company is open for brunch on weekends and lunch/dinner throughout most of the week. They also offer a full bar.
We went for the food. Specifically, the brunch. I'll talk food in a minute, but first I'm giving props to the location and décor. The location is fantastic, just west of downtown, tucked back a bit from the street with plenty of parking for cars and bikes. The ambiance is bistro-esque with exposed brick walls, handmade tables, and an industrial beam overhead that serves to delineate the dining room from the bar.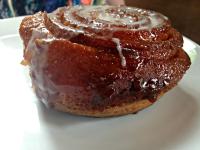 The staff was welcoming and family-friendly. While the menu is seasonal (i.e. fresh but limited) we still found options for the kids. They split an order of chicken and waffles ($10) and each ordered their own cinnamon roll. One cinnamon roll ($4) is really enough for two people. The cinnamon rolls are sweet, crunchy-soft, warm, and perfect. In the photo, it looks like the glaze is dripping down the side of the roll but that's just an illusion. The glaze stays on the roll where it belongs and not a single bit falls onto the plate. Try ordering one and watch it for awhile before you eat it. Then eat it. It's delicious.
The chicken and waffles also combined crunchy and soft textures. The flavor profile was delightful and included a light syrup, lots of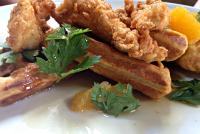 citrus, and flat-leaf parsley. My kids avoided the parsley but I thought it did great things for the dish.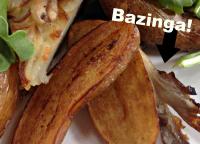 I ordered the potatoes rosti – Yukon gold potatoes, mushrooms, little baby greens and a soft egg.  A mega-savory hash brown hid under the greens. The chef held the bechamel sauce at my request.  Overall, it was a wonderful, meatless option and imagine my delight when the chef added a morel mushroom.  This dish outperformed the price tag ($8).
My husband opted for biscuits and gravy, as did many of the other diners at brunch that day. It was made with the house chorizo and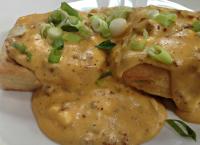 topped with fresh scallion. He complimented the biscuits, which were homemade and held up well under the cream and chorizo. ($7)
I love that in culinary-centric cities like New York I can leave my hotel room at any hour, hail a cab and go eat something amazing. You can do that during most hours of the day in Fort Wayne now, thanks to options like Junk Ditch Brewing Company.  There are, however, two big differences between us and larger cities:  In Fort Wayne, the parking is usually free and many of our hotel rooms cost under $100 a night.  Try Fort Wayne for brunch soon!
Junk Ditch Brewing Company
Address: 1825 W Main St, Fort Wayne, IN 46808
Hours:
| | |
| --- | --- |
| Sunday | 10AM–2PM, 5:30–8PM |
| Monday | 5:30PM–12AM |
| Tuesday | Closed |
| Wednesday | 11AM–2PM, 5:30PM–12AM |
| Thursday | 11AM–2PM, 5:30PM–12AM |
| Friday | 11AM–2PM, 5:30PM–1AM |
| Saturday | 10AM–2PM, 5:30PM–1AM |
Jessica Brita-Segyde
You Might Also Like