It's summer! Grab your bike and a helmet and pedal your way around town on any of the dozens of trails that crisscross Fort Wayne, Indiana.
Whatever path you choose, there is no shortage of trail-friendly businesses along the way, including restaurants that refill water bottles and allow restroom access, bike repair shops, and businesses that offer discounts on food and merchandise. Eat in or get a lunch to go and enjoy eating in any of the dozens of parks and scenic venues.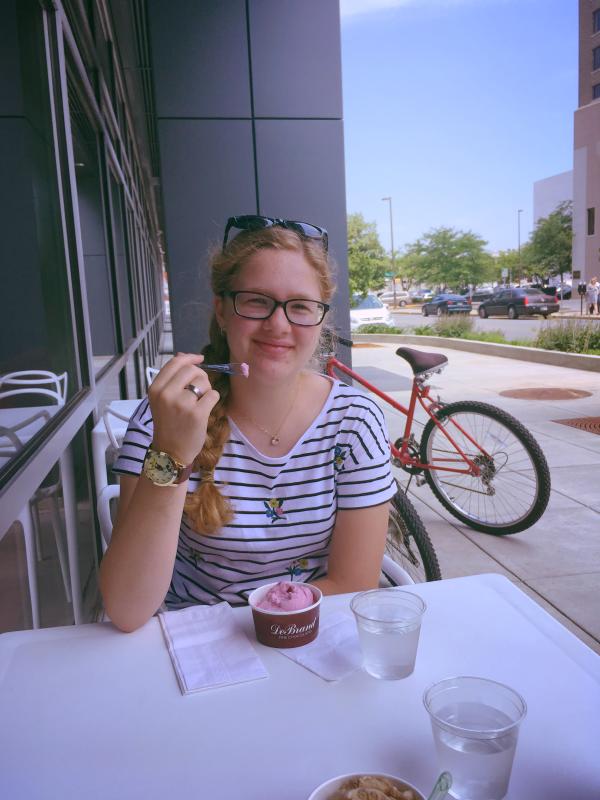 A Downtown Fort Wayne, Indiana Trail Ride Itinerary
I recently spent an afternoon biking in the downtown area with my granddaughter, Eva, who just turned 13.  We parked at Fort Wayne Outfitters and, after unloading our bikes, entered the store to get a trail map and information on renting a kayak, which we had planned to do in the near future.
Fort Wayne Outfitters also rents and repairs bikes and other outdoor equipment and is one of 20 trail-friendly businesses.
Eva and I rode along the St. Marys River on the Rivergreenway, and even though it was hot, our ride created a nice, cool breeze as we whizzed by the river on the shaded trails. We stopped before crossing a bridge so Eva could take some photos of an adorable brood of baby ducklings waddling across the trail with their mother.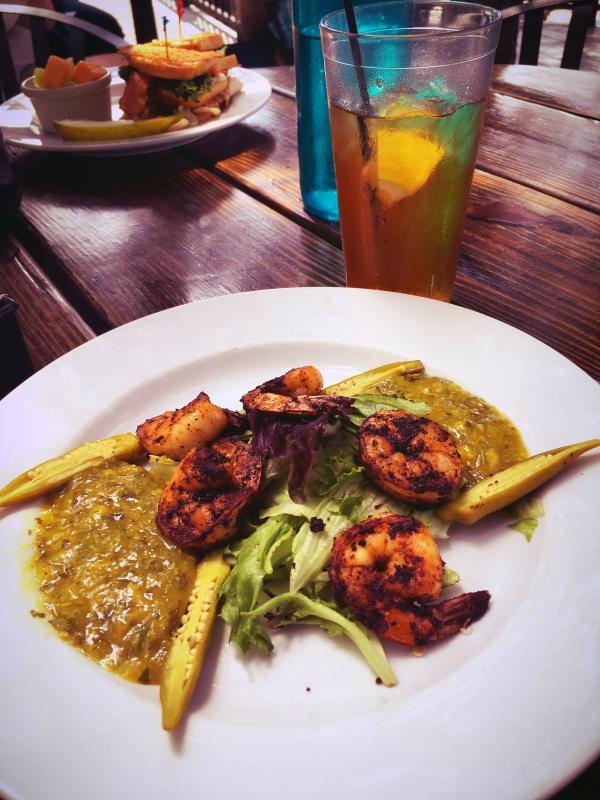 We narrowed down our lunch choices to Coney Island - a favorite of Eva's Dad - or The Deck, one of my favorites because I prefer eating anywhere that is al fresco, weather permitting. That said, I have been known to enjoy a meal under a patio umbrella during a summer rain shower.
Eva chose The Deck simply because she had never been there. We parked our bicycles in the restaurant's bike rack and waited 20 minutes for a table – apparently, it's not just my favorite restaurant. 
Eva had the roasted chicken club "samich" with a side of fresh fruit and I chose the blackened shrimp with pickled okra – don't judge, I'm from the South and I love okra – served on a bed of lettuce with sweet mango salsa. Both were delicious. 
Always room for dessert
We were soon back on our bikes, stopping to visit some local shops on Wayne Street, including Creative Women of the World, where I bought Eva a multi-colored metal ring from Peru for her birthday. We hopped back on our bikes -- well, sort of, I don't hop anywhere anymore except into bed - and did not make it across the street before Eva saw DeBrand Fine Chocolates and wondered aloud if they had gelato. They did. We screeched our tires and stopped for dessert. 
Okay, so we may have eaten and browsed more than we rode our bikes, but it was fun, nonetheless. And, any time with my grandkids is time well spent, even if I do gain 20 pounds on a 6-mile aerobic bicycle trip.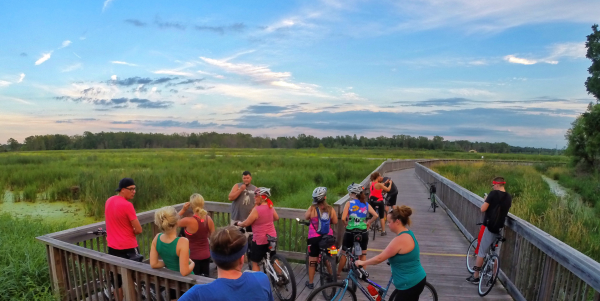 Discover Other Fort Wayne Trail Friendly Organizations
Other trail-friendly restaurants include:
This store also has a café if you want to escape the heat or rain and eat inside, but I like to get my favorite sandwich, a grilled portabella & onion on gluten-free bread, grab a bag of kettle chips and some fruit and make it to go. I usually stop in Franke Park and enjoy my lunch at the edge of the lake or at a shaded picnic table near the playground.  If you're in the vicinity of north Anthony Boulevard or East Main, the Health Food Shoppe and Pembroke Bakery & Café are two other excellent places to get dairy-free, vegan, gluten-free or sugar-free options.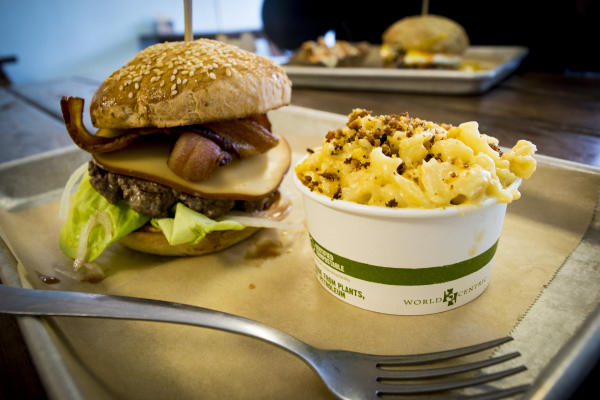 Craving a yummy burger or hot dog? Head for Bravas, where you can dine in or take out the best in gourmet burgers and specialty hot dogs. "Bravas also packs lunches in Togo boxes that are small and square – not Styrofoam – and easy to place in a bag and carry on a bicycle," said Bravas employee Becky Gonzalez.
I usually stop by one of these establishments when I need I need a caffeine fix and order an iced coffee and cream.
Breweries
I have a hard enough time staying balanced – in more ways than one – and don't usually ride and imbibe, but if you'd like to stop for a beer or margarita while riding the trails, you're in luck.  Trail-friendly businesses include Dash-In, Summit City Brewerks, (East Berry Street); La Fogata (Bluffton Road); el Azteca Restaurant & Tequila Bar (East State Boulevard); Hop River Brewing Co. (North Harrison Street), and; J.K. O'Donnell's Irish Ale House (Wayne Street).
Tip: If you have more than the legal limit, be sure and wear a helmet - or two - and try to find a designated rider-guide who knows where you live.