Get to know one of Fort Wayne, Indiana's great local boutiques, The Find, and discover where you can find them on their day off!
Cover photo by Ruth Yaro.
We're passionate about Fort Wayne, Indiana and all that it offers, and we're so happy to be part of the growing, lively scene, in the downtown blocks and beyond. We're committed to carrying local brands and products in store as well as spending our dollars at other locally owned boutiques, restaurants, attractions and events. Here's where you'll find us shopping small, supporting local.
Fort Wayne, Indiana Itinerary Recommendations
MELANI, Owner
Best Breakfast
I'm not big into breakfast per se, but a BAM smoothie at Mocha Lounge is what I order if I need more than coffee.
Favorite Cultural Attraction
Artlink is always groovy and fun, and I always meet the most interesting people at their openings.
Best Way to Work up a Sweat in the City
The Fort Wayne Trails! I love to get outside with my dogs for a long walk. Fort Wayne's trail system is so lovely and well-maintained and offers the city a free, beautiful way to stay active.
Best Coffee Shop
I love Conjure Coffee and their Cafe Miele is a fave. The space is airy and bright - perfect for starting the day or having a meeting.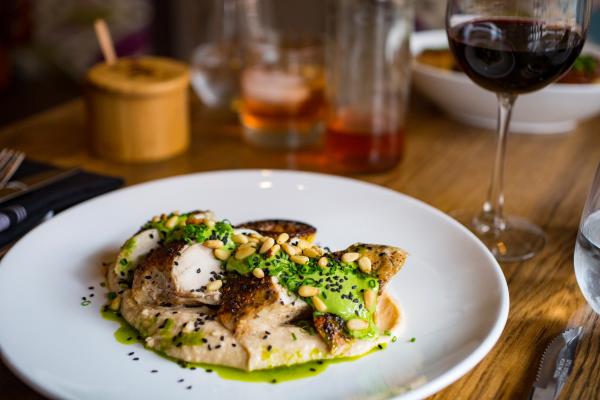 Favorite Place for Dinner
I always have Junk Ditch Brewing Company, Proximo, Tolon and Nawa on rotation.
Favorite Way to Spend a Night on the Town
I don't think I could live in Fort Wayne without Cinema Center. They work hard to bring independent films to the city and I am thrilled with the addition of the Hobnobben Film Festival in early summer.
SIENNA, Marketing Manager/Director of Online Sales
Best Breakfast
Junk Ditch Brewing Company brunch is always my go-to.
Favorite Cultural Attraction
Visiting the Saturday morning farmers market is the perfect way to kick off the weekend. I grab fresh local produce for the week ahead, snack on delicious treats and run into so many friends!
Best Way to Work up a Sweat in the City
Kayaking the rivers is such a wonderful way to get moving and see the city from a new perspective.
Favorite Locally Made Goods
Any and all desserts made by GK Baked Goods! Worth the splurge.
Favorite Place for Pre-Dinner Cocktails
I love to belly up to the Tolon bar for great wines and amazing craft cocktails. The Lavender Gimlet is so unique.
Favorite Way to Spend a Night on the Town
I really cherish the outdoor concerts at Two EE's in Roanoke. Live music in the fresh air with great wine, what more could you ask for?
LEAH, Store Operations Manager
Best Breakfast
The Hoppy Gnome's Kegs & Bacon weekend brunch menu is small but unique and oh so tasty. I also really like Trubble Brewing's brunch and love to sit on their outdoor patio for a leisurely meal with friends.
Favorite Locally Made Goods
I am head over heels for DeBrand Fine Chocolates, especially their peanut butter and raspberry truffle. I give DeBrand chocolate gifts for an elegant taste of Fort Wayne.
Best Coffee Shop
I used to live above Fortezza and I became addicted to their Americano. I'll forever be a fan.
Favorite Place for Pre-Dinner Cocktails
It's a three-way tie between The Deck, Copper Spoon and Three Rivers Distilling Company. All three have their own, unique vibe.
Favorite Place for Dinner
Nawa is one of the best new spots in #DTFW. Their Asian fusion menu is packed with so many good flavors, and I love the festive, stylish atmosphere.
Favorite Way to Spend a Night on the Town
A night at Parkview Field cheering on the home team is always a good time. The TinCaps have brought so much life and excitement to downtown.
Note: This post was originally published in 2018 and has been updated.