I've got a special place in my heart for things that are homegrown. From arts to music to, that's right, theatre—Fort Wayne is full of talent that's on the same playing field as national work. When you come to visit Fort Wayne, something you don't want to miss is the talent that is incredibly unique to the community—and there's so much to experience as far as theatre production goes. 
No matter what your interests are, or what your experience level with theatre has been, you're likely to find something you're going to love from one of these theatre companies. 
Fort Wayne, Indiana Theatre Community
all for One productions is known for their productions of traditional work such as A Wrinkle in Time, The Wind in the Willows, and Jane Eyre. They produce seasons in the Parkview Physicians Group ArtsLab on the downtown Arts Campus. 
If you're looking for an intimate dinner theatre experience—this is your gig. Arena produces seven productions each year in a historic building in the equally historic West Central neighborhood, located just west of downtown Fort Wayne proper. Expect lots of laughs, singing, food, drinks, and all-around fun. 
Located at the First Presbyterian Church in downtown Fort Wayne, this theatre program was established in the 1960's on the foundation that the arts enrich human experiences—and they're not afraid to do some "edgy" work and use theatre to have civic dialogue. Every year, they do six productions including Shakespeare, Christmas shows, and a variety of other performances.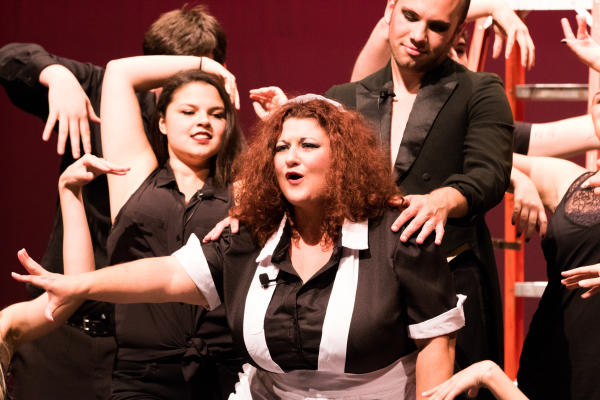 The Fort Wayne Civic Theatre is truly a veteran of theatre production in Fort Wayne. They've been around for 90 years and produce a full season each year. Their home is in the Arts United Center, located on the downtown Arts Campus, and they also host productions in the Parkview Physicians Group ArtsLab just across the street. You can expect anything from locally written plays (especially during their annual Playwright Festival) to holiday classics (like A Christmas Story or A Christmas Carol) to fun and spunky shows like the Rocky Horror Picture Show. Check out the brochure for their 90th season!
I simply adore the Fort Wayne Youtheatre. They've also been producing quality theatre productions for quite a while—since 1934! As you can guess, this company focuses on youth productions, but don't let that fool you. The Youtheatre cultivates talent and produces at a professional level that is a truly special to experience. Their history of performances include plays such as Sleepy Hollow and Alice in Wonderland, and they've also received recognition for their educational productions like The Kid From Kokomo (The Ryan White Story), Ruby Bridges, and Remembering Anne. The Youtheatre produces full seasons and performs in the Arts United Center and the Parkview Physicians Group ArtsLab. 
The theatre students from this school produce musicals, classic and contemporary comedies, and dramas each season that are sure to please. IPFW productions feature both student and community actors in Williams Theatre and Studio Theatre on the beautiful IPFW campus. Recent productions include Little Shop of Horrors, A Midsummer Night's Dream and Anything Goes.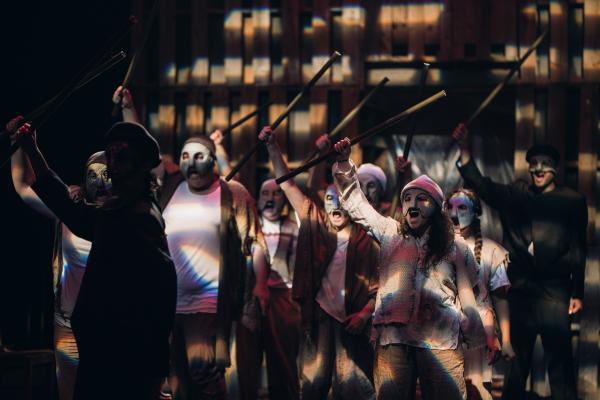 Shakespearemachine (a product of two IPFW graduates) is one of the newer players in the Fort Wayne theatre game—and they deal a strong hand. Dedicated to performing the works of Shakespeare, they do so with a modern twist; all of the actors wear masks. Their hope is to break down barriers of Shakespearean work and help audiences connect old lessons to modern times. Their home is the Parkview Physicians Group ArtsLab on the downtown Arts Campus. 
This theatre company is also new to Fort Wayne, but has wasted no time making an impact. Their energetic musical performances leave audiences inspired in any space they perform in—from their studios to actual theatres, prepare to be wowed.  
Another university offering theatre as a program for students, the University of Saint Francis School of Creative Arts presents an annual production of high quality that, in the past, have included plays and musicals such as Jesus Christ Superstar, The Wizard of Oz, Picasso at the Lapin Agile, and more. The University of Saint Francis hosts plenty of other productions as well in their Robert Goldstine Performing Arts Center (located in downtown Fort Wayne). 
While you're at any downtown theatre production, consider pairing your experience with one of these dining options, or check out any of these other great dining opportunities.
Parking downtown is easy, with free parking on weekdays after 5 PM and all day on weekends, and most locations have their own surface parking lots. 
The gist is, when you come to Fort Wayne, there's surely no shortage of theatre experiences you can have—but more importantly, you won't experience theatre anywhere else the way you will experience it in Fort Wayne.