Are you here in the Summit City to see your grandchildren? Or will they be coming to meet you for a visit? Need something to do? Then you are in the right place. Fort Wayne, Indiana has plenty of kid-and-adult interesting spots to see. Check these out!
Explore Fort Wayne, Indiana with Grandkids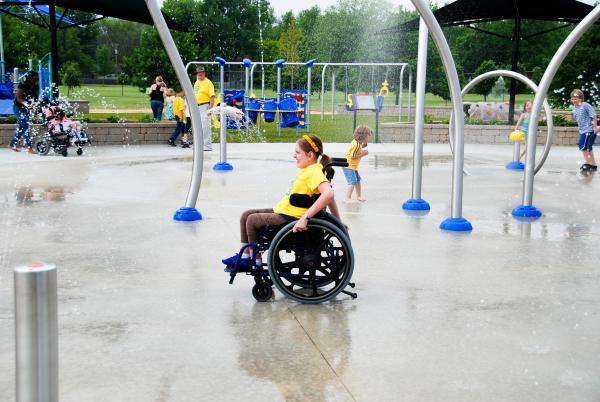 Outdoors
How about having a picnic outside, or strolling through a rose garden?
Lakeside Park features some beautiful reflection pools and plenty of rose bushes to explore. Best seen in the summer and early fall, the rose garden is frequently the site of weddings, but it is also a place where some locals like to take a fishing pole and lawn chair to spend a quiet afternoon. Bring your camera for some lovely photos of kids with the flowers.
To run off some energy in a less staid setting, try Kreager Park, with an all-abilities playground, soccer fields, and plenty of walking paths to scramble around. 
The Bob Arnold Northside Park offers swimming, playgrounds, tennis and lots of space to enjoy the out-of-doors (without too much wildlife) near downtown Fort Wayne.
If you want to do some nature hiking or bird watching, check out our county parks, like Metea County Park (north part of town) and the Fox Island County Park (south part of town).
Metea has five miles of trails, Cedar Creek (designated as a state scenic river), and cross-country skiing (when there are at least four inches of snow on the ground). Fishing is also possible, with a $2 charge and possession of an Indiana fishing license.
Fox Island has 605 acres of outdoor space, seven miles of hiking trails, a swimming beach at Bowman Lake (no lifeguard on duty), and a Bird Observation Building. There are usually a ton of bird feeders that are full of customers, and there are park helpers there to assist with identifying the animals that you find.
Don't forget the Fort Wayne Children's Zoo. Open in the spring, summer, and fall, this zoo is full of wide walkways, plenty of animals, and great rides. From an old-fashioned steam locomotive that goes through a tunnel to pony rides and a ski-lift overview, there's something for every level of adventure.
Fort Wayne Museums and Activities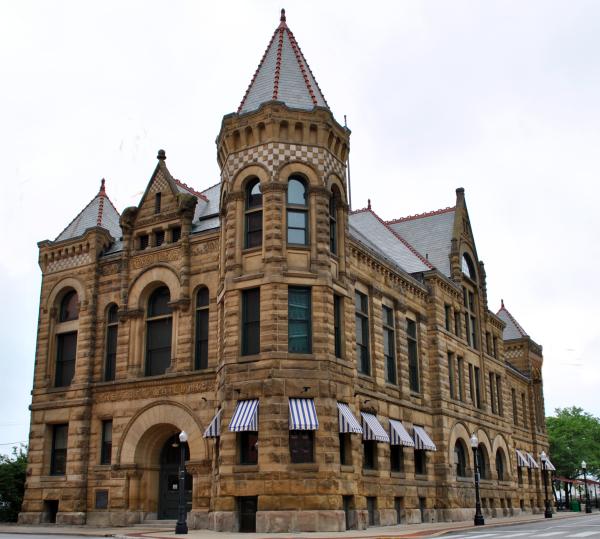 If you want to spend some time indoors, check out the History Center, housed in the old City Hall building. Some exhibits are shown on a rotational basis, but the focus of the museum is to showcase Fort Wayne culture and industry. There are items from the Revolutionary War and the American Indian groups of the area, a mock-up foundry and blacksmith shop, and items that were invented and manufactured by Fort Wayne citizens (think of Vera Bradley, Sweetwater Sound, and magnet wire.)
The Fort Wayne Museum of Art is also a downtown staple. From Chihuly glass to modern art and folk art, there's a little bit of everything here to explore. Check their website to find out which exhibits are currently on the floor, and stop by the Early Learning Center for a variety of kid-driven activities, like drawing on the wall with markers, a story corner, and more.
Or, if you're looking to take up a large chunk of an afternoon, consider Science Central. With many hands-on science-focused activities, you'll discover science and have a great afternoon with your grandchildren!
Performing Arts in Fort Wayne
If you want to take the kids to a live show, there are a variety of options open. Check out the Fort Wayne Youtheatre, which offers kid-acted plays in a variety of venues. The Fort Wayne Ballet offers a Family Series, with presentations like The Firebird, the Little Prince, and Celebrating Dr. Suess. The Memorial Coliseum is the place to find ice shows, character shows, music programs and all sorts of live entertainment. Be prepared – with seating for over 10,000 spectators, shows at the Coliseum can be a little loud. So if you have kids sensitive to loud sounds, bring some ear protection.
Shopping in Fort Wayne
Fort Wayne has two great malls that cater to kids' attention spans and adult shopping needs. Jefferson Pointe Shopping Center is an outdoor experience on the south end of town where visitors walk around outside to get from store to store. There is a giant indoor playspace, touted as "the largest indoor soft play area in the state," so this will keep kids busy when they've seen enough of stores like Von Maur; Bed, Bath and Beyond; and Michael's Arts and Crafts.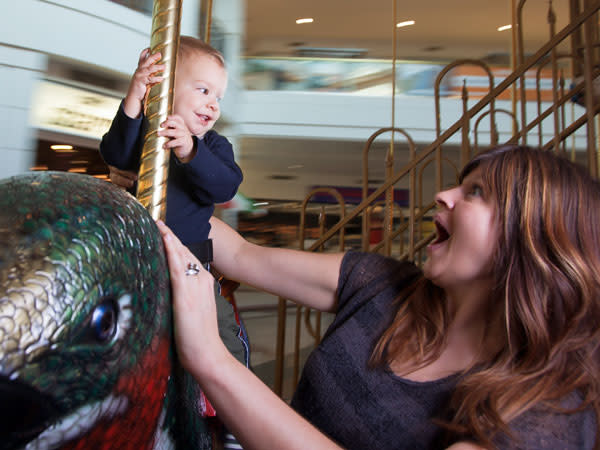 Glenbrook Square Mall is an indoor space on the north side of town that also has a lot to offer the younger set. Check out Build-a-Bear and Inside Scoop, which have stuffed toys and candy to keep any kid (and grandparent) happy. Check out the Fountain right next to J. C. Pennys – toss in some coins and make a wish. Or, stop by the carousel for a spin on this double-decker gem. There are ponies, of course, and dinosaurs, giraffes, eagles, and many other ride options. 
Of course, there are many more activities for you to enjoy in Fort Wayne, discover more at www.VisitFortWayne.com/tripideas!
Fort Wayne has a lot of things to do that will keep grandparents and their grandkids busy. So, come on over and start your adventure!