Looking for an affordable weekend getaway with the family in the Midwest? Fort Wayne, Indiana is a perfect destination offering many free activities you can enjoy with your family any time of year!
Free Things to Do Any Time of Year in Fort Wayne, Indiana
1. Browse the newest exhibit at the Fort Wayne Museum of Art with free admission on Thursdays from 5:00 to 8:00 PM. Shop the Paradigm Gallery or join the museum for 2nd Thursdays, a unique experience featuring demonstrations and designer trunk shows - the second Thursday of every month.
2. Uncover great local food at many of Fort Wayne's farmers markets open on Wednesdays, Thursdays, and Saturdays! Explore VisitFortWayne.com/farmersmarkets for specific times.
3. Let the kids explore at many of our favorite playgrounds including Taylor's Dream and our 53 other playgrounds.
4. Browse the nation's largest public genealogy collection at the Allen County Public Library Downtown.
5. Examine historical documents at the Karpeles Museum.
6. Browse antiques at any one of Fort Wayne's local antique shops.
7. Window shop at many of Fort Wayne's boutique shops featuring locally handcrafted items and unique finds.
8. Browse works of arts at Fort Wayne's favorite galleries including Artlink Contemporary Gallery, Castle Gallery, Orchard Gallery, Northside Galleries, and the University of Saint Francis' five galleries.
9. Stroll the sacred at the Cathedral Museum and Bookstore.
10. Explore the Allen County Public Library – one of the best in the nation! Kids love the downtown branch, complete with reading nooks, aquariums, a toddler play area, and free programming all summer long.
11. Soak up history at the Old Fort; the grounds are open to visitors every day with special programming monthly.
12. Take a tour of Fort Wayne's great nature preserves and parks including Little River Wetlands, Eagle Marsh, many of the ACRES Land Trust preserves, Lindenwood Nature Preserve, and Salomon Farm Park.
13. Make a visit to the Fort Wayne Railroad Historical Society and hop aboard one of the last operating steam locomotives in the world: Nickle Plate Road No. 765. Open Saturdays 10:00 AM to 4:00 PM and Sundays 12:00 to 4:00 PM.
14. Catch a live show at Sweetwater, enjoy free events like Jazz Jam – every last Thursday of the month, or take a tour of the facility, one of the nation's largest leading musical instrument and sound retailers.
15. Enjoy shopping and free indoor play areas at Glenbrook Mall.
16. Take a tour of an Amish community in Grabill, Indiana.
17. Take the kids out to eat for free at one of the many restaurants where kids eat free.
18. Visit the breathtaking Allen County Courthouse (cell phones and cameras not admitted.) Group tours available by appointment Monday – Friday 8:00 AM to 4:30 PM or you can take the self-guided tour.
19. Explore Fort Wayne's 100 miles of trails. Highlights include the 18 miles of hilly Aboite Trails, the Rivergreenway, the Indiana Native Tree Walk, the historic 5.5-mile Towpath Trail, the Pufferbelly rail-to-trail.
20. Walk through Lindenwood Cemetery and visit the graves of many of Fort Wayne's founders (don't forget to do some grave rubbings.)
21. Venture through the stacks at Hyde Brother Booksellers.
22. Grab a bike or take off on foot and tour the sculptures and murals dotted around downtown Fort Wayne.
23. Visit Parkview Field – open to the public on days when there are no games or events.
24. Explore some of Fort Wayne's parks including Pawster Park – perfect for your pooch; Swinney or Shoaff parks for some frisbee golf; and public gardens at Lakeside, Foster, and Freimann Square.
25. Pick up a Downtown Walking Tour map and explore the modern heart of Fort Wayne; a Downtown Historic Walking Tour and explore our history; stop by the Visitors Center for guides to ten historic Fort Wayne districts; or pick up a map and hit the ARCH Heritage Trail.
26. Visit Creative Women of the World to learn about Fort Wayne's global impact on women in poverty and shop their fine artisan products.
27. Tour the History Center during free admission times on Saturdays from 9:00 AM to 1:00 PM (during the farmers market – starting in May.)
28. Enjoy local fine art alongside your morning coffee at Old Crown Coffee Roasters, Mocha Lounge, Firefly Coffee House and Fortezza Coffee.
29. Tour the Hamilton Sculpture Garden, a tribute garden to Emerine Hamilton, near the banks of the St. Marys River in Headwaters Park.
30. Take a tour of some of Fort Wayne's great companies like DeBrand Fine Chocolates or Three Rivers Distilling Company (both for a nominal price!)
31. Take in the views of a beautiful limestone quarry at the Hanson Observation Deck. This observation deck is open to the public and will provide you with an amazing view of the quarry.
32. Enjoy Kid's Korner indoor playground at McMillen Park Community Center for only $1.
33. Stop by the Fort Wayne Visitors Center for more ideas and suggestions!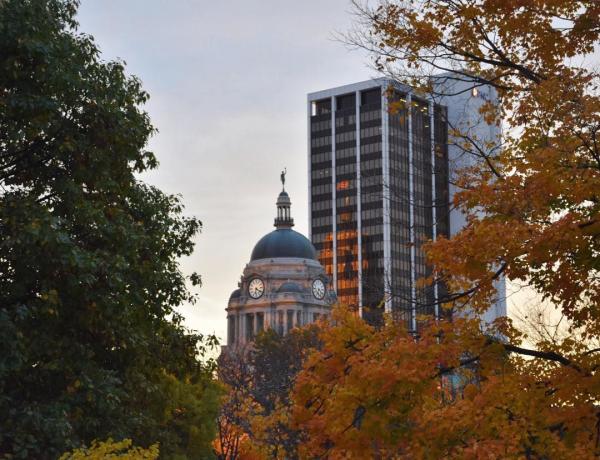 Seasonal Free Things to Do in Fort Wayne, Indiana
As the seasons change so do many of Fort Wayne's great activities. Save on your next weekend away in Fort Wayne this fall.
1. Go stargazing with the Fort Wayne Astronomical Society on Saturday nights one hour after sunset and continuing for two hours at Jefferson Township Park, April through November.
2. Shop in the sun and throw pennies in the fountain at Jefferson Pointe.
3. Discover Fort Wayne from our riverfront with a variety of boat tour options (for a nominal price, May through October.)
4. Round out your summer by celebrating one of Fort Wayne's favorite historical figures at the Johnny Appleseed Festival on September 15-16.