The holidays are a time of spending more time with your family, and celebrating the season with some new sights and sounds. There is no better year than this to celebrate with a drive around Fort Wayne to discover dazzling holiday houses!
From blow-up displays to houses with more than 15,000 lights that give Clark Griswold a run for his money, discover some of the Best Fort Wayne Dazzling Holiday Houses.
We will once again choose the Best House Display through our contest. Be sure to vote for your favorite display, and a randomly selected voter will also win a Fort Wayne Holiday Gift Package!
Cast Your VOTE HERE for the Best House Display between December 1, 2023 and January 12, 2024. 
2023 Best Christmas Light Displays
in Fort Wayne, Indiana
*PICTURES CORRESPOND TO THE HOUSE ADDRESS JUST BELOW THE IMAGE.
EAST 

17524 CONSTA VERDE LANE (HOUSE NUMBER = 1)
Enjoy this double yard display with more than 100 pieces and hundreds of lights. This cheery collection includes 21 different snowmen, 21 piece Nativity scene, Santa and reindeer, choir children, toy soldiers, and more, with many vintage blow molds. Also featuring the "Frageelay" Leg Lamp from A Christmas Story, Characters from the Rudolph special, and more than 50 poinsettias.
---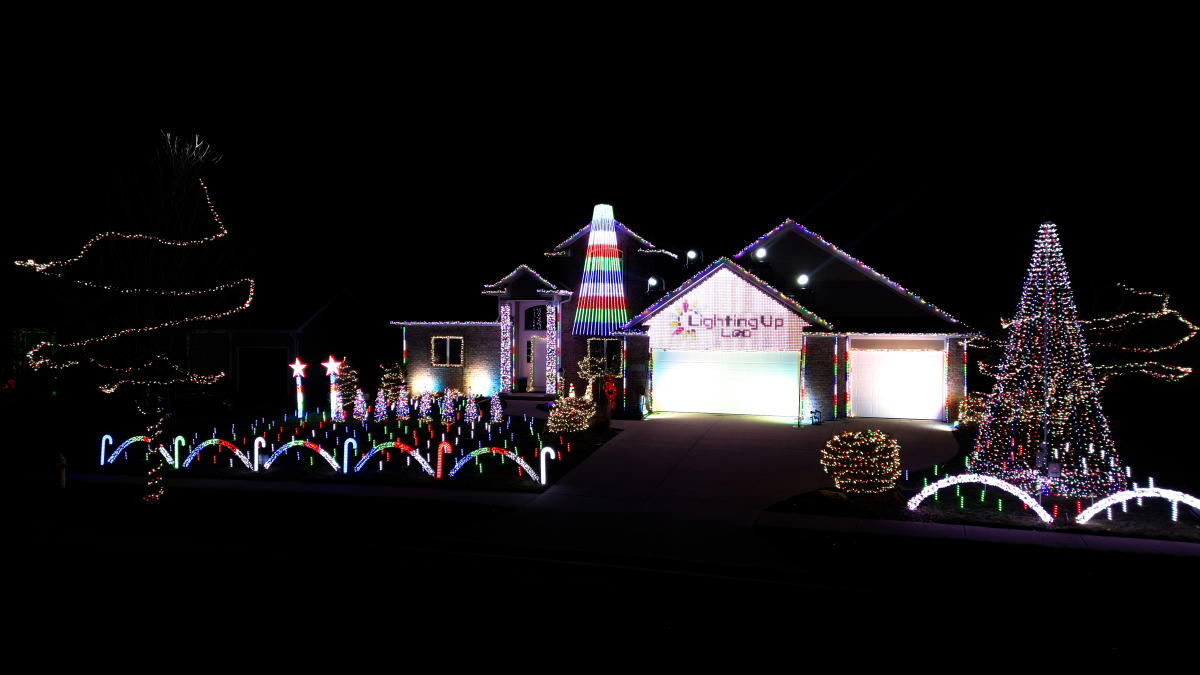 12215 Bufflehead Run (House Number = 44)
Expect to see more than 40,000 LED lights, 4 moving spotlights, a 17 foot LED screen, and more 24 foot RGB tree, 20 ft Mega tree, 2 bouncing pillars, 2 RGB starbursts, 2 jumping arches, and 8 mini trees. Tune your car radio to FM 103.7 to hear the music. Plus, this house is raising money for Riley Children's Foundation on LightingUpLeo.com/donate. Find more information and hours at LightingUpLeo.com.
You can also join them Wednesday, December 20, 6-9pm for Candy Cane night. RSVP Here. Special thanks to Joshua Robison for submitting.
---

11610 WOODSTONE PL. (HOUSE NUMBER = 49)
Come check out more than 100 blow molds, November 28 through December 26! Special thanks to the Miller Family.
---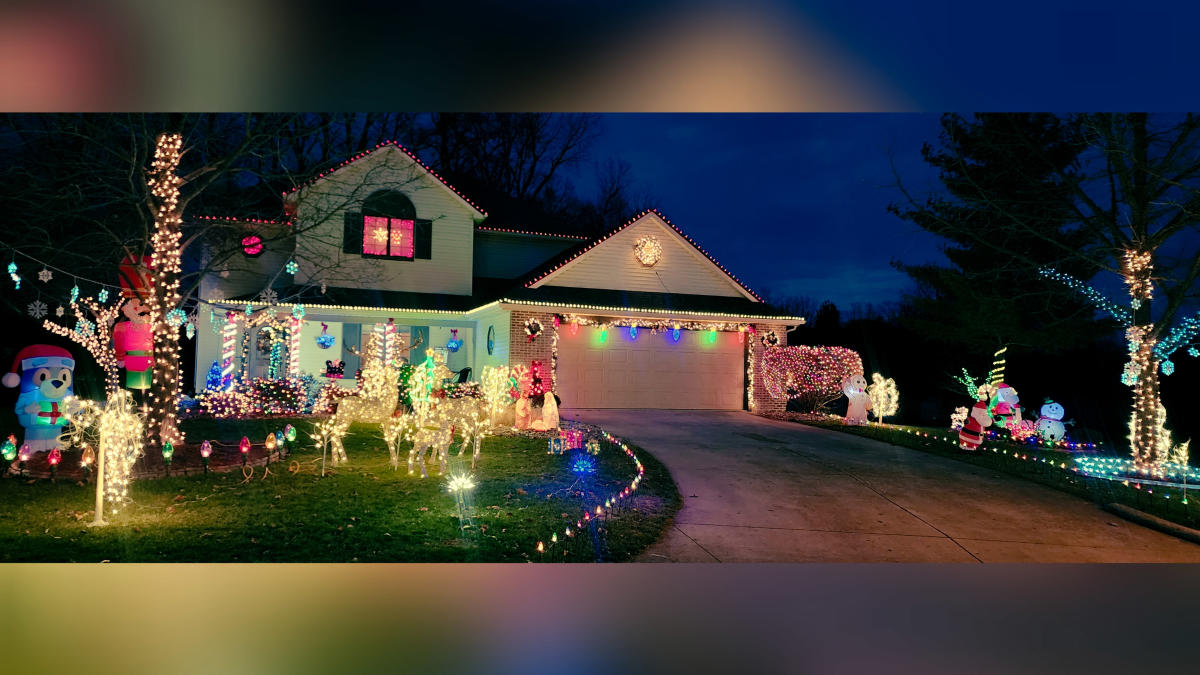 10211 TIDEWATER TRAIL (HOUSE NUMBER = 55)
This display in Riverbend Bluffs is part of a sparkling cul de sac filled with lights. Lights are on nightly from 5:30pm to 11:30pm.
---
2510 KNOLLWOOD COURT (HOUSE NUMBER = 2)
Discover a winter wonderland of holiday favorites at this house that features a combination of vintage blow molds, inflatables, and LED technology. As you approach, Santa and a reindeer family appear under a tree of cascading snowfall lights. Be sure to check out Who-Ville, Minnie's Bake Shop, Gingerbread Lane, and our Christmas Countdown Clock. On Fridays and Saturdays from 7:00pm-9:00pm, see Sam the Snowman blow frosty snowflakes over the yard! Special thanks to Jeff and Deb Noggle for submitting.
---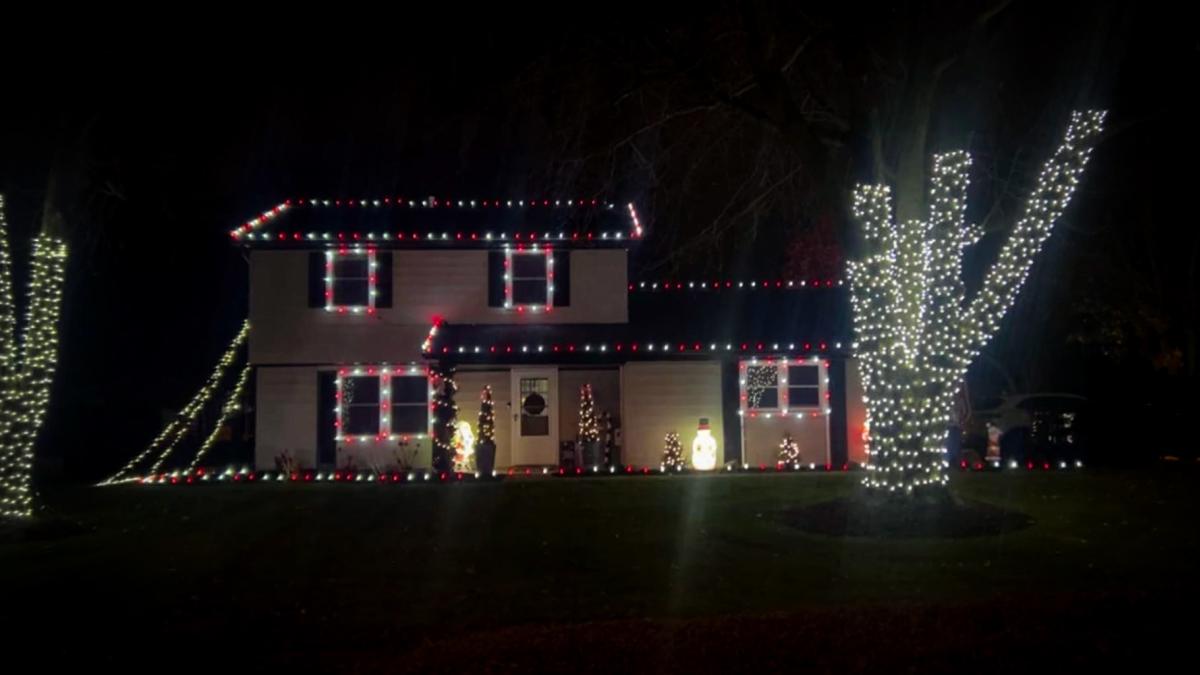 6112 GLENVIEW DR. (HOUSE NUMBER = 3)
Stop by this display, growing larger each year. Lights on nightly by 7pm. Special thanks to Zach Friedrich for submitting.
---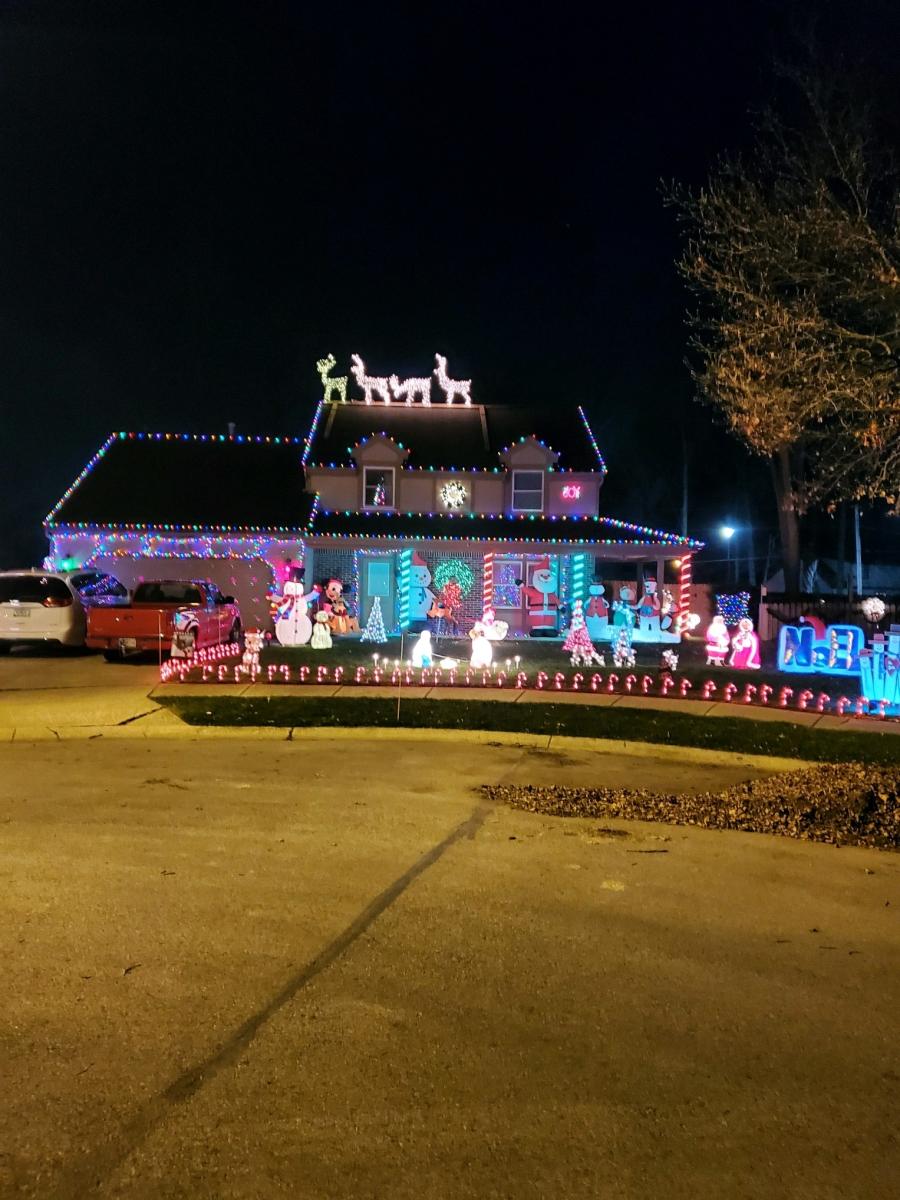 1605 DARIEN DRIVE (HOUSE NUMBER = 4)
Discover this display featuring a a sleigh and reindeer on the roof, an archway over the driveway, a homemade teeter-totter, and inflatables. Special thanks to Tiffany and Dave Jehl.
---

7506 CONIFER PL. (HOUSE NUMBER = 5)
This display features more than 10,000 lights with music animation to Mannheim Steamroller, Trans-Siberian Orchestra, and other classics. Starting November 24 until January 1, you can enjoy these lights every night from 5:30 - 11:00 PM. The ANIMATED music show will run from December 9th through December 25th from 6pm until 8pm. Special thanks to Zachary Jones for submitting.
---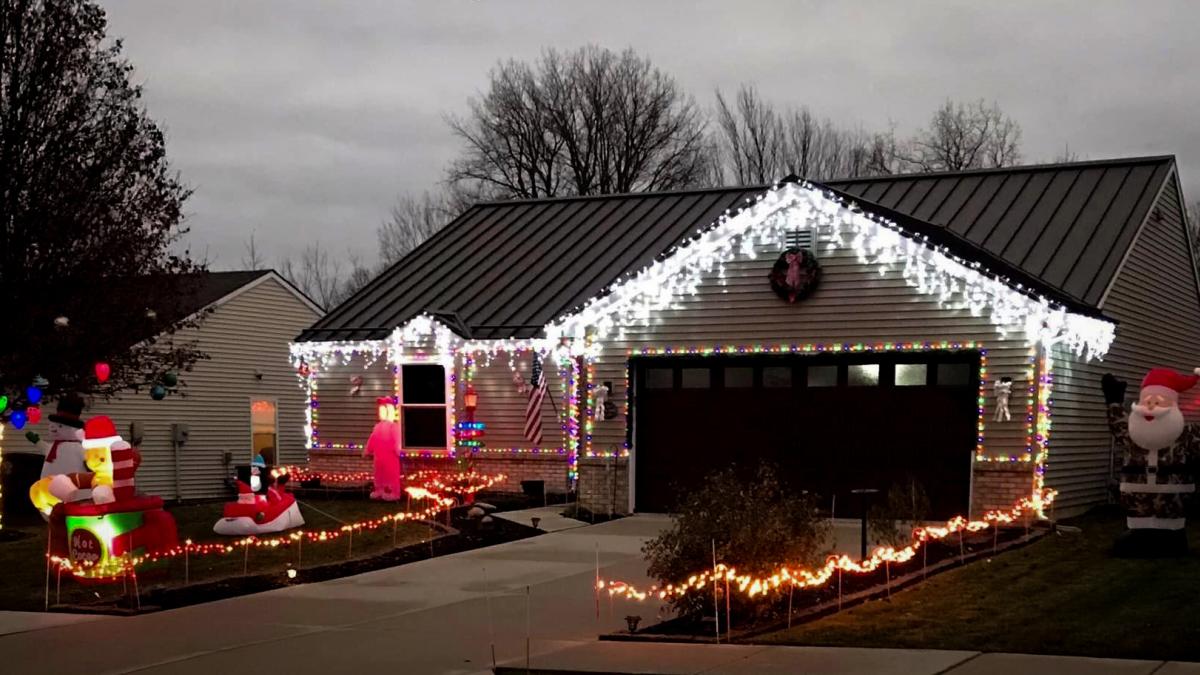 2632 Jacobs Creek Run (House Number = 46)
Enjoy A Christmas Story decorations, cute inflatables, and colorful LED lights in this display. Thanks to Terrence Taylor, Sr. for submitting.
---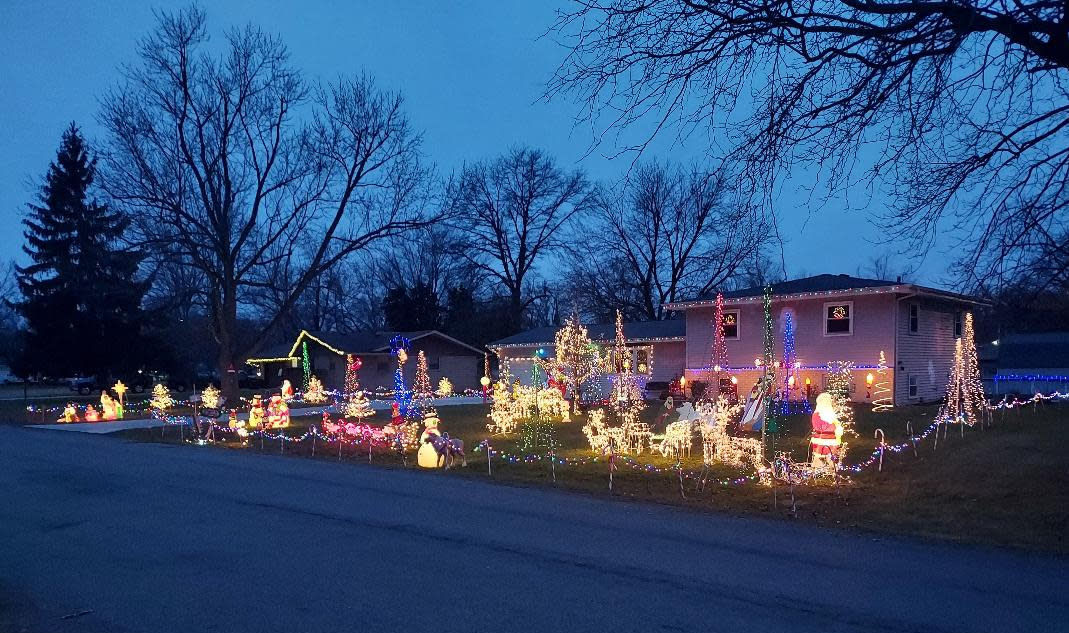 5233 WOODWAY DR. (HOUSE NUMBER = 6)
Besides displaying thousands of lights, this house has over 20 trees that are synched to music, candy canes surrounding the yard, 4 projection lights, a family of deer, and 2 nativity scenes. Be sure to look for look for are Santa dunking an ornament in the basketball hoop, and a dog sled being pulled by 9 light-up flamingos. Enjoy this display from Thanksgiving until January 2 from dusk to 10p. Special thanks to Jeff Kumfer for submitting.
---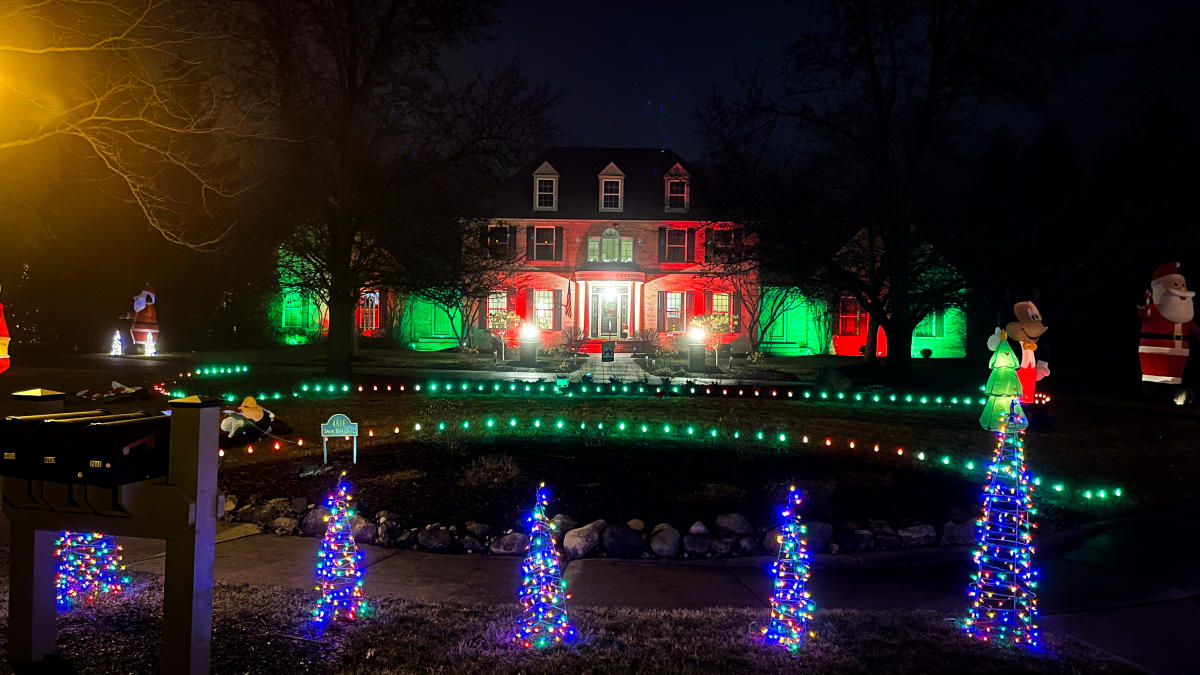 4616 SPRING BURN DR. (HOUSE NUMBER = 7)
Nothing says Christmas like a 15 ft. mega tree with more than 5,000 lights, more than 20 giant inflatables, and festive holiday videos playing on a 20 ft. drive-in screen. Plus, some weekend nights, there will be treats for passers-by. Enjoy this house's display from December 5 to January 6 every evening, dusk to 10 pm. Special thanks to James Andis.
---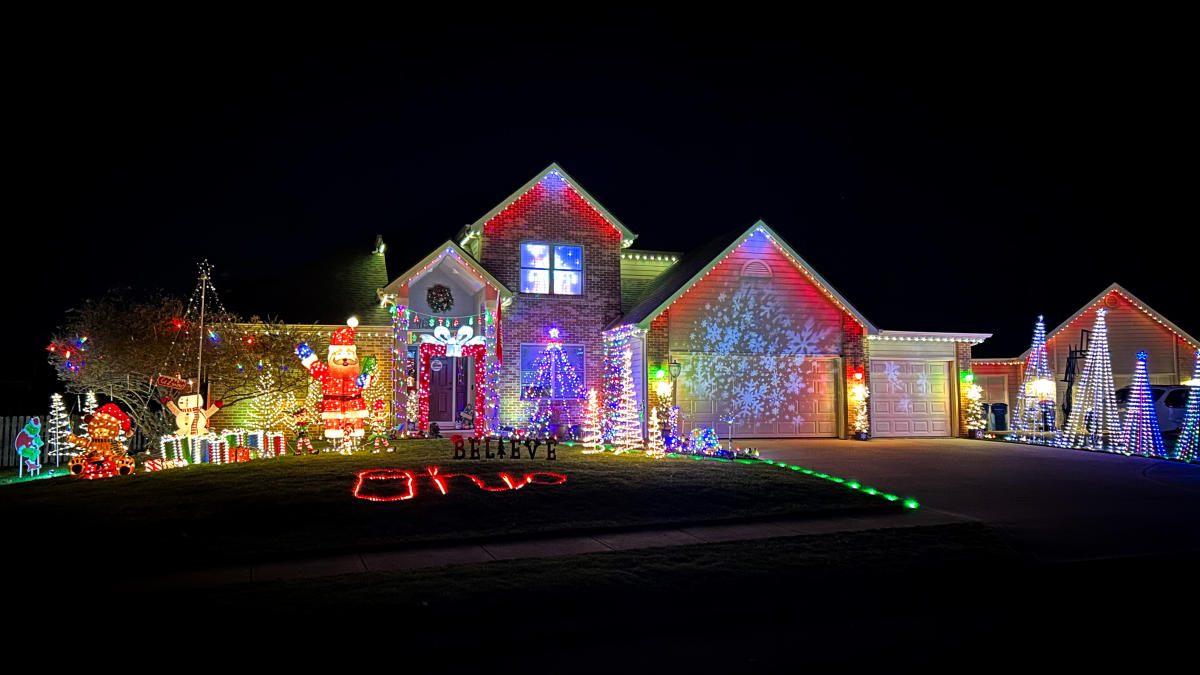 12913 Bordeaux Pl (House Number = 8)
Experience dancing trees, an eight-foot Santa, lighted arches, the grinch, animated gingerbread house, elves, and more. Light patterns along the roof that change every five minutes. Display will run daily, 6-11pm. 
---

1045 CHARLOTTE AVE. (HOUSE NUMBER = 9)
Starting November 23, from dusk to 9pm and 10pm Christmas week. Special thanks to Jerry Crozier for submitting.
---

2626 Huburtus Ave (House Number = 50)
If you're a fan of "Ralphie" in the movie "A Christmas Story" then your going to love this tribute to that wonderful holiday movie. From the "leg lamp" to Ralphie in his pink bunny outfit, you'll see it all on full display playing on an outdoor movie screen as you drive by! Don't miss this one of a kind house of Christmas magic!
---

2819 SHERBORNE BLVD (HOUSE NUMBER = 10)
Through New Year's, enjoy a variety of lights, displays, including a festive winter wonderland theme. Special thanks to Brianne Miller for submitting.
---
NORTH

4405 Fairweather Drive (HOUSE NUMBER = 11)
Experience more than 10,000 lights, with a back roof display visible from Carroll Rd. The front features cutouts, arches, and a projector on the garage with Christmas movie favorites playing on Fridays and Saturdays. Thanks to Alex Richardson for submitting. 
---
6707 W DUPONT ROAD (HOUSE NUMBER = 53)
Stop by this beautiful display, set back from Dupont Road and magically reflected in the pond in front of the home. Special thanks to Steve and Lori Scheele for submitting.
---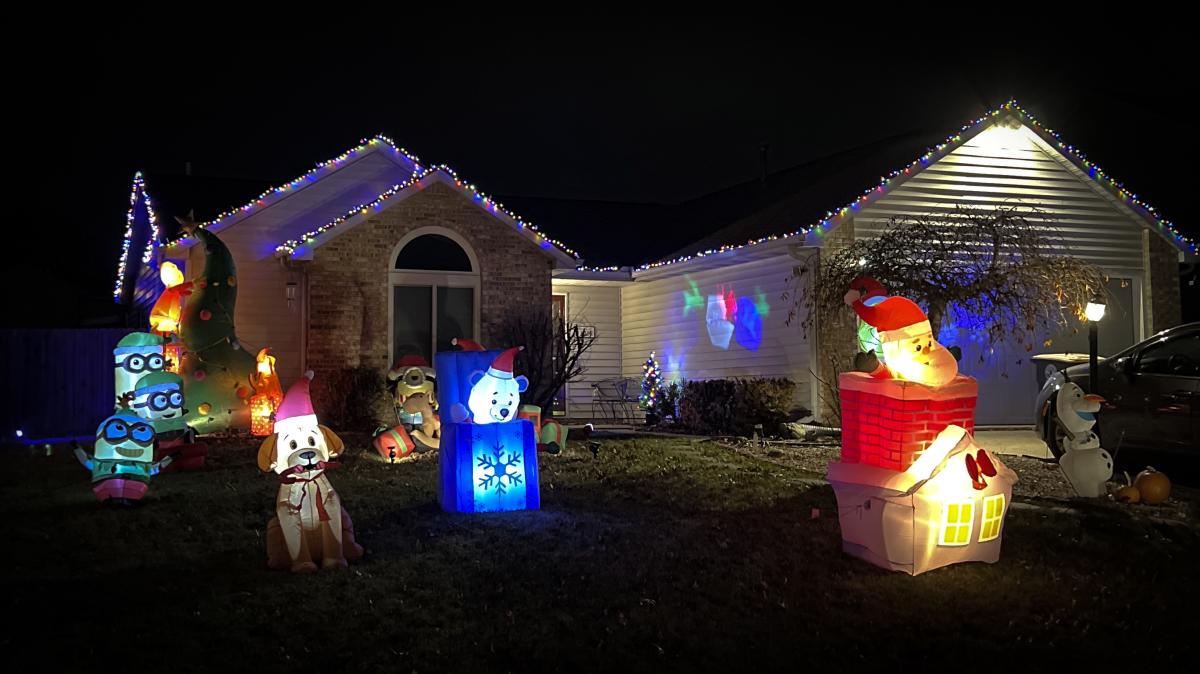 2226 Autumn Lake Place (House Number = 47)
Enjoy fun inflatables and colorful lights in this display. Thanks to Timothy Albert for submitting.
---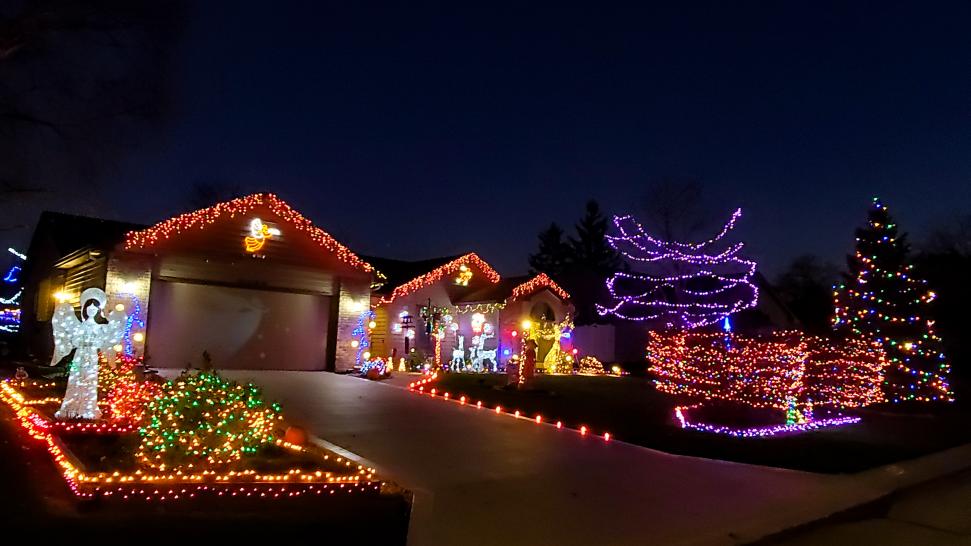 8330 Hawk Spring Hill (HOUSE NUMBER = 12)
Get in the holiday spirit! Hundreds of lights and so many colors illuminate this home and yard. Drive by and experience a magic display of LED holiday decorations, angels, deer and more. Thanksgiving through New Years dusk to 10pm. Thanks to Abby and Wesley Wright for submitting. 
---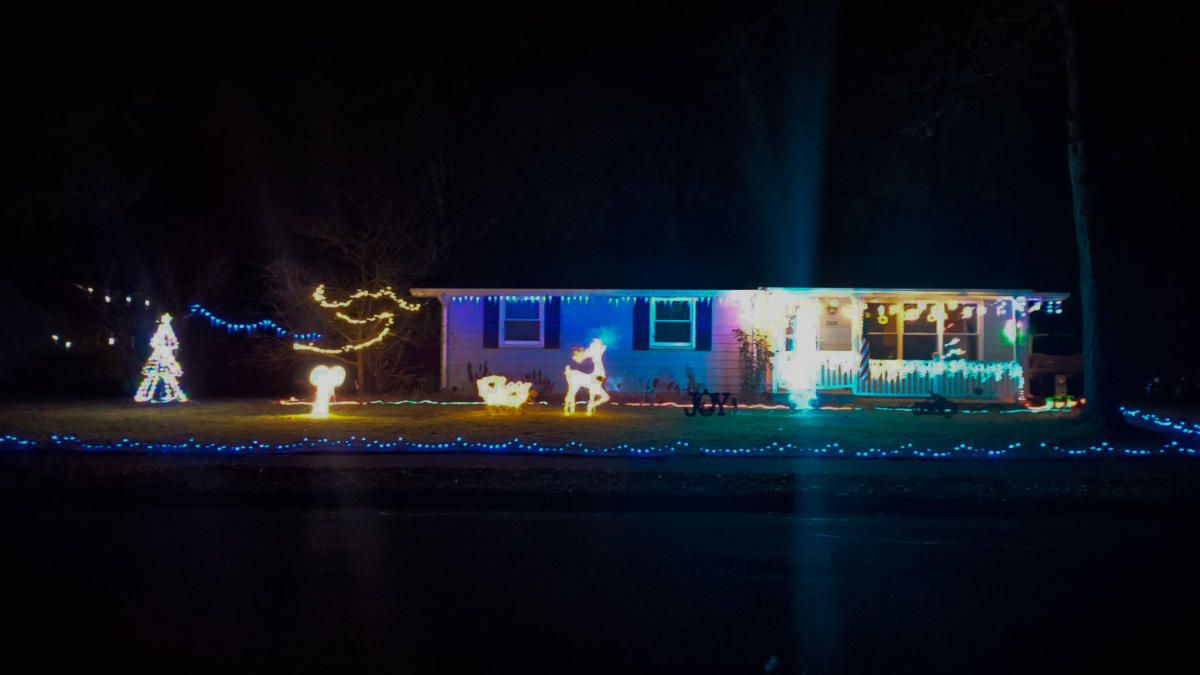 2128 LIMA LANE (HOUSE NUMBER = 13)
This northwest side display features hundreds of lights and festive creatures lighting up the yard. Thanks to Dan Dalman for submitting.
---
4120 Ravens Cove Run (House Number = 45)
This house features bright, colorful lights outlining the home and along the sidewalk. Special yard displays add to the holiday cheer. Thanks to Roger Pilkington for submitting.
---

1127 W. LUDWIG RD. (HOUSE NUMBER = 14)
Enjoy seeing more than 30,000 lights, inflatables, blow molds, and more at this house. Plus, tune your radio to 97.7 to enjoy the light dance set to music. If you have little ones, make sure to bring a letter to Santa with your return address. Enjoy this display starting November 28th. Special thanks to TJ and Joan Smith.
---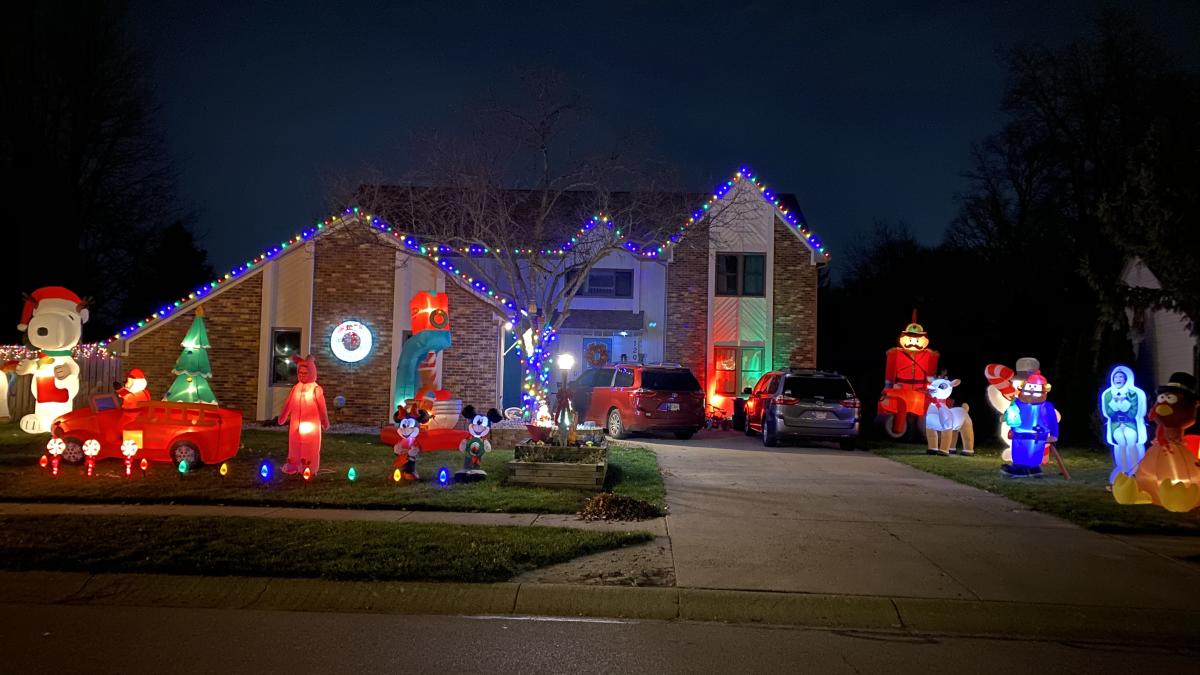 1209 VALDOSTA DR. (HOUSE NUMBER = 15)
This house goes big every year. Be sure to add it to your list to check out starting the Saturday before Thanksgiving! Special thanks to Robert Cochran for submitting.
---

8620 SHEARWATER PASS (HOUSE NUMBER = 16)
Starting November 24th, enjoy this house's display from dusk till dawn. Featuring 30 homemade lighted trees, 3 wreaths, 5 thirty-foot arches over the driveway and more than 18,000 lights this display truly covers the yard and has a great overall balance. Special thanks to Jamie and Alan Beasley for submitting.
---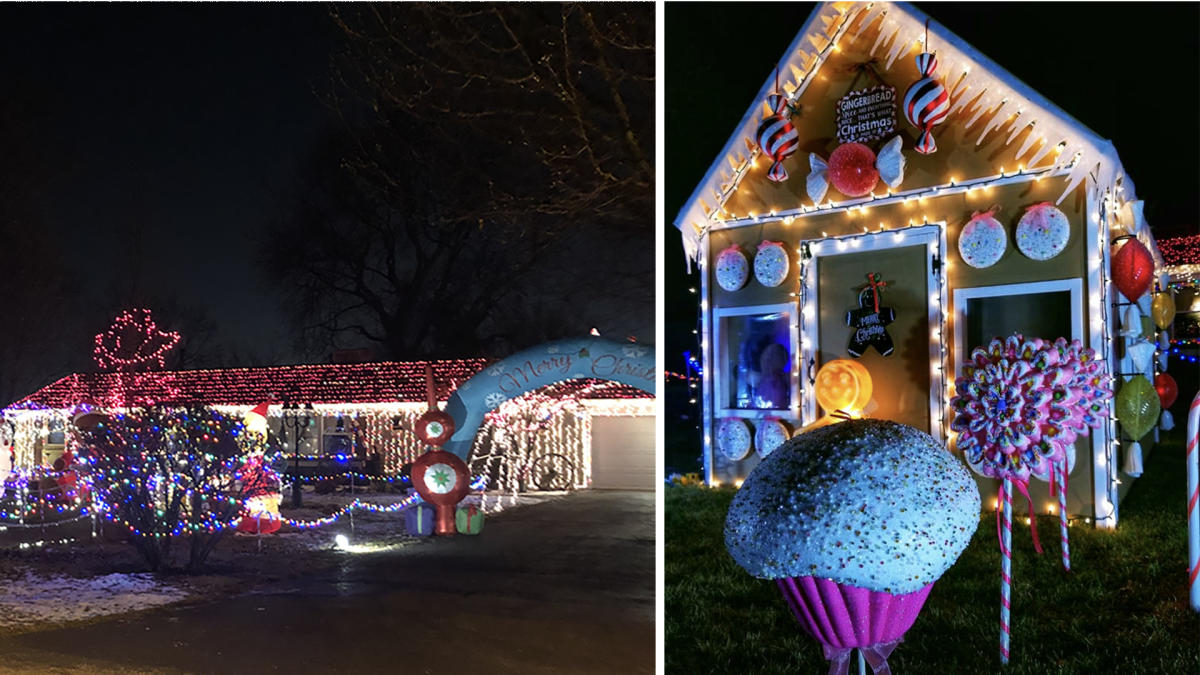 721 PELHAM DR. (HOUSE NUMBER = 17)
The Ellenwood Christmas home will be viewable from November 24-December 31st Sunday-Thursday 5-11 pm and Friday and Saturday 5-12 pm. Expect to see more than 45,000 lights, multiple inflatables, a music light display, and a walk-through arch of lights where you can take pictures in front of the NEW Whooville area, Gingerbread House or Santa's Toy Shop. 
Don't forget to drop off your letter to Santa with a self-addressed stamped envelope. Santa will send a letter back. Also, Friday and Saturdays Santa (and sometimes Mrs. Clause) will be here for pictures, weather permitting. We hope all of you have a Merry Christmas Matt & Jody Ellenwood.
---
1934 W AUTUMN LN (HOUSE NUMBER = 18)
Discover this house's display that features 40-year-old lights and brand new lights. Enjoy a mix of new and old featuring LED lights, incandescent lights, a dozen inflatables, 200 blow molds, different animation and laser show projections, and an 18-foot tall rope light tree. This house has a little bit for everyone to enjoy from December 1 - 31 every evening from 5:00 - 11:00 pm. Special thanks to Tommy Montanaro for submitting.
---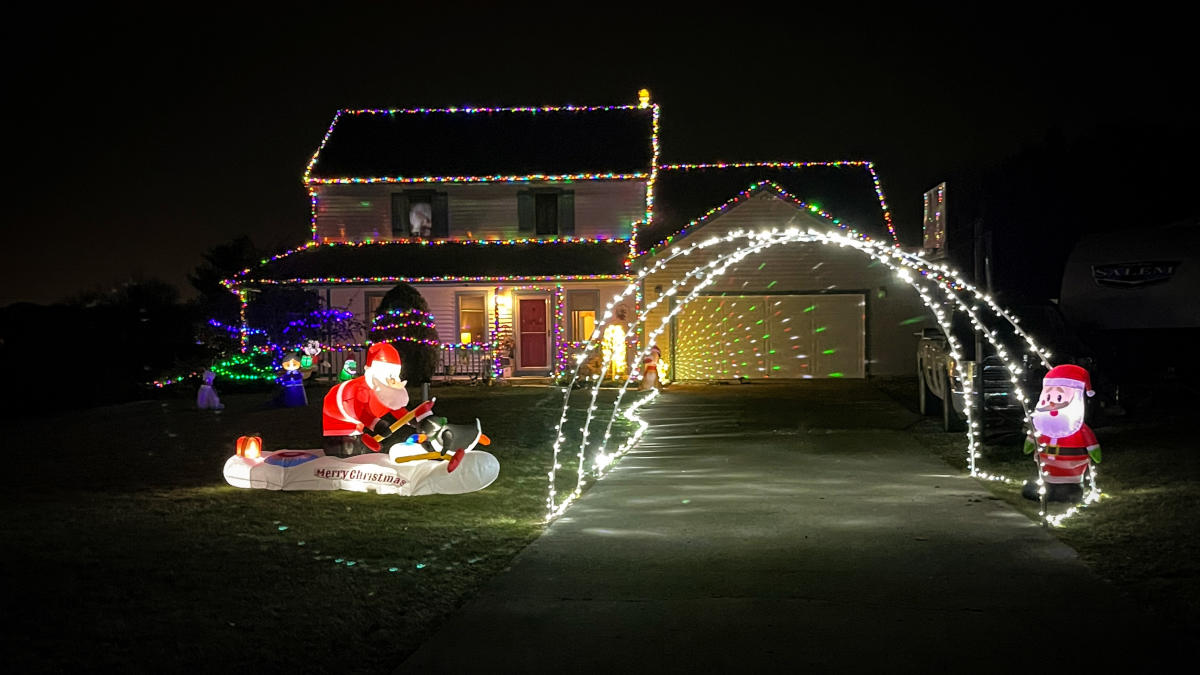 1516 Cedar Wind Ct (House Number = 19)
Check out this cheerful display with fun inflatables and gorgeous lights. Thanks to Amanda Munger for submitting.
---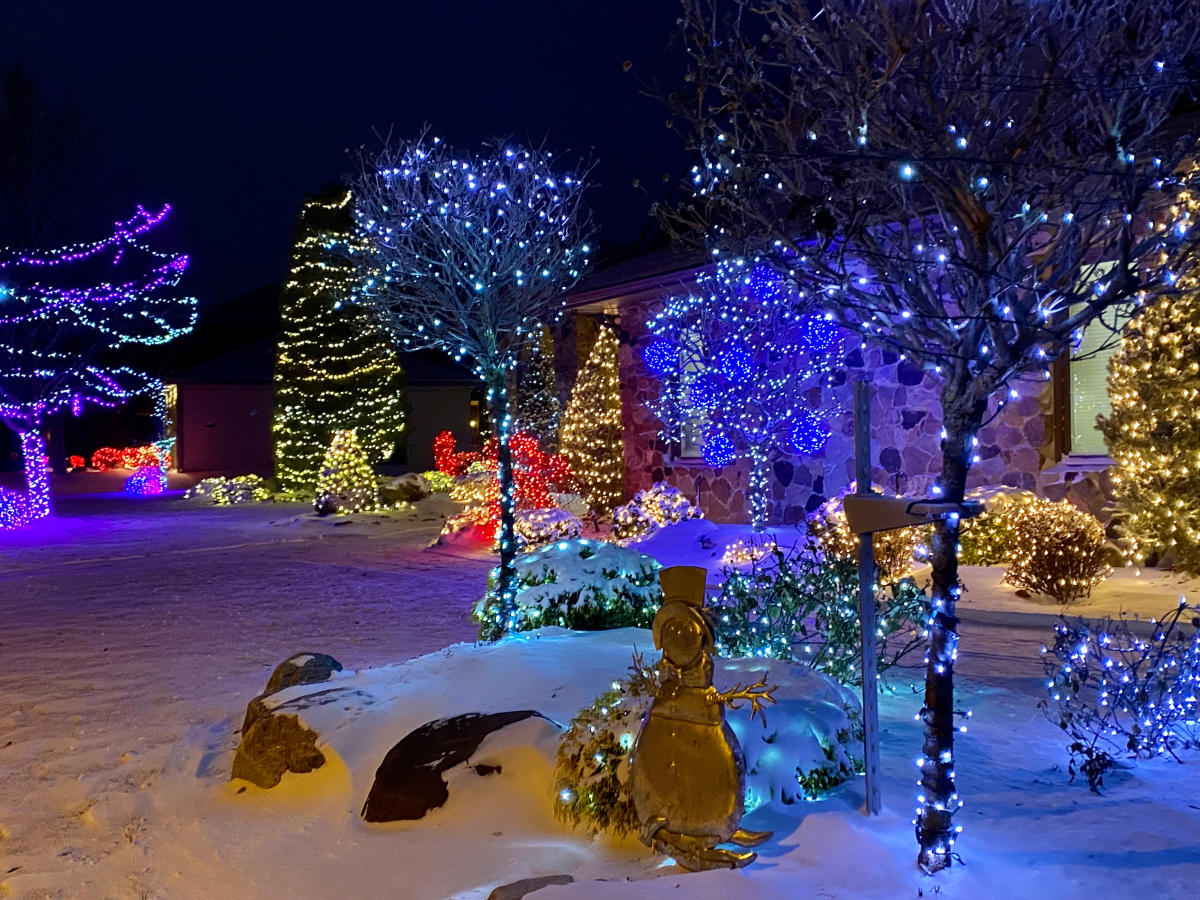 1211 Willowind Trail (House Number = 20)
Enjoy festive lighted landscaping in this Pine Valley home. Thanks to Lowell and Carrol Lepper for submitting. 
---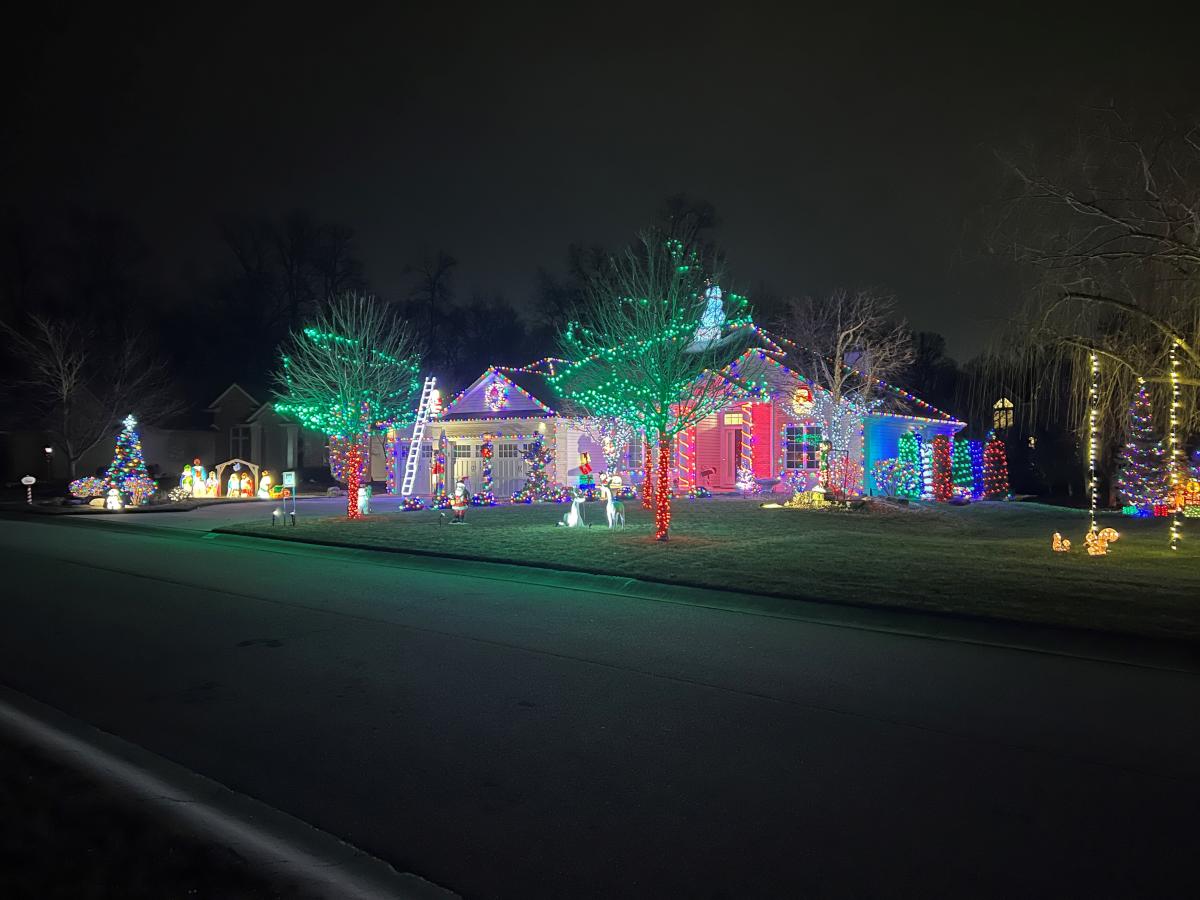 11614 PAINTED PEAK WAY (HOUSE NUMBER = 21)
You can't miss this fun display featuring more than 50,000 lights that light up the house, yard, and sky! From November 24 through January 3 keep a lookout for a 9 ft. Frosty the Snowman standing proudly on the roof, and many Christmas figures. Plus, the next-door neighbors have a great display! Special thanks to Jon and Debbie Gordy.
---

15509 GOLDEN EAGLE NEST (HOUSE NUMBER = 22)
Welcome to the musical wonderland! Tune in to 97.7 and listen to hours of Christmas music and famous movie clips that alternate with The Story as the 80 ft nativity comes to life. Looking for Olaf? Check. Yoda? Check. 100 foot Santa sleigh and reindeer? Check. Can you find the leg lamp, flying pig, or dozens of other animals? 7 foot tall Santa 25 feet up in a tree? Enjoy this display during the day, as the Christmas animals can show their true colors at that time. It's worth the drive. Display will be on nightly from 5:30 pm until Midnight 7 days a week from November 27 through January 2.
---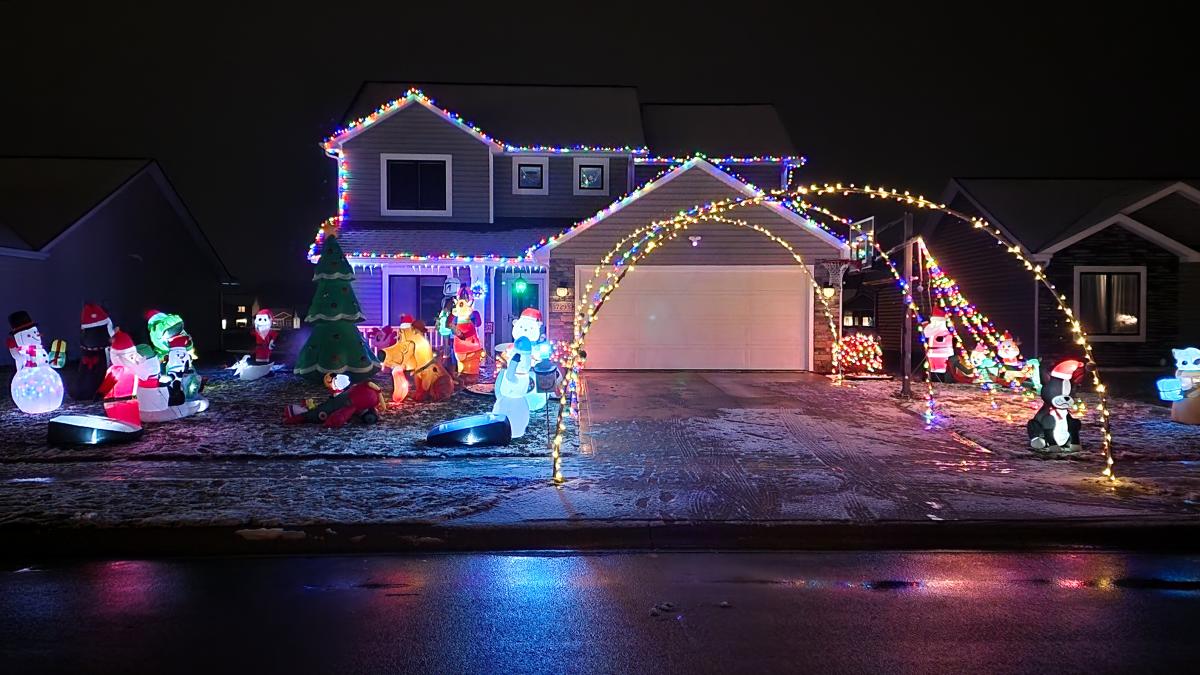 17293 HUMMELSTONE RUN (HOUSE NUMBER = 56)
This Huntertown display has bright lighted arches, inflatables, and more, all to help spread the holiday cheer. Thanks to Franchesca Huffman for submitting. 
---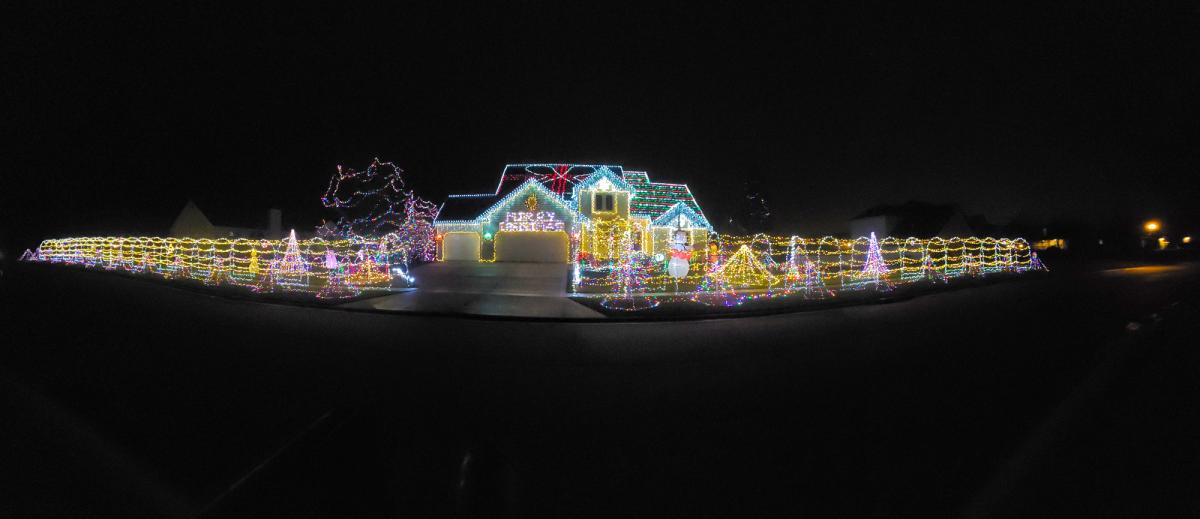 1618 CROOKED CREEK PARKWAY (HOUSE NUMBER = 23)
Expect to see more than 75,000 lights, archways, and tunnels that span almost the entire block. Plus, this display is viewable from Union Chapel. Enjoy this display starting December 1 through January 6. Special thanks to Jason Grossnickle.
---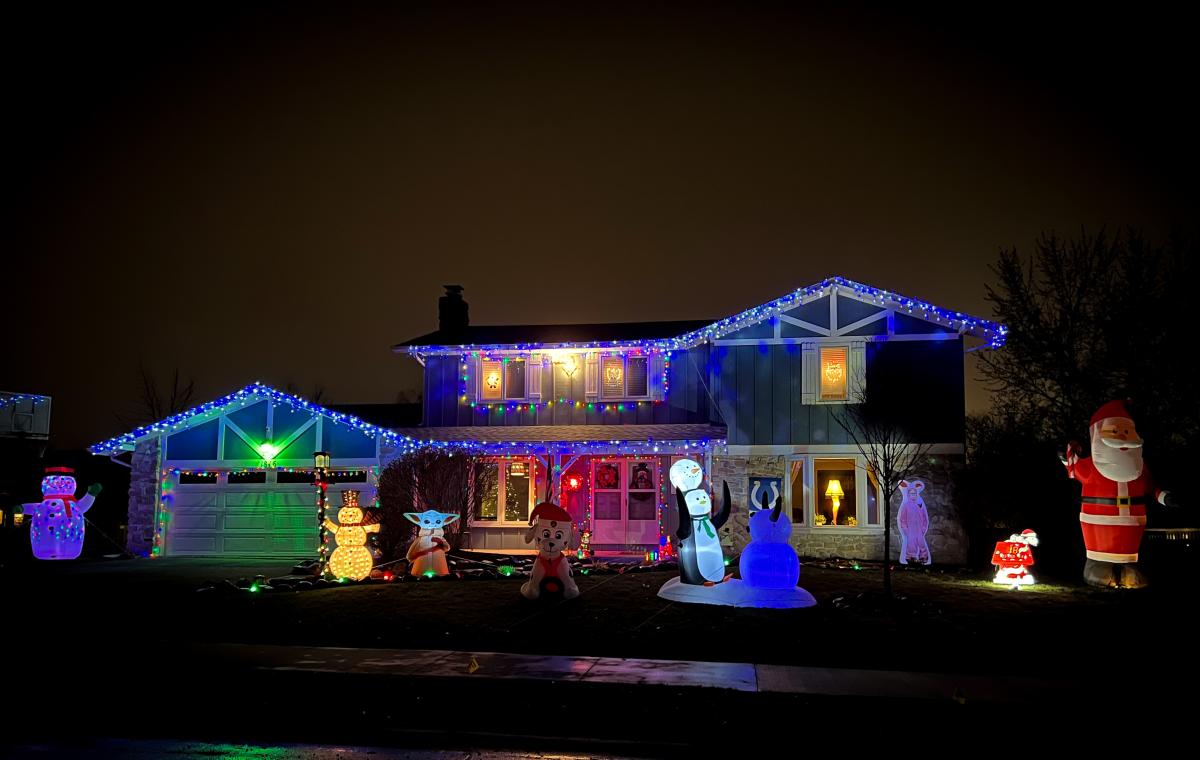 1816 BRANDYWINE TRAIL (HOUSE NUMBER = 24)
From 6:00-10:00 pm, enjoy a display of lights, inflatables, and a couple of additional surprise fixtures! Special thanks to Sharon Burcham for submitting.
---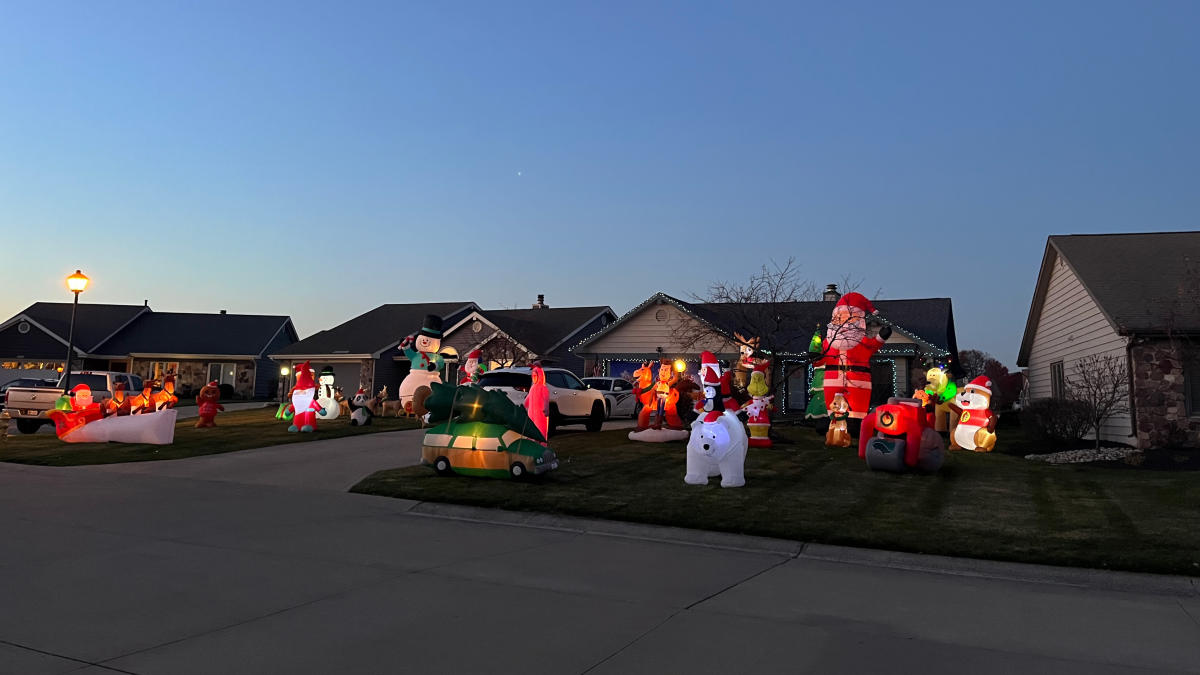 1115 LAKE POINTE COVE (HOUSE NUMBER = 25)
It's an inflatable holiday takeover! Special thanks to Frank Doster for submitting.
---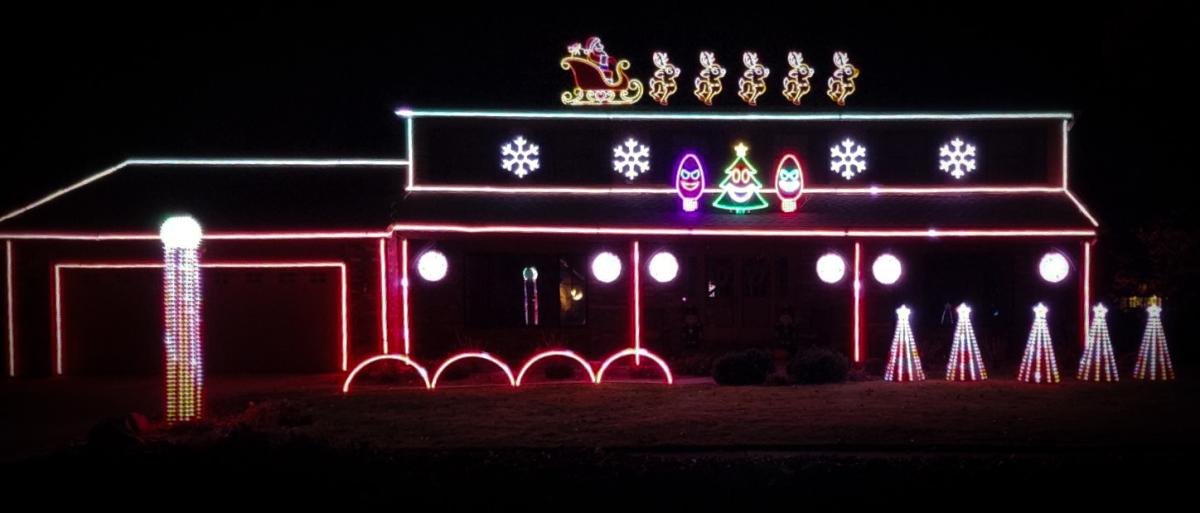 11207 TRAILS NORTH DRIVE (HOUSE NUMBER = 26)
Enjoy this display in Pine Valley with more than 8,500 programmable LED lights timed to music on 88.9 FM. Santa and his reindeer stopped by this year to join The Bruce Spruce Band. The show runs nightly Sunday-Thursday 5pm to 10pm and Friday-Saturday 5pm to midnight. Special thanks to the Colones for submitting.
---

11314 KINGS CROSSING (HOUSE NUMBER = 27)
A Pine Valley tradition continues with the 32nd year for a Christmas display at this house and overflowing a bit to my kind neighbor's lawn this year. Enjoy this wonderland featuring life-sized animated silhouettes, similar to those at Fantasy of Lights. Including Santa and his flying reindeer, a special Christmas train, Penguins, the Grinch, Tin Soldiers and so much more. New is an animated pixel tree set to music, Tune to FM87.9. Plus, weather permitting, enjoy candle-lit luminary bags lining the street on Christmas Eve. This house's display will be lit from November 25 thru at least December 26 or so. Enjoy from 5:30 to 11:00 pm.
---
SOUTH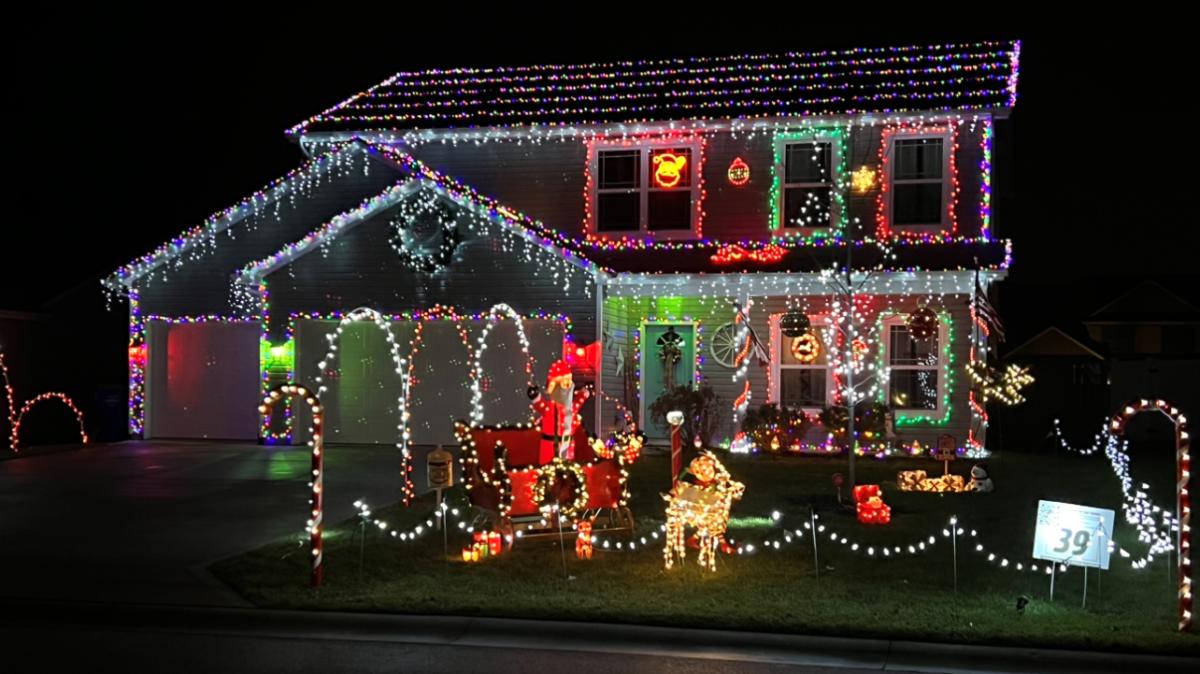 10947 LA FORTUNA COVE (HOUSE NUMBER = 28)
Check out this display - they've added a few new things. Homemade reindeer help pull the sleigh so Santa can get where he needs to go. Lights are set to music so you can stop and listen to some of your favorite songs as the lights twinkle and blink along. Are your kiddos wanting to write to Santa? If so, they have a mailbox next to Santa's sleigh where you can leave letters and Santa will write them back (be sure to leave a self addressed envelope along with your letter and a stamp), and grab a candy cane too. This display will be lit up from Nov 24th at 7 pm until 11 pm nightly to January 3rd! We hope you will vote for our display with the code provided in the yard.
---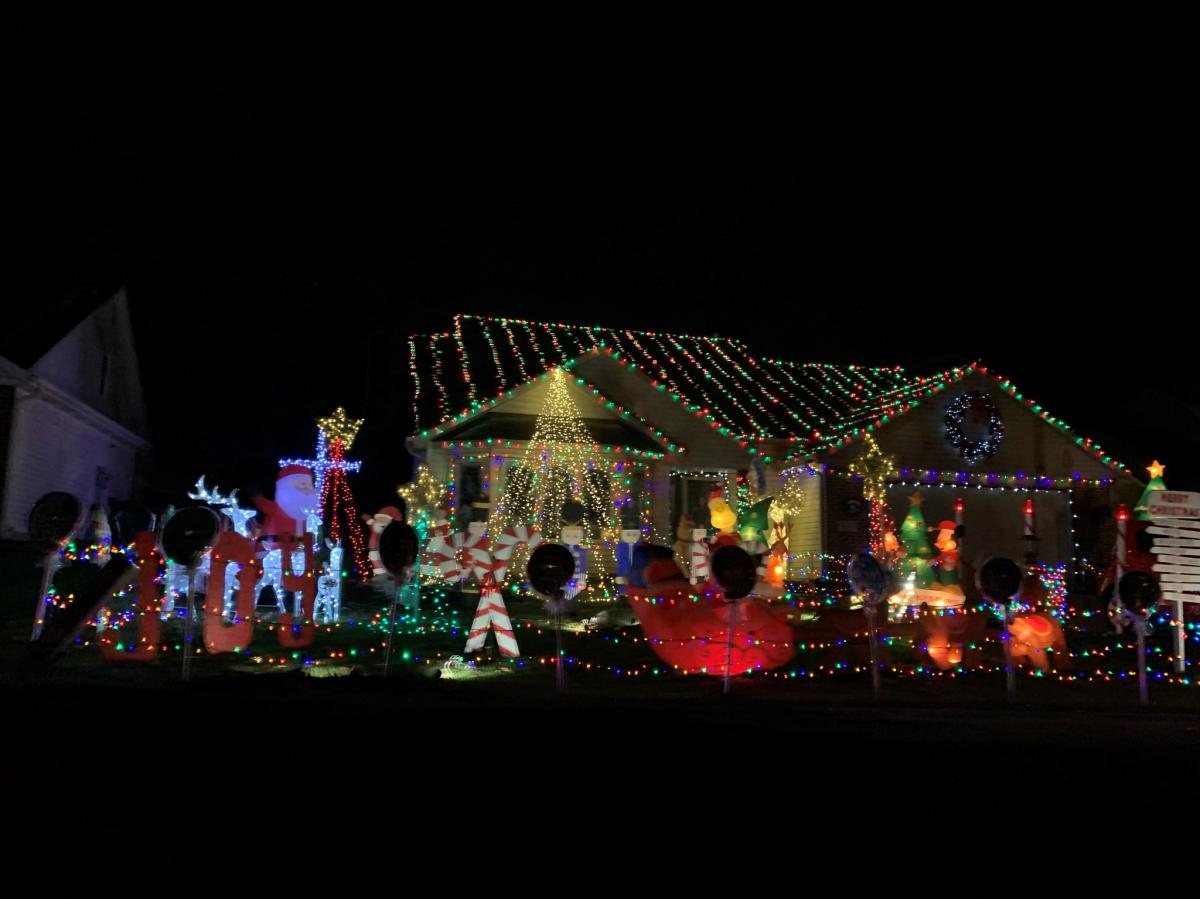 9033 Whispering Woods Drive (HOUSE NUMBER = 29)
Thanksgiving night through New Year's Eve enjoy this display night from 5:00 pm until 10 pm. This display features more than 20,000 lights, inflatables, and cutouts. Special thanks to Shellie Teague for submitting.
---
Photo coming soon
2125 BLUE HARBOR DR (HOUSE NUMBER = 57)
Thanks to Joseph Lauer for submitting.
---
9916 HOUNDSHILL PLACE (HOUSE NUMBER 30)
See this merry & bright light show complete with meteor lights and flying pigs. Special thanks to Michael Heymann for submitting.
---
10032 HOUNDSHILL PL. (HOUSE NUMBER = 31)
All four sides of this house have been decorated for Christmas! There are lots of reindeer, polar bears, snoopy on a mailbox, angels, candy canes, Santa, and many other animals all over the lawn! Plus, there is a beautiful white Christmas tree in the backyard along with Santa's sleigh flying off into the sky. The house sits at the intersection of Weatherside Run and Houndshill Place, so you get a great view of this wonderful display from all four sides! Be sure to stop by between 5:30 - 10:00 PM. Special thanks to Jim Heymann for submitting.
---

3902 CHANCERY PL. (HOUSE NUMBER = 32)
Enjoy this house's more than 16,000 lights and 8 inflatables from November 26 to January 10. Special thanks to Brian Potts.
---

---
9603 WOLF RIVER PL. (HOUSE NUMBER = 33)
Check out this display featuring archways and a candy cane theme from November 26 through the New Year. Special thanks to Brian Potts.
---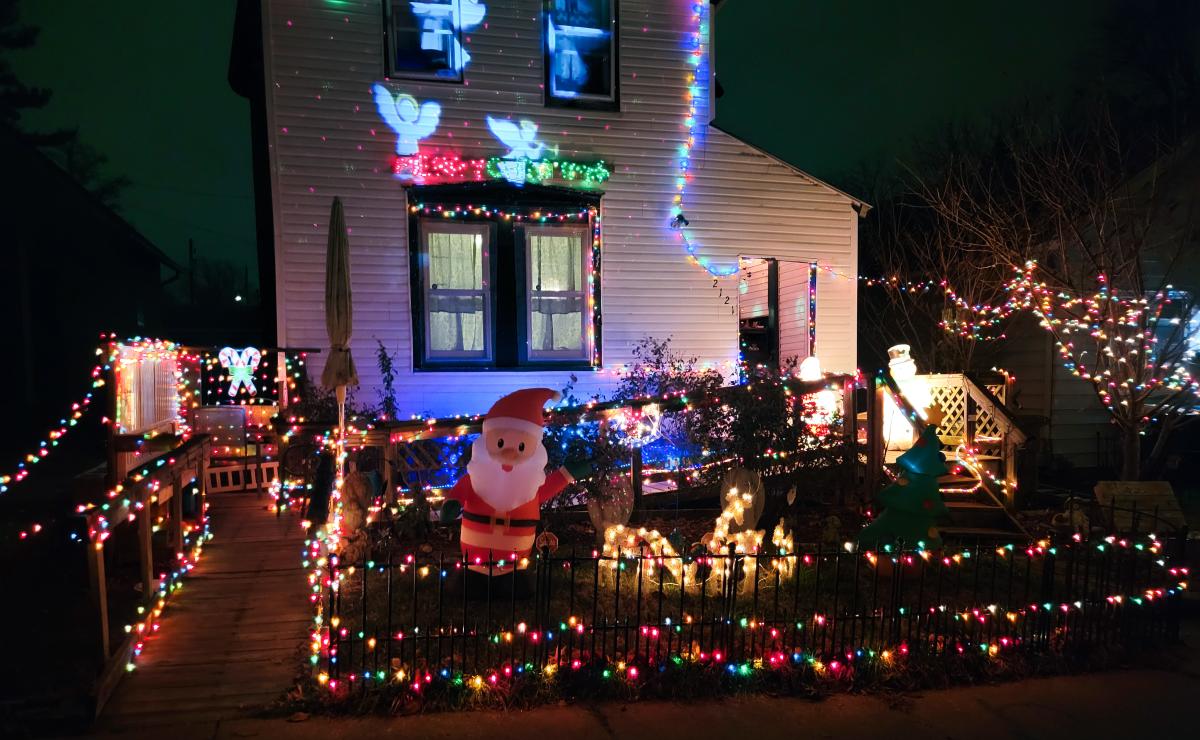 2121 FOX AVE (HOUSE NUMBER = 34) 
This display features a large collection of lights, decorations, and projection to maximize the holiday cheer. Thanks to Joanna Edmondson for submitting. 
---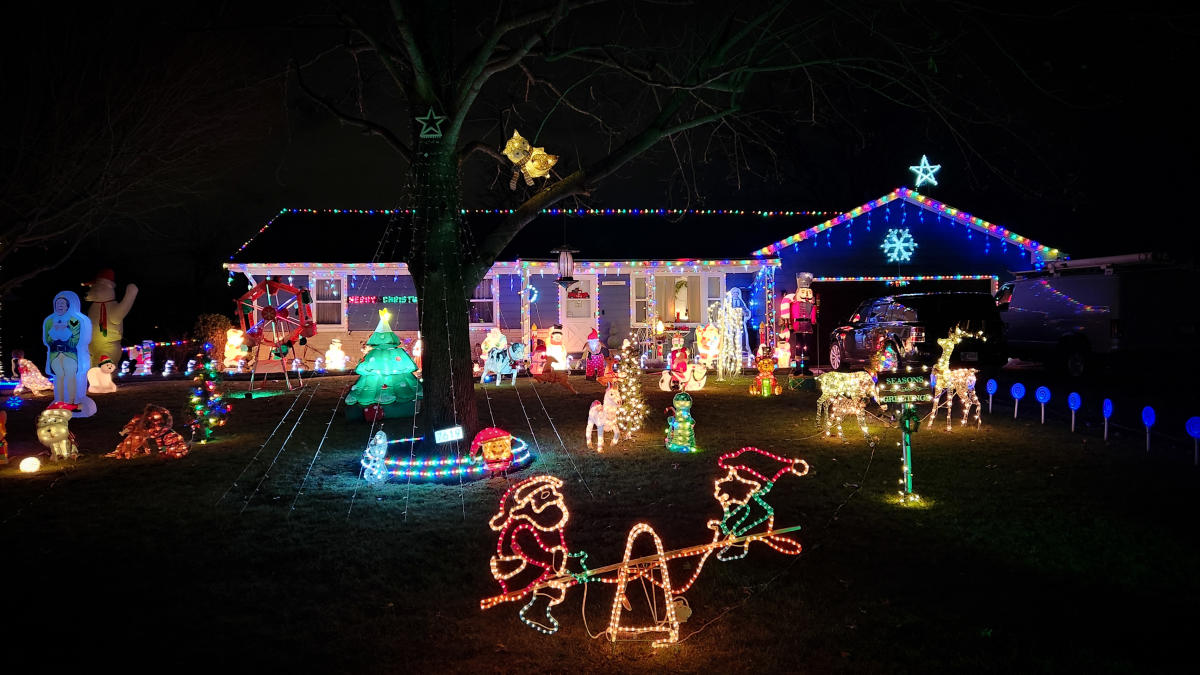 7619 KILBOURN (HOUSE NUMBER = 35)
For a classic holiday display, this house is for you! In its 6th year of setting up a holiday display, this house features more than 12,000 lights, inflatables, blow molds, and many different animals. Don't forget to look for the Grinch with the change of heart, giving out candy canes. Enjoy this display from Thanksgiving until January 1 from dusk until 10:00 pm every night. Special thanks to Clayton Bishop for submitting.
---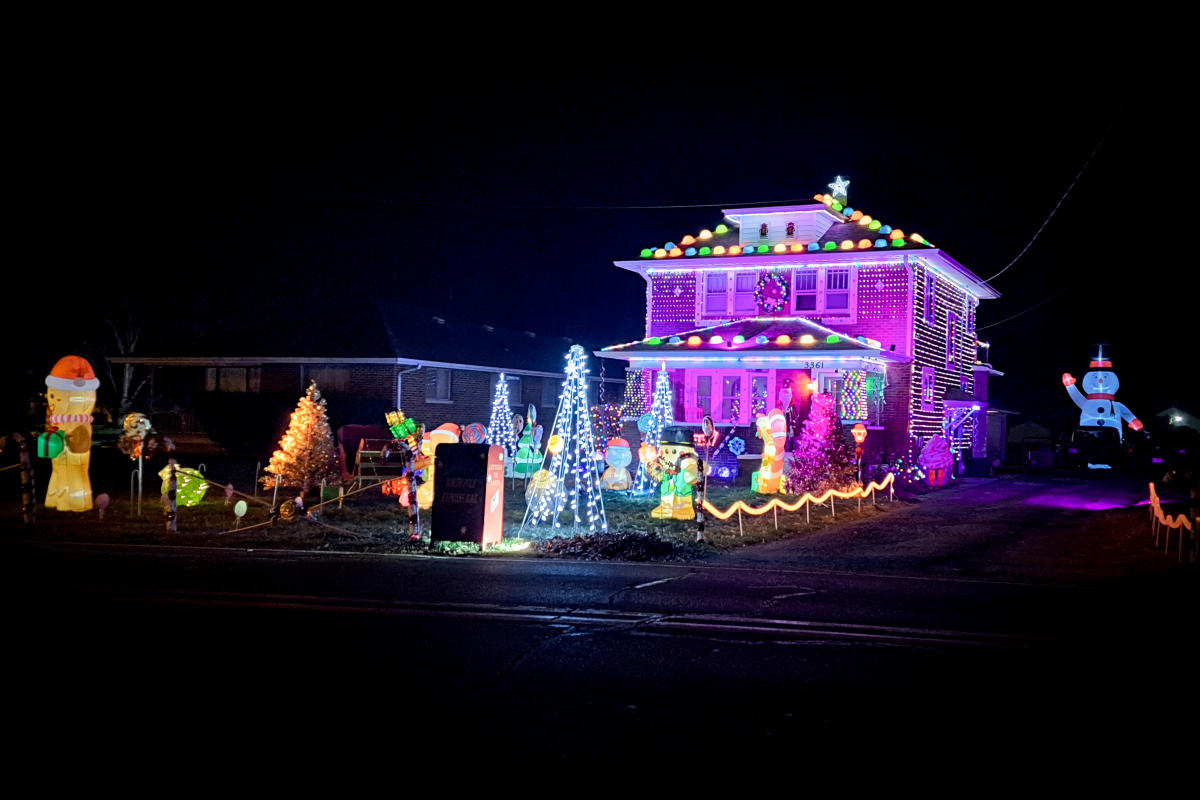 3361 SAND POINT RD. (HOUSE NUMBER = 36)
Featuring yard decorations and 15,000 LED lights with a Whoville theme, this display will also have a sleigh for photo opportunities and a "Letters to Santa" dropbox for all ages to have their letters delivered to the North Pole (Don't forget your address). This display will run November 24 to December 20. Special thanks to Amanda and Drew Landers for submitting.
---

9219 OLD LOWER HUNTINGTON (HOUSE NUMBER = 37)
Expect to see a light program at this house featuring more than 15,000-pixel lights set to music. In addition, to the beautiful display, this house will be accepting donations of men's socks for a local charity. Plus, weather pending, there might be some hot chocolate nights. This display will run Sunday to Thursday from 5:30 - 10:30 pm and Friday & Saturday from 5:30-11:30 pm starting on November 25. Special thanks to Kurt and Sherry Girardot.
---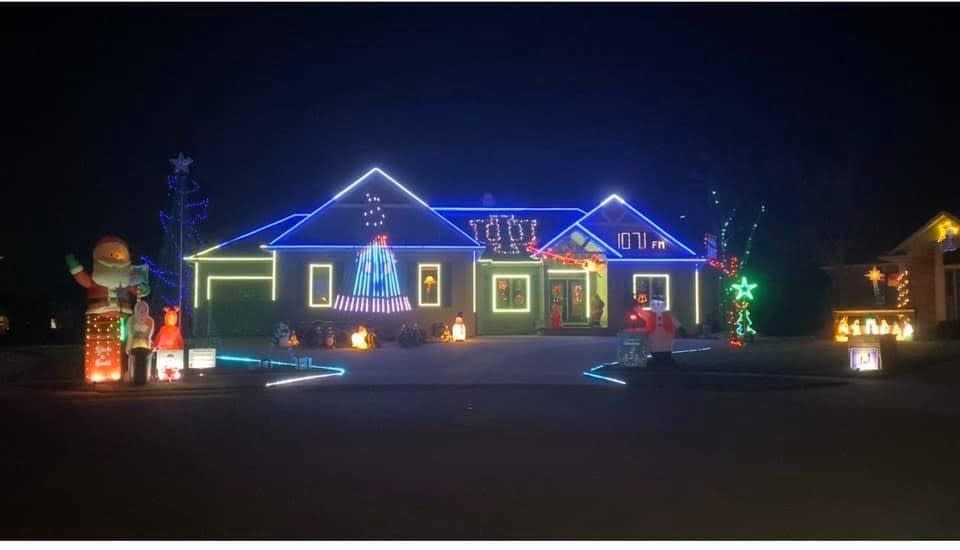 13525 PLUMBAGO CT. (HOUSE NUMBER = 38)
This house is full of KrisMiss Spirit and much more than a show. Tune into 107.1, sit back and relax, and be sure to bring a donation for Community Harvest Food Bank. This house features inflatables, blow molds, RGB pixel lighting over the entire house, 2 Large Matrix screens and you can drop off letters to Santa. Santa does return letters to the children if an address is provided. Enjoy the display nightly 6:00 pm - 12:00 am, starting on Thanksgiving night through January 3rd.
Learn more about this display on its very own social profiles! Special thanks to Kris and Missy Girardot.
Instagram: KrisMissKreations
Twitter: KrisMissLights
Facebook: KrisMiss Kreations
---

3115 W. COUNTY LINE RD. S (HOUSE NUMBER = 39) *2021 Best Display *
This six-acre property is beautifully decorated up to 70 thousand lights all synced to music. Display turns on every evening from 5-11pm. The little ones can drop their letters to Santa off and receive a response, if left with a self addressed, stamped, envelope. Last evening for the mailbox to be out is December 18th so be sure they get them here before that! This year we will be collecting monetary donations for the Make a Wish foundation so please consider giving if you can! We ask that you please pull into the driveway, do not slow down or stop on County Line, stay in your cars, be patient with others, pass carefully, and turn around at the barn. If you would like to follow us on social media we can be found on Facebook at Christmas on County Line. Happy Holidays from our family to yours!!!
Special thanks to Mike and Leia Bedwell. 
---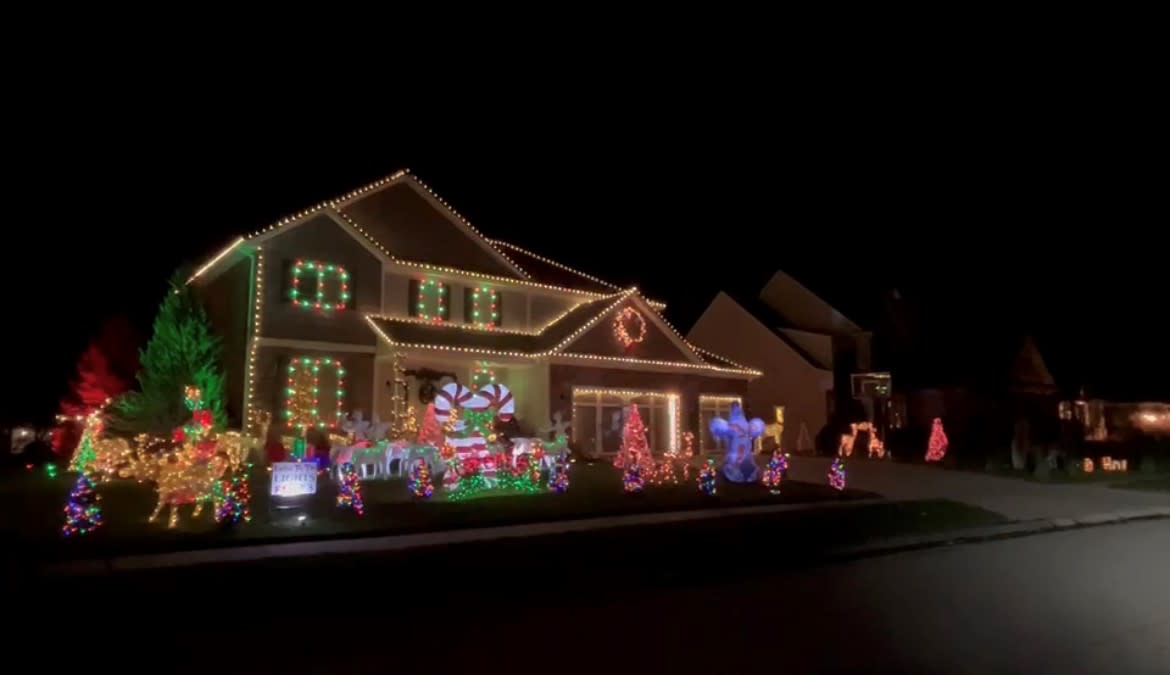 2227 CERREIA WAY (HOUSE NUMBER = 40)
Discover this display featuring more than 15,000 lights and a music show set to 20 songs. New this year there will be even more trees included and more than 20 lighted reindeer. This display will run from November 19 to January 7 nightly from 5 pm - Midnight. Special thanks to Jared Balf for submitting.
---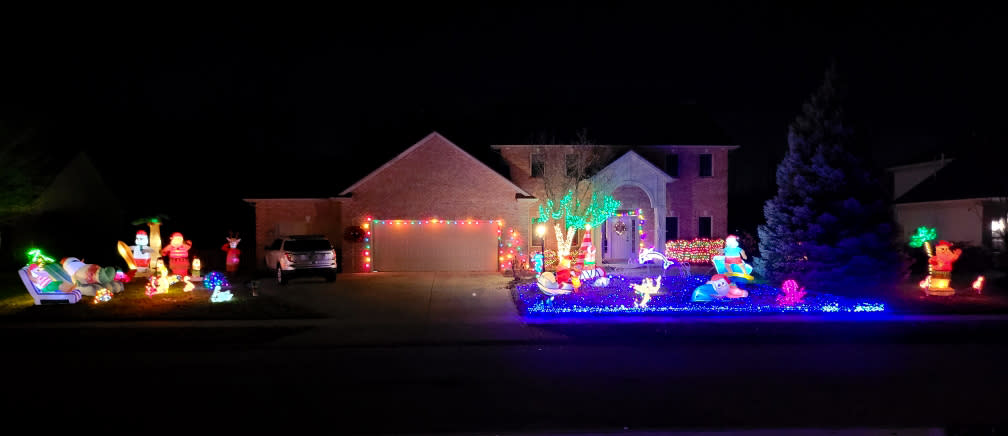 13925 RUFFNER ROAD (HOUSE NUMBER = 52)
Set sail with this tropical display. Ocean and beach scenes featuring Santa doing the hula, surfing, and sunbathing with his friends. Special thanks to the Gray family for submitting.
---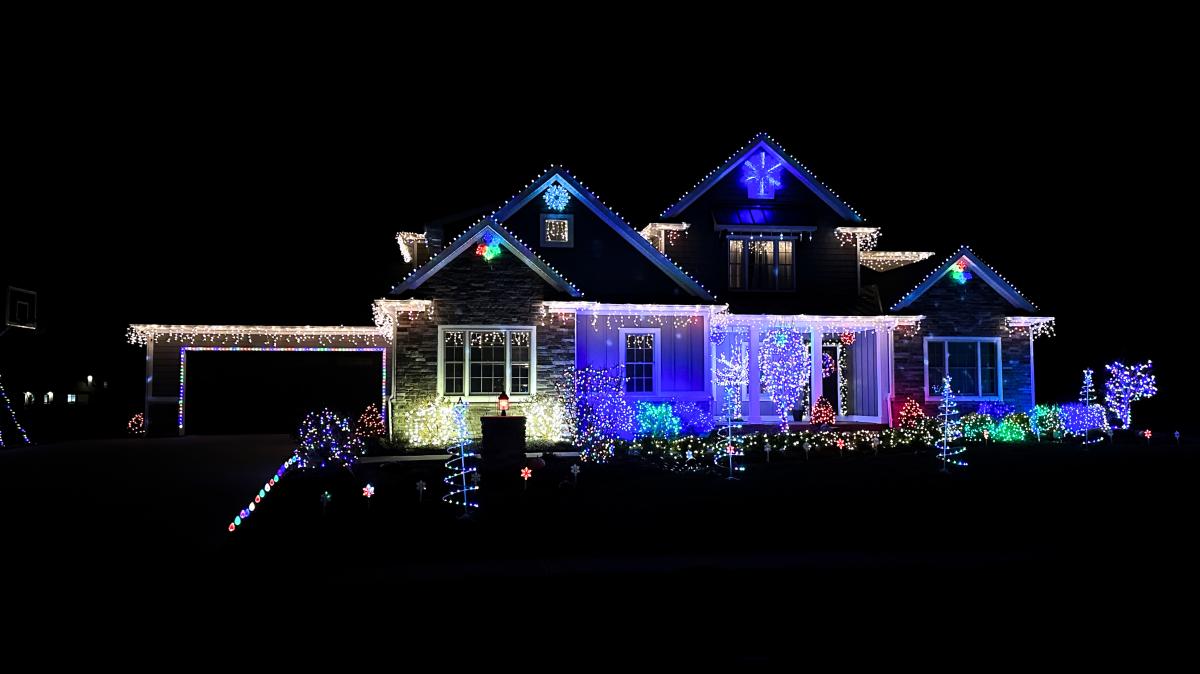 2996 BLACK GOOSE BLVD (HOUSE NUMBER = 48)
Using a mix of modern and classic technology, the owners put in dozens of hours perfecting the tens of thousands of lights on display. Starting Thanksgiving and running through January 8, the lights will be on starting at 6pm and going to 11pm Sunday through Thursday and 1am Friday and Saturday. Special thanks to Zack and Keely Cronkhite for submitting.
---
5617 SHERINGTON RD. (HOUSE NUMBER = 41)
Celebrate the holidays with more than 15,000 lights set to music. This display is set to music (tune your radio to 87.9 fm to listen) and the house is covered with more than 4,000 pixels that can individually change colors, featuring a 16-foot mega tree with dancing elves and lots of other characters guaranteed to make you smile. The north and south end of the property offers a more traditional display with tons of lights, The Grinch and his dog Max, Snoopy, Buddy the Elf, and of course Santa and his reindeer (be sure to look in the trees to spot them flying too!).The show runs from dusk till 10pm throughout the week and till 11pm on Fridays and Saturdays starting Black Friday until after Christmas. They are also continuing the tradition of collecting donations to help the community. Canned goods and blankets are always welcome and can be placed in the donation box located on the street.
New this year they have changed to 6,000 individually controlled lights for a one-of-a-kind show. Be sure to check out our Festivus pole and giant Leg Lamp (you're welcome to take a photo with it!).
Special thanks to Michael Hunsche for submitting.
---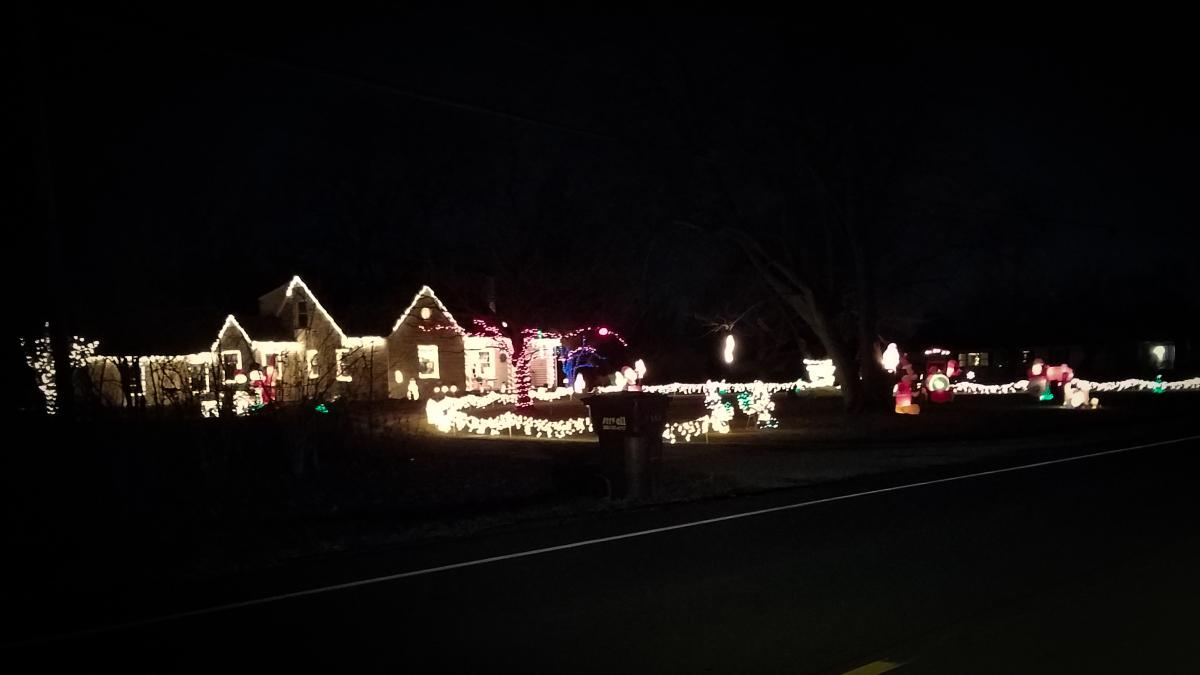 1823 DUNKELBERG RD. (HOUSE NUMBER = 42)
Featuring 25,000 lights and more than 10 blow-ups, this display will be up from Thanksgiving to New Year's Day. Special thanks to David Carden for submitting.
Insider Tip: Visitors are welcome to use the circle drive away to avoid any traffic accidents on Dunkleburg road!
---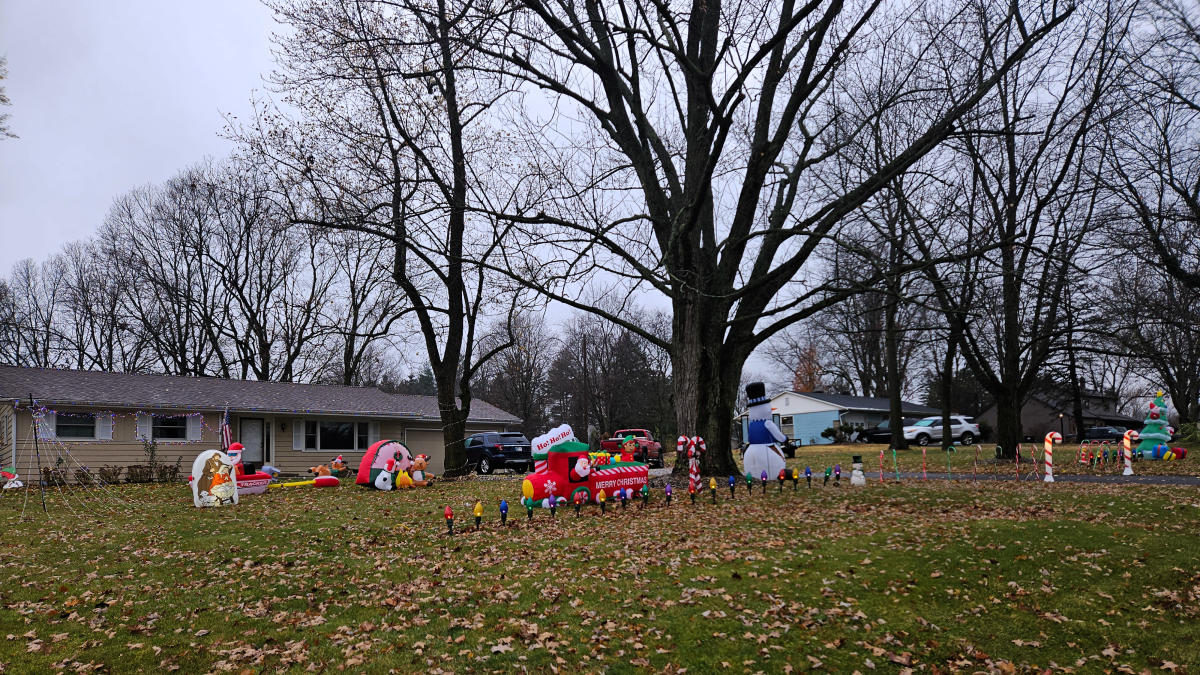 9146 Muldoon Road (HOUSE NUMBER = 51)
Enjoy over 1,200 multi-color Christmas lights, inflatables featuring Santa's campsite, and a giant light bulb "fence". More decorations will be added closer Christmas! Thanks to Amanda Kline for submitting.
---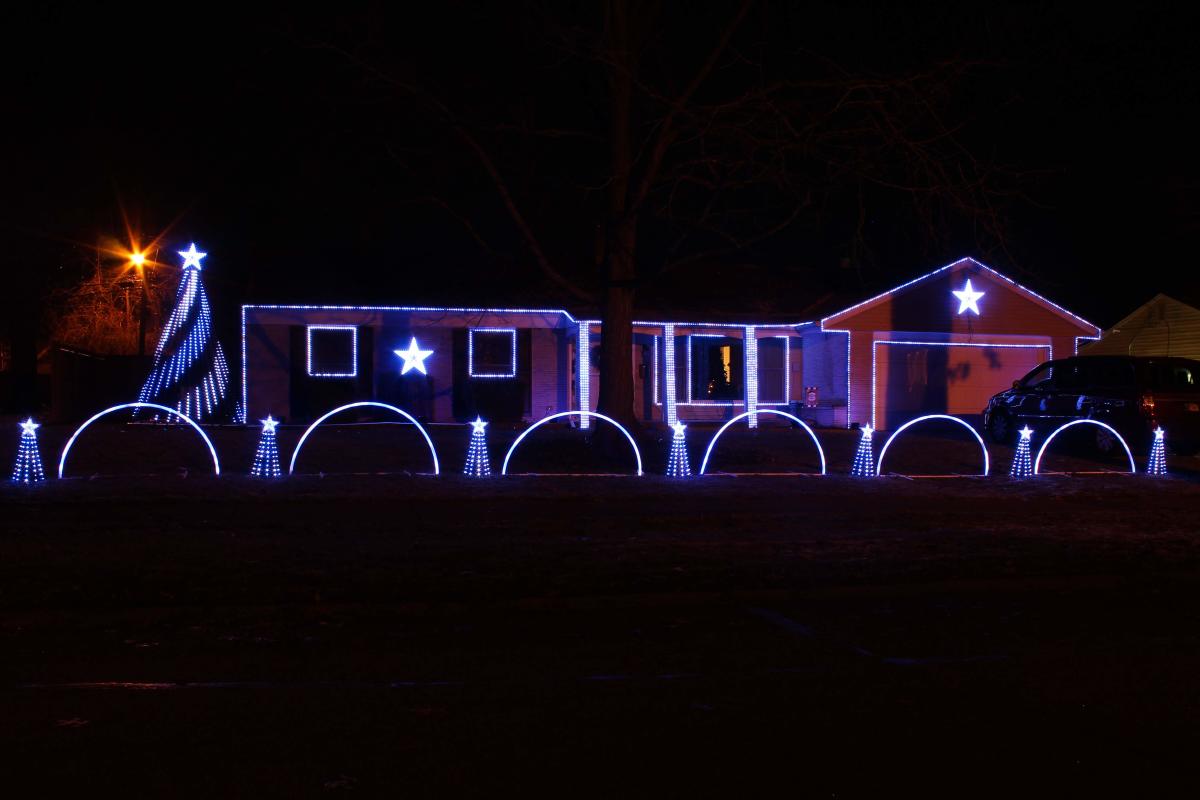 1020 ARDIS DR. (HOUSE NUMBER = 43)
Set to synchronized music, this display features roughly 6,000 pixels and a 12 ft pixel tree with a star! Be sure to tune into 88.1 FM to enjoy the music. Starting Nov 24 lights will be on 5-9 Sun-Thursday and 5-10 Friday, Saturday and Christmas Eve. Lights will continue to run through New Years Eve ending with a countdown to midnight and 1 song to welcome the New Year. Special thanks to Aaron Heidinger for submitting.
*Content produced by Visit Fort Wayne - Copyright 2023*
Fort Wayne Classics
Discover other holiday light displays around Fort Wayne including the Fantasy of Lights at Franke Park, the displays at Jefferson Point and in Downtown Fort Wayne, or the beautiful Timeless Tradition exhibit at the Botanical Conservatory.
Learn more at VisitFortWayne.com/holiday
---
We realize this still isn't all of the beautiful Christmas Light Displays, so if your house or you know of a house that should be added to our list, please fill out this form and we will add them to the list!
*Special thanks to Heather S. who has helped us start this great tradition!
*Post will be updated with submitted displays on Thursdays.
Visit Fort Wayne is not responsible for actions of private homes. Respect them, but please use your own caution.
*Content produced by Visit Fort Wayne - Copyright 2023*