Everyone has their own idea of a favorite unique experience found only in Fort Wayne, but the following sites and events topped the list of my family and friends.
Unique Experiences in Fort Wayne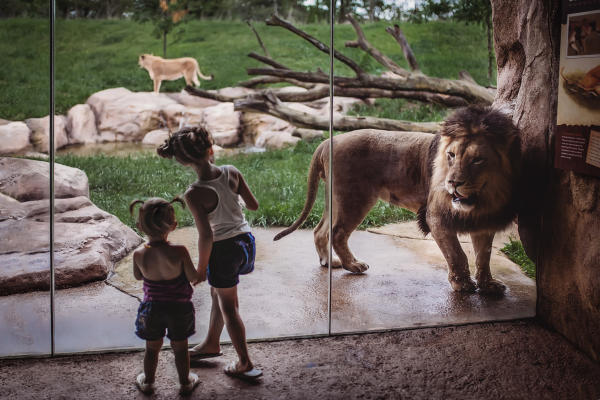 Fort Wayne Children's Zoo
Brein and Geoff S. – both born and raised in northeast Indiana and now residing in Virginia – have very fond memories of growing up in the Midwest and often visit family in Indiana. Two favorite attractions for the couple and their two children are the Fort Wayne Children's Zoo and Science Central.
"Twenty years ago we left the Fort Wayne area and have spent time in southern California, Washington D.C and Tampa, Florida, yet we always look forward to visiting the zoo in our old hometown," Brein said.
"Fort Wayne Children's zoo is one-of-a-kind and is easily competitive with the larger city zoos, it's the perfect size for children of all ages. It's more affordable yet still offers a wide variety of animals and the upkeep of the zoo is always impeccable! It's one-of-kind, and we prefer it to the larger city zoos we've visited."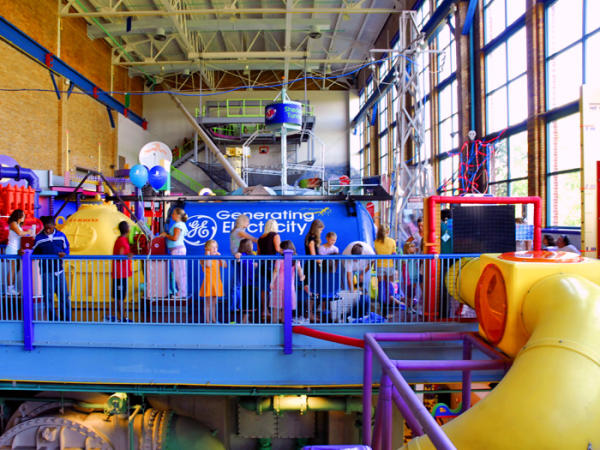 Science Central 
While other cities offer different versions of a science museum, Brein said her family is particularly fond of Fort Wayne's Science Central.
"After visiting several science museums in many different cities my family still looks forward to Science Central in Fort Wayne when we visit," she said. "It's very unique and has something for the young ones and the older kids. It's much more interactive and hands-on than most, it's always clean and well maintained. It's surprisingly big and in my opinion well worth the admission cost."
Fort Wayne Riverfront
The Sweet Breeze, a  54-foot canal boat  – introduced this past summer – is one of Kathy's favorite Fort Wayne experiences. The boat is modeled after an authentic 1840's canal boat and can hold up to 40 people.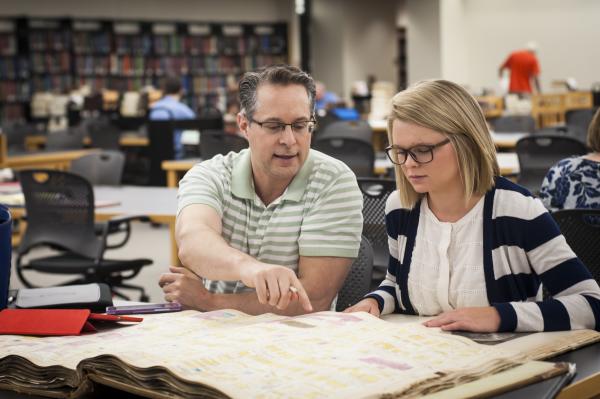 The Genealogy Center & Lincoln Collection
Located inside the Allen County Public Library's main branch in downtown Fort Wayne are two gems of the community, according to retired Fort Wayne attorney, Dan Roby. The Genealogy Center houses the second-largest genealogy collection in the United States and the largest public genealogy collection.
The collection includes more than 350,000 printed volumes and 513,000 items on microfilm and microfiche, incorporating records from around the world. The helpful and friendly staff specializes in genealogy and research and the center is open seven days a week.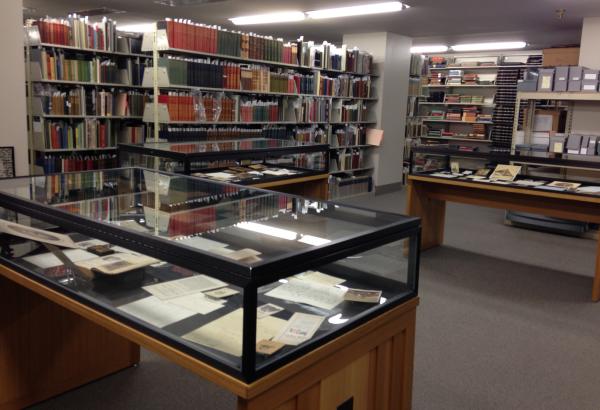 The Lincoln Collection, also at the Allen County Public Library, houses the artifacts, books, documents, photographs and other resources related to our 16th president, Abraham Lincoln.
The collection has been used by authors, scholars, students, Lincoln enthusiasts, as well as by members of the general public.
Lincoln Tower
Roby also recommends stopping to view the architecture of the Lincoln Tower building and it's magnificent lobby mural while visiting the downtown area.

Johnny Appleseed Festival
The story of John Chapman, better known as Johnny Appleseed, is well known to most residents in northeast Indiana.
Chapman was born on September 26, 1774, in Leominster, Massachusetts, and later became known eccentric frontier nurseryman who established orchards throughout the American Midwest, including Fort Wayne. Chapman died on March 18, 1845, in Fort Wayne, after contracting pneumonia. His gravesite is located along the St. Joseph River at Johnny Appleseed Park.
The Johnny Appleseed Festival – a period-authentic pioneer festival – attracts thousands every September.
DeBrand Fine Chocolate
Nationally acclaimed local businesses that also offer unique experiences with tours, discounts and special showrooms and shops include DeBrand Fine Chocolates, Sweetwater and Vera Bradley.
DeBrand Fine Chocolates has four Fort Wayne locations.
Schedule a tour at the elegant and beautiful corporate headquarters at 10105 Auburn Park Drive.
Visitors view a short video on the history of DeBrand and tour the chocolate making kitchens as well as enjoy a chocolate tasting of several gourmet chocolate samples. Tours typically last 30- 45 minutes and are handicap accessible.
There is a fee of $5 per person, but a rebate of $5 off a $10 or more purchase is applied in the on-site café.
Sweetwater
Sweetwater, 5501 US-30, has the largest on-site inventory of any music store in the United States.  Showrooms include over 400 guitars from Fender, Gibson, PRS, and many other top names, as well as an assortment of amplifiers and stompboxes. Acoustic guitars, including models from Gibson, Martin, Taylor, and others are also available.
Besides expanded guitar rooms, Sweetwater also features a piano showroom, a drum room, and demo areas. And, don't forget to check the Sweetwater calendar for company sponsored events such as Open Mic Night, Open Jazz Jam, and Open Acoustic Jam.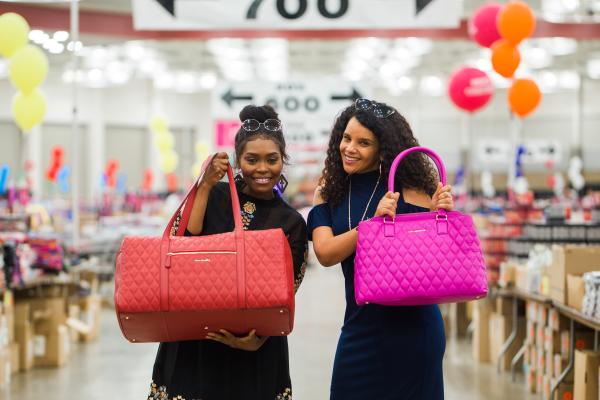 Vera Bradley
Vera Bradley - Did you miss the 2017 Vera Bradley Annual Outlet Sale? Never fear, another is just around the corner. Mark your calendars for April 11-15 at the Allen County Memorial Coliseum. Tickets go on sale in early 2018.
During the 5-day event, Vera Bradley handbags, purses, totes, luggage, stationary and accessories are discounted from 40 to 60 percent!
The retailer's quilted cotton luggage, handbags and backpacks can also be found year-round in their Fort Wayne shop at 412 W. Jefferson Blvd. More information on the sale can be found here.

Embassy Theatre
A visit to downtown Fort Wayne must include the historic Embassy Theatre and the adjacent Foellinger–Freimann Botanical Conservatory, 1100 S Calhoun Street, according to Diane R. of Albion.
The Embassy Theatre opened on May 14, 1928, and was known as the Emboyd Theatre, a movie palace and vaudeville house complete with a Page theatre pipe organ. The seven-story, 250-room Indiana Hotel wrapped around the north and west sides of the theatre.
Today the Embassy Theatre features national productions from the Broadway stage, a variety of concerts and cinema and is the home of the Fort Wayne Philharmonic.
Constant preservation and restoration work, renovation and fundraising has earned the Embassy Theatre a designation on the National Register of Historic Places.

Foellinger-Freimann Botanical Conservatory
The enclosed Foellinger–Freimann Botanical Conservatory in the heart of downtown Fort Wayne offers visitors an escape to lush seasonal displays, tropical and desert gardens, waterfalls, and more. There are children's activities and a gift shop, where you will find many of the featured plants and flowers for sale.
Diane visits the conservatory whenever she can, but especially likes it in the winter months.
"During nasty weather, it's a special kind of getaway," she said.
Don Hall's Restaurants
Don Hall's restaurants, especially the drive-ins on Lima Road and Bluffton Road and the outdoor riverside experience at The Deck, adjacent to the Gas house in downtown Fort Wayne, are favorites of Kathy R. in Naples, Fla.
Coney Island
And, where else to better experience downtown Fort Wayne than at Coney Island, another of Kathy's stops if she is in the downtown area. Operated by the same family since 1916, Coney Island is one of many Fort Wayne eateries established by Macedonians and maintained by their descendants.
On your next visit discover some of Fort Wayne's most unique experiences that you can't find anywhere else!
This post was originally published in December 2017 and has been revised and updated.