UPDATE—Due to COVID-19 prevention measures, the 2021 Vera Bradley Annual Outlet Sale has been canceled. The sale will return May 4-8, 2022.
Calling all Vera Bradley fans: Tickets for the annual sale that you do not want to miss have gone on sale!
More than 45,000 people will flock to the Allen County War Memorial Coliseum in Fort Wayne, Indiana from all over the country--and trust us, you want to be one of them. 
The Vera Bradley Annual Outlet Sale will take place this year from Wednesday, April 15 - Sunday, April 19, 2020.
This sale is unlike any other you'll have been to. Take advantage of 40 - 60% off retail price of your favorite styles and prints of Vera Bradley handbags, luggage, stationery, and accessories, and these deals are exclusive to Fort Wayne, Indiana.
The deals are big, but Vera Bradley is a pro at making sure you get not only the merchandise you want but also the best experience possible. To curb the crowd, you will shop the annual sale in sessions.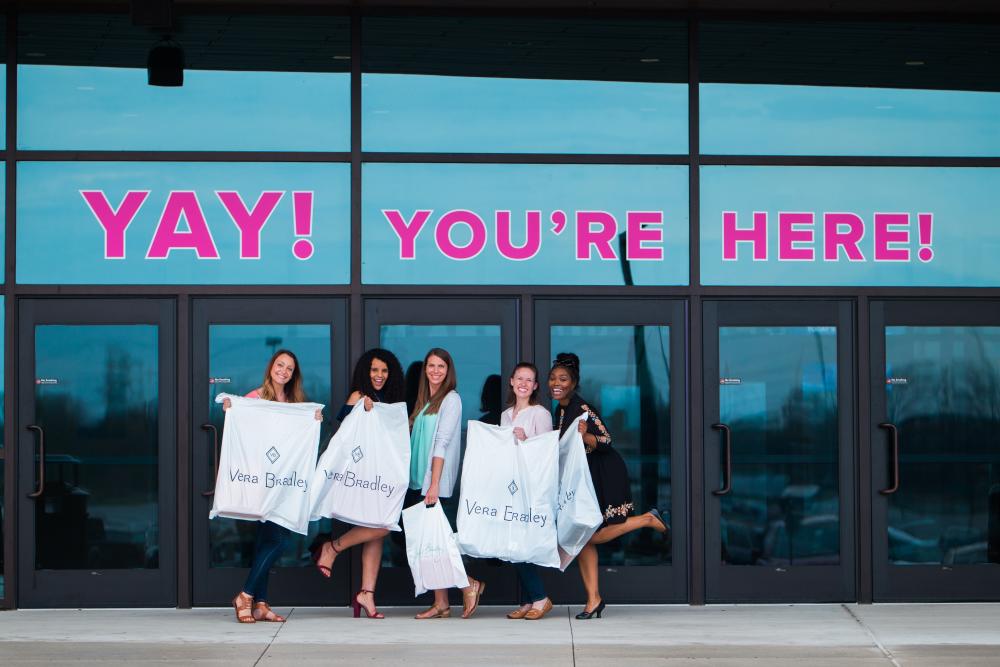 Vera Bradley Annual Outlet Sale Tips and Tricks 
We've got a list of tips and tricks for you to optimize your experience at the Vera Bradley Annual Outlet Sale!  
1. Understand the difference between your registration and the tickets.
Knowing the difference here will save you a lot of confusion and grief.
ALL who want to attend the sale must complete a registration. But only those who want to attend the sale on Wednesday, Thursday, or Friday must purchase a ticket (in addition to their registration).
2. Bring some cash.
Don't forget about parking! It does cost $6 (cash only) to park at the Memorial Coliseum, so be sure to keep a few bucks on you so you don't have to turn around and run to an ATM.
3. Be prepared to wait.
While the process is efficient, you will still likely have to wait to get in and checkout (regardless if you come on a ticket or open session day). You could be waiting in line as long as 45 minutes, plus the shopping time.
Make sure you wear comfortable shoes! 
4. Be hands-free.
Strollers, the kids that go in them, large totes, etc... While all of these things are allowed, they're likely to make navigating the sale more difficult. Get a babysitter and trade out your large tote for a cross body and you'll manage the crowd like a pro.
5. Dress comfortably and remember the snacks.
Since you will be on your feet a lot during the sale, wear fashionable comfort. This will give you the patience to go the distance at the event.
Don't forget some high protein snacks too. Some nuts or a protein bar along with some water will help you stay focused on finding that deal you've been waiting all year for.
6. Have an open mind.
While there is a ton of product to sort through, you may not find the pattern or style you're looking for. And the products available at the sale are not a part of the current line.
The entire product is a limited supply, so once they're out—they're out. (But don't worry, there's plenty of product to go around).
Bring an open mind so you still leave happy!
7. Make a list.
This is an opportune time for you to do gift shopping for all year at the lowest prices available. Birthdays, Christmas, special occasions... get it all at the Vera Bradley Annual Outlet Sale!
8. There's plenty of product, don't worry.
"There's plenty of product to go around, so try to be patient," says Stephanie Jones of Valparaiso, IN. Stephanie's a veteran sale-goer who typically brings her mom with her to the sale each year, making it a fun mother-daughter outing. Stephanie assures us there's more than enough product for everyone so a little patience and a friendly smile can go along way when navigating 50,000 people. 
9. Make a weekend out of it!
There's plenty to do in Fort Wayne! So gather some friends and make a Girlfriend Getaway out of it!
Learn about the other events going on in Fort Wayne during that week here. Hotels are even offering special packages to ensure your getaway is convenient and easy. 
Traveling with a group? Find group tour information here.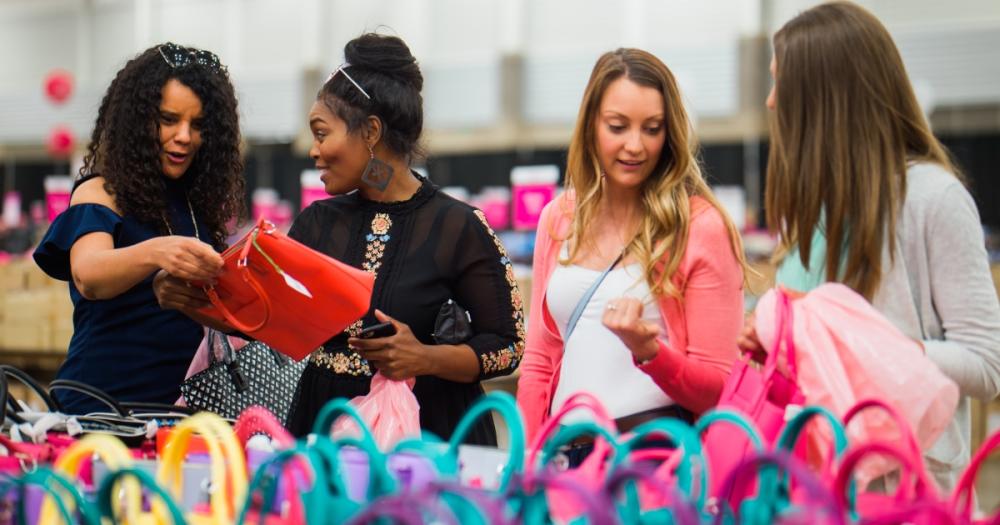 If you have any questions when you get here, give us a call at (260) 424-3700 or stop by! 
The Visitors Center is located downtown at the corner of Harrison and Washington, 927 S. Harrison St. (And our website is also mobile-friendly, so you can take us with you wherever you go!) 
For more Vera Bradley Annual Outlet Sale info, click here. 
Vera Bradley is a Fort Wayne - based company, founded in 1982 by Patricia R Miller and Barbra Bradley Baekgaard. The business started as a way to provide colorful luggage to women and has transformed into a nationally and internationally recognized manufacturer of colorful, stylish handbags and accessories.
This post was originally published in February 2016 and has been updated. Last Update: January 2021