The Clyde Theatre is an old Fort Wayne, Indiana favorite, with a history dating back to 1951. It started out as a movie theatre, changed names, closed, became a church, and now rises from the ashes as an impressive concert venue with a capacity in the thousands. And national artists are noticing: in their first few months, The Clyde is hosting The Used, The Flaming Lips, B.B. King's Blues Band, and more.
Fort Wayne's Finest - The Clyde Theatre
Since I'm a professional singer living in Fort Wayne, the emergence of a new venue immediately piqued my interest. I was even more interested when I discovered that The Clyde is only seven minutes away from my house! I caught up with the brains behind the operation, Rick Kinney, and the theatre's marketing director, Brooke Klejnot, to chat about this new-and-improved Fort Wayne destination.
Fort Wayne, Indiana's New Concert Destination?
Before The Clyde opened, household names had two options in Fort Wayne: The Embassy, with an opulent vibe reminiscent of an opera house, and the Allen County War Memorial Coliseum, which sports a 13,000-person capacity in its main arena.
The Clyde, with an open floor plan that fits about 2,000 concertgoers, offers something more intimate that the Memorial Coliseum and more casual than the Embassy for a vibe that musicians and fans alike are sure to embrace.
"I've lived here for 31 years, and we've never had anything like this," says Rick Kinney. "This is something brand new. … I've been wanting to do something like this since I was 13 years old. Ever since I saw the Death Tones. I was in Chicago at the Riviera Theatre and it blew my mind. It was like, I really love this. And it turned into me really wanting to do something like this in Fort Wayne."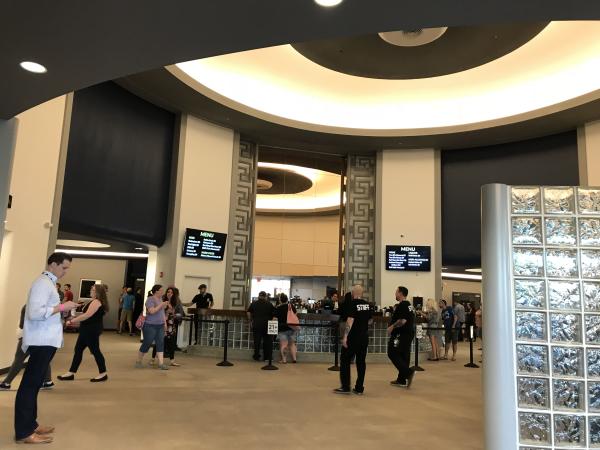 The Clyde's renovation was sponsored by Chuck and Lisa Surack of Sweetwater Sound. The powerhouse Fort Wayne philanthropists poured $9 million into a makeover, including state-of-the-art lighting and sound, private VIP lounges and boxes, and a luxurious lobby.
"I took the model of other venues in cities like Chicago, Indianapolis, Columbus, Cleveland, and Detroit," Kinney enthused. "I took all of the amazing venues that I've ever been to, and I took all the cool stuff all together into one, and this is what we designed. We took this whole building and repurposed it."
More Than Just Music
You'd think offering big-name artists and a gorgeous venue would be enough, but The Clyde has gone further to offer a true taste of Fort Wayne, thanks to their commitment to the community.
While touring the venue, I quickly noticed some Fort Wayne favorites on the drink menu (Two EE's wines, for one), in addition to a large visual art and craft display outside the theatre. The displays featured throughout the theatre are all from local artists, and that was just one way that The Clyde plans to connect with its hometown. The Clyde is the perfect place to get the whole Fort Wayne experience, with visual art, music, and even a local beverage, all served up in a historic Fort Wayne theatre.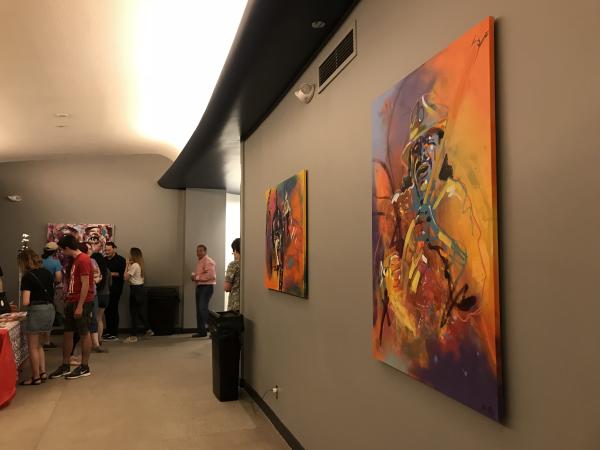 "We hear from a lot of people that they used to come to this movie theatre as a child, or maybe they went on a first date here," Brooke Klejnot says. "The mayor has a really interesting story about his experience of attending the Clyde with his wife. It was probably very sad for them to see an institution like that, that was family-friendly and rooted in the community, close. And now, to see it re-open… they're very happy to see the neighborhood rejuvenated, and now it's open with quality events that serve a wide range of people and a wide range of genres."
"In addition to national touring talent, there will be community-based programming which is part of what I was hired to do. It's really serving the community and, in a broader sense, the city of Fort Wayne and, in a broader sense, the region of Northeast Indiana," says Klejnot.
Kinney seems to agree with Klejnot's sentiment. "We're actually reestablishing an iconic entertainment destination in Northeast Indiana," he mused. "It's pretty cool. It goes deeper than just the restoration of the building; it goes to creating a sense of place for people in these neighborhoods, and this side of town, and even within Fort Wayne. When you feel an attachment to a really cool place, not just because of the architecture, but because of what happens at that place, it really helps you build a sense of love for your community."
All that community is sure to make Fort Wayne a home away from home for those who travel here to take advantage of this revived Fort Wayne treasure. Check out their schedule to book your tickets today. Maybe I'll even see you there!