Baseball is often referred to as America's favorite pastime, and for good reason. There's something magical about the experience of attending a baseball game, including here in Fort Wayne, Indiana. 
The sights, sounds, and smells of the ballpark create an atmosphere that's truly unforgettable. One of the best places to experience this magic is at a Fort Wayne Tincaps baseball game in downtown Fort Wayne.
The Fort Wayne TinCaps Game Day Experience
The Fort Wayne Tincaps are the High-A, Minor League Baseball affiliate of the San Diego Padres. Fans love the home game experience at Parkview Field, which opened in 2009 and has quickly become one of the most popular minor league ballparks in the country. The stadium can seat up to 8,100 fans and is always buzzing with excitement on game day. 
The ballpark's central location means baseball fans are within walking distance of some of Fort Wayne's finest food and drinks, making it the perfect destination for a fun-filled day in the city. Start your grand slam experience with a locally-loved favorite spot, but make sure to save some room for a stadium hotdog and a celebration after the game! 
Pre-Game Dining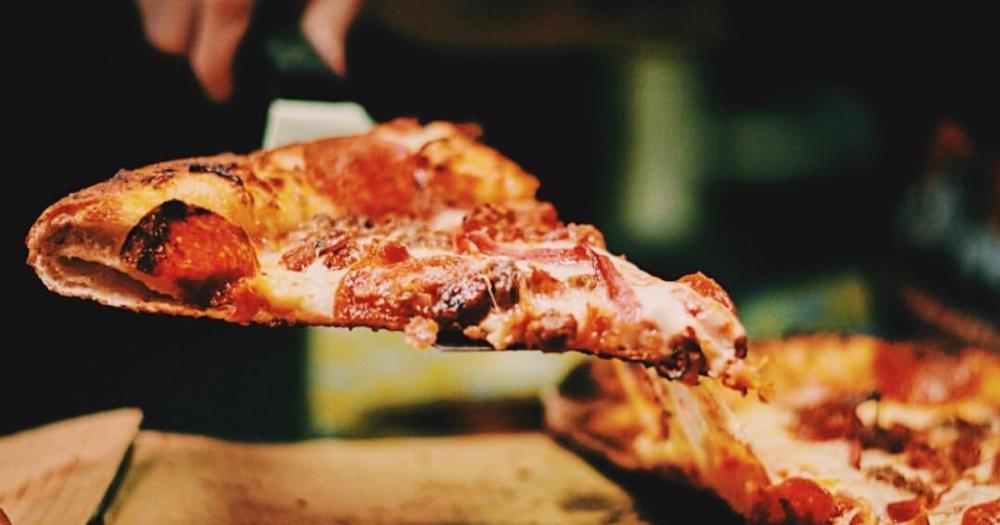 Pictured: Pizza being served from Pint & Slice
For a fast and casual meal, stop by Pint & Slice or Big Apple Pizza for an extra cheesy, delightfully greasy slice of Fort Wayne's favorite pizza. Or meet friends for a pint of craft beer and an order of fish and chips at JK O'Donnell's Irish Pub.
Enjoy a taste of gourmet with Proximo's Latin-inspired menu and craft cocktails two blocks from the park, or dine with the award-winning chefs and bar team at Copper Spoon, located right outside the stadium.
Just a half mile away, Union Street Market at Electric Works opened in the fall of 2022 and quickly became the destination for innovative restaurants and small businesses. The market is divided into two halls, East and West, and contains a variety of fresh and ready-made food options such as Brooks BBQ & Chicken, Johnny Ox Pizzeria, Pikoso Burritos, Seoul Garden Korean, The Kitchen + Co., and so many more.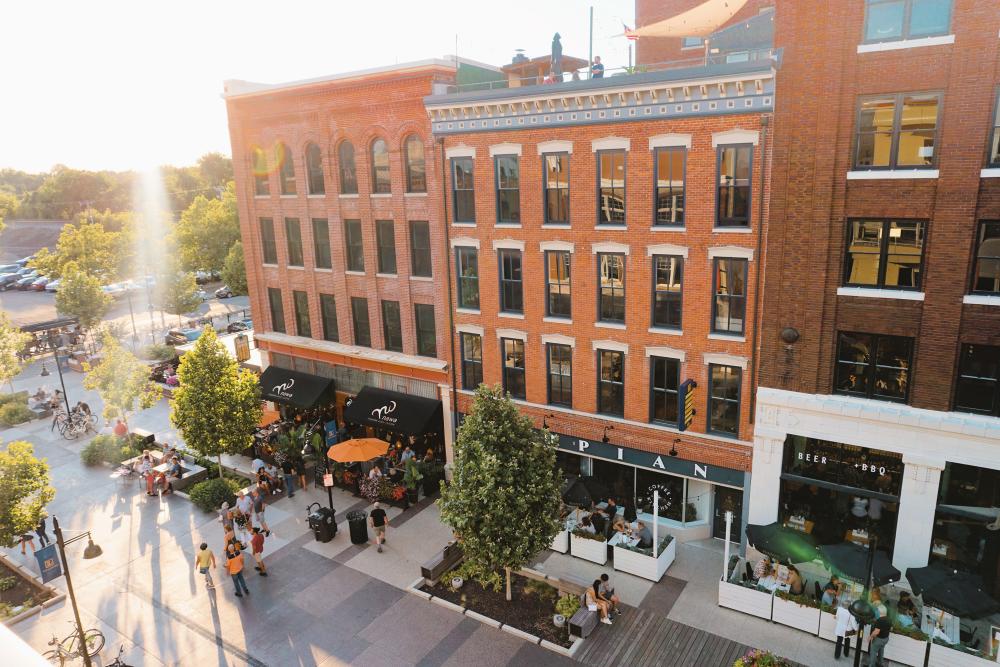 Pictured: The Landing District in Downtown Fort Wayne | Credit: @thelandingfw
A ten-minute walk from the ballpark will take you to The Landing, a historic and newly restored hub for shopping and dining. Take advantage of patio seating at many of the restaurants on The Landing including Alto Grado Pizza, Nawa Inspired Asian Cuisine, Gnometown Brewing on the Landing, Mercado, Marquee, Utopian Coffee and Kitchen, and Tolon. A block north is Promenade Park along the riverfront, boasting a splash pad, a fully-accessible playground, and connections to the local trail system. 
While you're out and about, be sure to check out the Fort Wayne Public Art Trail which features more than 150 murals and sculptures — many of which are located downtown and perfect for a family photo-op! 
A Grand Slam Tincaps Experience 
Tickets and Seating
Parkview Field has been ranked No. 1 in minor league ballpark experience by Stadium Journey multiple times. The magazine highlights the ballpark's many concession stands, varied seating, and in-game entertainment as what sets it apart from the rest.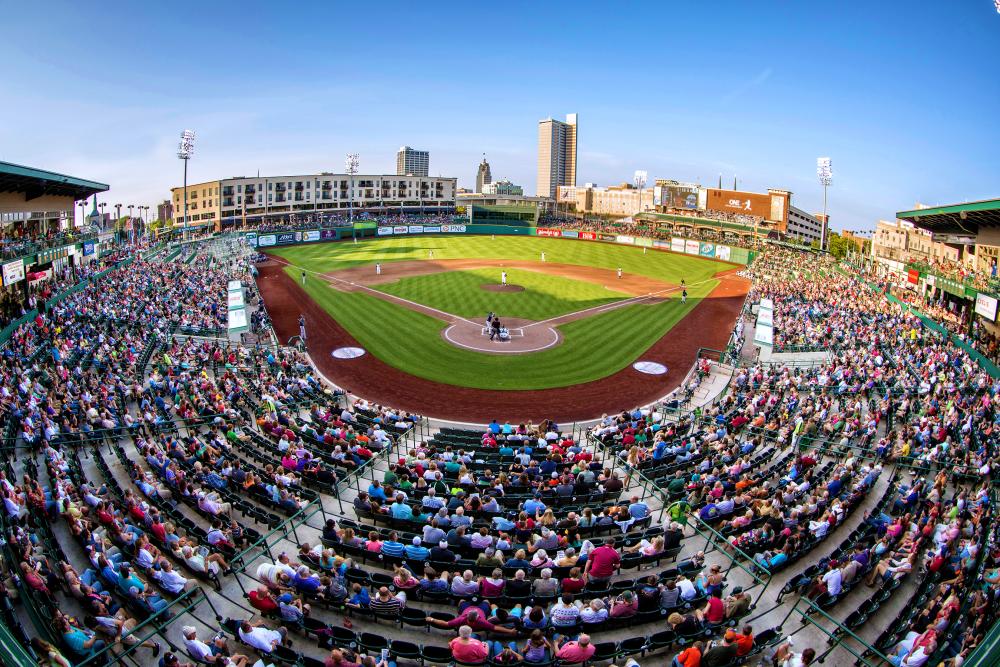 Pictured: TinCaps Baseball Game at Parkview Field
And it's true. At Parkview Field, there is not a bad seat in the house.
Baseball fans can choose a spot along the first and third baseline, or sit behind home plate for all the action.
For a few extra dollars, you can upgrade your seat to the Diamond View seats to get premium padded seats and personal wait staff
Pick the Home Run Porch for the opportunity to catch a souvenir to take home.
Looking to stretch out and save some money? The lawn seats are the perfect spot for soaking up the sun and are located right along the outfield. Plus, they're just $7 per ticket!
No matter where you sit, the energy in the ballpark is contagious. There are all sorts of activities and entertainment to keep you engaged. Join in as the crowd sings, "Take Me Out to the Ball Game" or bust a move with the dancing groundskeepers affectionally known as the "Bad Apple Dancers."
Concession Stands and Carts
Speaking of apples, Parkview Field has a huge selection of concession stands and specialty carts that serve everything from chicken sandwiches and BBQ to burrito bowls and stir-fry. Buy some classic peanuts and crackerjacks, and try a wine SlushEE made locally at TwoEE's Winery. And, keeping in line with the many nods to John Chapman — aka Johnny Appleseed — be sure to check out the Apple Cart, featuring delicious bites like the Apple Crisp a la Mode.
View a full food and beverage menu here.

Pictured: The TinCaps mascot, Johnny TinCap, waves the team flag during a game
Theme Nights
Every day at the ballpark is a great day, but make sure you plan ahead and check the schedule to take advantage of theme nights that include drink and food specials or and post-game activities! 
Tuesday Family Feast Nights - Select concessions for $2
Wednesday Paws & Claws Night - Bring your pet and save on White Claws!
Thirsty Thursday - $2 domestic draft beers and other drink specials 
Friday - Post-game Fireworks 
Sunday - Post-game Autographs 
Tickets for in-demand sections sell out fast, so plan your Tincaps Baseball experience today! Fans can purchase tickets in advance at the TinCaps Ticket Office, online at TinCapsTickets.com, or by phone at (260) 482-6400.
Post-Game Celebration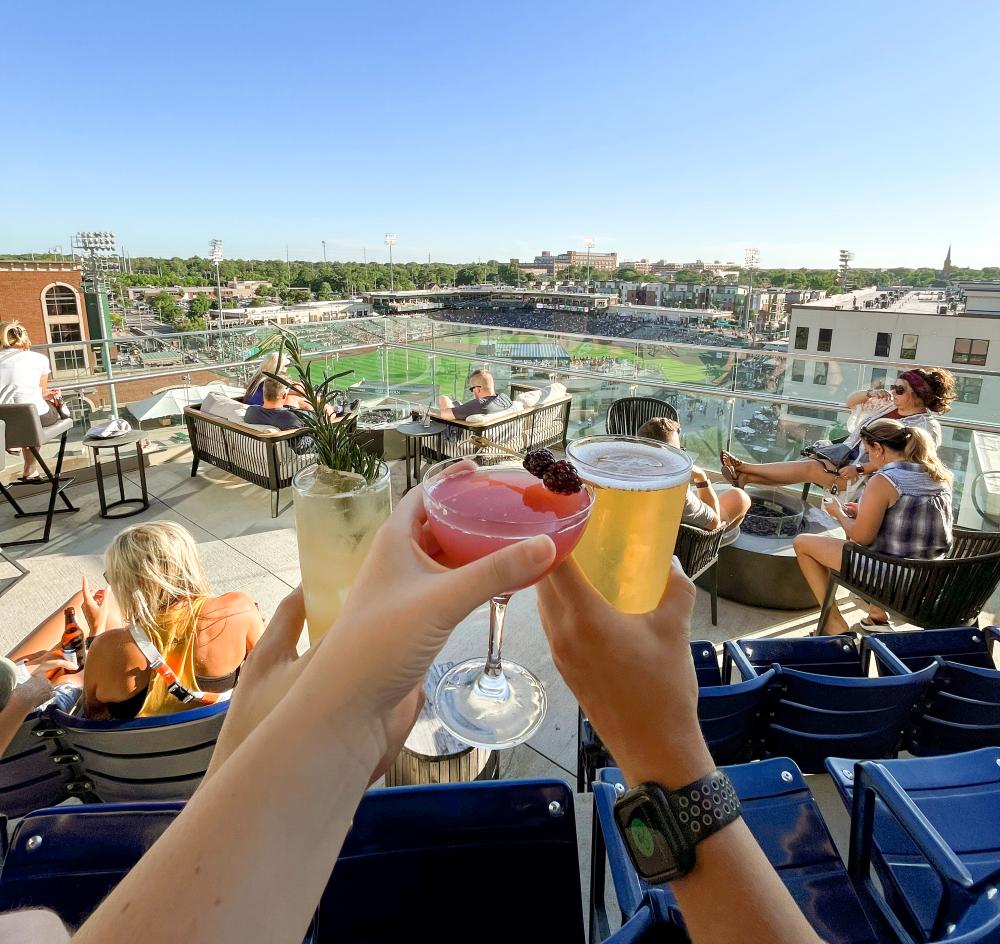 Pictured: Cocktails from Conner's Rooftop overlooking Parkview Field 
Celebrate a Tincaps win at The Sidecar by Copper Spoon, a tropical-themed outdoor tiki bar and grill with plenty of festive cocktails. Or cruise up to the top floor of the Hampton Inn and Suites for a drink at Conner's Rooftop, where the view of Parkview Field and the old stadium seating make it feel like you never left the game! For a unique experience, visit Rudy's, a cozy cigar shop that also offers a selection of local wine and craft beer with an outdoor patio and beer garden.
Last but not least, order a double hamburger and heaping order of fries from the Burger Bar walk-up window (just steps outside of the ballpark gates), to enjoy a road trip snack and a perfect ending to an exciting day in Fort Wayne.