Fort Wayne, Indiana is home to more than 100 miles of trails, thanks to a network of pathways that make up the Rivergreenway, Towpath trail and Pufferbelly trail and many other connecting trails.
An outdoor enthusiast can travel from west to east, north to south and everywhere in between on foot or by two wheels! But finding a great spot can be a challenge if you are not familiar with the routes.
As an avid runner, I have navigated many miles of the trails as I train for local races such as Fort4Fitness. With these tips and tricks, you'll be out exploring Fort Wayne and discovering new routes on your own!
How to Get on Fort Wayne's Trails and Water Ways
Parks and Trails
Fort Wayne's downtown parks often have trailheads for the Rivergreenway. Headwaters, Lawton, Foster, Swinney, Johnny Appleseed, and Rockhill are just some of the great places to kick off an outdoor excursion. Visitors to Foster Park can start near the entrance off Old Mill Road, near the baseball diamonds off Hartman Road or at the south entrance off Fairfield Avenue. 
If you are starting downtown, park at Lawton Park near the skate park off Fourth Street. 
If you're in the southwest area of Fort Wayne, pick up the trails off Aboite Center Road at the Jorgensen YMCA for safe and easy access to the Aboite trail system. If you're northwest of Fort Wayne access the Pufferbelly trail from the Parkview YMCA off Dupont Road. Both facilities have their own trails, too, which are great for adding extra miles - if that's your thing.
Paddle Trips
The name says it all: Rivergreenway. This 25 miles of trail segment in Fort Wayne often snakes around Fort Wayne's three rivers that carve through the city. If an area has access to the water, it might just have access to the Rivergreenway.
Take Kreager Park area, if you're looking to get on the trails or the Maumee river there is a boat ramp on North River Road just west of Kreager Park. Boating enthusiasts can put a kayak in the water. The site also offers a great site to park and hit the trail. Head east, and you'll wind up at Moser Park. West, and you'll be on your way toward downtown.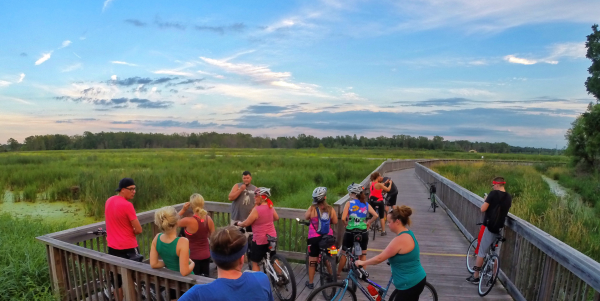 Other Beautiful Locations to Access Fort Wayne's Trails
Purdue University - Fort Wayne
You don't have to be a student or alumni to want to explore the campus and take its trail to other parts of the city. Park by the footbridge off Coliseum Boulevard East for convenient and easy access to the trails that loop around the campus east of the river or the trail west of the river that takes you north to Shoaff Park or south to Johnny Appleseed Park.
Eagle Marsh
For those wanting to run the trails on the southwest side of Fort Wayne, parking for the Towpath Trail can be found off Engle Road - just look for the gazebo - as well as off Smith Road. Plus, if you take the trail west, take a break in Eagle Marsh Nature Preserve and discover a natural wetlands area and a diverse set of birds and wildlife.
Salomon Farm Park
There are several trailheads for the Pufferbelly Trail. Stop at Parkview YMCA to access the trail that circles Salomon Farm Park. Head north up Lima Road and look for Life Bridge Church or go a bit farther and stop at Payton County Park and make your way south. 
The best way to find a new spot to hop on the trail is to get out on foot - or bike - and explore. 
For more help accessing Fort Wayne's trails and water trails, stop by the Fort Wayne Visitors Center for directions, maps, and itinerary suggestions.