Discover some of the best seafood in Fort Wayne! From salmon, scallops, and more these are the five best restaurants offering tasty seafood.

If there's an authority on seafood in Fort Wayne, it's Paula's on Main. The menu is exquisite, and the restaurant also features a market counter with fresh fish for purchase.
Co-owner Paula Phillips assures guests that all of the seafood is sourced ethically and sustainably. This includes the chef-prepared restaurant meals as well as the fresh catches sold in the adjacent market.
"Any of our salmon dishes are a great choice," says Phillips, "The salmon we use comes from Faroe Island. It's organic and raised without antibiotics." 
Paula's is open for lunch and dinner Monday – Friday, and dinner on Saturday. 
Location: 1732 W. Main Street, 46808 
Tolon is a farm-to-fork restaurant that sources only sustainable seafood.
Nicky Nolot co-owns the restaurant and recommends the BBQ salmon as well as the sea scallops. The mussels have also received rave reviews on social media (check the seasonal menu for pricing and availability). The seafood here is sourced sustainably. 
Tolon is open for lunch and dinner Tuesday – Friday and dinner on Saturday. 
Location: 614 S. Harrison Street, 46802

The Oyster Bar is a Fort Wayne favorite, with a rich history dating back to 1888. The Oyster Bar has never moved from its downtown location and has weathered many changes in the downtown landscape and even survived prohibition. This is the place to be if you're looking for oysters on the half shell plus a full, seasonal seafood menu. 
The Oyster Bar is open for lunch and dinner Monday – Friday and dinner on Saturday. Reservations are recommended. 
Location: 1830 S Calhoun Street, 46802
Chop's Steaks & Seafood is locally owned and operated. They've been in business since 2003 and have grown into one of the top seafood restaurants in Fort Wayne. The ahi tuna is some of the best in the region and is available for lunch and dinner. The seafood glory doesn't stop there, as Chop's has an extensive menu of options with rotating seasonal specials. The ambiance is upscale and pleasant with private dining available.
Chop's is open for lunch and dinner Sunday – Friday, and dinner on Saturday. 
Location: 6421 W. Jefferson Boulevard, 46805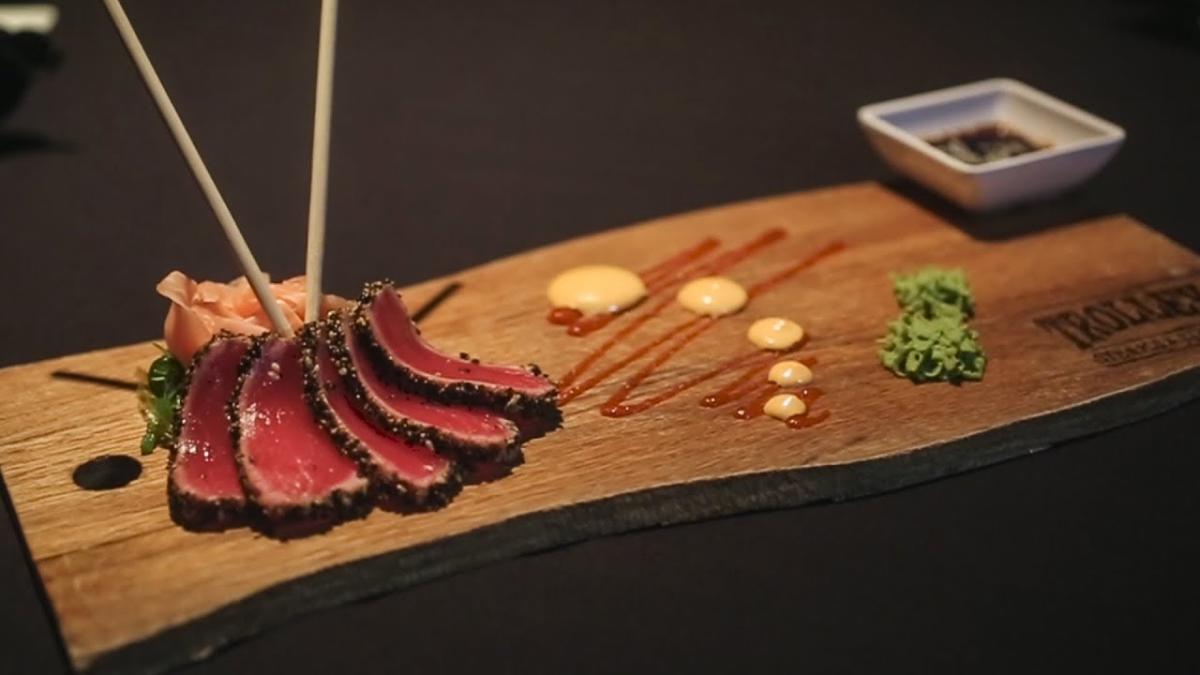 Located on the north edge of the city off Dupont Road, the "Trolley Bar" is a local favorite. At the turn of the Twentieth Century, when trolleys ruled the city's streets, the original Palm Gardens opened in 1890. Since it was on a popular route, it was said people just said, "Meet me at the Trolley Bar." The trolleys stopped running, but the restaurant continues. Known for their walleye fingers, tuna sashimi, and other tasty entrees and appetizers, the Trolley Bar should be on your list.
Open Monday through Friday for lunch and dinner. Saturday and Sunday for dinner, starting at 4pm. 
Location: 2898 East Dupont Road, 46825
---
Reader Suggestions -
This post was originally published in January 2018 and has been updated.