The Oyster Bar
1830 South Calhoun Street, Fort Wayne, IN 46802

(260) 744-9490

(260) 744-7809

Visit Website
The Oyster Bar on Calhoun Street opened in 1888, and is a short walk from downtown.The Oyster Bar on Calhoun Street has always been a tavern, ever since it opened in 1888. The food is legendary. A short walk from downtown, USA Today called it a "Locals favorite, an innovator in the culinary arts, as well as personal service." Daily Lunch specials.
Open Mon-Thur 11 am-10 pm, Fri. 11am-11pm, Sat. 5pm-11pm
General
Credit Cards:

Full Bar:

Local Favorite:

Outside Dining:

Private Dining:

Restaurant Price:

$$: $10-20/ea.

Parking Information:

Free parking lot.
General
Takeout Available: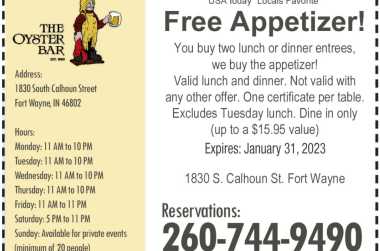 Free Appetizer
Valid: January 13, 2022 - February 1, 2023
You buy two lunch or dinner entrees, we buy the appetizer! Valid lunch and dinner. Not valid with... Read More