Summer in Fort Wayne is full of great music, and it is exciting to see this year's concert line-up for various venues and events! The abundance of concert series this summer gives everyone a chance to get out and enjoy amazing music and delicious food!
Fort Wayne Summer Concert Series
Here are the top Fort Wayne summer concert series you won't want to miss as the temperature rises and the days grow longer.
Downtown Live!
To bring back the festive summer spirit, Downtown Live! is bringing a series of free performances every Friday evening in June, July, and August! Fridays will feature local favorites such as Jackson Vibe and Aleena York at the Porch. Stay up to date with the Downtown Live! schedule to make sure these concerts are not missed!

@dasfort on Instagram
Summer Nights at the Embassy
Starting July 12 and wrapping up on August 30th, The Embassy will host a variety of musicians, performers, and food vendors from 5:30 to 9 p.m. (music starts at 6) each Wednesday evening. You can enjoy drinks, food, and a featured act, such as The Dead Pickers Society, Sunset Musica, Basketcase, and more!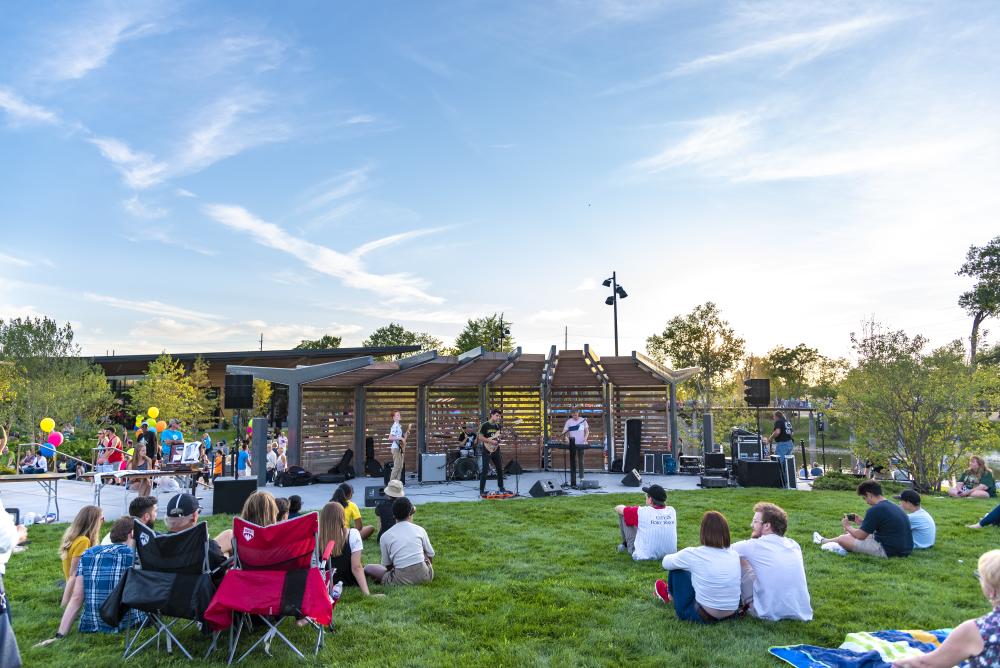 Muddy River Concert Series at Promenade Park
Hosted by Riverfront Fort Wayne, the Muddy River Concert Series is centered around the themes of heritage, culture, and connection. The concerts will take place at Promenade Park every other Wednesday with two 1-hour sets beginning at 5:30 p.m. While the music is free, you can also purchase food starting at 5:00 p.m. from some of the delicious vendors!
Riverfront Sunday Heritage Concert Series
The Riverfront Sunday Heritage Concert Series celebrates the history of band ensembles and musicians in Fort Wayne. This concert series will be held throughout the summer, performing 2:30pm on the second and fourth Sundays in the months of June, July, and August. Head down to Promenade Park to witness a piece of the heritage that each of the performing ensembles bring!

Foellinger Outdoor Community Concert Series
With a variety of performers like the Fort Wayne Children's Choir and the Fort Wayne Area Community Band, the Foellinger Outdoor Community Concert Series provides free live entertainment in a beautiful outdoor space! With six concerts throughout the summer, this concert series is not one to miss! 

Rock the Plaza
Returning for the months of June and July, Rock the Plaza will take place at the Main Library Plaza almost every Saturday in August! Each Saturday will feature four different bands, so bring your own chairs and blankets, and enjoy food and beverages from Fort Wayne's own Pint & Slice while you listen to exciting and local music!
Rock and Roar
If you're 21 or older, and like strolling through the magnificent Fort Wayne Children's Zoo, why not add some live music to the mix? Grab a drink from Hop River Brewing Co., walk through the new Red Panda Ridge, and listen to Fort Wayne's local musicians.
Music on the Plaza
Munch on some food from one of Fort Wayne's delicious food trucks, while relaxing or rocking out to the Old Crown Brass Band, Fort Wayne Funk Orchestra, and Whoa, Man!
Lunch on the Square
If you want some midday music, Lunch on the Square offers delicious food from a new vendor each week, and live music from local musicians. Even better, a portion of the money raised through food sales will be given back to a local nonprofit.
Sunday Funday!
Whether you're in the mood for yoga lessons, a meal at a nearby restaurant, or live music from various performances, Sunday Funday is the perfect way to start off the week. Sunday Funday takes place at the exciting Landing of Downtown Fort Wayne, so be sure to check out the nearby businesses while you're there.
Music Venues

Club Room at The Clyde
Looking for more live entertainment? Club Room offers live entertainment as you eat your meal! Featuring a different music genre every night, this music and dinner deal offers something for everyone! Check out Club Room's event schedule for more information on the performers and dinner deals.
Sweetwater Performance Pavilion
An outdoor venue, a sound-system designed by Sweetwater, and food and drinks are all combined with national touring bands with multiple different genres in this concert series.
Piere's Entertainment Center
All genres of music are welcome here, with varied shows for different age demographics. Right next door is Bobby Mcgees, offering tacos, burgers, and more for your pre or post-show needs!
Looking for More?
Want even more music and fun this summer? To learn more about all the events taking place at any time in Fort Wayne, visit our Calendar of Events to ensure you do not miss out on all the activities and events that Fort Wayne has to offer!
*This blog was originally published in 2018 and has been updated. Last revised June 2023.