Fort Wayne's three rivers: the St. Marys, the St. Joseph, and the Maumee, are a great source of entertainment, exploration, and fun in downtown Fort Wayne, Indiana. From adventuring the trails along the river to getting out onto the blueways, there are plenty of opportunities for you to experience Fort Wayne's riverfront.
Discover Fort Wayne, Indiana's Three Rivers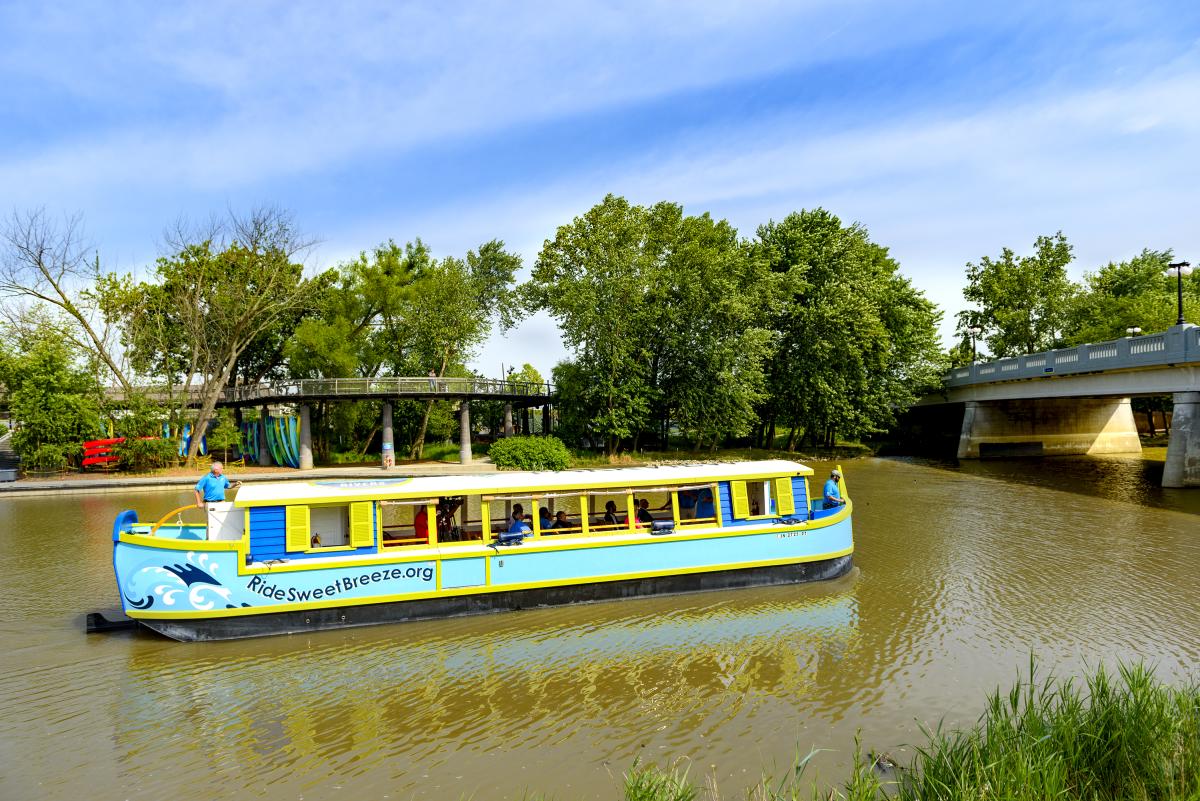 Enjoy
No matter if you're an experienced kayaker, or novice boater there are opportunities for everyone on Fort Wayne's three rivers.
Boat Tours
Sit back, relax, and leisurely explore Fort Wayne's rivers with a boat tour. Choose between airboat rides, historical tours, party barges, canal boat tours, and free river excursions. Keep in mind, free river excursions are only offered as a part of the Three Rivers Festival, and all other boat tours and rides require payment.
Kayaking/Canoeing/Standup Paddleboards
To get out on Fort Wayne's three rivers yourself, rent a kayak, canoe, or standup paddleboard. Take one of our water trails provided by Northeast Indiana Water Trails or create your own route - just be sure to consult with the Fort Wayne Outfitters staff who know Fort Wayne's rivers well and can help you steer a clear route.
If you want to make a trip without having to paddle back to your car, book a paddle trip with Fort Wayne Outfitters who will transport you and the equipment to a drop in point!
Hiking
Hiking is always free, so consider lacing up your shoes to discover the beautiful trails along Fort Wayne's riverfront including the Rivergreenway trail. Fort Wayne has over 120 miles of trails that connect you to shopping, dining, entertainment, and more!
Biking
Rent or bring your own bike, and hit the pavement for some urban exploration and shady trail rides. Again, Fort Wayne's trails are the perfect route to let you explore the riverfront. Consider taking the Towpath Trail, a trail that follows the historic transportation route connecting you between the beautiful scenic marshlands to downtown Fort Wayne's Rivergreenway.
Rent a bike from Fort Wayne Outfitters. If you pack your own bike, secure it on one of the many bike rack sculptures located around Fort Wayne.
Promenade Park
The centerpiece of the Riverfront is Promenade Park. Opened in 2019, this park allows full access to the rivers with docks, along with play areas, a pavilion and much more. Be sure to visit the park to check out the stunning river views and sunsets from the historic Wells Street Bridge.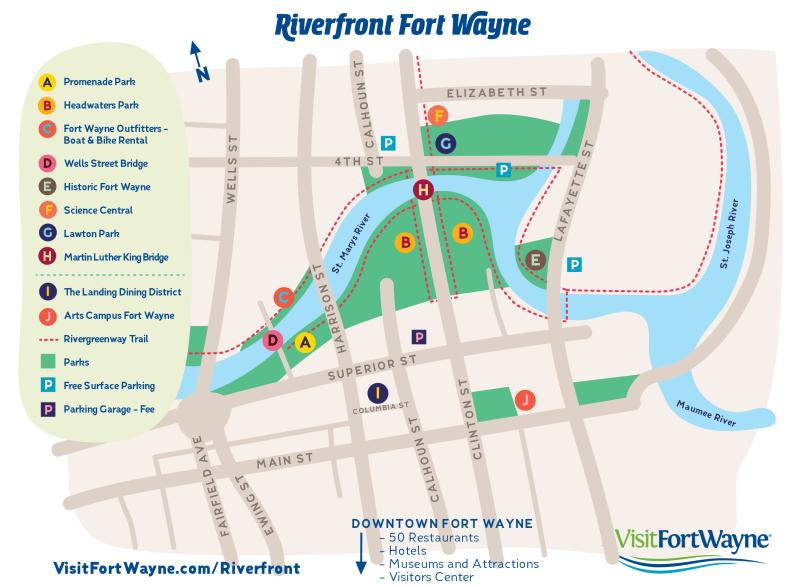 What to Pack
Bring your kayak or bike to enjoy Fort Wayne's riverfront, or rent when you arrive from Fort Wayne Outfitters, which is conveniently located on the north bank of the St. Mary's river.
Wear appropriate clothing for kayaking, canoe, or paddle boarding. And, don't forget your PFD (personal floatation device), sunglasses, sunscreen, paddles, and whatever you'd need while enjoying Fort Wayne's three rivers.
If you're renting from Fort Wayne Outfitters, PFDs will be available.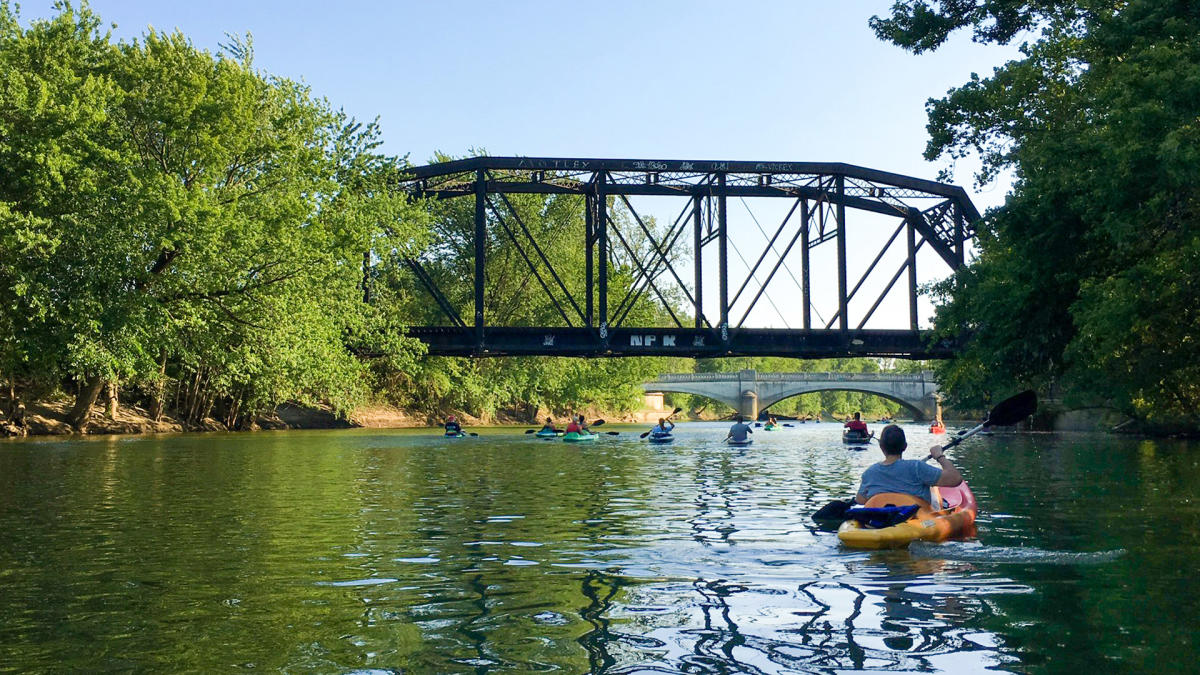 Where
If you're looking to explore Fort Wayne's rivers, the perfect starting point is in downtown Fort Wayne.
For those more experienced, consider Fort Wayne Outfitters excursions where they will drop you off, and you can paddle into downtown Fort Wayne.
Parking
Renting a bike or watercraft from Fort Wayne Outfitters? Feel free to park in their parking lot. To access Fort Wayne Outfitters turn onto Cass road off of Wells Street and follow the road around to Fort Wayne Outfitters.
If you're dropping in your watercraft from a boat launch, most launches have parking available. For those that wish to drive into Fort Wayne and bike along Fort Wayne's riverfront, we suggest parking near Headwaters Park in a surface lot or in any of the downtown parking garages. If you're looking to park close to the rivers, consider parking at Lawton Park.
Rentals
As mentioned above, Fort Wayne Outfitters is a great stop for renting any gear you need while in Fort Wayne. Plus, their staff is very knowledgeable about the rivers and trails that help make our city so great!
You can also rent from Earth Adventures Unlimited located on West Main Street.
Boat Launches
Boat ramps are located throughout Fort Wayne's river system and provide you access to the St. Joseph, St. Mary's and Maumee rivers. Some of the most popular launches include the Johnny Appleseed Park and Guildin. For a map and complete list visit the City of Fort Wayne site and the Leo Cedarville maps.  
When
It's no secret that winters in Indiana are not easy, and spring can mean that the rivers are way too high to enjoy safely.
If you're planning a getaway to Fort Wayne and want to enjoy the rivers consider planning your trip from May through October. Earlier than May the rivers have yet to be lowered to safe levels. After October, the cold weather tends to set in and river levels will fluctuate naturally.
Why
"The confluence of the three rivers was home to the capital of the Miami Nation, hosted several military and frontier forts, served as the summit of the Wabash-Erie Canal, and, now, is transforming Fort Wayne from an industrial powerhouse to a cutting-edge, creative capstone of the Midwest," says Megan Butler, Program & Events Manager for Riverfront Fort Wayne.
From the historical significances of Fort Wayne's waterways to the new opportunity of experiencing a natural feature in an urban destination, the St. Joseph, St. Mary's, and Maumee are, and will be one of Fort Wayne's defining destination asset.
Questions
Now that you know a bit about Fort Wayne's three rivers, we hope you get out there and explore. If you have a question consider some of these contacts while you're in Fort Wayne!
Visitor Suggestions - Fort Wayne Visitors Center, 260-424-3700
Rentals - Fort Wayne Outfitters, 260-420-3962 | Earth Adventures Unlimited, 877-328-4327
Riverfront Development - Fort Wayne Parks and Recreation, 260-427-6000
River Conditions - Fort Wayne Parks and Recreation, 260-427-6000 | Fort Wayne Outfitters, 260-420-3962
Trail Closures -  City of Fort Wayne, 260-427-6228 | Fort Wayne Trails, 260-969-0079
---
For urban explorers, outdoor adventure seekers, and leisure travelers Fort Wayne's rivers provide a great addition to any trip. Start planning your getaway today, and consider staying in downtown Fort Wayne for the most convenient access to attractions, dining, shopping, events, and, of course, Fort Wayne's three rivers.
This post was originally published in July 2018 and has been updated. Last updated March 2022.