Riverfront Fort Wayne
Since Fort Wayne's establishment, our three rivers: the St. Marys, the St. Joseph, and the Maumee, have been an intrinsic part of the city.
Today, you can spend a whole day exploring Riverfront Fort Wayne's attractions and amenities – offering outdoor fun and adventure for the whole family.
Explore Riverfront Fort Wayne below, and plan your day adventuring the trails along the river, exploring the attractions that cross your path, getting out onto the water, and discovering adventure together!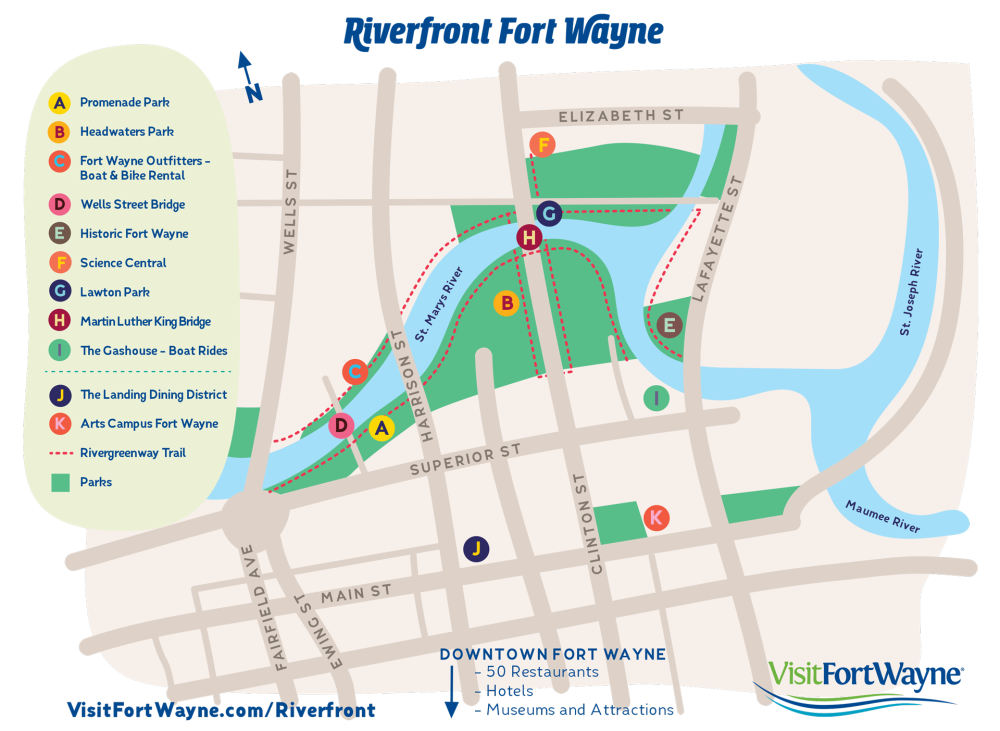 Promenade Park
Promenade Park offers visitors a brand-new take on entertainment, recreation and relaxation. Promenade Park offers visitors a chance to:
Play – With interactive options for family fun!
Parkview Tree Canopy Trail
Doermer Kids' Canal
PNC Playground
Ping Pong, Foosball, and Cornhole tables (with equipment available inside Trubble Riverside Cafe and Tap)
Explore – Extensive river access points and new opportunities to get on the river enable visitors to enjoy scenic boat tours or head out on their own in a rented kayak.
Relax – Dining and park experiences offer opportunities to "hang out" and enjoy the views any day of the week. Grab a snack and craft beer at Trubble Riverside Cafe and Tap. 
Celebrate – Promenade Park houses the state-of-the-art Sweetwater Band Shell and Ambassador Enterprises Amphitheater – promising concerts and live music experiences throughout the season.
Water Trails
We've designed a few water trails to help you chart a course on our rivers.
Play on the Rivers
If you're ready to venture onto the waters, you can do it by canoe, single or double kayak, or standing paddleboard. Fort Wayne Outfitters rents all three at hourly, half-day, and full-day rates. You can also rent canoes or kayaks from Earth Adventures Unlimited. This is a great way to see the city! Check out a few of our suggested water trails here. 
River Cruises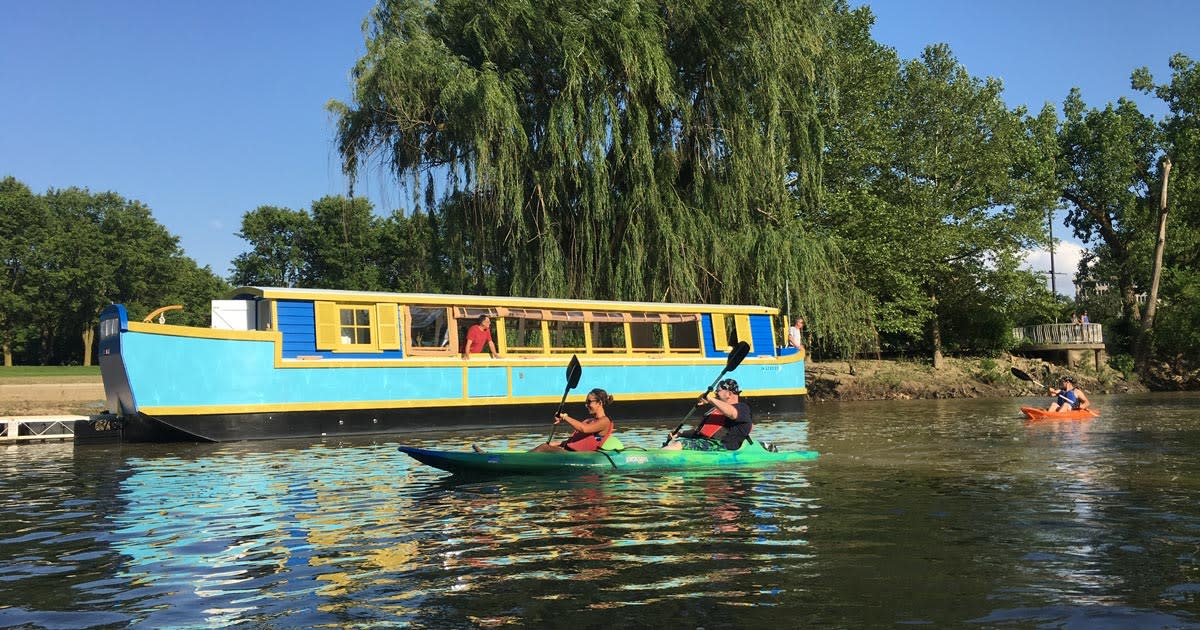 Experience the city by taking a boat ride on one of the three rivers in Downtown Fort Wayne.
You can enjoy rides along the river this summer with:
1. Sweet Breeze - Travel Fort Wayne Rivers on Sweet Breeze, Fort Wayne's authentic 1840s canal boat replica. It's wheelchair accessible and shaded. This is not a boat ride, it's an experience!  Both 90 and 45 minute tours are available to entertain riders with colorful river lore stories, Fort Wayne history from the riverbank and muddy water tales. You'll leave your voyage knowing more about our city, our heritage, and our water supply. 
2. Captain Black Boat Tours - Enjoy tours of the St. Marys and St. Joseph Rivers in Downtown Fort Wayne with a pontoon ride provided by Fort Wayne Outfitters and Bike Depot.
3. Riverfront Fort Wayne Boat Tours – If history is your thing, grab a seat aboard one of the pontoon tour boat rides presented by Riverfront Fort Wayne and the Fort Wayne Parks department.
4. Airboat Rides – Feel the breeze, and take a fun airboat ride. Rides are by reservation only during the evenings of Thursday, Friday, and Saturday evenings 6 pm – 9 pm.
5. Rum Runner Party Boats – A unique Party Barge experience. Groups of up to 16 can book this floating bar for a tour on the rivers.  
Parks and Trails
Fort Wayne is home to more than 80 parks and more than 100 miles of trails, the most prominent of which is Rivergreenway. The Rivergreenway Trail stretches 25 miles from Fort Wayne to New Haven, winding along the banks of the rivers. This trail is perfect for walking, jogging, rollerblading, biking, and more.
Plan your trail walk or bike ride with this Trails Itinerary or print a map for handy navigation.
Bike Rental
Rent a bike with Fort Wayne Outfitters who make it easy for you to hop on a trail and enjoy the river scenery.
Riverfront Access and Parking Map

For more information, visit riverfrontfw.org
Riverfront Fort Wayne Events Calendar
Explore events happening around Riverfront Fort Wayne.