When the time is right for us to welcome you back to Fort Wayne, we want to equip you with all the information you need to stay safe during your visit! Your health and safety is our top priority.
Below is our latest information on reopening information for Fort Wayne attractions. For additional information, visit our special Blog page.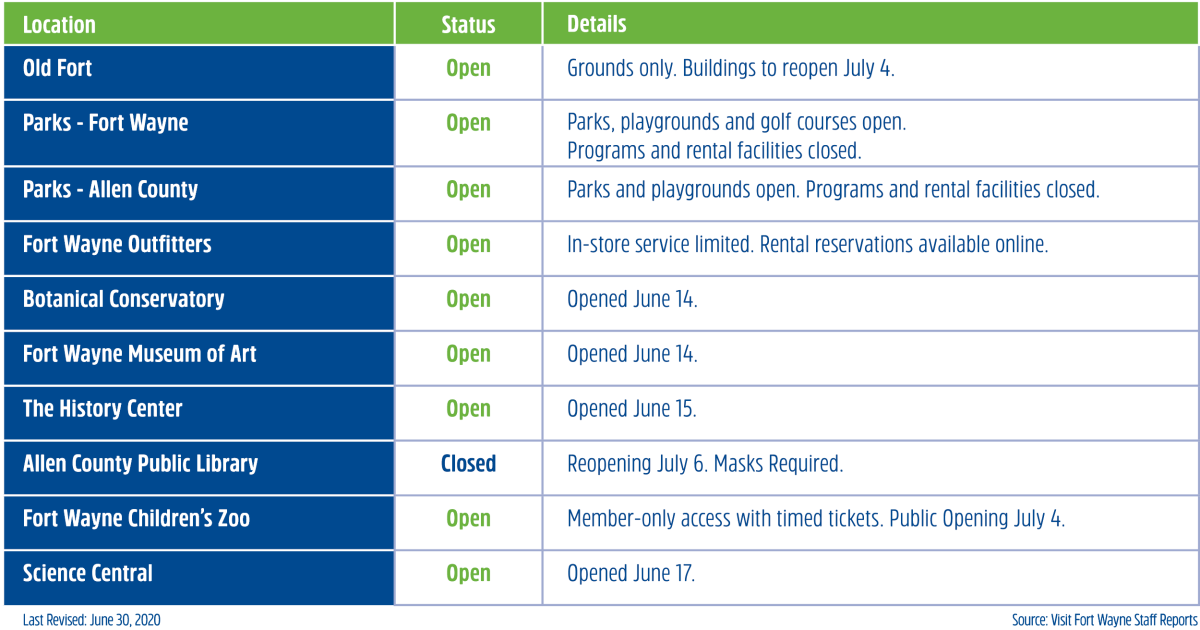 The state of Indiana is working to get Back On Track by July 4th with staggered openings of different industries. Most notably on June 14th, retail stores and restaurants will be open at 75% capacity, and visitor businesses (including attractions, zoos, and museums) will be fully open with social distancing measures in place. For specifics on the state's opening timeline, explore the Back on Track roadmap at BackOnTrack.in.gov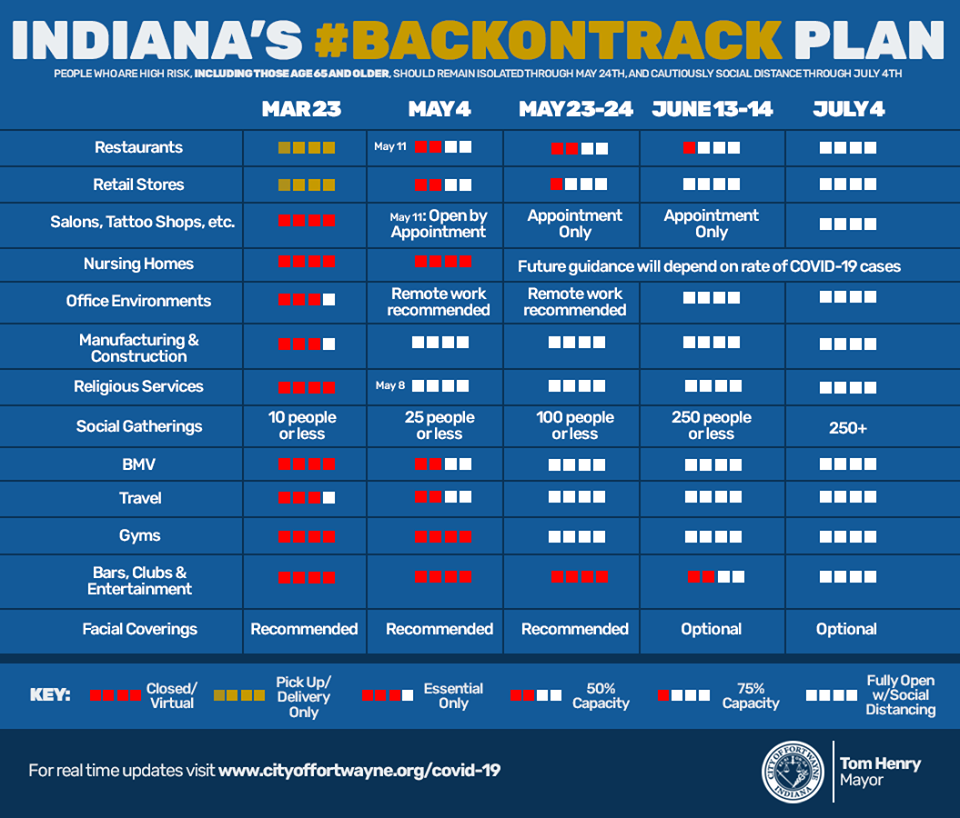 The City of Fort Wayne will be following the Governor's lead with Indiana's five-staged opening. For additional information on the City of Fort Wayne's COVID-19 resources, visit the website. 
Health Updates
Visit Fort Wayne will continue to monitor the coronavirus daily and communicate any necessary community information to visitors. For up-to-date health statistics and recommendations, we suggest the state and county health department resources:
The Fort Wayne community is also taking additional measures to protect patrons, visitors, and customers. See below for updates on new and improved safety measures being put in place to protect you.
In Downtown Fort Wayne, commonly touched outdoor surfaces will be periodically disinfected utilizing a registered EPA and Certified American Chemistry Council Tier One disinfectant, which kills the virus a minute after contact. Surfaces being cleaned include:
Newspaper Boxes 
Streetscape Litter/Recycling/Cigarette Receptacles 
Door Handles at Parking Garages 
Cross Walk Signal Buttons 
Bike Racks 
Parking Meter Keypads 
E-Scooters and Bike-share handles 
Fort Wayne Medical Facility Information
We hope during your stay in Fort Wayne, that you will not need the resources of our nationally ranked health systems. In the case that you do, we want you to be prepared. For emergencies, please do contact 911 immediately.
Hospital/Emergency Information
Planning Your Visit
While we all work together to ensure your safety, we are also here to help you plan your visit! From trip ideas to up-to-date information on facility hours and other amenities, Visit Fort Wayne is here to help.
Browse listings for our restaurants, attractions, hotels, and other facilities to get updated information on openings, hours, and any related information.
For additional inspiration and discovering can't-miss activities in Fort Wayne, we recommend our trip idea pages where you can customize your Fort Wayne experience!
Our Visitors Center is open and ready to assist you. For additional questions, feel free to contact us at 260-424-3700 or email us at VisitorInfo@VisitFortWayne.com.
While we all adjust to a new normal, we hope your Fort Wayne adventure is an opportunity to step away from it all, safely, and enjoy some quality time with your friends and family in a new destination!