10 Reasons your family will LOVE Fort Wayne, Indiana this summer!
We're home to the 1 and 2 "Indiana Summer Gotta Dos"
Voted on by travelers across the state, the Fort Wayne Children's Zoo and TinCaps Baseball were chosen as the #1 and #2 things that families "Gotta Do"
 this summer.
The award-winning Fort Wayne Children's Zoo offers over 1,500 amazing animals, alongside rides and activities in every part of the zoo. Tickle your toes in the treetops on the Sky Safari, cool off on an Australian log ride, and spend a day they'll never forget! It's no wonder the zoo has been named "One of the Top Ten Zoos for Kids!"
TinCaps Baseball has been named the "#1 Fan Experience in Minor League Sports," and features an awesome downtown ballpark, great family fun, food, and tickets starting at just $6!
Fort Wayne Loves to Party
Headwaters Park, our downtown festival plaza, is home to a different festival every weekend of the summer. From unique ethnic festivals, to outstanding celebrations of the arts, we're throwing a party this weekend — and you're invited. Check out our calendar of events.
Find Your Favorite
We recently installed 50 pieces of public art that serve as functional bike racks!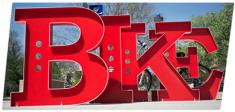 You'll love seeing these cool sculptural bike racks on every corner - be sure to take a picture with your favorite! You'll also love touring (and taking a selfie with) our murals and other public art. Use #MyFortWayne for a chance to be featured on our Social Wall.
Hands On Fun and Learning

Science Central is home to Science on a Sphere — a three-dimensional globe that teaches earth and space systems in a whole new dimension! The first of its kind in Indiana, and a real WOW for your science enthusiast!
The City of Restaurants
There's a reason they call us the City of Restaurants! From local favorites, to your favorite national chain, we've got hundreds of great dining options that your family will love.
Catch These Beauties Before They're Gone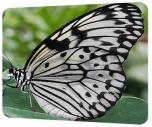 Our butterfly exhibit is back. Walk among these beauties from around the world (and maybe even let one land on your finger!) as butterflies invade our downtown Botanical Conservatory. Be sure to catch this exhibit before it flies away July 8th. 
Get Ready to Light Up the Night!
Summer evenings are delightful in Fort Wayne! From fireworks at the TinCaps baseball games - to free outdoor movies at Foellinger Theatre - to free live music at Jefferson Pointe's Friday Nites Live concert series - we make evenings magical. Check out our special music festivals page here. 
Take a Ride on Our Rivers
Fort Wayne is home to three rivers, and this summer you can see them for yourself by kayak, canoe, paddleboard, pontoon boat, - or by our canal boat! 
Bring your Bikes and Trek the Trails!

Fort Wayne offers over 100 miles of biking, hiking, and even kayaking trails. In addition, we are home to 86 parks and 56 playgrounds. Find the parks and trails that are right for you! Plus you can soak up the fun at our Splash Pads.
We Make It Easy!
One visit to VisitFortWayne.com and your family getaway is planned! We offer itinerary suggestions, hotel packages, maps, coupons, and more. So what are you waiting for? Start planning a getaway they'll love at VisitFortWayne.com!
Stay connected with our newsletter!