Pet Lovers Getaway
If you're looking for something to do this weekend but you don't want to leave Fido at home, then Fort Wayne has got you covered! With over twenty pet-accommodating hotels and plenty of parks and trails, Fort Wayne is a highly pet-friendly city.
Start out your trip by picking any one of the numerous local hotels that accept your furry friends. From the great, local hotels like Don Hall's Guesthouse to the larger, national chains that call Fort Wayne home, there is no shortage of places that would love to accommodate your entire family.
Once you are ready to get outside and wear out your pet, you can hop onto the Rivergreenway from a number of parks and trailheads. This 25-mile long linear park stretches from Fort Wayne to New Haven and follows the banks of several rivers giving users a multitude of views of the city, parks and natural beauty of Allen County.
There are dozens of county parks just outside of Fort Wayne that have miles of fabulous trails that provide great exercise and awesome views for you and your pet. Fox Island County Park - 25 minutes from Fort Wayne's downtown - is a 600 acre park that has seven miles of trails that are available as well as a dog beach on the banks of the small lake where you and your pooch can take a dip to cool off.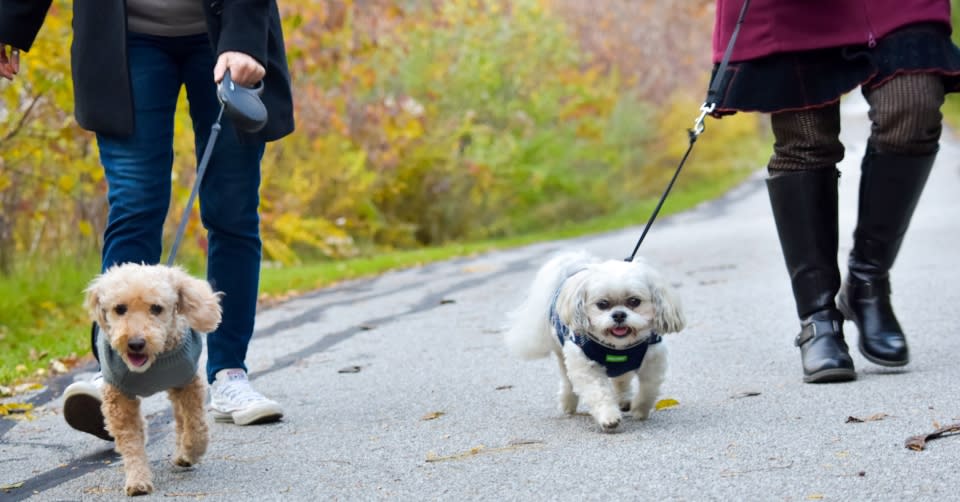 Another great destination for dog lovers is Foster Park just off of Bluffton Rd. in southwest Fort Wayne. There you will find a 2-mile loop around the golf course that is perfect for walkers, riders and anyone in between. Connected to Foster Park is Fort Wayne's original dog park, Pawster Park! Opened in 2001, Pawster Park is available to Fort Wayne pet owners who can purchase annual and semi-annual (July 1st- Dec. 31st) passes so that their pets can enjoy the facilities. Out-of-towners shouldn't worry though, The Fort Wayne Parks and Recreation Department has also opened the new Camp Canine at Johnny Appleseed Park. 
Camp Canine is located at the Johnny Appleseed Park just five minutes from downtown. The parks department will be offering the same passes for this brand new park and will also offer daily passes for campers at the Johnny Appleseed campgrounds. 
If you ever get hungry in Fort Wayne, there are quite a few restaurants that accommodate pets in their outdoor seating areas. The Dash-In on S. Calhoun Street has tables on their patio, which allows you to enjoy a nice pint or meal while your pet lays at your feet, exhausted from the day's adventure! Fort Wayne's own Mad Anthony's Brewing Company and Trubble Brewing also have very large and accepting patio areas and will even provide water for your parched pooch while you enjoy some of their handcrafted, locally brewed beers and food.
Depending on how sea-worthy your pet is, Fort Wayne Outfitters offers canoe and kayak rides down the St. Mary's river. If your dog is comfortable around water and isn't too fidgety, they are welcome to sit in the canoe while you paddle down the river. The rivers here in Fort Wayne are a great way to see the natural beauty of the river banks even amidst the hustle and bustle of the busy city around you. It offers a nice, quiet escape and after only a few minutes, you forget that you are in the middle of Indiana's second largest city!
What better way to end the day than rewarding your pet with a homemade, all natural dog treat from green DogGoods on North Anthony Boulevard. This healthy and natural pet supply store offers freshly baked (yes baked, like cookies!) dog treats as well as holistic toys, healthy and natural dog foods as well as options for your feline friends. If you want, green DogGoods also offers grooming services so that your pet can leave Fort Wayne with a fresh trim and a shiny coat! The folks at green DogGoods use the same organic, all natural house made shampoo, conditioner and skin treatments so you can feel better about making your pet look their best.
Before setting out to Fort Wayne for your fun weekend away with your pets, be sure to check out any of Fort Wayne's pet-friendly hotels. It is important to note that while your pets are welcomed at any of the parks and trails, there are rules and restrictions regarding bringing pets into protected nature areas. Please contact any parks and preserves you wish to visit and ask about pet accommodations. Always read and follow trail signs to ensure a safe and fun visit for everyone!