Party with your pup and celebrate a fetch-ing Fort Wayne, Indiana adventure! There are plenty of fur-friendly activities that you can enjoy together.
Fort Wayne, Indiana Dog-Friendly Itinerary
Lodging
If you're traveling from out of town, the first thing you'll need is a place to put your feet (or paws) up.
Fort Wayne's signature hotel, The Bradley, welcomes pups and their humans to stay and enjoy some of the best views of Fort Wayne! Located on Main Street downtown, The Bradley is just a block away from The Landing historic district with lots of dining options, and Promenade Park along the riverfront. The hotel requires a one-time fee of $25 for 4-legged guests.
The Hilton Fort Wayne at the Grand Wayne Convention Center is also perfectly positioned right in the heart of downtown Fort Wayne and is a convenient walking distance to many different amenities, including Parkview Field, home to Fort Wayne's Minor League Baseball team. This is a great option as long as Fido is under 75lbs and you pay the $50 non-refundable deposit. Hilton Fort Wayne also provides a large pet bed, food, and water bowls, and a cute placemat to set them on.
Fort Wayne is home to 14 great hotels that welcome pets! 
If you need help finding a hotel that fits your needs, call the friendly Visitor Services Specialist at Visit Fort Wayne.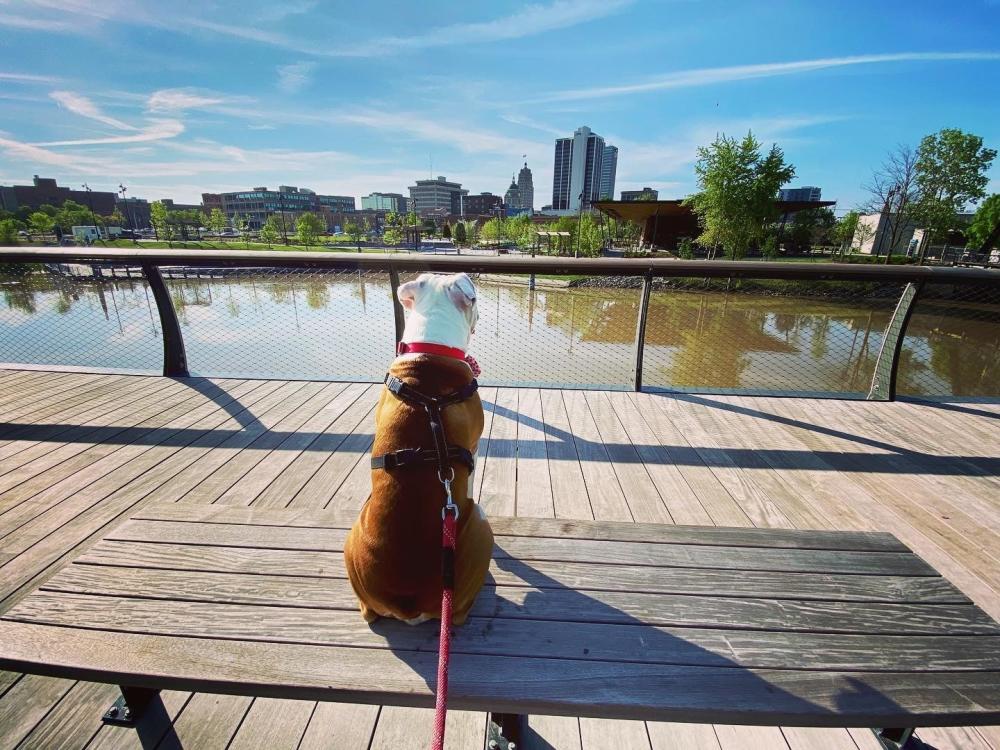 Photo Credit: @bully_bo3 on Instagram
Outdoor Adventure
Fort Wayne has so many parks for you and your bestie to enjoy; however, Lakeside Park and Rose Garden is only a short drive from the downtown. It features a beautiful rose garden, tranquil pools, a large pond, and a walking trail that winds around the perimeter. Bring a ball or Frisbee to throw, a blanket to relax under a tree, or go for a run. You and your pooch are sure to enjoy!
Right downtown, you and your pup can explore the riverfront at Promenade Park! Walk along the Tree Canopy Trail for the best skyline views, play in the lawn space, or launch a kayak with your furry friend on board from the dock. Fort Wayne Outfitters, located at Promenade Park, offers kayak rentals from the dock! So you and your pup will be paddling the rivers in no time.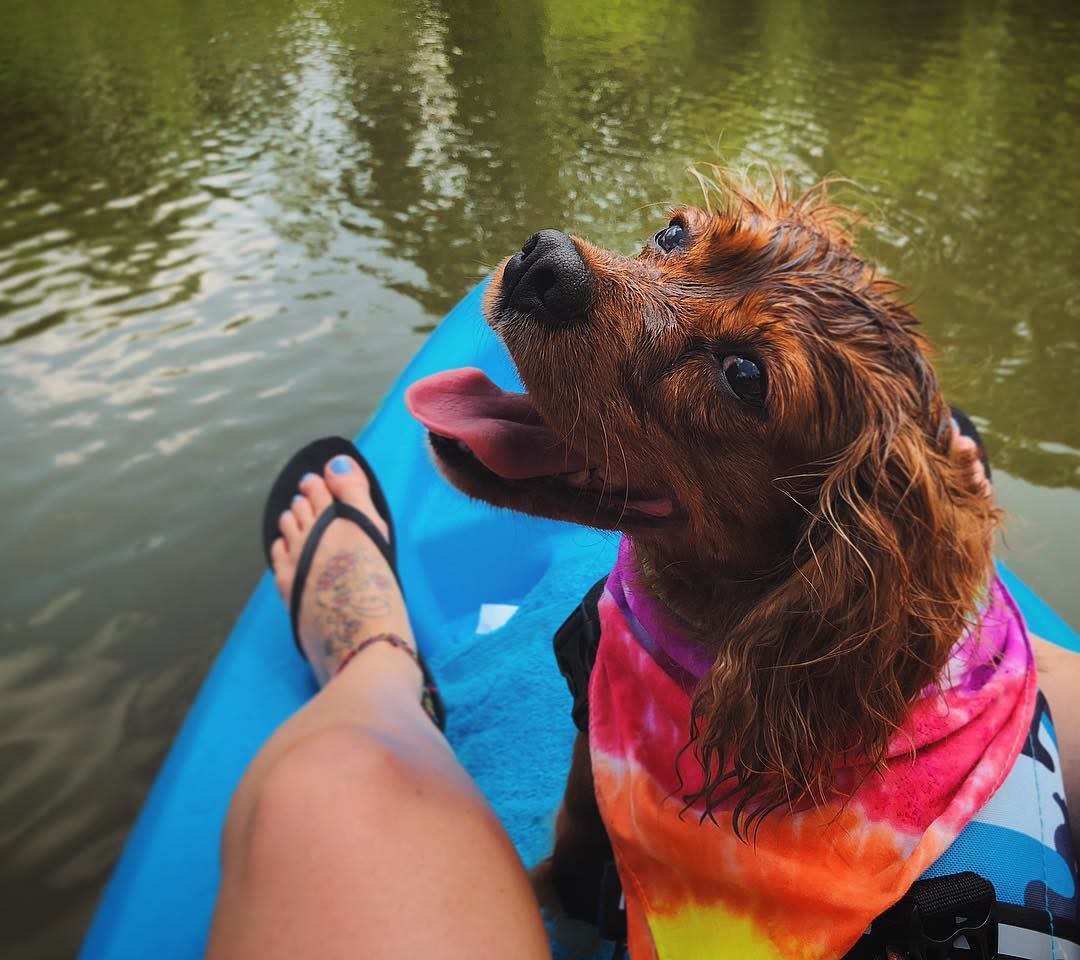 Photo Credit: @canonlove22 on Instagram
Your dog will also love exploring the Fort Wayne Outdoor Pass with you. This free, digital pass features 20 differents hikes, bikes, and paddles around the Fort Wayne area — taking you through some of the most scenic natural spots. Download the free pass, check-in at trail locations, and earn prizes!
And don't forget to take an extended walk and check out Fort Wayne's vibrant murals. With 35+ murals located downtown alone, and many more outside of downtown, you'll find lots of colorful photo ops for you and Fido! See the mural map.
Farmers Markets
On any given Saturday morning, to can head to Fort Wayne's favorite farmers markets, including the YLNI Farmers Market and Ft. Wayne's Farmers Market, and you'll be sure to meet plenty of other four-legged friends! Browse and buy fresh produce, handmade goods, flowers, and more from local vendors, while enjoying a beautiful morning in Fort Wayne.
Dining
Fort Wayne continues to become more and more pet-friendly, so you'll find lots of patios that welcome you and your dog. If you're looking for good grub that you won't have to beg for, stop in Trubble Brewing. They have a puppy-friendly patio so you can enjoy the great food and drinks together.
From coffee shops and dinner favorites to taprooms and distilleries, you'll be dining and drinking well during your stay at these restaurants with Paw-Friendly Patios.
Special Treats
Take a short walk from the hotel to the Brooklyn Pints Microcreamery. Grab a cone and a small Pup-Cup (frozen whipped-cream mixed with natural peanut butter) for Sparky, and peruse the historically restored homes in the West Central Historic Neighborhood.
You can also stop at Firefly Coffee House for some freshly made dog treats, or let your kissable K-9 pick out their own treat at Pet Supply Plus.
Entertainment
If you're looking for some evening entertainment you can do together, join other pet lovers for Paws and Claws Nights with the Fort Wayne TinCaps. Take in a baseball game a Parkview Field, where dogs and cats are welcome for Wednesday home games! Paws and Claws Wednesday games are pet-friendly, and feature discounted White Claw drinks. Get Tickets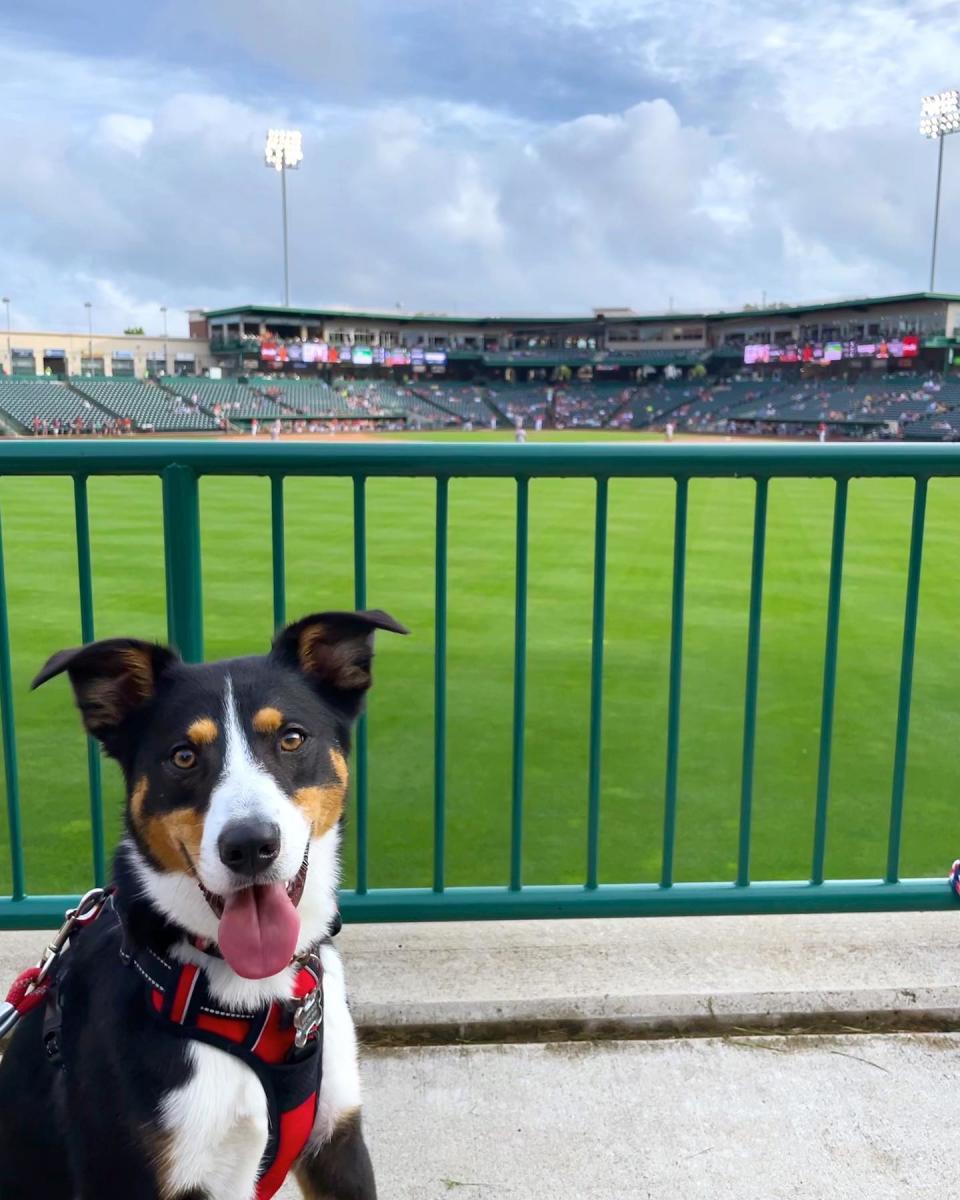 Photo Credit: @superpup_marvel on Instagram
Or check out Pedal City, where friendly pets are always welcome, or join one of their special Doggy Date Night events! Enjoy drinks in the beer garden, talk to pet organizations or vendors, and let your pup socialize with other dogs. If you ain't nothin' but a hound dog, you might also enjoy karaoke every Sunday at 8pm.
Make sure to stop by the Fort Wayne Visitors Center to view our exclusive pet bandanas, and more! Your furball is sure to give this vacation 5 out of 5 licks!
This post was originally published in March 2018 and has been updated. Last revised May 2021.