The streets of downtown Fort Wayne are filled with vibrant public art – murals and sculptures that tell Fort Wayne's story and share our pride.
No matter the season, it is easy to explore this public art, stopping for a selfie, and grabbing a sweet treat along the way. Visitors and residents alike can create their own self-guided walking tour by using this interactive map. Or, by printing this PDF version to carry with you.
Explore Murals Created by Black Artists in Fort Wayne, Indiana
Along the trail, you will find many beautiful pieces by Black artists from Fort Wayne and around the world, several of whom are outlined below. Use the map above to create your own walking tour of the trail, and to learn more about these Black artists and their contributions to Fort Wayne. The numbers below refer to their location on the Fort Wayne Public Art Map.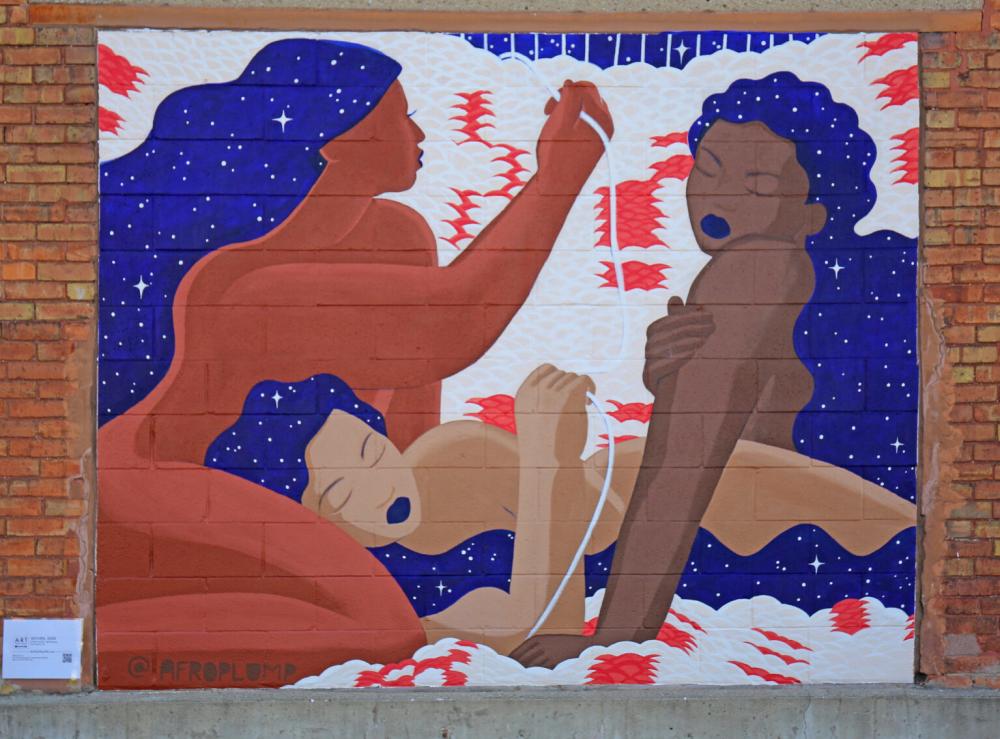 Pictured: Mural by Lyndy Bazile at 222 Pearl Street. #13 on the Mural Map.
Location #13 on the map offers a collection of murals to enjoy on Pearl Street, just adjacent to the Landing. The painting above is entitled "Woven," and was painted by local artist Lyndy Bazile. You can learn more about Lyndy and her art at lyndybazile.com.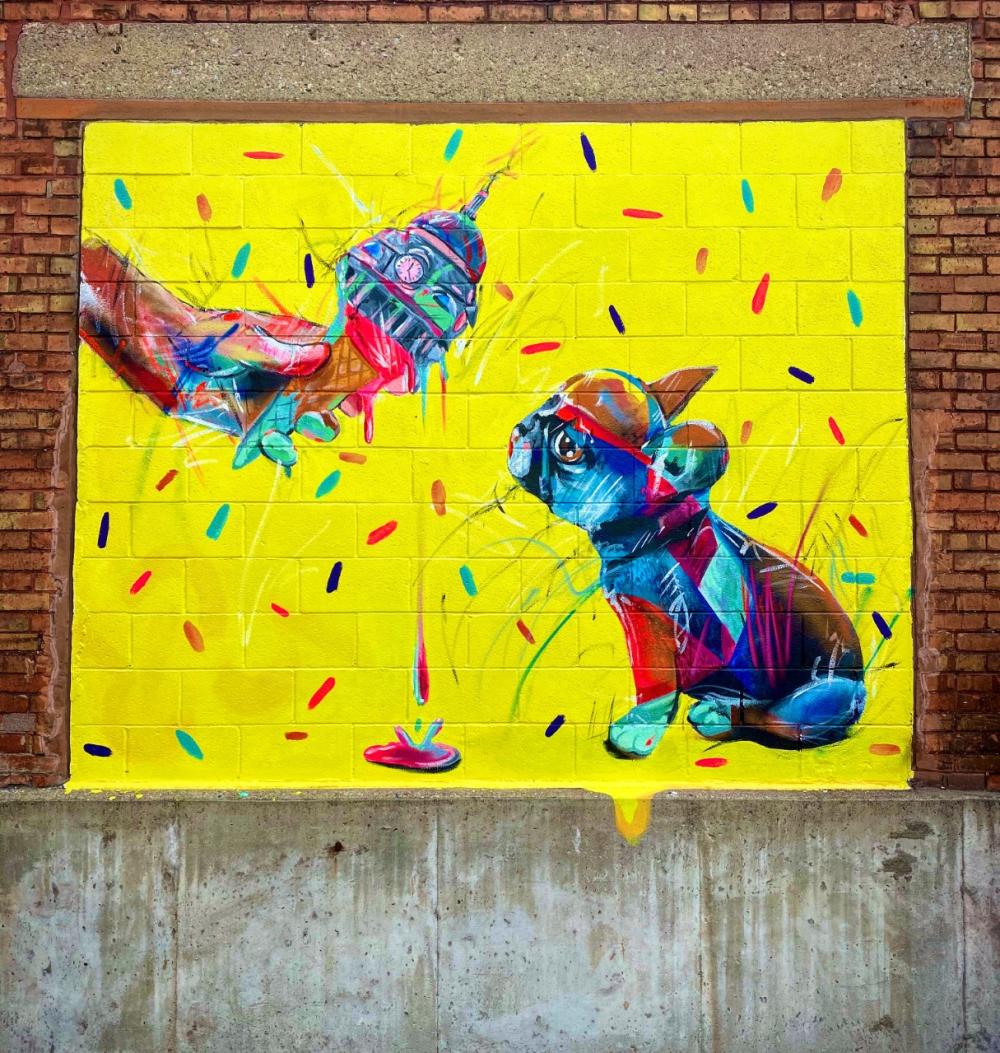 Pictured: Mural by Theoplis Smith III at 222 Pearl Street. #13 on the Mural Map.
Also found at this location is this "I Scream Fort Wayne" mural from Theoplis Smith III (aka Phresh Laundy). Theo adds, "This piece is inspired by being together in Downtown Fort Wayne in beautiful weather. Who doesn't like ice cream? I wanted to pay homage to this great city and to bring us together with vibrant colors."
Love this mural? This piece is available in poster prints, postcards, and vinyl decals in the Fort Wayne Visitors Center store.
Theoplis' influence on Fort Wayne's public art scene is profound, and many of his other murals are listed below. You can learn more about him at phreshlaundry.com.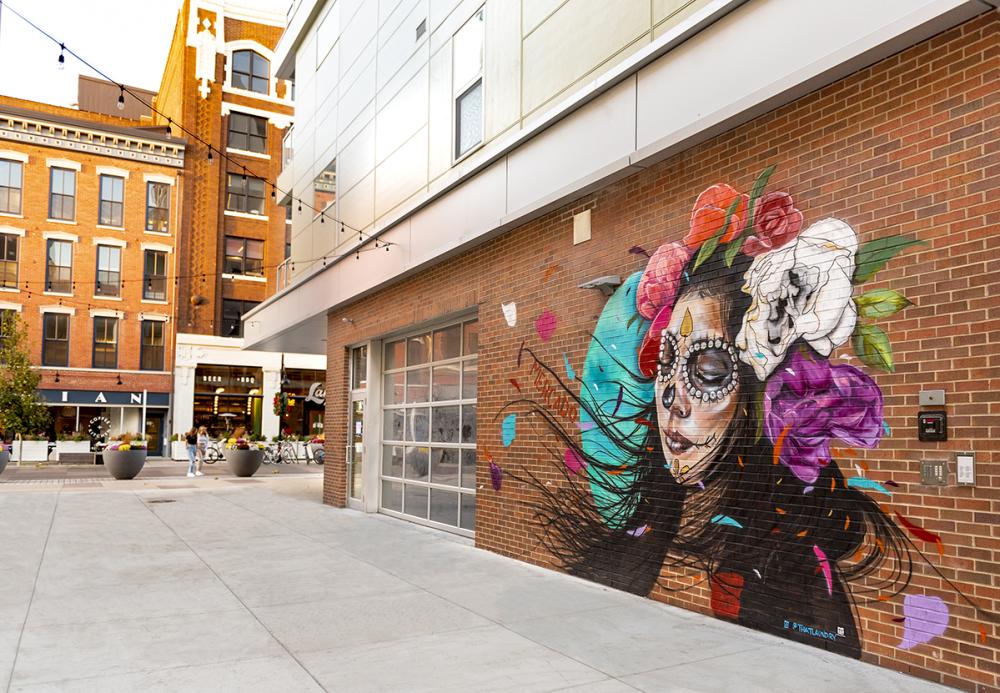 Pictured: Mural by Theoplis Smith III at Mercado on The Landing. #12 on the Mural Map.
Several of Theoplis' other murals include:
One at Mercado on The Landing located at #12 on the map (pictured above)
His first mural in Fort Wayne, located at Wunderkammer Company! Find it at #23 on the map.
His "People Walking" framed panel at 113 Washington Blvd.
The "Sly Fox" mural located at 4001 S. Wayne, #28 on the map. (Appropriately, this mural is on the outside of the Friendly Fox, a lovely coffee and sandwich shop!)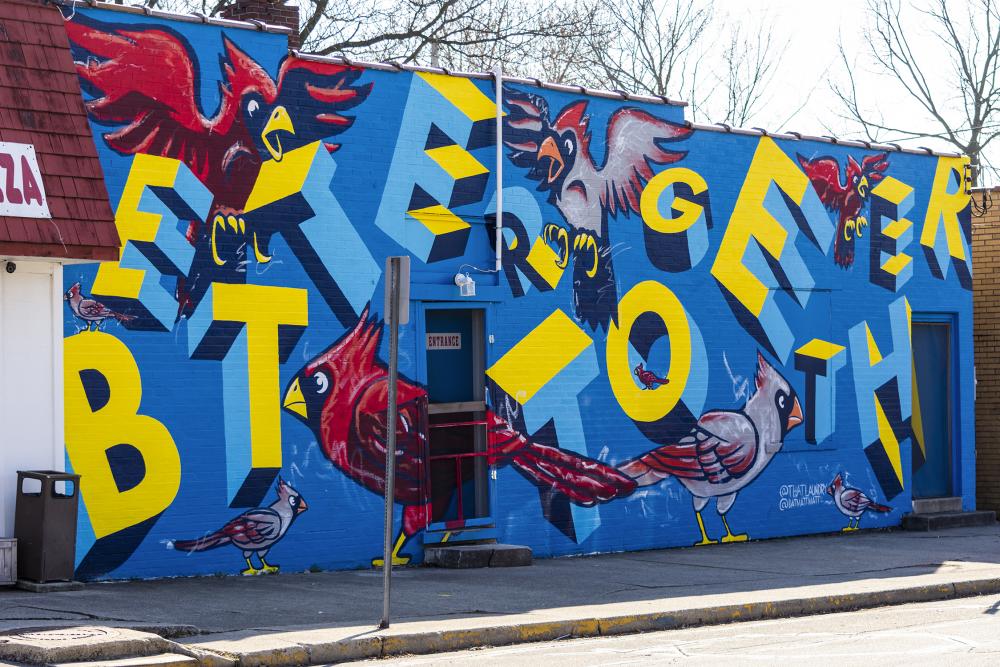 Pictured: "Better Together" mural by Theoplis Smith III and Matt Plett at 4302 Fairfield Ave. #25 on the Mural Map.
Theoplis also partnered with local artist Matt Plett on the "Better Together" mural located at #25 on the map, at 4302 Fairfield Ave.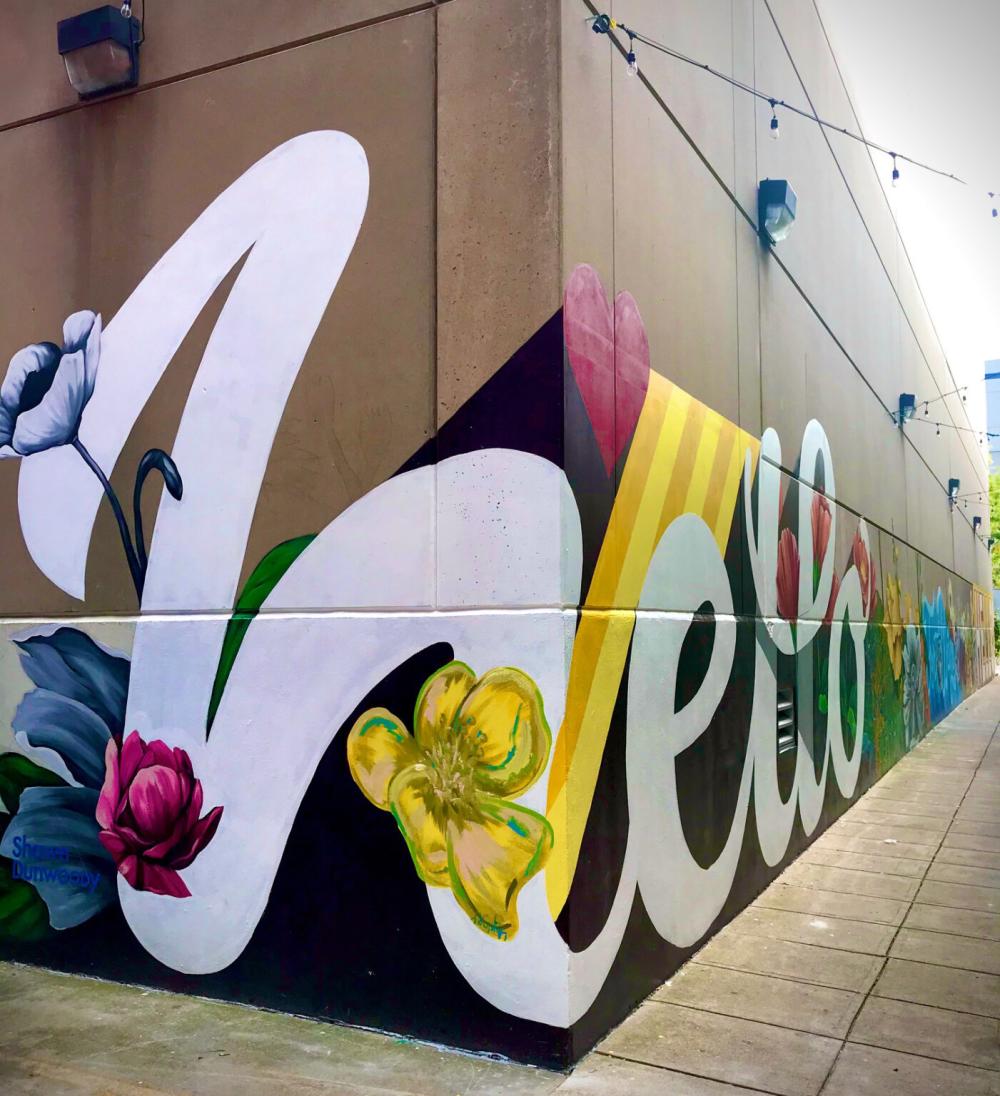 Pictured: "HELLO, Fort Wayne" Mural by Shawn Dunwoody in the alley at 120 W. Wayne St. #4 on the Mural Map.
Shawn Dunwoody may not be a native of Fort Wayne, but his contributions to our community have made him an adopted son. Stroll his "HELLO, Fort Wayne" mural at 120 W. Wayne St., #4 on the map, and enjoy Shawn's bright, colorful optimism – a gift to our community. Shawn adds, "I believe in contextual knowledge, an original approach, and imagination as the basis for crafting new forms of appropriation of space, common producing, and creative development." Learn more about his work.

Pictured: Mural by artist Nosego located at 816 S. Calhoun St. #2 on the Mural Map.
Nosego is a Philadelphia-based artist with a passion for combining fine art with contemporary styling. Grab a slice of pizza at Pint and Slice and enjoy his mural on the south side of 816 S. Calhoun Street, #2 on the map. This mural was brought to Fort Wayne in 2014 by the Fort Wayne Museum of Art and the owner of Pint and Slice. This piece was Fort Wayne's first piece of commissioned street art! Learn more about nosego.

Pictured: "Truth" mural located at 918 E. Pontiac St. #26 on the Mural Map.
In addition, the "Truth" mural found at #26 on the map was completed in the Fall of 2020, and installed by a group of 4 local artists: Theoplis Smith III, Lyndy Bazile, Teresa Yarbrough, and Ron Lewis. 
William Bryant Rozier, a local writer, photographer, graphic designer, and the first managing editor of Fort Wayne Inkspot Newspaper — Fort Wayne's first Black-owned newspaper — tells us more about this mural.
"Found at 918 E. Pontiac Street, on the west side of Vincent Village, the colorful and timely "Truth" Mural is the freshest and latest addition to the block that shines a light on Southeast Fort Wayne. The mural, funded by Bill and Peggy Dotterweich, was designed by four local talents. Neighborhood children also made small contributions to it, 'to take ownership of the illustration,' said artist Ron Lewis for an interview with Access Fort Wayne on November 12, 2020, right before the quartet finished the mural. The kids spray-painted stars, with assistance, and wrote their names on their creations. One of the children, a young black boy, summed up the mural: 'Life… everybody should tell the truth. And be peaceful.'"
You can learn more about the "Truth" mural in this Fort Wayne Ink Spot article.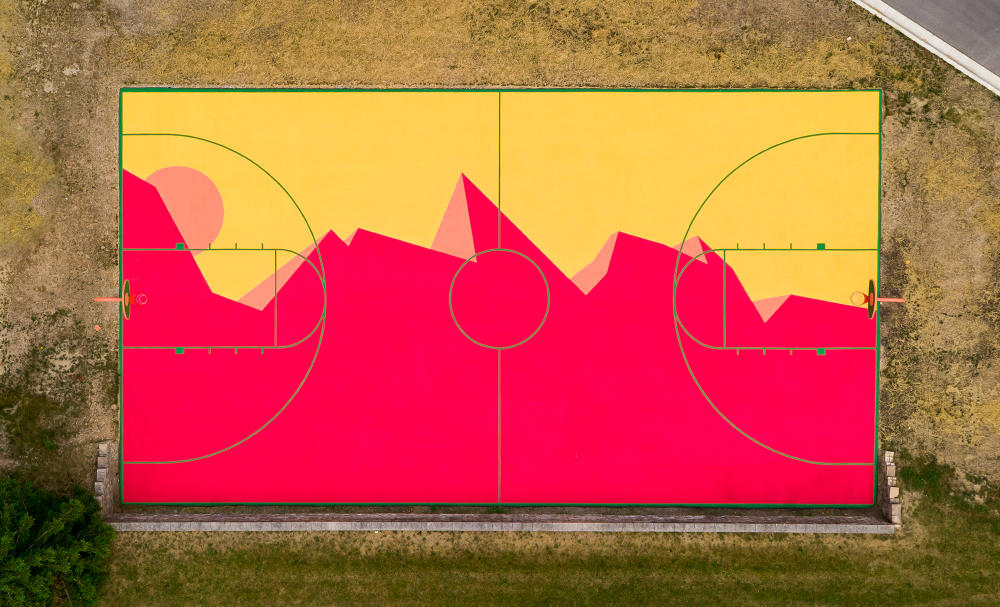 Pictured: Mural on the basketball court at 1616 Edgewater Ave., created by Andre Portee and AbsorbALL.
Another local artist, Andre Portee, has taken an alternative approach to murals. He created AbsorbALL with a mission of "bridging art with community, painting one basketball court at a time." The first project (pictured above), completed in the summer of 2020, is located at 1616 Edgewater Ave. Another mural was just installed in the fall of 2020 — covering four basketball courts at McMillen Park in Fort Wayne! The McMillen Park mural is #27 on the map.
Looking for additional information on these murals and other public art in Fort Wayne? Please visit our Public Art page, where you'll also find an interactive and downloadable Mural Map. And be sure to check out Art This Way to learn more about Fort Wayne's public art projects and initiatives.