Whether you're coming from Chicago, Ann Arbor, Toledo, Lexington, or anywhere in-between, make a stop on your road trip route. Fort Wayne, Indiana is the nexus of many road trips (if not the destination).
We're the perfect place to stop for an overnight recharge on your way to what's next. We're friendly, we're fun, and we don't cost too much!
A Road Trip Stop in Fort Wayne, Indiana
Explore Fort Wayne
The St. Joseph River (one of three rivers in Fort Wayne) runs through Johnny Appleseed Park. Campground guests and visitors can enjoy the water right from the bank or make use of the DNR-approved boat launch. The St. Joe is great for fishing, kayaking, and canoeing. You can bring your own boat or rent one from nearby Fort Wayne Outfitters.
Fort Wayne Outfitters also rents bikes if you don't have your own available. Johnny Appleseed Park is also connected to the city's expansive Rivergreenway Trail System. The trails are great for fitness, recreation, and even serve as a legitimate transportation route to attractions and events in and around the city.
Johnny Appleseed Campground offers a natural, tree-filled setting near the water but it's also surprisingly close to central Fort Wayne and many attractions. The campground/park is a stone's throw from Glenbrook Mall, the Allen County War Memorial Coliseum, Sky Zone Trampoline Park, and many restaurants. It's a few minutes by car from the Fort Wayne Children's Zoo, and Downtown Fort Wayne. If you've got a bicycle, you get almost anywhere in town in less than an hour.
Special Events to Stop for in Fort Wayne, Indiana
In addition to our year-round fun, Fort Wayne is also home to TONS of shows and festivals that are perfect road trip stops! Here's something to do each month:
April
Broadway at the Embassy – Fort Wayne's Historic Embassy Theatre always offers something remarkable throughout each year. Check out the upcoming shows here.
May
Fort Wayne, In Water Lantern Festival – this exciting festival was voted Best Cultural Festival by USA TODAY two years in a row. Watch the beautiful floating lanterns and indulge in games, activities, and delicious food.
June
BBQ RibFest – This event is just what it sounds like. A rib-eating extravaganza complete with judging, music, and plenty of carryout to stock your fridge. Visitors with a carnivorous palette will enjoy this RibFest! Plus, there are festivals almost every weekend in June.
July
Three Rivers Festival – This is the biggest festival in Fort Wayne and has been running for over 50 years. The Three Rivers Festival has something for everyone.
August
Taste of the Arts – This is a two-day music, arts, and theater festival located within Fort Wayne's beautiful downtown arts campus.
September
Before the campground closes for the annual Johnny Appleseed Festival, enjoy Fort Wayne's splash pads – Fort Wayne's City Parks & Recreation Department (which owns and operates the Johnny Appleseed Campground) also offers eight free splash pads around town. They're FREE and open at least through Labor Day.
October
Fright Night –  You'll find countless Halloween activities ranging from toddler-friendly to super-scary. And be sure to catch the Zombie Walk at 3PM.
Where to Stay in Fort Wayne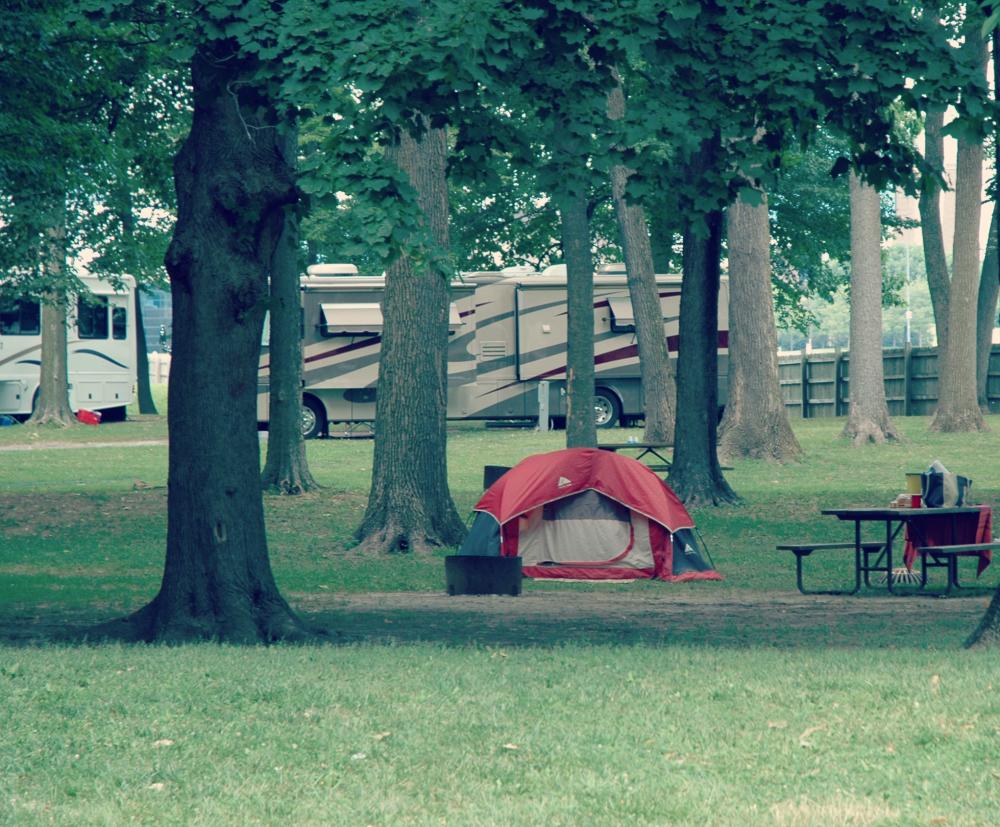 If you're looking to camp, look no further than the Johnny Appleseed Campground, which is located in Johnny Appleseed Park. Close to I-69, it's a convenient location to stop and set up camp for the night. And as the name suggests, this spot is more than a campground. It's a family fun destination that boasts a unique piece of history: the park is home to the grave of the Midwest's favorite volunteer arborist: John Chapman, a.k.a. Johnny Appleseed.
Johnny Appleseed Campground features forty-one sites that are camper/RV-friendly and a separate tent-camping area. The thirty-one-acre park also includes a playground, a picnic area, and access to Fort Wayne's Rivergreenway trail system. Call (260) 427-6720 to reserve your spot.
If you're looking for more comforts from home, check in to one of the many great hotels in Fort Wayne.
Directions and Booking
Johnny Appleseed Park is located at 1500 Harry Baals Drive, Fort Wayne, Indiana, 46805. The park/campground is located off of Coliseum Boulevard (U.S. 930) along the St. Joseph River. Visitors coming from Interstate 69 should travel south and take the Coldwater Road exit (312).
Johnny Appleseed Park is open year-round, and the campground is open from May 1 through October. Please note that the campground closes for the middle part of September for Fort Wayne's annual Johnny Appleseed Festival.