While June is the official Pride Month, Fort Wayne, Indiana keeps its LGBTQ+ pride running high into July!
The LGBTQ+ Inside Scoop to Fort Wayne, Indiana
Fort Wayne boasts a rainbow of businesses proud of their genders and sexualities, some even making it a core value of their business to promote inclusivity and diversity. The local LGBTQ+ community has a lot of progress to be made but luckily there is a population of queers here ready to put in the work to make this difference.
Check out these queer-run events and queer-owned businesses to get out and support!
Pride Events:
Pride Month is not over after June — especially not in Fort Wayne.
The annual Fort Wayne Pride Fest returns July 22-23 at Headwaters Park!
Festivities kick off Friday at 7 pm, with great music all evening and a dance party from 11 pm to midnight. Saturday is packed with great events, including:
The Pride March at 11:15 am starting at Headwaters Park
A full lineup of live entertainment from local, regional, and national bands and musicians
KidSpace from Noon to 6 pm with Drag Story Time, games, prizes, and a moonwalk
A Cornhole Tournament from 2-5 pm
Plus food and drink options, a vendor market, workshops, a nonprofit resource fair, and more!
See the full Pride Fest schedule.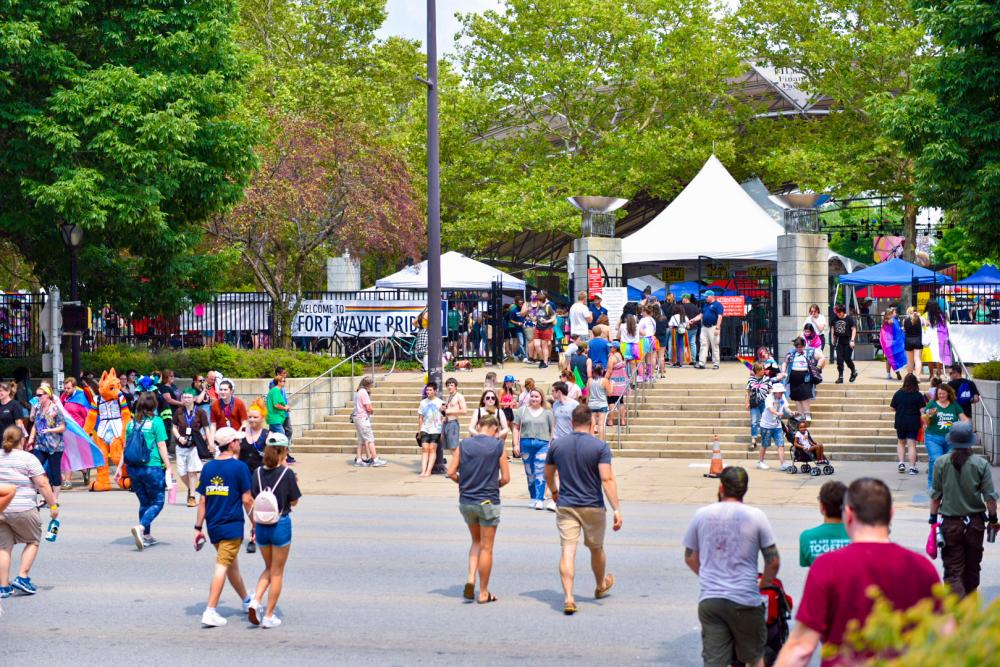 Rounding out the city's pride weekend are two great events on Sunday, July 24.
Queer Fort Wayne's QUEEIRD Art Market at Wunderkammer Company on July 24th, from 2-7 pm. This event is run by our Queer Fort Wayne team, a local organization that seeks to create safe spaces that foster community among our LGBTQ+ individuals. The QUEEIRD Art Market will feature 40+ local businesses, artists, and performers at Wunderkammer Company. Allies and Queers alike are welcome to come show support for our amazing lineup of LGBTQ+ vendors!
The best part is that no matter which booth you shop from at QUEEIRD, you will be directly impacting the LGBTQ+ community in Fort Wayne at a local level. From ice cream and delicious eats to photography and fine art, there's something for everyone at QUEEIRD! You can meet so many amazing people impacting the community, like Olive the Hairapist. Olive (they/them) believes in taking gender out of the salon equation–by offering genderless hair-cutting services. Their salon chair accommodates all intersections of the LGBTQ+ community, creating a safe salon space for everyone. Olive is a talented artist who works to create a loving community in the town they call home.
Organized by two Fort Wayne trans activists, Queer Fort Wayne and this event are focused on putting members of the local LGBTQ+ community at the forefront - which is exactly what you can expect Sunday at this creative, welcoming celebration.
Pets welcome. Admission is free! Learn more about the QUEEIRD Art Market.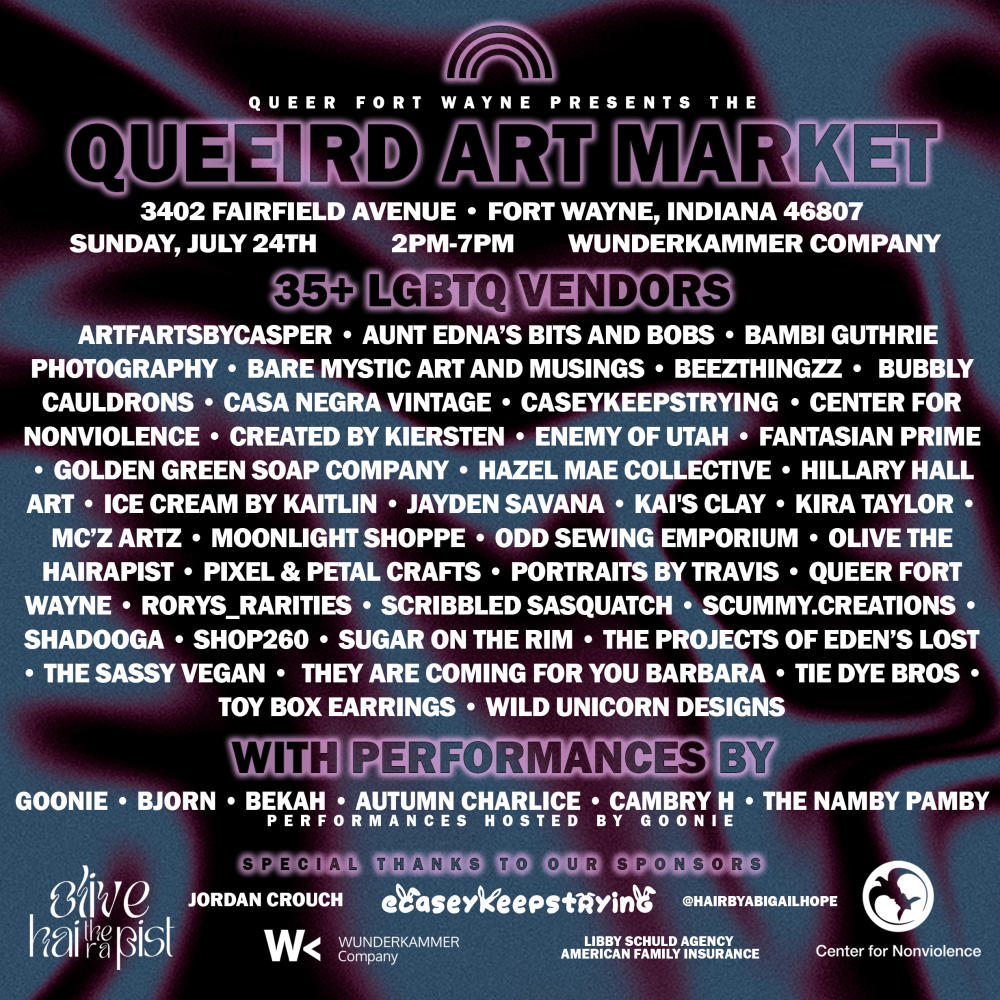 You can also get the day started a little earlier with a Drag Me to Birdie's on Sunday from Noon-2 pm! Don't miss this drag brunch at Birdie's Rooftop Bar at The Bradley, featuring local talents and a delicious brunch buffet. Tickets are $40 each, and include unlimited brunch and non-alcoholic drinks. Alcoholic cocktails and beverages will be available for purchase.
Places to Visit:
Calling witches, crystal lovers, and local art fans: Fae's Cabinet is an LGBTQ+ owned business where local artists can sell their art–ranging from jewelry to spell jars to 3-D printed skulls. They have an expansive array of crystals, handmade art, metaphysical supplies, and exotic creatures. Fae's Cabinet is a queer haven for Fort Wayne locals and creators!
Bagels in the traditional sourdough style — handmade with love and pride! Keep your eyes on their social media for where this Farmers Market staple is next. Their goods range far beyond bagels, including sweet pastries, breads, salads, and bagel schmears. This is our go-to deli hook-up. Plus–they cater! Queer owned, operated, and uplifted!