In a city with many steakhouses and burger joints, you can also dine on Fort Wayne's bountiful selection of vegan options.
Over the past couple of years, many local restaurants and national restaurant chains have started adding vegan options to their menus due to growing demand. And no, I don't just mean salads. From vegan pizza and burgers to coney dogs and even ice cream, Fort Wayne, Indiana has it all!
Whether you're a plant-eater, meat-eater, health-conscious, or just want to add more plant-based meals to your diet, the vegan and vegan-friendly options at these Fort Wayne restaurants are sure to please everyone.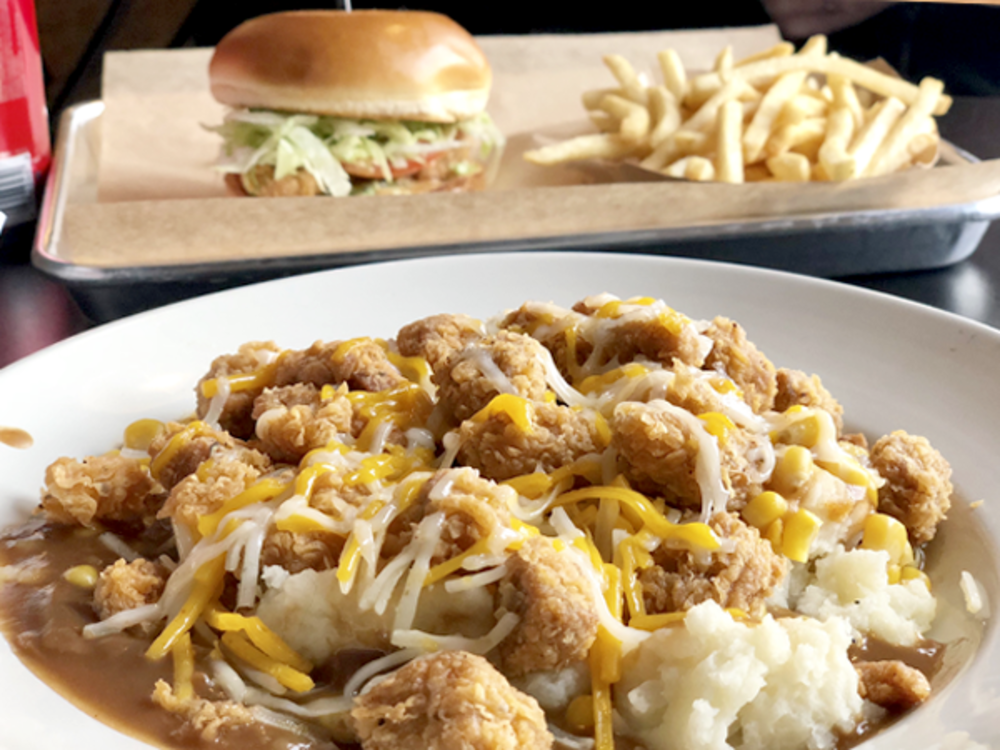 Vegan-Friendly Restaurants in Fort Wayne, Indiana
All-Vegan
Fort Wayne has two all-vegan restaurants. Loving Cafe and Savery Vegan Grill. Everything at these two restaurants is completely vegan and they are a favorite among vegans & omnivores alike.
Loving Cafe
Loving Cafe opened about 10 years ago as the first vegan restaurant in Fort Wayne when there were few vegan options. They offer Asian cuisine such as Pad Thai, Sesame Sweet & Sour, Spring Rolls, and Kung Pao in addition to American favorites including sandwiches, burgers, and wingz. Healthier eaters will appreciate their soups, salads, and raw food section.
Loving Cafe, 7605 Coldwater Rd., 260-489-8686
Savery Vegan Grill
First, let me say that I've become a little obsessed with Savery Vegan Grill since they opened their doors last November. They're my go-to when I'm craving comfort food (which just may be all the time!) Menu highlights include poutine, brats, loaded burgers, nachos, coney dogs, and more. Try my favorite, a large bowl of mashed potatoes topped with brown gravy, corn, shredded "cheese", and crispy popcorn "chicken". The bowl is reminiscent of something you'd get at KFC.
Stop in on Sundays for brunch between 10 am-2 pm when they offer a "sausage egg 'n cheese muffin", breakfast burritos, pancakes, "chicken 'n waffles", french toast, tofu scramble, and more!
Savery Vegan Grill, 1122 Taylor St., 260-888-6474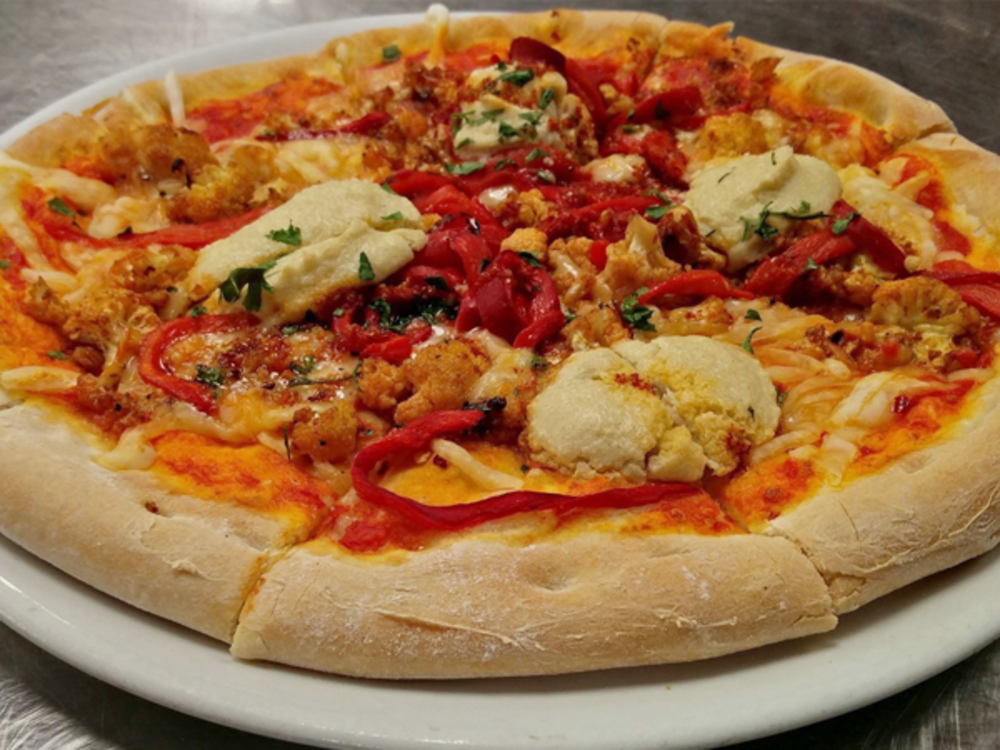 Pizza
Three Fires Pizza
Three Fires Pizza on Illinois Road has what I would consider some of the best pizzas around. Their vegan pizzas are loaded with so many great-tasting veggies that I don't feel guilty after eating half a pie!
Enjoy their creamy vegan cheese that can be substituted on any of their vegan pizzas or appetizers. They also have a vegan version of their popular 800 pizza. The Vegan 800 is topped with cauliflower "sausage", roasted red peppers, chili sauce, red pepper flakes, vegan cheese, and a cashew ricotta.
While you can get some great vegan pizzas any day of the week, Sundays are when they really shine! During Vegan pizza Sundays at Three Fires Pizza you can choose from a variety of vegan specialty pizzas. The menu changes, but it usually features their buffalo "chicken" pizza, taco pizza, BBQ jackfruit pizza, vegan 800, and my favorite, their new Thai pizza with sweet chili and peanut sauce! Plus, they carry scrumptious cupcakes from Muncie's Sea Salt & Cinnamon who you may remember from the Fort Wayne Veg'n Brew Fest last year.
Three Fires Pizza, 5215 Illinois Rd. Suite 101, 260-416-0005
Alto Grado
Located downtown in The Landing Historic District, Alto Grado has delicious wood-fired pizza options for everyone! For vegan diners, they offer the "Happy Vegan," which features their classic red sauce, vegan mozzarella, artichokes, Baby Bella mushrooms, kalamata olives, and olive oil to top it off. They also have several vegetarian options on the menu for any vegetarians.
Alto Grado, 111 W Columbia St., 260-498-2491
Blaze Pizza
Build your own vegan pizza at Blaze Pizza. Their classic, gluten-free, and high-rise doughs are vegan as well as both their classic and spicy red sauce.  Choose from a variety of toppings including vegan cheese and their new spicy vegan chorizo. Did I mention it's spicy? It's definitely not for spice wimps! Then finish it off with balsamic glaze, BBQ or buffalo sauce, or a drizzle of olive oil.
Blaze Pizza, 401 E Coliseum Blvd., 260-440-8571
816 Pint & Slice
If you're craving pizza in downtown Fort Wayne, head over to 816 Pint & Slice. 816 offers vegan cheese that you can add to any pizza or calzone. Unbelievably, their garlic butter is vegan as are their breadsticks.
816 Pint & slice, 816 S Calhoun St., 260-423-6600

Mexican & Cuban

Hoppy Gnome
When the craving hits for vegan tacos, head over to Hoppy Gnome. They've recently updated their menu to include a few new vegan options including tofu tacos and my favorite, the cauliflower tacos with guacamole and a sweet chili sauce, or opt for the new tofu bowl with noodles, tofu, and veggies.
Hoppy Gnome, 203 E Berry St., 260-422-0070
Fast Mexican
Need Mexican on the go? Chipotle, Salsa Grille, and Qdoba all offer vegan options. All three have vegan rice and beans. At Chipotle, add tofu sofritas to your taco, burrito, or bowl. At Salsa Grille ask for fried tofu (some of the best seasoned tofu in town!), and Qdoba will soon be serving Impossible Burger crumbles.
Finer Dining
BakerStreet Steakhouse
You wouldn't think to see a Steakhouse on a list of where to get vegan options in Fort Wayne, but here we are! BakerStreet recently added a separate vegetarian menu with many items that can be made vegan (ask your server for it). Vegan options include Vegetable Coconut Curry, Southwestern Stuffed Peppers (ask for vegan cheese or no cheese and no aioli), and Roasted Jackfruit Street Tacos (minus aioli).
They're a scratch kitchen, so if you call ahead they can even whip up something a little special!
BakerStreet, 4820 N Clinton St., 260-484-3300

Pubs & Breweries

Hop River Brewing Company
Want to grab a pint & a bite to eat? Hop River serves award-winning brews (ask the staff which are vegan) and great bar food such as their Muhamarra Dip, Sriracha Nuts, Sloppy Joes, and more.
Hop River Brewing Company, 1515 N Harrison St., 260-739-3931
Trubble Brewing
Trubble Brewing is a local, kid-friendly brewery just south of downtown. Menus change but past vegan options included chili, tacos, buddha bowls, hummus, hummus wrap (vegan on request), and more. 
Trubble Brewing, 2725 Broadway, 260-267-6082

Burgers

Sometimes you just want to sink your teeth into a great burger and no, we don't mean the old frozen, chunky veggie burger pucks, but a great, meaty veggie burger. Thanks to Beyond Burger and Impossible Foods, veggie burgers have come a long way and it's getting almost Impossible (see what I did there) to tell the difference between a veggie burger and a meat burger. 
You can find either the Impossible Burger or Beyond Burger at several locations around Fort Wayne including Savery Vegan Grill, Loving Cafe, Red Robin, TGI Friday, BurgerFi, and Welch's Ale House.
Don't forget to try the Veggie Freak at Burger Bar in downtown Fort Wayne!
For a delicious homemade veggie burger, try a falafel burger from Dash-in.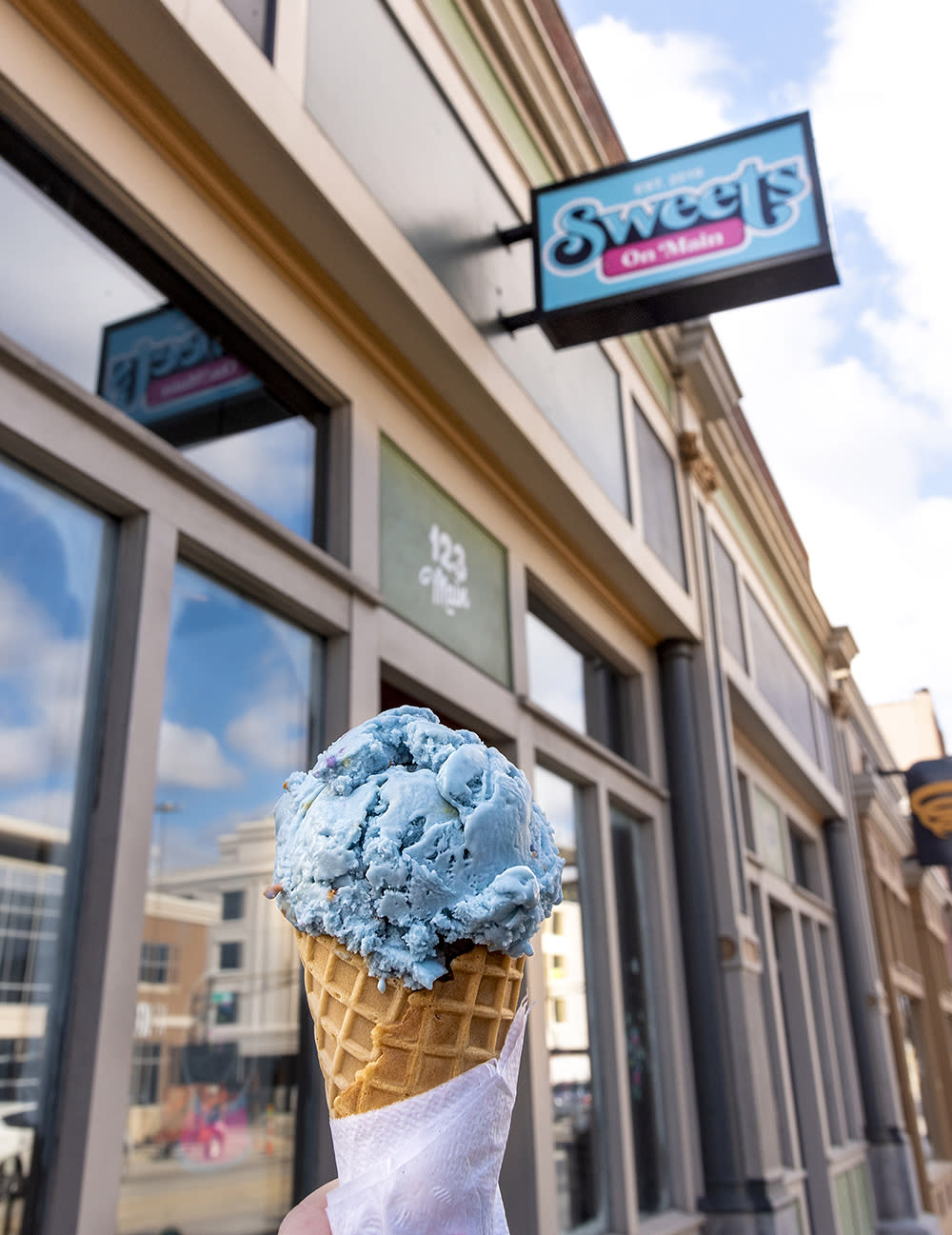 Desserts
Ice Cream
If the warming temps have you in the mood for something cool, stop by Sweets on Main, Brooklyn Pints Microcreamery, or Just Cream for some great vegan ice cream! They have rotating flavors so follow them on Facebook or call for current options. West Central Microcreamery even makes their own vegan waffle cones and at West Central and Just Cream you can order sample size flights!
Sweets on Main, 123 W Main St., 260-424-0244
West Central Microcreamery, 725 Union St., 260-214-2122
Just Cream, 338 E. Dupont Rd., 260-489-3002
Vegan Restaurants in Fort Wayne
As you can see, Fort Wayne has a large number of vegan options, but this list is just the beginning! For more vegan-friendly restaurants, visit the Fort Wayne Vegan Dining Guide which includes a handy map to help you find vegan options near you.
And, if you want to save money while dining out at some of the great vegan-friendly restaurants listed here, purchase a Vegan Savings Card available through Fort Wayne Veg, a local group supporting vegans & vegetarians in Fort Wayne. The savings cards can be used anytime you visit one of the 8 businesses listed on the card until the end of the year.
This blog was originally published in May 2019. Last updated in February 2021.