Father's Day is just around the corner, and there are plenty of things to do with Dad in Fort Wayne, Indiana. Make the weekend memorable with these family-friendly activities appropriate for dads and kids of all ages.​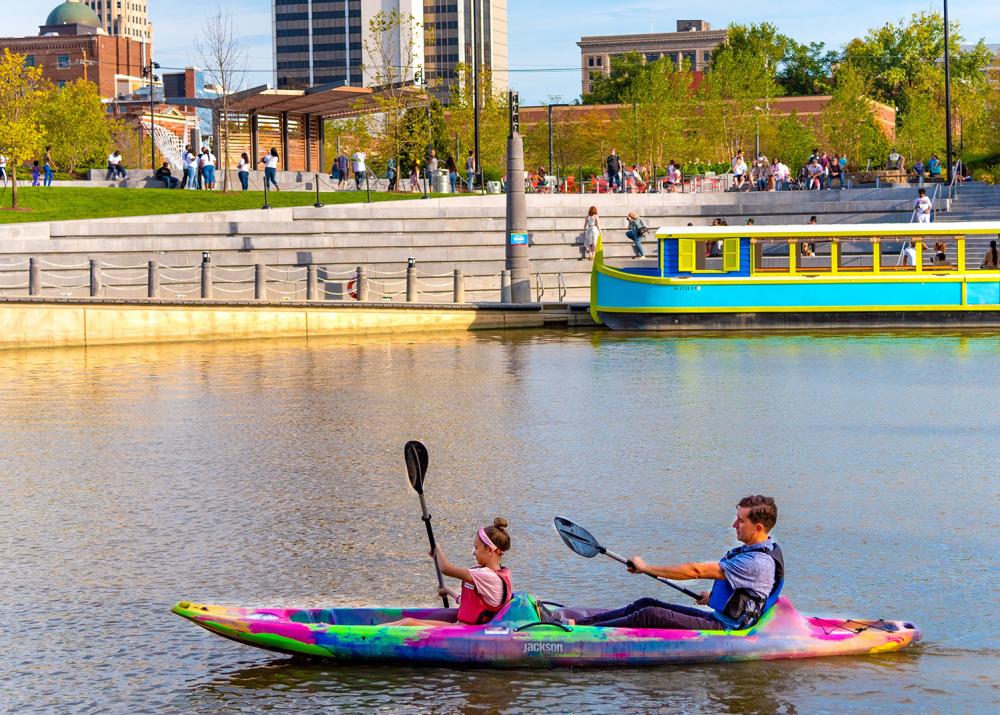 Father's Day in Fort Wayne, Indiana
1. Explore Fort Wayne's Land and Water Trails
If dad loves a good outdoor adventure, the Fort Wayne Outdoor Pass is a great place to start! The free pass features 20 different hikes, bikes, and trails around the area. Explore and check-in at Fort Wayne's three rivers and additional water trails, plus our 120+ miles of land trails to start earning prizes along the way! Get the free Outdoor Pass here.
Rent a kayak, canoe, or standup paddleboard from Fort Wayne Outfitters – or bring your own! – and check out these can't-miss paddle trails in the area. Pro Tip: the boat launcher on the North dock at Promenade Park allows you to enter and exit the rivers with ease.
Prefer to stay on land? Try out these bike trail itineraries! The itineraries connect you to attractions, parks, splash pads, and more. Plus, you'll find different trail ride lengths for all ages. Don't forget – Fort Wayne Outfitters also offers bike rentals.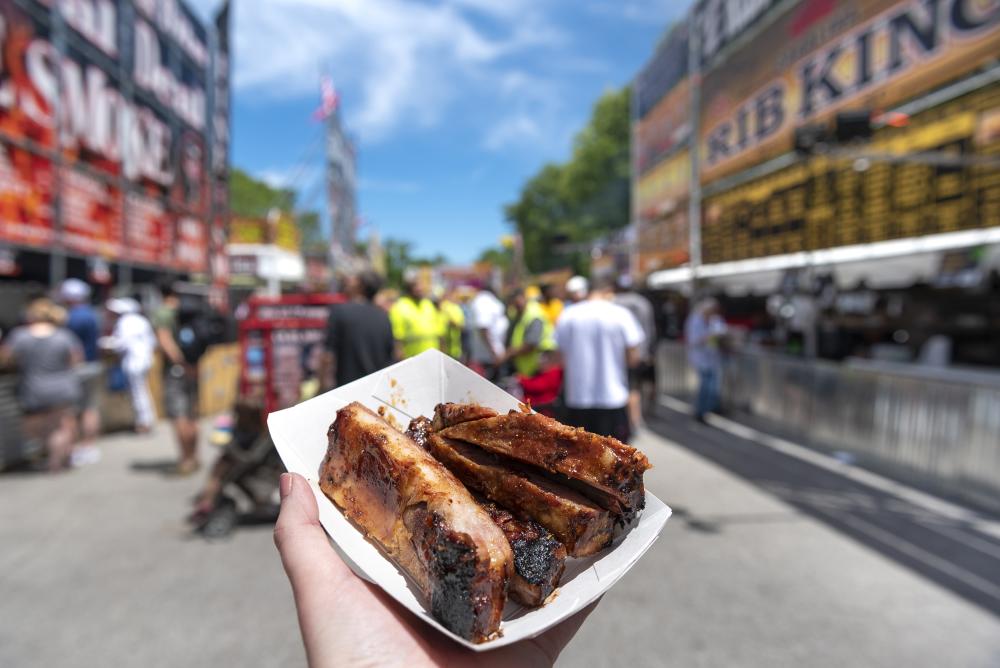 2. Celebrate Big Flavor at BBQ RibFest
There's nothing like some delicious BBQ for a Father's Day feast! This year, why not let someone else do the cooking? The 25th annual BBQ RibFest brings Blues, Brews, and BBQ to Headwaters Park downtown, June 16-19. Mouth-watering BBQ prepared and served by award-winning BBQ teams from around the country!
3. Fort Wayne Children's Zoo
Discover your wild side at the Fort Wayne Children's Zoo — perfect for all ages! Dad can pet a stingray, feed a giraffe, ride through the Outback in a dugout canoe, and say hello to his favorite animal friends. 
4. Dine-In or Carry-Out
Check out Fort Wayne's best dining recommendations, offering international cuisine, award-winning flavors, and sweets for dessert. Or, pack a couple of blankets for the family, pick up carryout from Dad's favorite Fort Wayne restaurant, and enjoy a scenic picnic! Check out some of the great parks in Fort Wayne and Allen County and find the perfect picnic spot.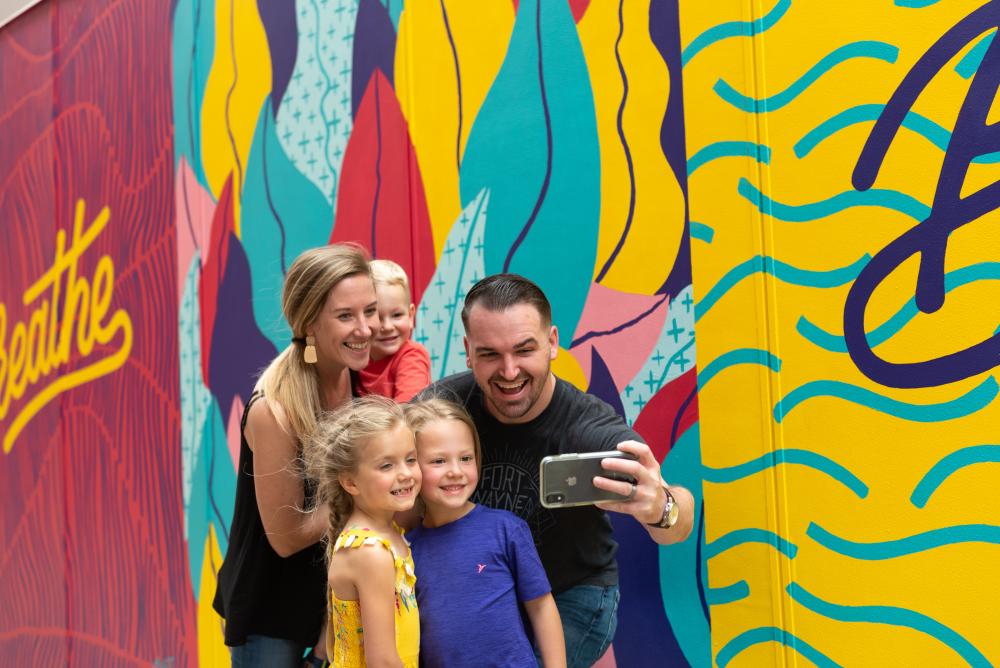 5. Downtown Live! 
Exploring downtown Fort Wayne this weekend? Don't miss Downtown Live! — a series of free music performances from local bands throughout the summer. This Friday catch live music from 6-8pm on The Landing. See the full schedule for the summer.
There's so much to discover while you're downtown. From The Landing and Promenade Park to Fort Wayne's murals and breweries, check out our guide to summer weekends downtown.
6. Fishing Hotspots
Does Dad love to go fishing? Fort Wayne is home to many great fishing destinations offering a wide variety of fish. Take Dad out for a day of relaxation on the water at one of these 5 fishing hotspots around the area. Be sure to bring your sunscreen and a snack to enjoy!
7. Cheer on Fort Wayne F.C.
For the soccer fans, grab your tickets and cheer on Fort Wayne's USL League Two team, Fort Wayne FC! Saturday, June 18, the team takes on the Toledo Villa FC team on our home turf at Bishop Dwenger's Shield Field. Gates open at 6pm and the game starts at 7pm. Snag some tickets here!
8. Music in Fort Wayne
Music-loving dads, join fellow listeners at some of the concerts Fort Wayne is hosting on Father's Day Weekend! The Middle Waves Music Festival on June 17 and 18 at Foellinger Theatre Campus is offering multiple ticket package options!  Lee Brice will be at the Allen County War Memorial Coliseum on June 17, too! 
9. Ties and Tiara's Daddy-Daughter Dance and Dinner at Parkview Field
Get dolled up and head out to Parkview Field for this special night with dad! Friday, June 17, Parkview Field is holding a father-daughter dinner and dance with tickets at $25 per person. Tickets can be purchased at multiple locations around Fort Wayne listed on the Facebook event page. 
This post was originally published in May 2019 and has been updated.