The holidays and winter may not be the best time to be outdoors, but a carriage ride through downtown Fort Wayne makes for a magical experience and the perfect end to a romantic evening!
Bundle and Book a Weekend in Fort Wayne, Indiana
Carriage Rides in Fort Wayne, Indiana
In December 2015, my children and took a special horse-drawn carriage ride through downtown Fort Wayne with Sentimental Journey.
After listening to the weather forecast which predicted a moderately cool evening with no wind, I called Cindy, owner of Sentimental Journey. We arrived at Don Hall's Gas house (305 E. Superior Street) at the designated time and climbed aboard the sturdy carriage for a 30-minute stroll through downtown Fort Wayne streets. Cindy provided a large, heavy lap robe that covered all three of us and we snuggled together, listening as she offered information about some of the familiar locales that look so different at night with holiday lights. We thoroughly enjoyed gazing at the sites at a much slower pace than we're used to.
Cindy also has a wagon available for larger parties of up to eight adults. In inclement weather, the carriage and wagon can be covered on the sides. Sentimental Journey offers Carriage rides for $40 half hour tours and $80 hour tours.
Sentimental Journey is one of three carriage companies that provide rides through Fort Wayne year-round starting at 6 p.m. They are available most nights through December at the Gas House. Reservations are recommended closer to holidays.
Call to reserve your carriage ride - 260.341.1133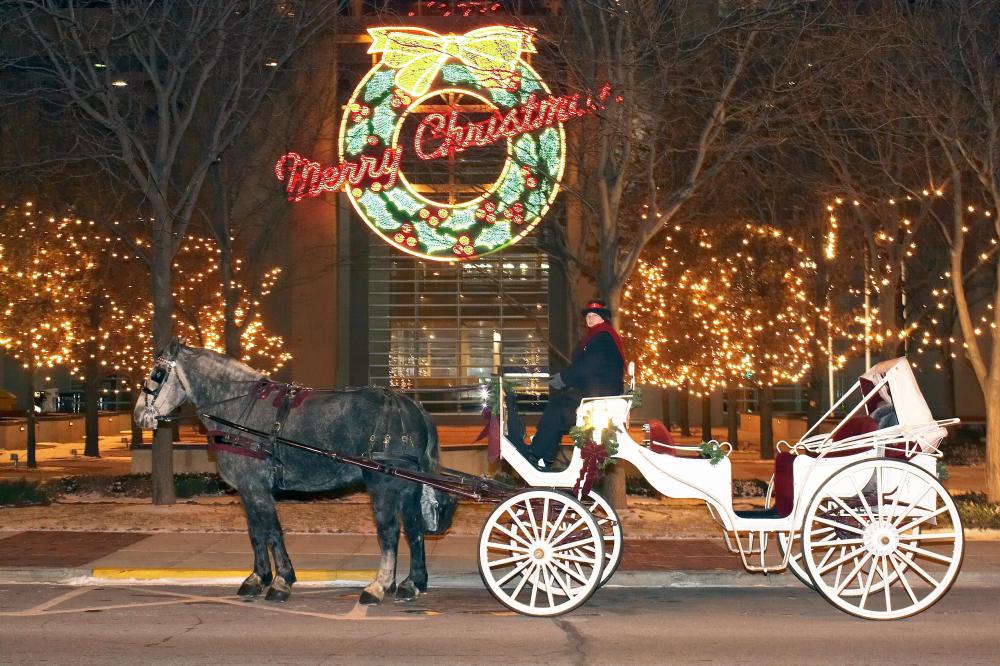 Kolette Frazier-Winstead, the owner of Rosewood Carriage Rides, invites everyone to experience rides in her white Vis-à-vis carriages pulled by majestic Percheron and Belgians.
Cost - 1/2 hour carriage ride for up to four adults - $40 or 1-hour ride -$80
Call to reserve your carriage ride - 260.637.5261
DeAnn Lengerich, owner and operator of Camelot Carriage Rides, has been in business since 1997. Her teams of white Percheron and black Clydesdales pull carriage and wagons from Don Hall's Gas House, but special pick up locations can be negotiated. DeAnn and her crew provide monologs about the history of downtown Fort Wayne.
Cost -  $40 half an hour or $80 one hour for downtown and West Central historical tours
Call to reserve your carriage ride - 260.223.2417
This post was originally published in December 2016 and has been updated