The holidays are a time of spending more time with your family, and this year it is all about finding creative ways that you can safely celebrate the season and see some new sights and sounds. There is no better year than this to celebrate with a drive around Fort Wayne to discover dazzling holiday houses!
From blow-up displays to houses with more than 15,000 lights that give Clark Griswold a run for his money, discover some of the Best Fort Wayne Dazzling Holiday Houses.
NEW this year! 
We are adding a contest element to our annual list where the Best House Display and a randomly selected voter will win a Fort Wayne Holiday Gift Package!
Fort Wayne Holiday Gift Package:
4 Fort Wayne Children's Zoo Tickets for the 2021 season
4 TinCaps Baseball Tickets for the 2021 season (season depending)
4 Tickets to the Botanical Conservatory
4 Tickets to the Fort Wayne Museum of Art
4 Tickets to Science Central
A private tour of Fort Wayne's murals
2021 Kayak Rental from Fort Wayne Outfitters
Gift Package from the Visitors Center
As you explore the Dazzling Holiday Houses, make note of the house letters of your favorites. If you forget, each house's letter is listed below. Cast your vote between December 1, 2020 and January 11, 2021.
2020 Best Christmas Light Displays in Fort Wayne, Indiana
EAST
1045 CHARLOTTE AVE (HOUSE LETTER = EE)
Special thanks to Jerry Crozier for submitting.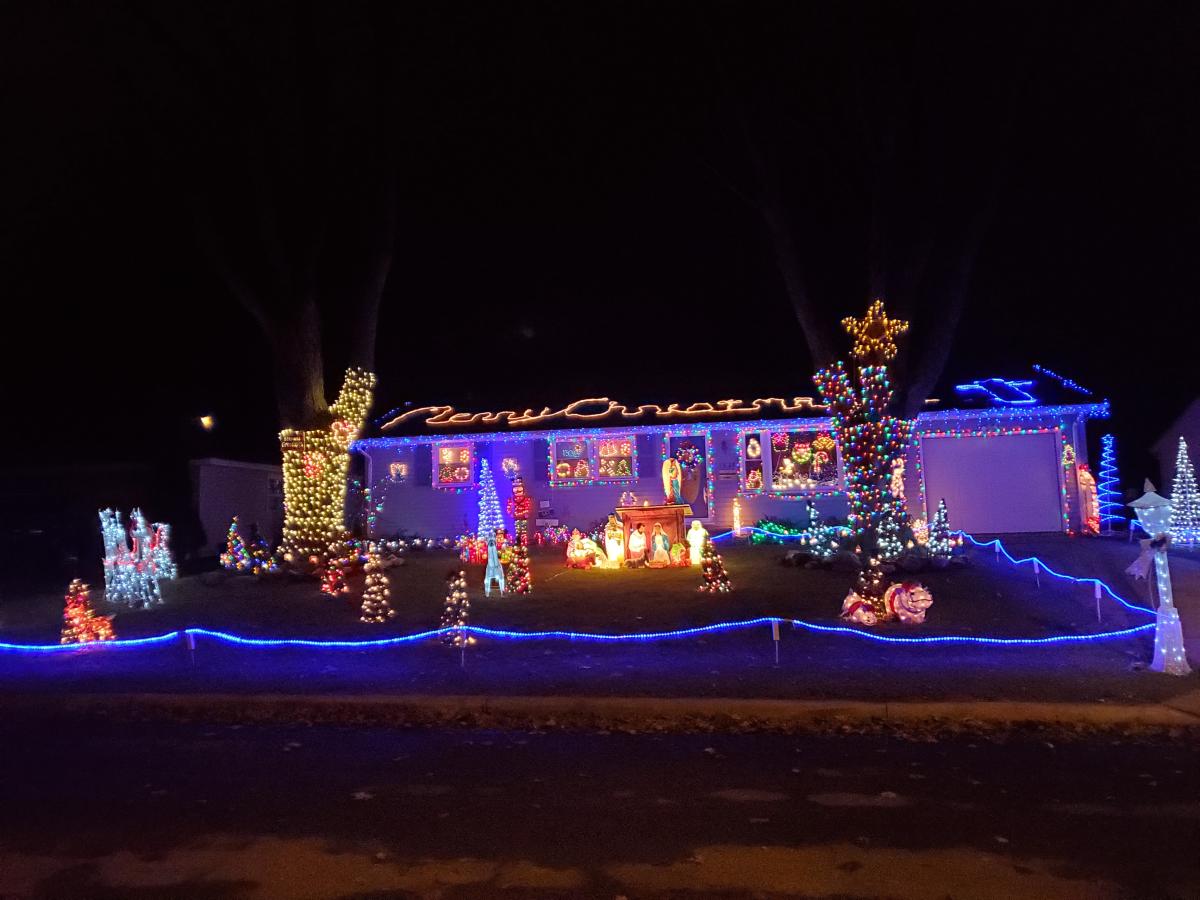 1828 S TYLAND BLVD. (HOUSE LETTER = A)
This beautiful 360-degree LED display surrounds the entire house. The home has over 30,000 lights and displays on and will feature some new inflatables. Catch this show from 5 pm–12 am and 5–8 am daily until January 1st. Thanks to Mary Fortman for submitting.

5501 CHISWELL RUN (HOUSE LETTER = LL)
This house's display will not disappoint. Special thanks to Bridgey Chambers for submitting.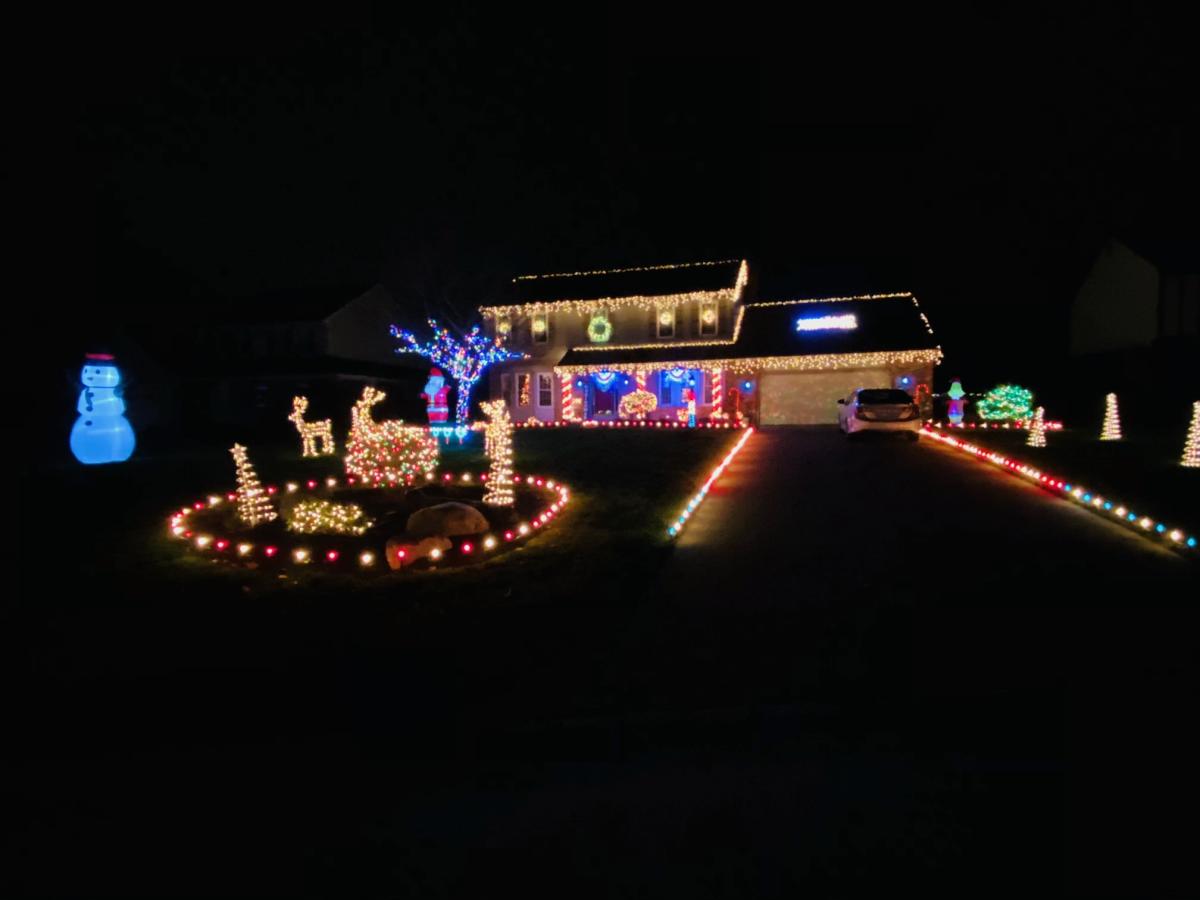 8011 N. ARLINGTON PARK BLVD. (HOUSE LETTER = MM)
Enjoy more than 12,000 lights in this classic display that has a little bit of everything to remind you of the season. Special thanks to Jared and Amy Lung for submitting.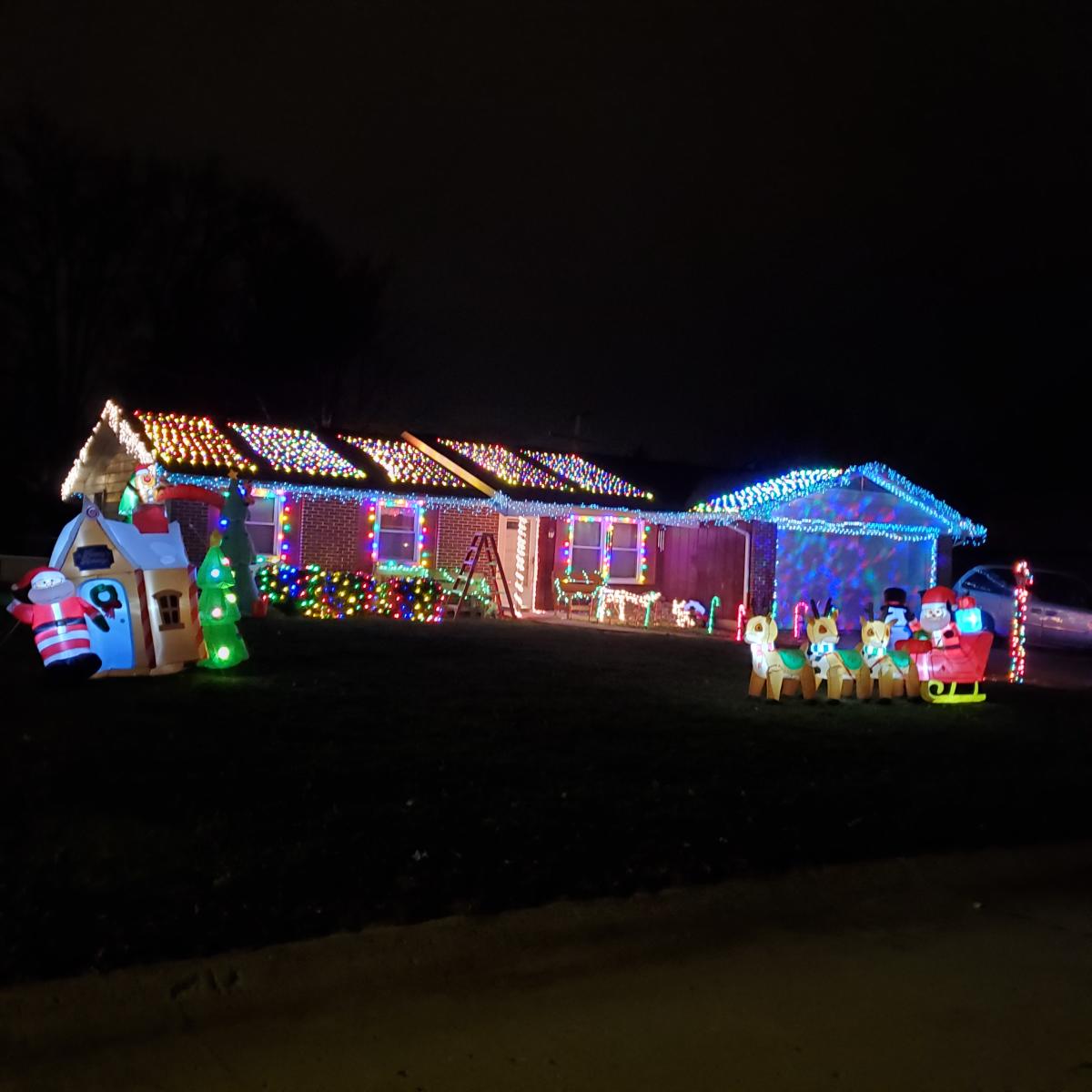 7023 ELMBROOK DR. (HOUSE LETTER = JJ)
This display almost has something new every weekend! Special thanks to Charity Dragoo for submitting.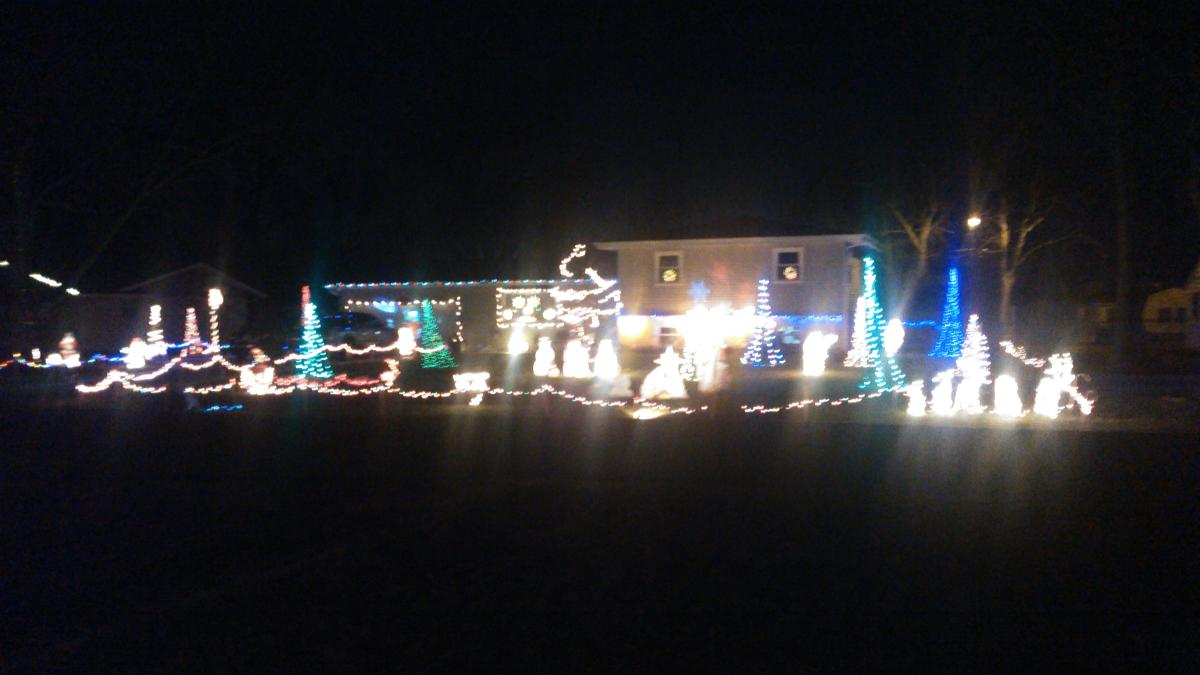 5233 WOODWAY DR. (HOUSE LETTER = C)
Besides displaying thousands of lights, this house has over a dozen trees that are synched to music, candy canes surrounding the yard, 4 projection lights, a family of deer, and 2 nativity scenes.  Look for some fun displays such as a dog sled being pulled by flamingos, or Santa dunking a basketball. Enjoy this display from Thanksgiving until January 7 from dusk to 10p. Special thanks to Jeff Kumfer for submitting.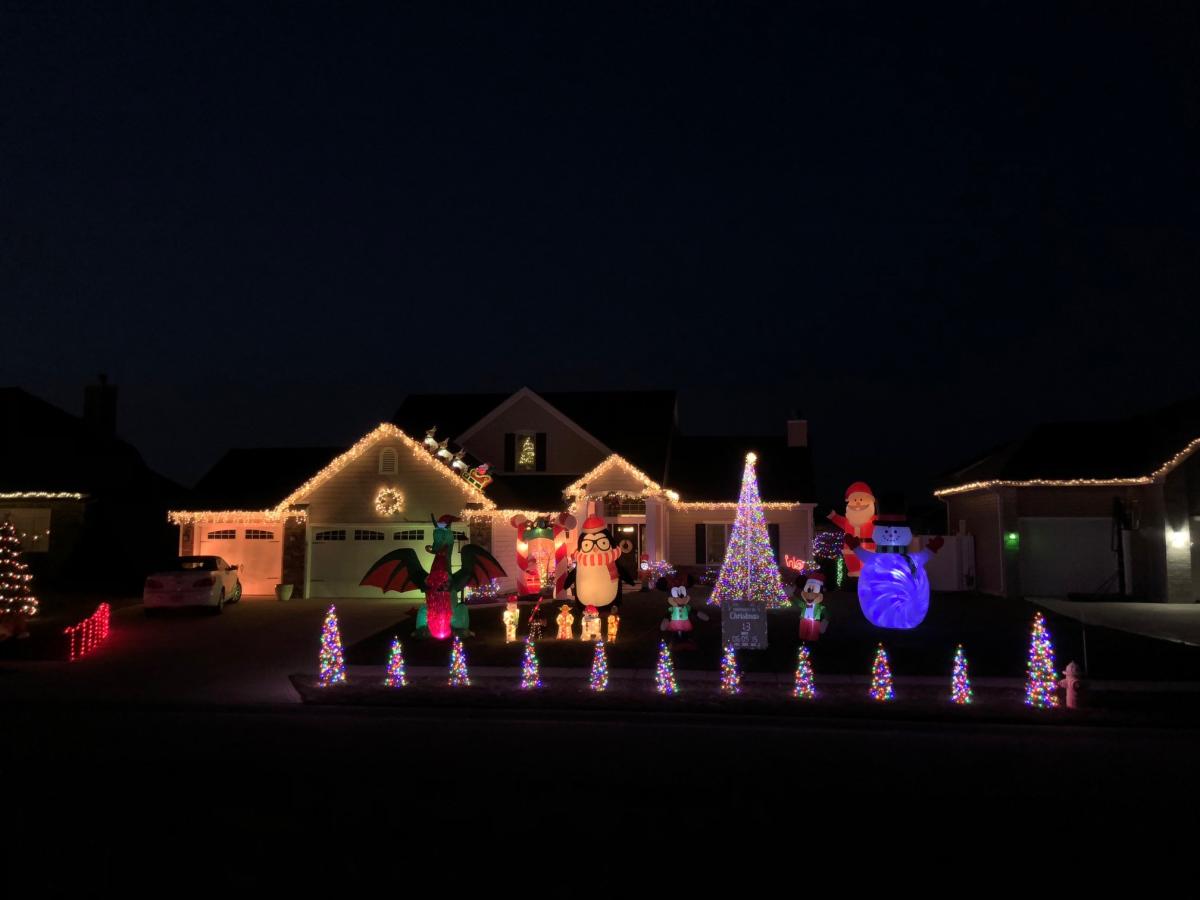 4616 SPRING BURN DR. (HOUSE LETTER = B)
Nothing says Christmas like a 15 ft. mega tree with more than 5,000 lights, more than 15 giant inflatables, and holiday music. Plus, some weekend nights, there will be treats for passers-by. Enjoy this house's display from December 4 to January 3 every evening, dusk to 10 pm. Special thanks to James Andis.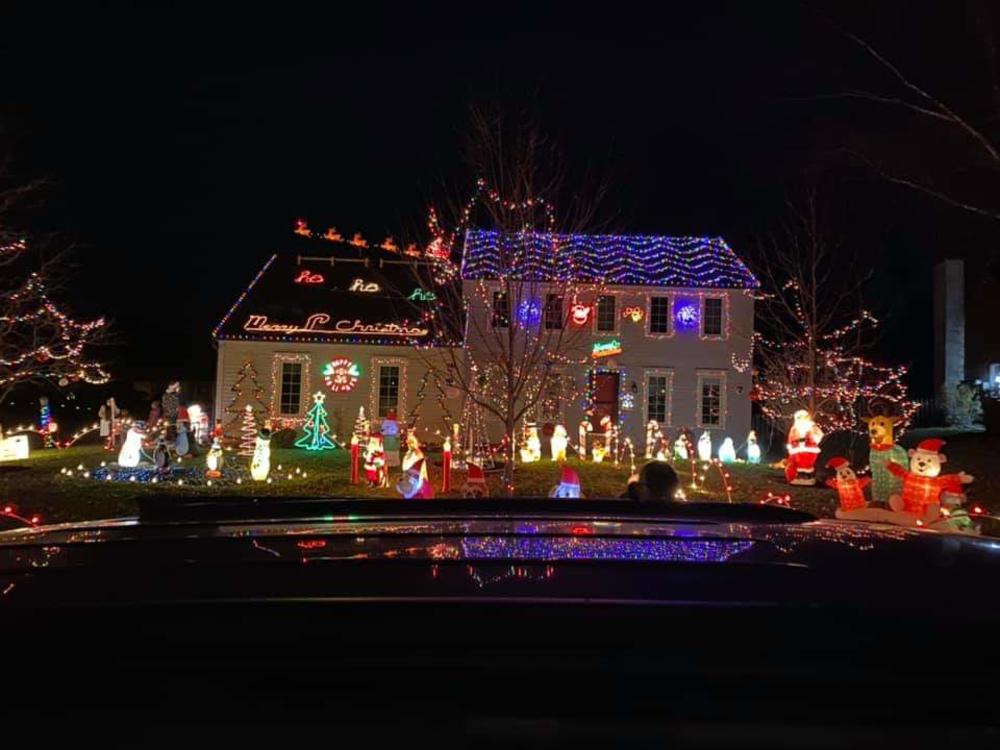 6732 ROCKINGHAM DR. (HOUSE LETTER = D)
Enjoy this display with more than 32,000 lights, 60 blow molds, 10 inflatables, and a new twist this year! This house's display will be lit the night after Thanksgiving and will be available every night from 6:00 PM to 10:00 PM until December 26. From 6-8 pm, Thanksgiving to the Friday night before Christmas, Santa will be out for meet and greets. Plus, this display will accept letters for Santa (letters must include return address) and collecting donations of children's gifts for those going through Blue Jacket's employment program. Special thanks to Matthew and Amanda Maple for submitting.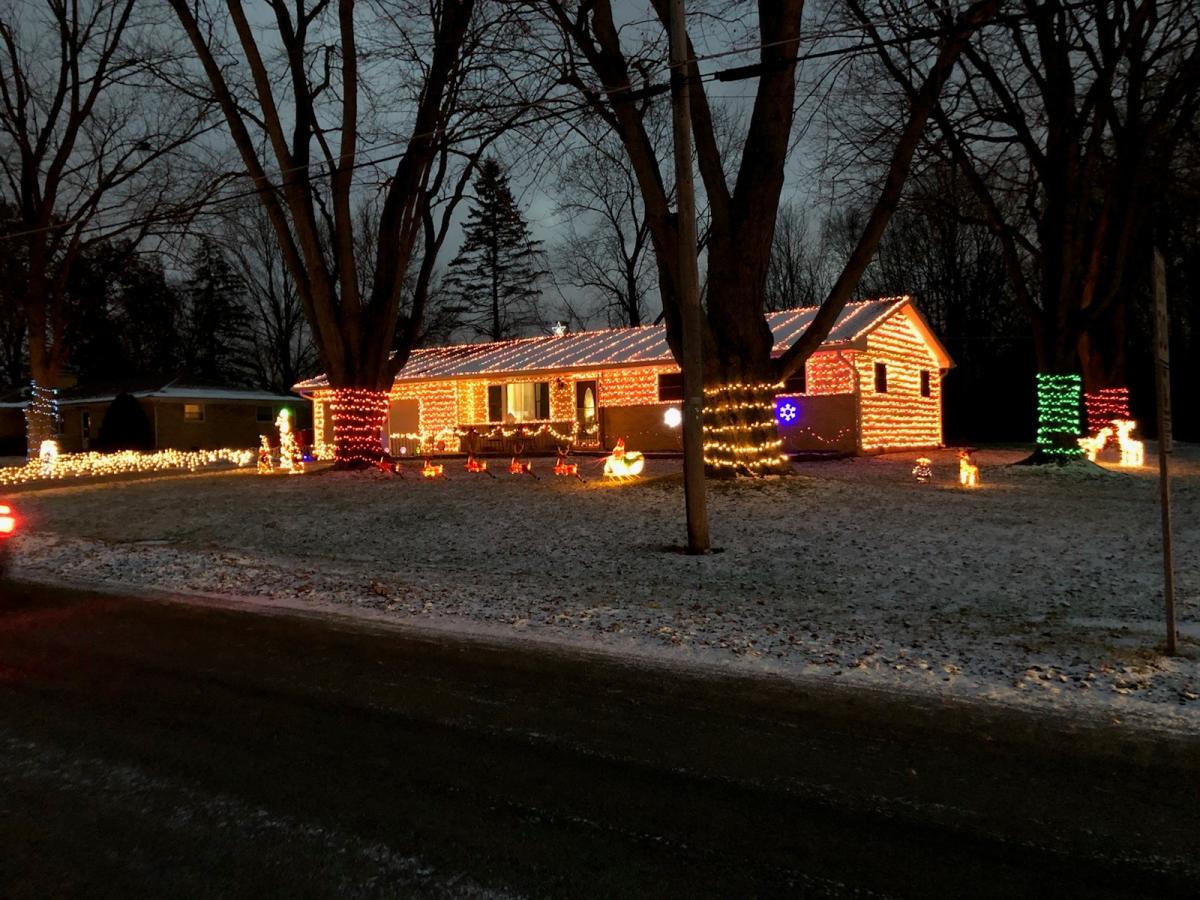 4728 WILLOW BROOK DR. (HOUSE LETTER = FF)
Enjoy this display from 5:30 PM to 10:30 PM. Special thanks to Holly Glentzer.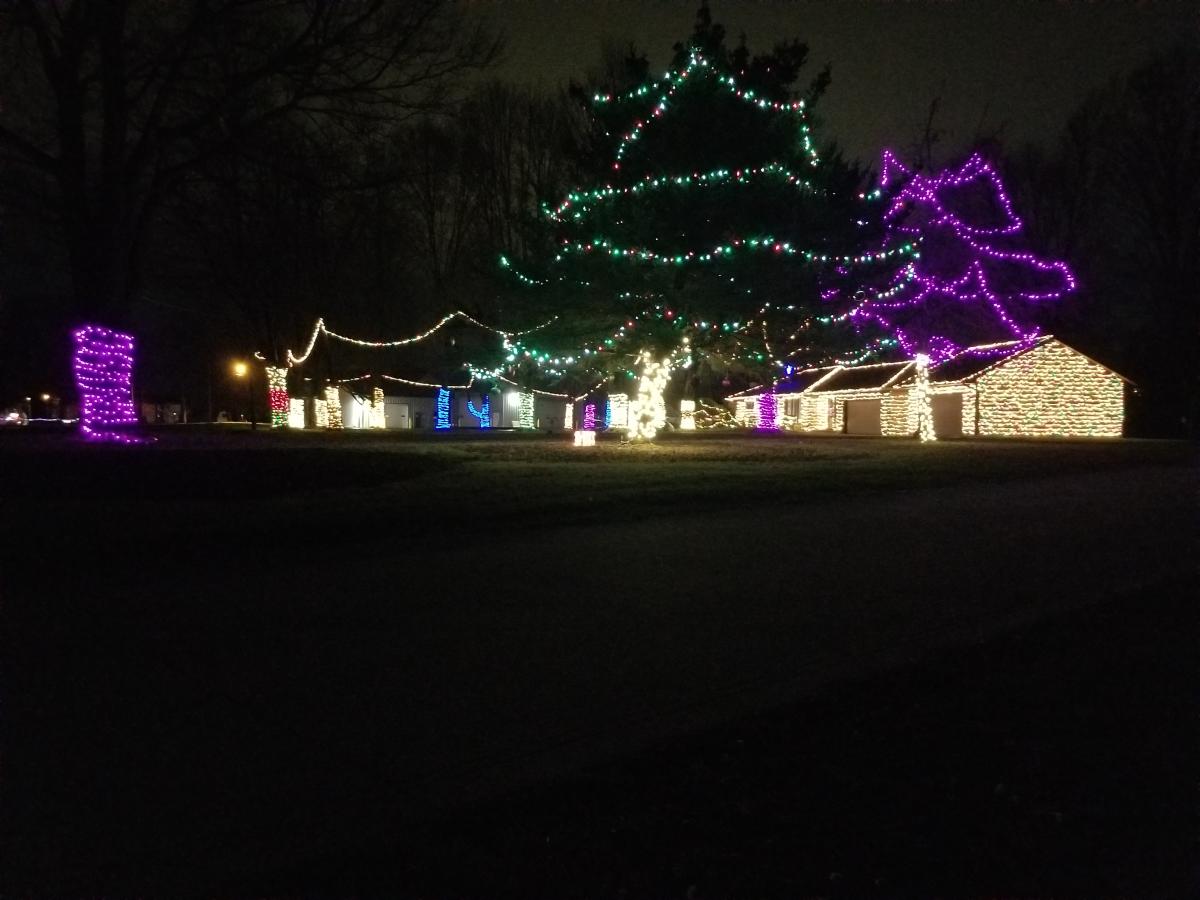 13009 LEO RD. (HOUSE LETTER = G)
Remember the house at 9314 Monique Dr that was completely covered in lights? They've moved to Leo. Just three blocks north of the sharp curve on State Road 1 in Leo you will find their display of over 25,000 LED lights. Lights will be on from the Friday night after Thanksgiving through New Year's Eve, dusk through dawn. Special thanks to Ryan Dirschell.

12215 BUFFLEHEAD RUN - LIGHTING UP LEO (HOUSE LETTER = F)
Expect to see more than 30,000 LED lights, displays synchronized to 6 songs, and a 24-foot RGB tree. Plus, this house is raising money for Riley Children's Hospital on their Facebook page. Find more information and hours at https://www.facebook.com/LightingUpLeo/. Special thanks to Joshua Robison.

11610 WOODSTONE PL. (HOUSE LETTER = E)
Come check out more than 100 blow molds from December 5 to December 28! Special thanks to Ryan, Kacie, Josiah, and Avya Miller.

NORTH
8620 SHEARWATER PASS (HOUSE LETTER = CC)
Starting November 27th, enjoy this house's display from 6:00 p.m. to 3:00 a.m. Featuring 15 lighted trees, 2 wreaths, and more than 10,000 lights this display truly covers the yard and has a great overall balance. Special thanks to Alan Beasley for submitting.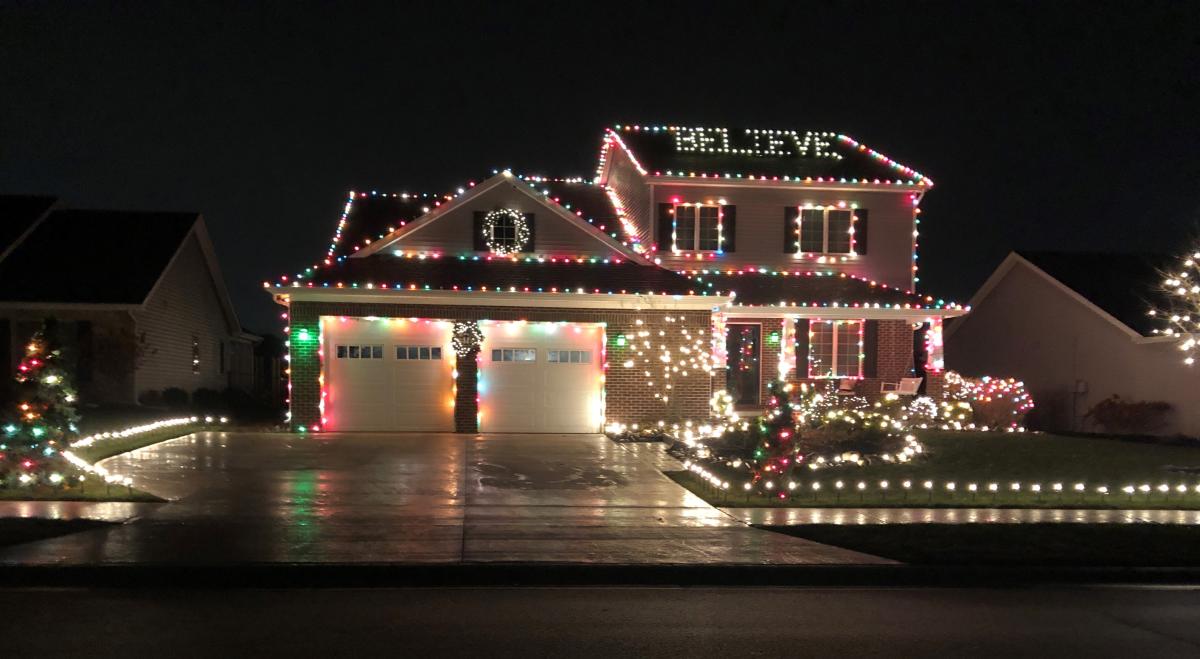 7911 CANONERO (HOUSE LETTER = K)
Believe in the magic of Christmas! This Cananero Lane house is built with the timeless design of vintage lights with a 16 ft. Believe sign, which is sure to delight everyone that sees it. Enjoy this festive display daily from November 29th to January 1st from 6-9 pm Monday to Thursday, and 6-10 pm on Fridays and Saturdays. Special thanks to Chris Roberts.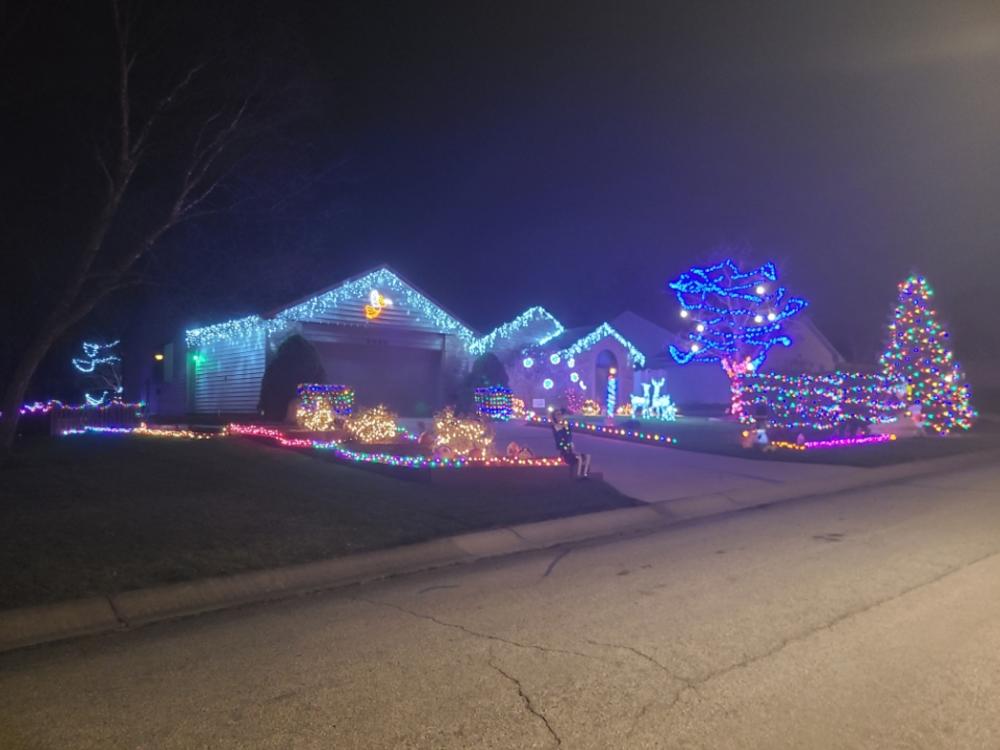 8330 HAWK SPRING HILL (HOUSE LETTER = GG)
Take a drive by this house and get in the Christmas spirit! You will enjoy seeing a unique variety of lights, inflatables, decor, large lighted trees, and evergreens. In addition to the front of the house display, you can take a stroll down the sidewalk located at the Lincoln Village tennis courts which wraps around the back so you can view lights on the fence, trees, and other Christmas decor in the backyard. Lights are on from 5 pm-10 pm every night through New Year. Special thanks to Abigail Wright for submitting.

11314 KINGS CROSSING (HOUSE LETTER = J)
Enjoy this wonderland featuring life-sized animated silhouettes. Plus weather permitting, enjoy candle-lit luminary bags lining the street on Christmas Eve. This house's display will be fit from November 25 to December 30 or so. Enjoy from 5:30 to 11:00 pm, except on Christmas Even when it runs until midnight. Special thanks to David Brown for submitting.  


11402 WAYFAIR PL. (HOUSE LETTER = H)
This house's light display just keeps getting better and better every year! This year, there will be more lights and some special surprises. Thanks to Matthew Booher for submitting!

1618 CROOKED CREEK PARKWAY (HOUSE LETTER = I)
Expect to see more than 60,000 lights and alternating displays between musically timed and solid. Plus, this display is viewable from Union Chapel. Enjoy this display starting December 1. Special thanks to Jason Grossnickle.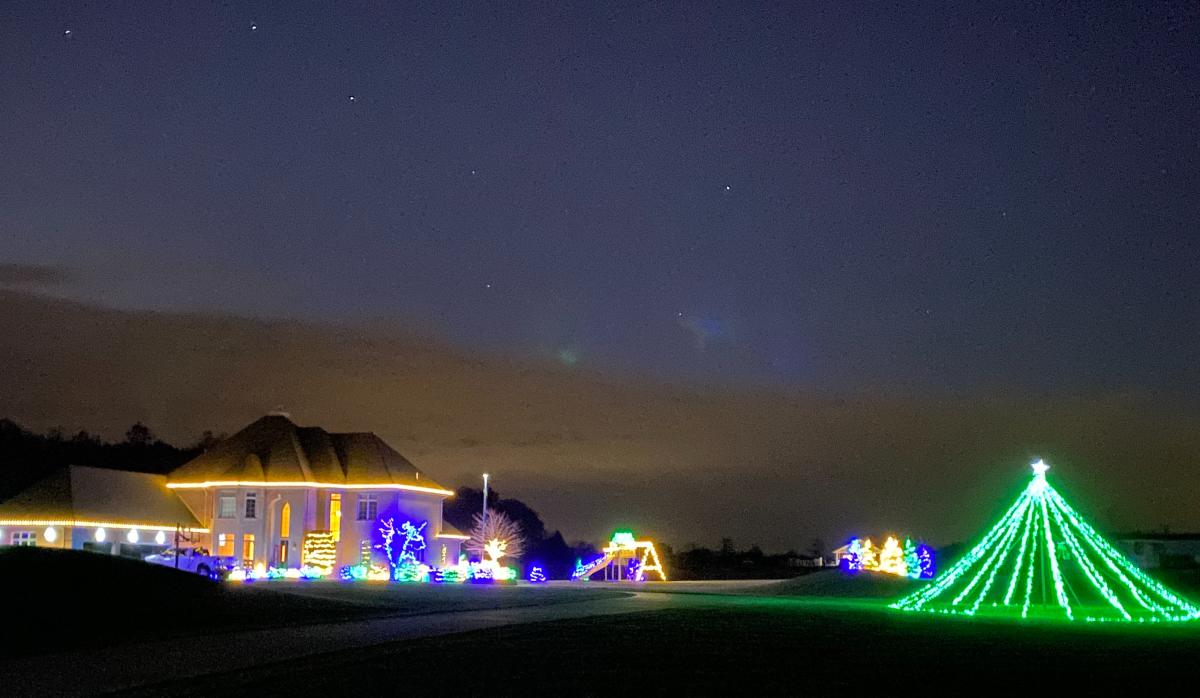 14235 PULVER RD. (HOUSE LETTER = BB)
Drive-by this house and you'll be treated to more than 14,000 lights and a 20 ft. mega-tree! This display will be available through January 8. Special thanks to Cory Federspiel for submitting.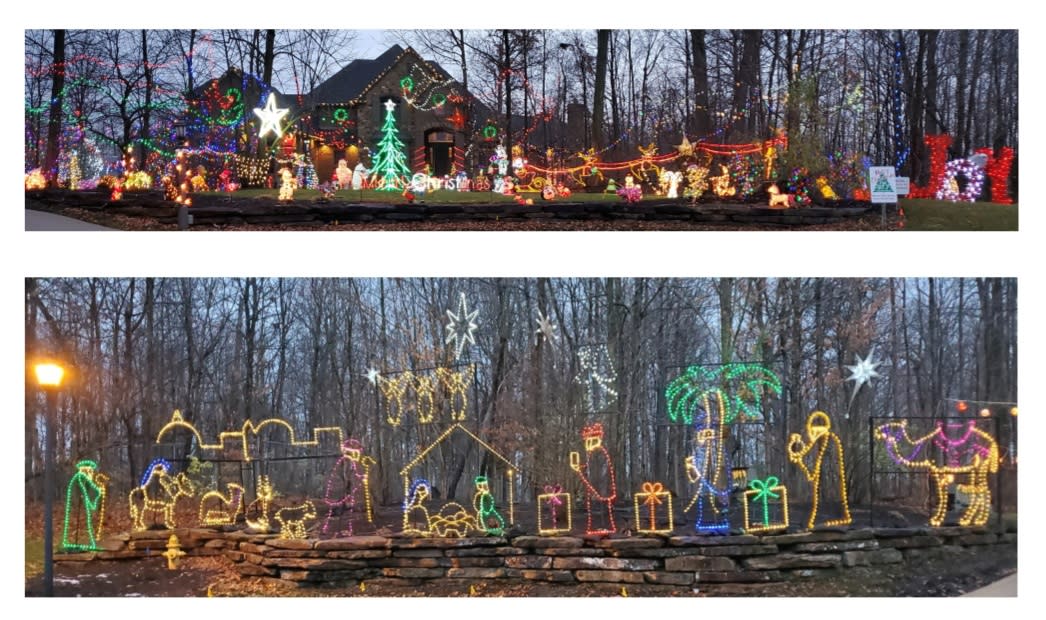 15509 GOLDEN EAGLE NEST (HOUSE LETTER = NN)
Welcome to the musical wonderland! Tune in to 97.7 and listen to hours of Christmas music and famous movie clips that alternate with The Story as the 60 ft nativity comes to life. Looking for Olaf? Check. Yoda? Check. 100 foot Santa sleigh and reindeer? Check. Can you find the leg lamp, flying pig, or dozens of other animals? You can also enjoy this display during the day, as the Christmas animals can show their true colors at that time. It's worth the drive. Special thanks to Fin Smith for submitting.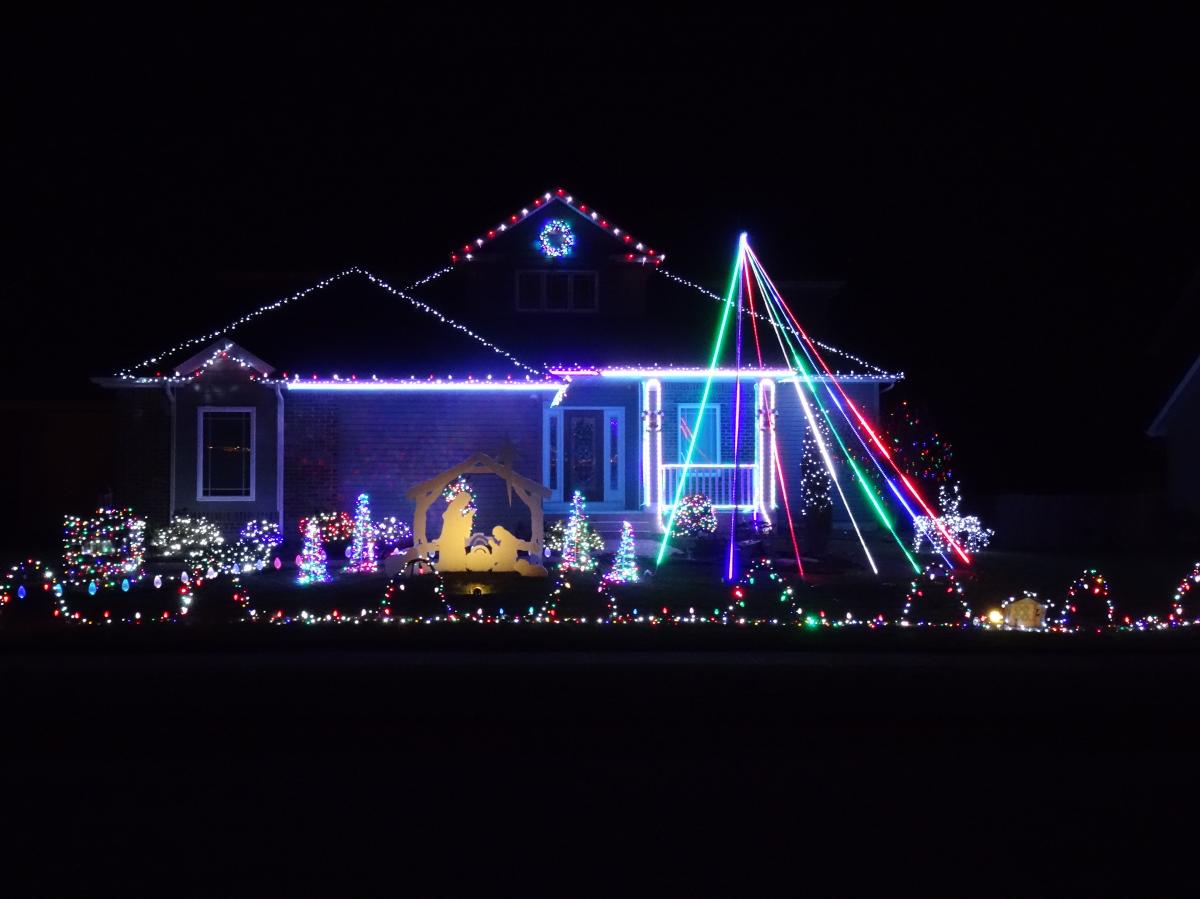 1312 MONTE CARLO DR. (HOUSE LETTER = Q)
Expect to see a sizable wooden nativity, lights synchronized to music set to 88.1 FM. This display is located in the back of the Classic Heights sub-division. The HOA usually does a decorating contest, so many houses in the addition are decorated, making for a nice drive as you wind your way back to the display house. This display will be up by December 1, and will run 5:00 p.m. to 10:00 p.m. until January 8th. Special thanks to Ron and Beth Clemens.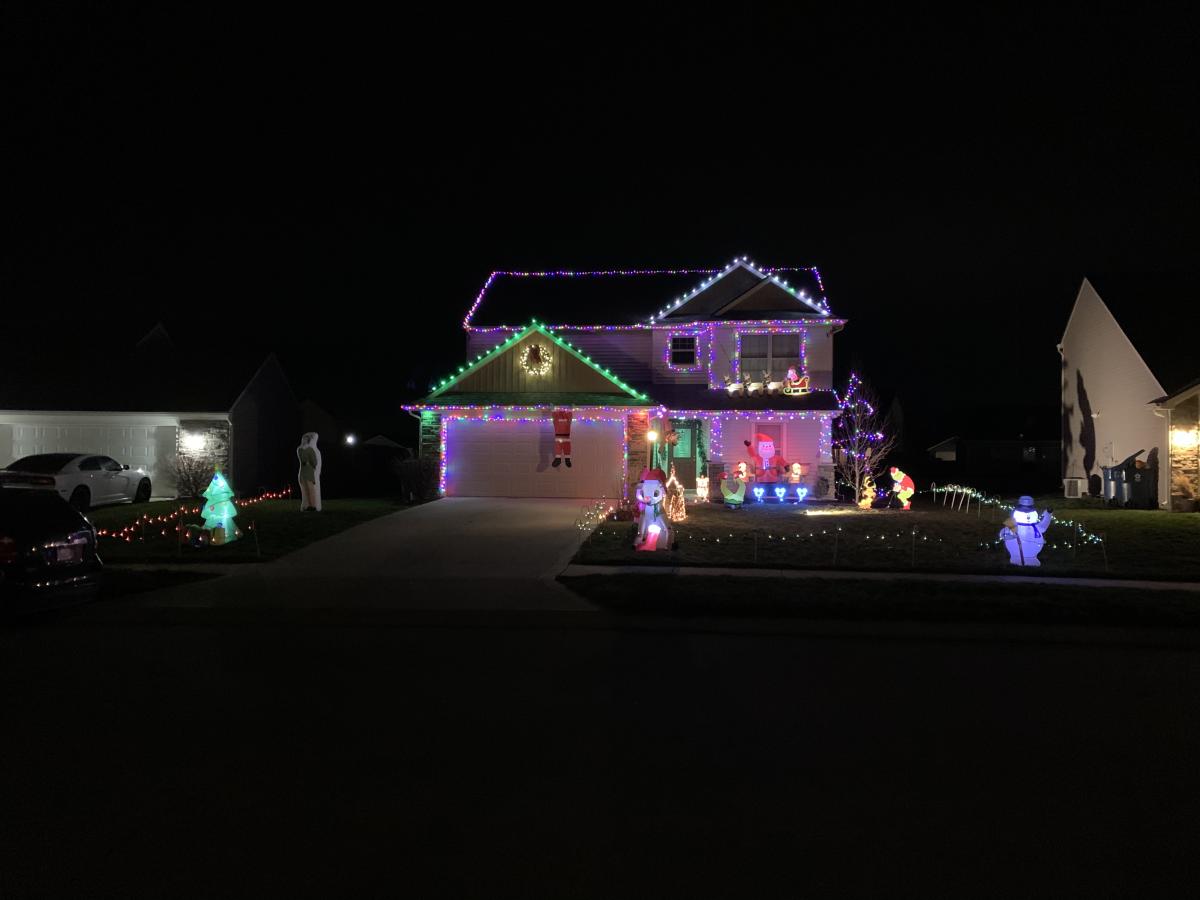 15438 TOWNE GARDENS CT. (HOUSE LETTER = II)
This display featuring all of your favorite holiday characters including Elf! Special thanks to Ben Cropper for submitting.

9432 HEFFELFINGER RD. (HOUSE LETTER = R)
For the mega-watt show, be sure to check out this house which features a synchronized light show to music with 240 lightorama channels, 60 RGB channels and 800 pixel channels. The show will also include a 22 ft. mega tree, 17 ft. pixel image tree, 2 talking trees, 14 arches and much more. TUNE in your radio station to 88.5fm to listen and watch the lights:
Monday-Thursday 5:30pm-9:30pm, 
Friday-Sunday  5:30pm-11:00pm 
We will be taking donations for Lennoxs Legacy Animal Rescue (@lennoxslegacyrescue) again this year. Feel free to bring any animal donation and put in the bin out front. We will empty every night.
Check out this house from November 28 to January 2, and find them on Instagram @Busco_Lights. Special thanks to Jason and Jodie Pearson.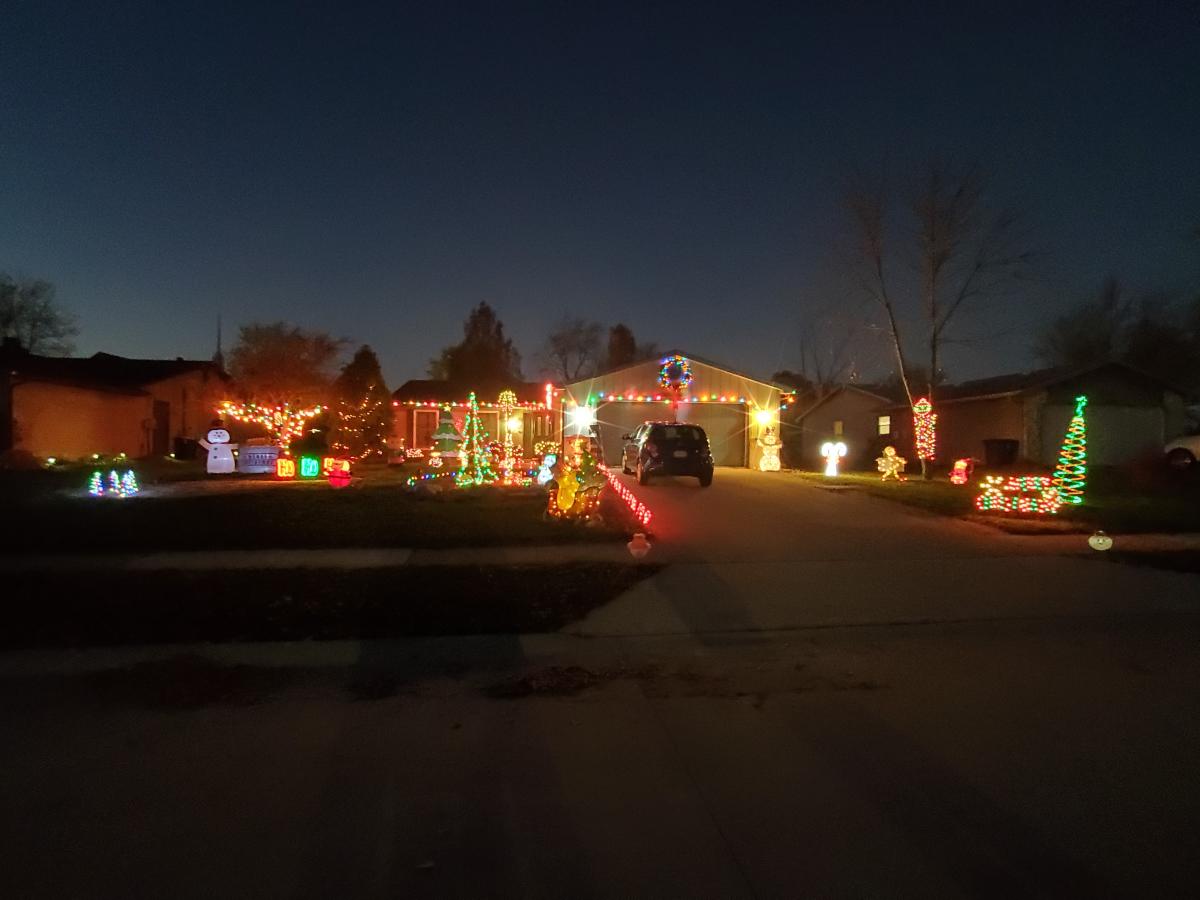 1912 NORTHBURY CT. (HOUSE LETTER = P)
Enjoy a classic display featuring elves and santa, and of course, classic Christmas lights. Thanks to Mandy LoCastro.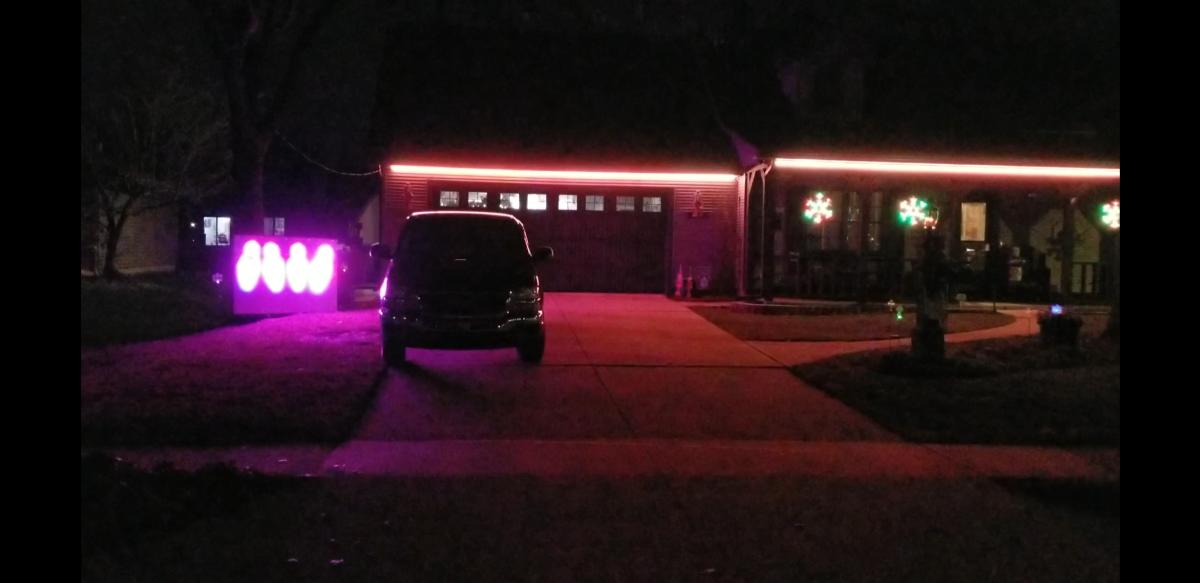 8025 CHARNELL CT. (HOUSE LETTER = O)
This display touts a really awesome LED pixel show. These lights are all synced to music that you're able to hear in your car or even on the sidewalk if you choose to walk. The show also showcases 4 singing light bulbs that sing to the music. Thank you to Brett Barnett for submitting.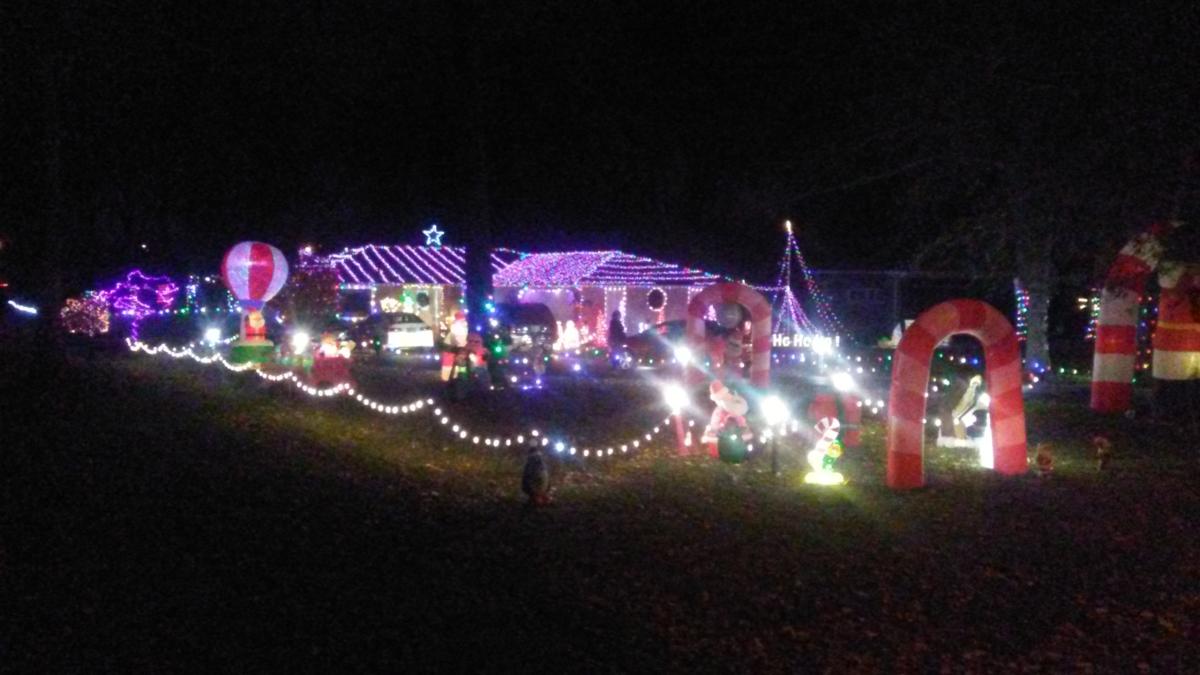 1127 W. LUDWIG RD. (HOUSE LETTER = M)
Enjoy seeing more than 30,000 lights, inflatables, and more at this house. Plus, tune your radio to 97.7 to enjoy the light dance set to music. If you have little ones, make sure to bring a letter to Santa with your return address. Enjoy this display starting November 25th. Special thanks to TJ and Joan Smith.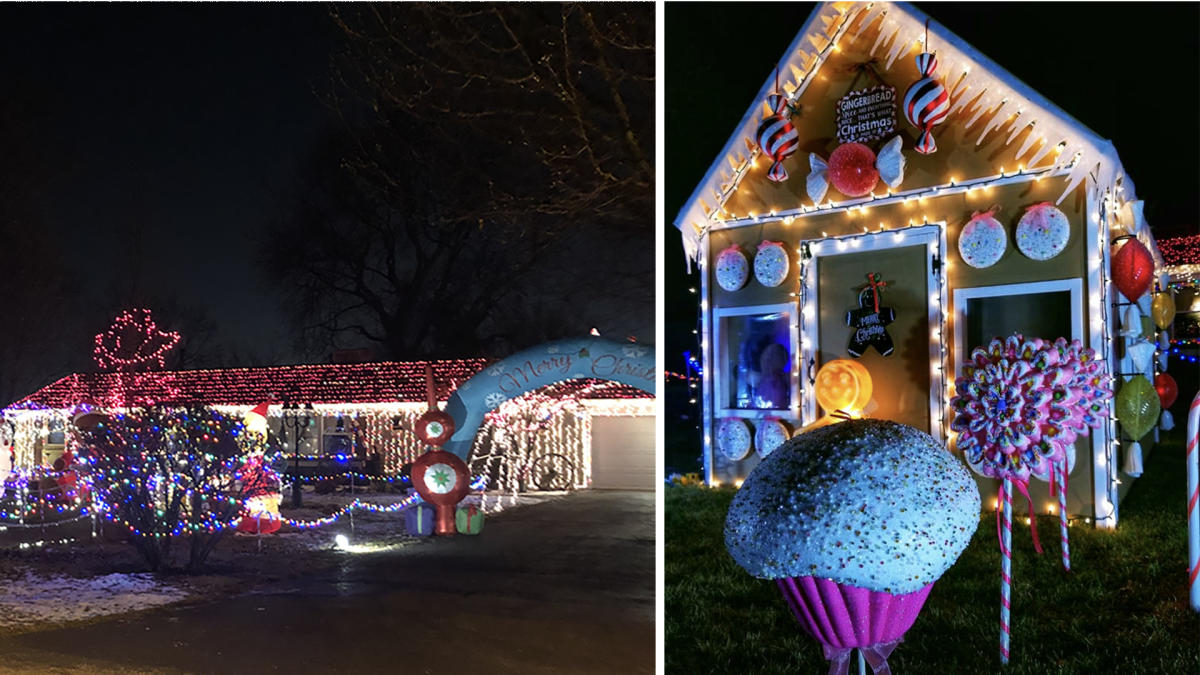 721 PELHAM DR. (HOUSE LETTER = L)
The Ellenwood Christmas home will be viewable from November 25-December 31st Sunday-Thursday 5-10 pm and Friday and Saturday 5-11 pm. Expect to see more than 35,000 lights, multiple inflatables, a music light display, and a walk through arches of lights where you can take pictures in front of the NEW Santa's workshop and the gingerbread house. 
Don't forget to drop off your letter to Santa with a self-addressed stamped envelope. Santa will send a letter back. Also (new) Friday and Saturdays Santa (and sometimes Mrs. Clause) will be here for pictures weather permitting. We hope all of you have a Merry Christmas Matt & Jody Ellenwood.
6103 WILLOW GREEN DR. (HOUSE LETTER = HH)
Enjoy this display every evening starting at dusk. Special thanks to Chris Tigner for submitting!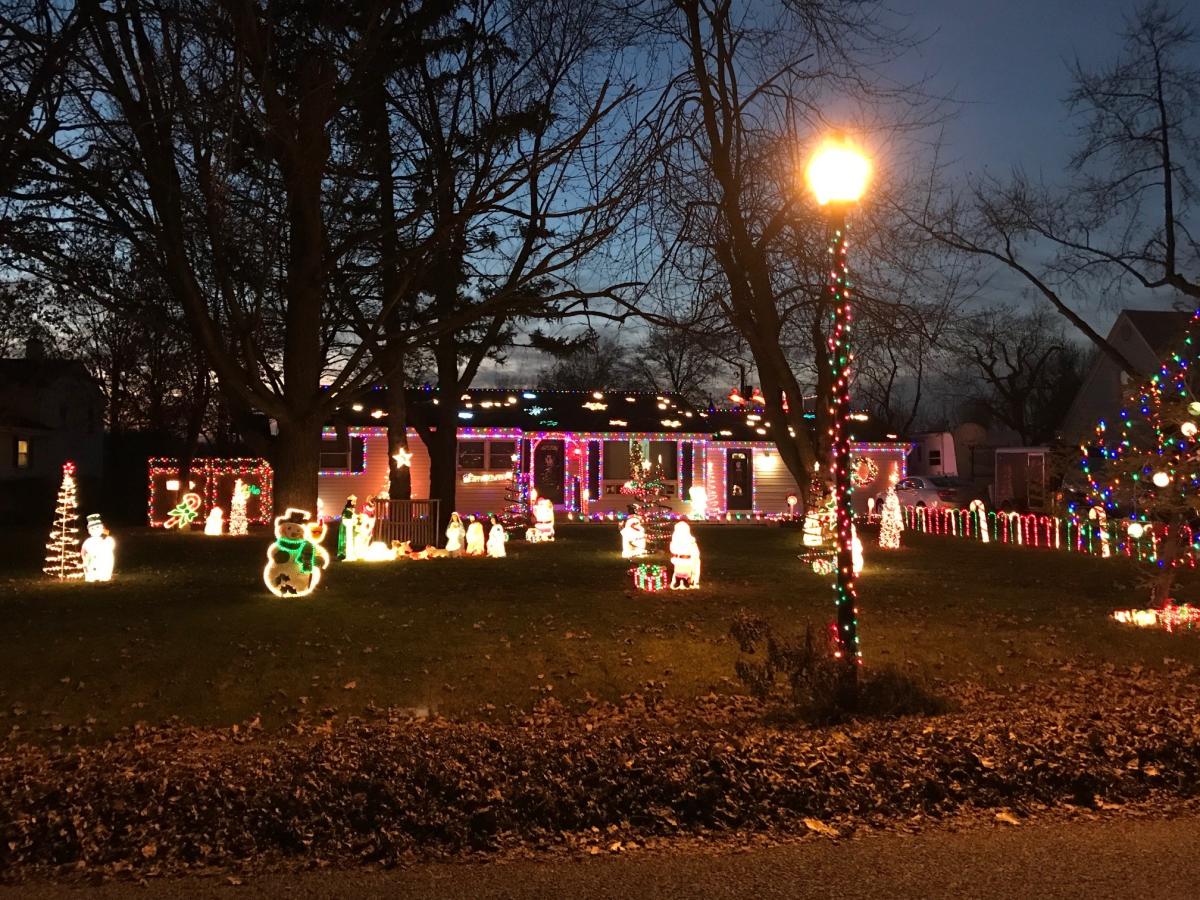 4015 KENTLAND AVENUE (HOUSE LETTER = N)
Enjoy this house's more than 15,000 lights from dusk to 10pm starting November 27th to January 1st. Special thanks to Doug and Chris Mounsey.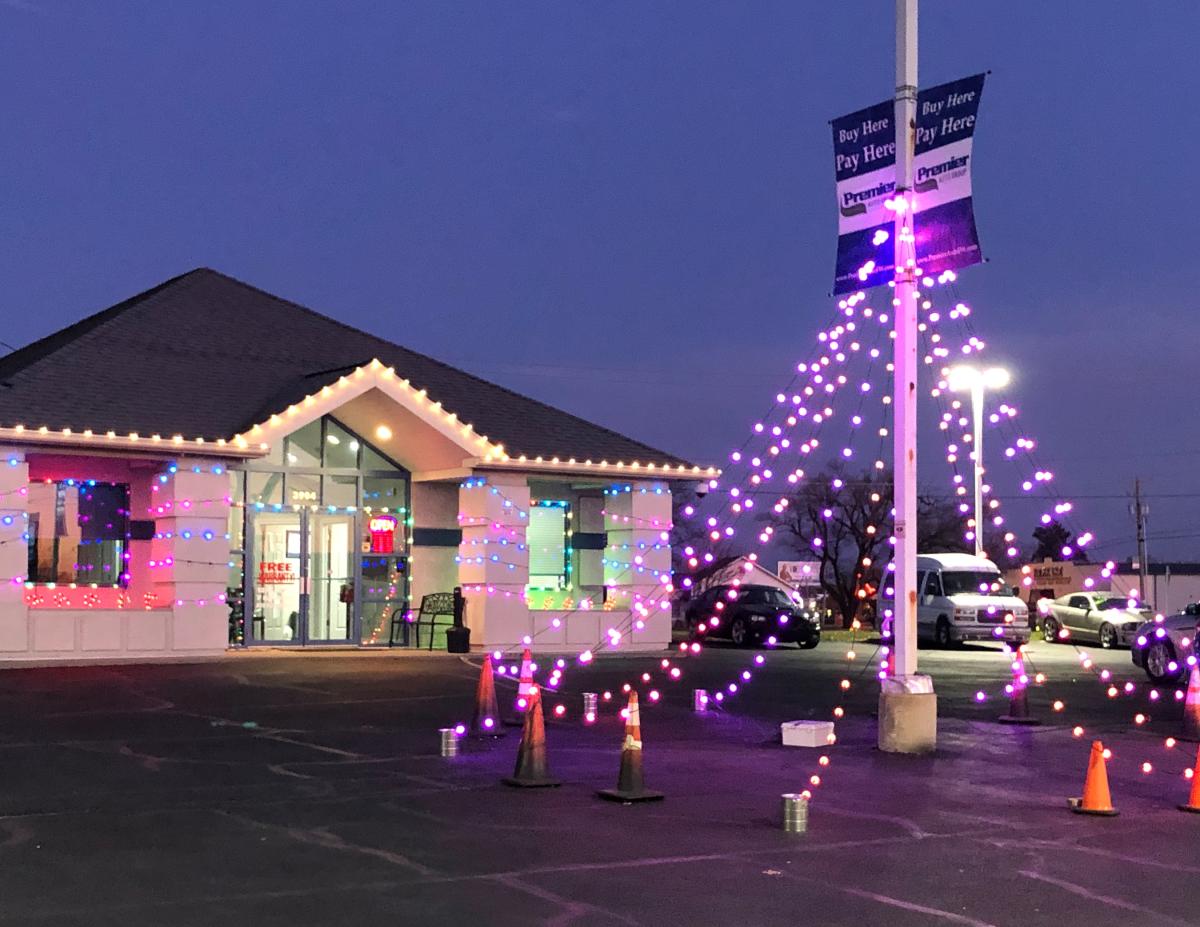 Displays of Note:

10707 COLDWATER RD.
Enjoy 30,000 lights and be sure to tune your radio to 107.7 for a special show. Show runs from November 27 until New Year's Eve from dusk to Midnight. Special thanks to Jacob's Well Church and Adam Gaines.
3904 LIMA RD.
Come see our annual Christmas Light Spectacular! We have more than 1,000 LED lights that change color and dance to over a dozen Christmas songs. Come park in our lot, tune to 106.7, and enjoy! Thanks to Premier Auto Fort Wayne.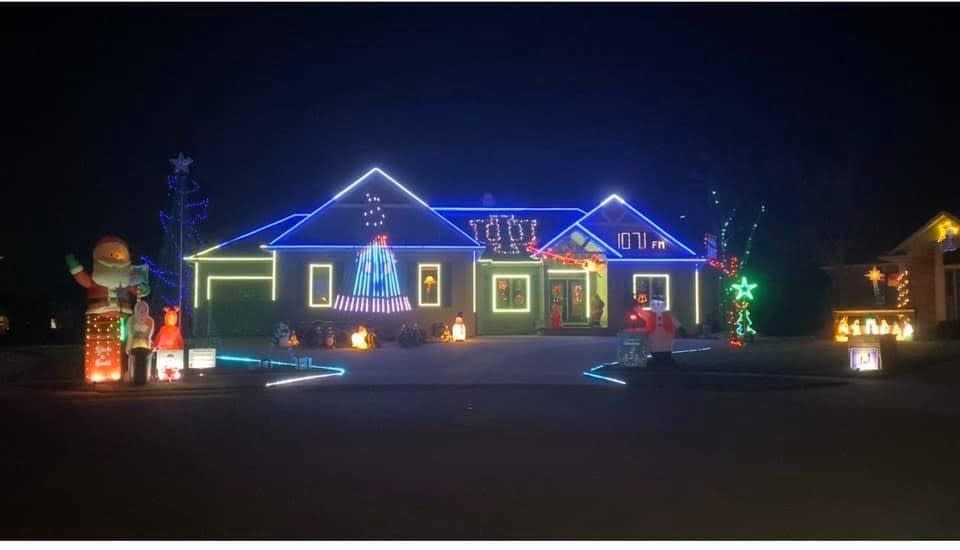 SOUTH
13525 PLUMBAGO CT. (HOUSE LETTER = S)
This house is full of Christmas Spirit and much more than a show. Tune into 107.1, sit back and relax, and be sure to bring a donation for Community Harvest Food Bank. Plus, this house features inflatables, blow molds, RGB pixel lighting over the entire house, and you can drop off letters to Santa! Enjoy this display nightly 6:00 p,m - 12:00 am, Thanksgiving night through January 9th.
Learn more about this display on its very own social profiles! Special thanks to Kris and Missy Girardot.
Instagram: KrisMissKreations
Twitter: KrisMissLights
Facebook: KrisMiss Kreations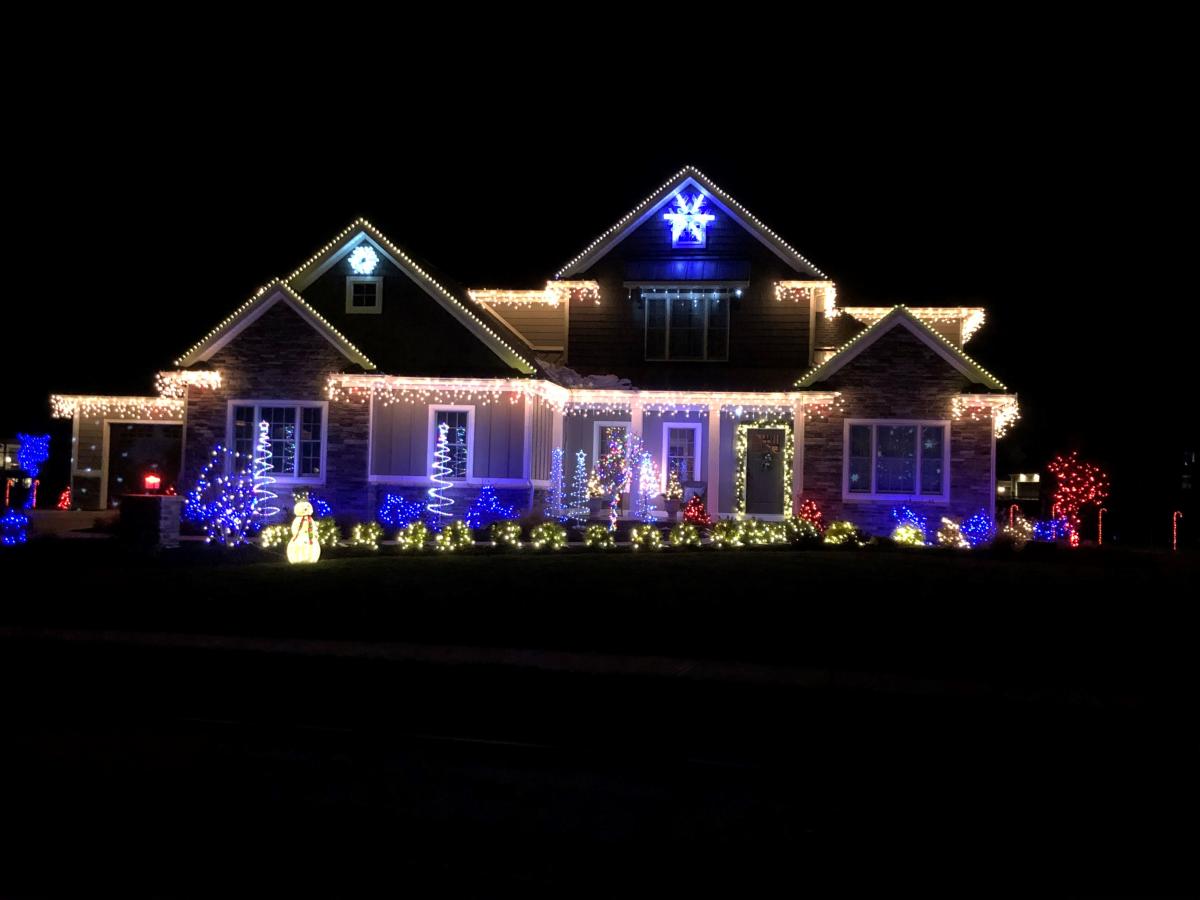 2996 BLACK GOOSE BLVD. (HOUSE LETTER = T)
Featuring a classic yet modern display, this house's display is available from dusk until Midnight until January 2nd. Thanks to Zack Cronkhite for submitting.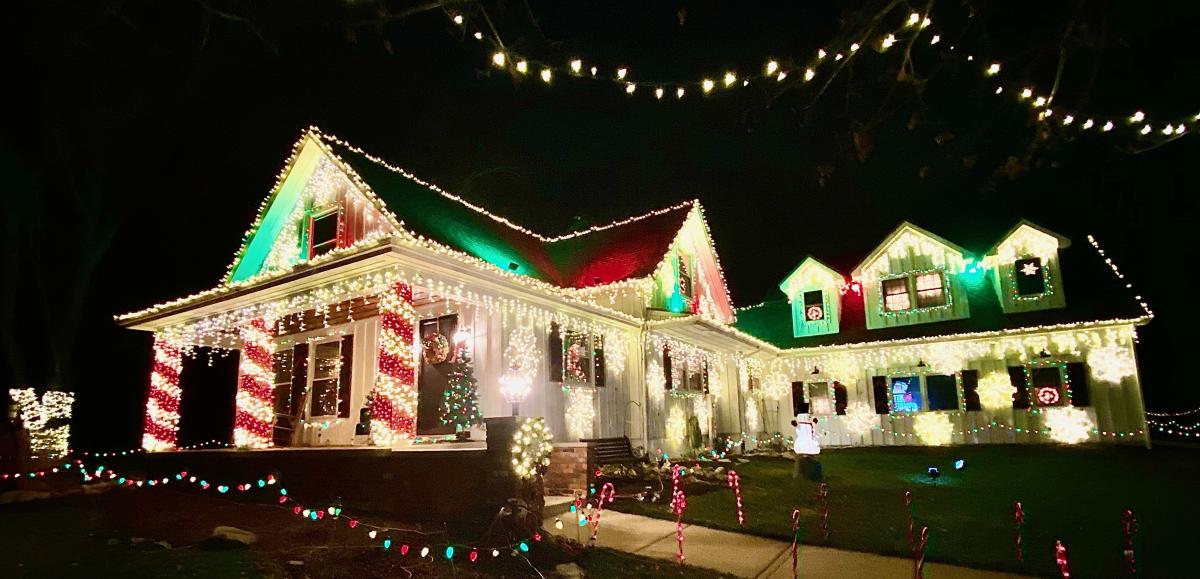 3115 W. COUNTY LINE RD. S (HOUSE LETTER = U)
With more than 30,000 lights all ran to music, this house is a can't-miss display. Tune your radio to 87.9 to enjoy the show and drop off your mail for Santa (all letters with a self-addressed and stamped envelope will get a response!) Santa checks the mailbox from Friday. Please note, cars will need to turn around at the barn. Special thanks to Mike Bedwell. 

3902 CHANCERY PL. (HOUSE LETTER = V)
Enjoy this house's more than 16,000 lights and 8 inflatables from November 26 to January 10. Special thanks to Brian Potts.

9603 WOLF RIVER PL. (HOUSE LETTER = W)
This house will feature lights, and inflatables for all to enjoy. Enjoy from November 26 to January. Special thanks to Brian Potts.
5617 SHERINGTON RD. (HOUSE LETTER = X)
With more than 17,000 lights all set to music, this house is bringing some Christmas cheer to close out 2020. The house will also feature a 16 ft mega-tree with dancing Santa's and elves. Be sure to find Buddy the Elf and The Grinch in the display doing his best to take down the lights. Turn your radios to their Christmas station to enjoy the music in the comfort of your car. If you are feeling generous, bring some canned goods, boxed foods, blankets, and socks for their donation box this year that will help support the local community. Special thanks to Michael Hunsche for submitting.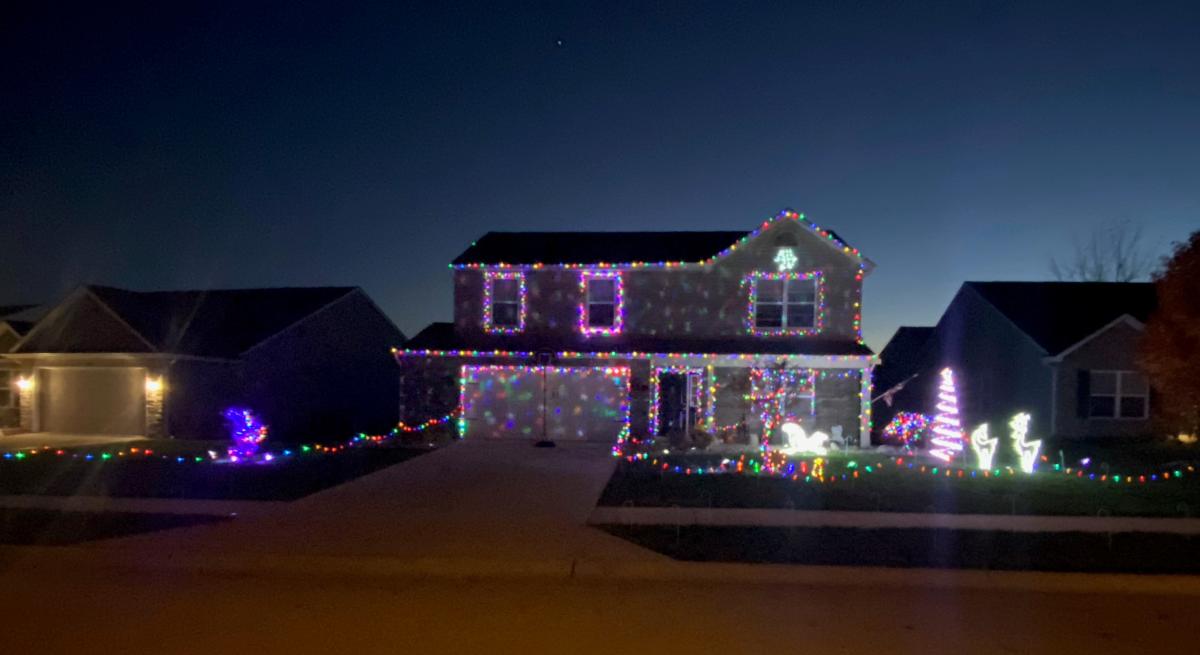 11004 CALERA PASSAGE (HOUSE LETTER = Z)
Now until New Year's Day, enjoy this house every night from dusk to dawn. This house will feature wonderful traditional colored lights that outline the roof and windows and bring you back to when Christmas lights were nostalgic. Plus, there will be yard decorations. Special thanks to James Taylor.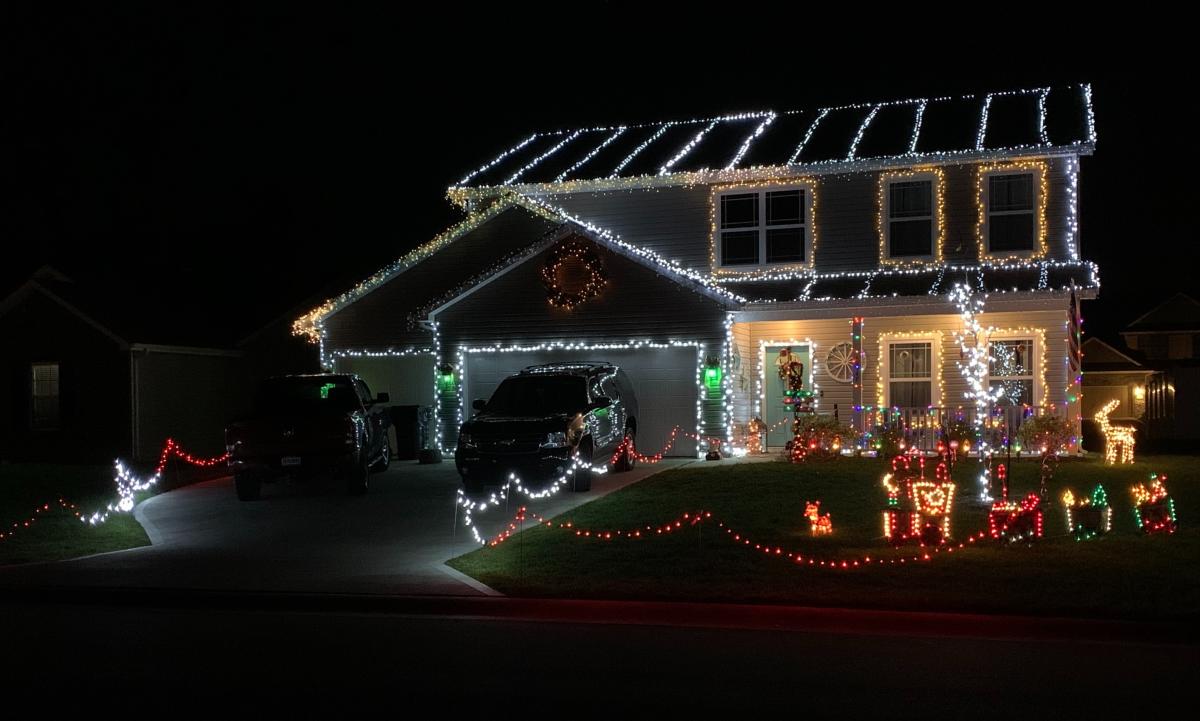 10947 LAFORTUNA WAY (HOUSE LETTER = Y)
Stop by this house for a lighted display set to music featuring more than 20,000 lights! This display will be available nightly from 7-10 pm starting November 26th. Special thanks to Kristina and Joshua Gordish for submitting.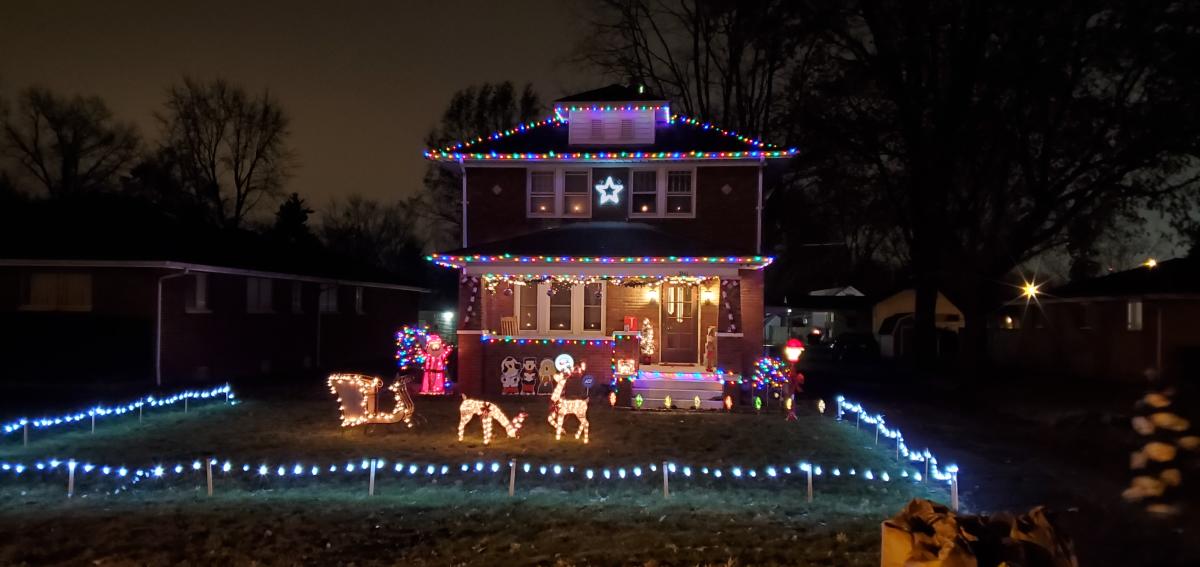 3361 SANDPOINT RD. (HOUSE LETTER = KK)
This is the second year for this display, and it continues to grow every year. Special thanks to Amanda and Drew Landers for submitting.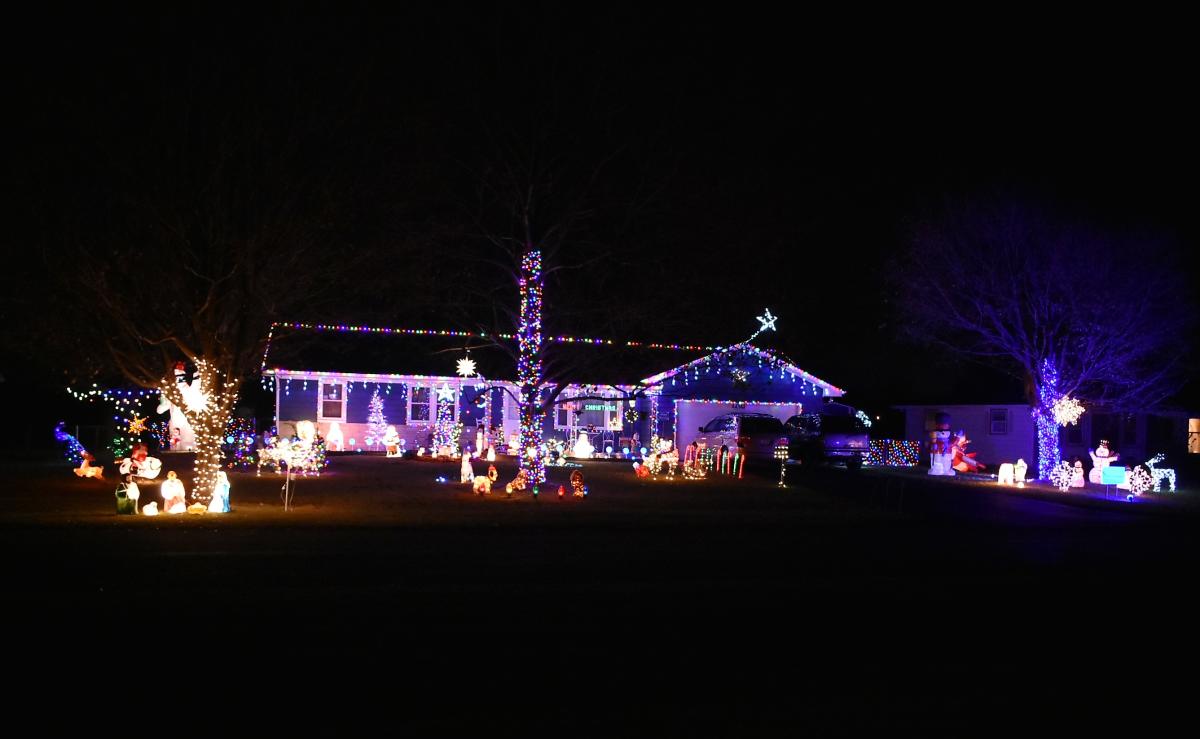 7619 KILBOURN (HOUSE LETTER = AA)
For a classic holiday display, this house is for you! Featuring more than 9,000 lights, inflatables, blow molds, and many different animals. Look closely and you may even find a cow! For those that visit this house, you'll be treated to a FREE candy cane. Special thanks to Clayton Bishop for submitting.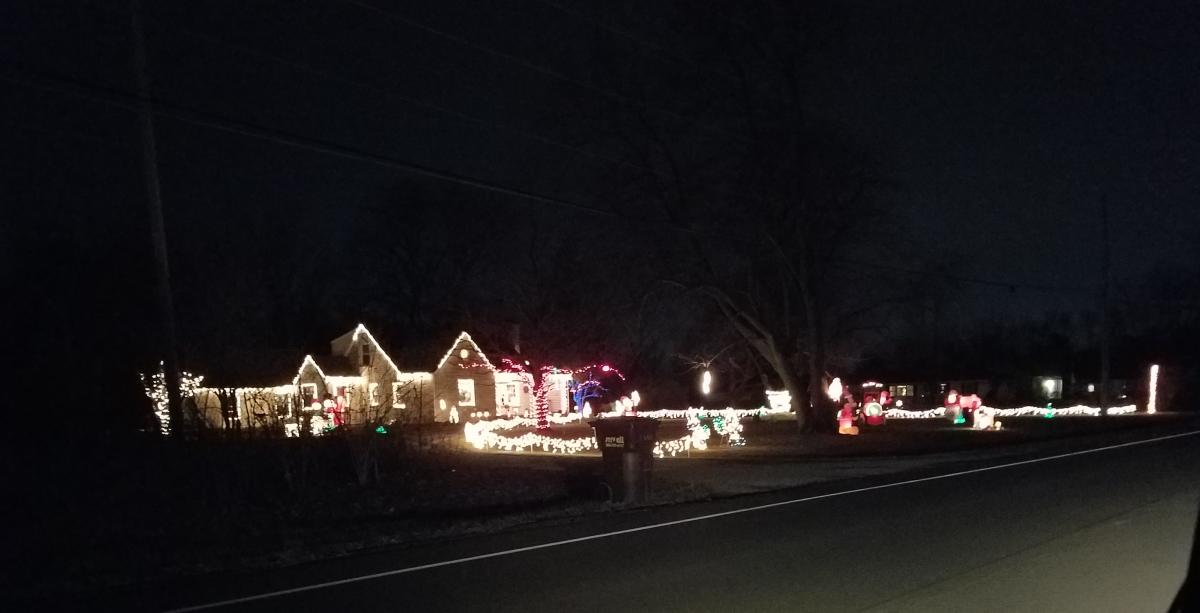 1823 DUNKELBERG RD. (HOUSE LETTER = DD)
Special thanks to David Carden for submitting.
Displays of Note:
2828 EMERALD LAKE DRIVE 
Special thanks to Jay Farlow.
*Content produced by Visit Fort Wayne - Copyright 2020*
Fort Wayne Classics
Discover other holiday light displays around Fort Wayne including the Fantasy of Lights at Franke Park, the displays at Jefferson Point and in Downtown Fort Wayne, or the beautiful "Oh? Christmas Tree!" exhibit at the Botanical Conservatory.
Learn more at VisitFortWayne.com/Bright
---
We realize this still isn't all of the beautiful Christmas Light Displays, so if your house or you know of a house that should be added to our list, please fill out this form and we will add them to the list!
*Special thanks to Heather S. who has helped us start this great tradition!
*Post will be updated with submitted displays on Thursdays.
*Content produced by Visit Fort Wayne - Copyright 2020*