Basketball Championships in Fort Wayne
You may have noticed Fort Wayne crawling with basketball players and fans over the last couple of weeks as the Memorial Coliseum brought in high attendee numbers for the NCAA Men's Division III Basketball Championships co-hosted by the Memorial Coliseum, Manchester University, and Visit Fort Wayne on March 18 - 19. Fort Wayne welcomed Elmhurst University, Marietta College, Wabash University, and Randolph-Macon College for their Final Four Championships with Randolph-Macon crowned National Champions at the final game that Saturday.
View notable stats from hosting the event here. 
In addition to this exciting event, which will return through 2026, Visit Fort Wayne brought in the Lutheran Basketball Association of America's annual tournament. This was the tournament's first time outside of Valparaso in 60+ years, and their first time in Fort Wayne. This 2,200 attendee youth tournament was hosted by Plassman Athletic Center at Turnstone and was welcomed by the Concordia Lutheran Seminary for their Opening Ceremony. The combined sports buzz of the weekend helped to bring the city's hotel occupancy to a high of 91%.
---

Visit Fort Wayne Wins 2022 AdFed Award
Visit Fort Wayne is honored to be recognized by the American Advertising Federation of Fort Wayne with two Silver Awards in 2022!
Visit Fort Wayne was awarded the Silver Award in the category of Non-profit Advertising Audio/Online/Video for our Better Because of Tourism video, as well as a Silver Award in the category of Online Advertising Apps for our Fort Wayne Outdoor Pass.
The American Advertising Federation of Fort Wayne, Ad Fed, presents this annual awards ceremony to celebrate the talent, creativity, and successes of Fort Wayne's advertising community. Visit Fort Wayne is grateful for the awards, and proud to be part of this community of professionals.
---

Easter Dining Specials
Calling all restaurants! As we put together our Easter promotions, please let us know about any specials you are planning for Easter diners — discounts, carryout, brunch, or family meals. Including your holiday hours would also be helpful so that we can communicate as much information as possible to diners.
If you have a promotion, please send the details to Emily Hill at emilyh@visitfortwayne.com by or before Monday, April 11 so that we can include it in our promotions.
---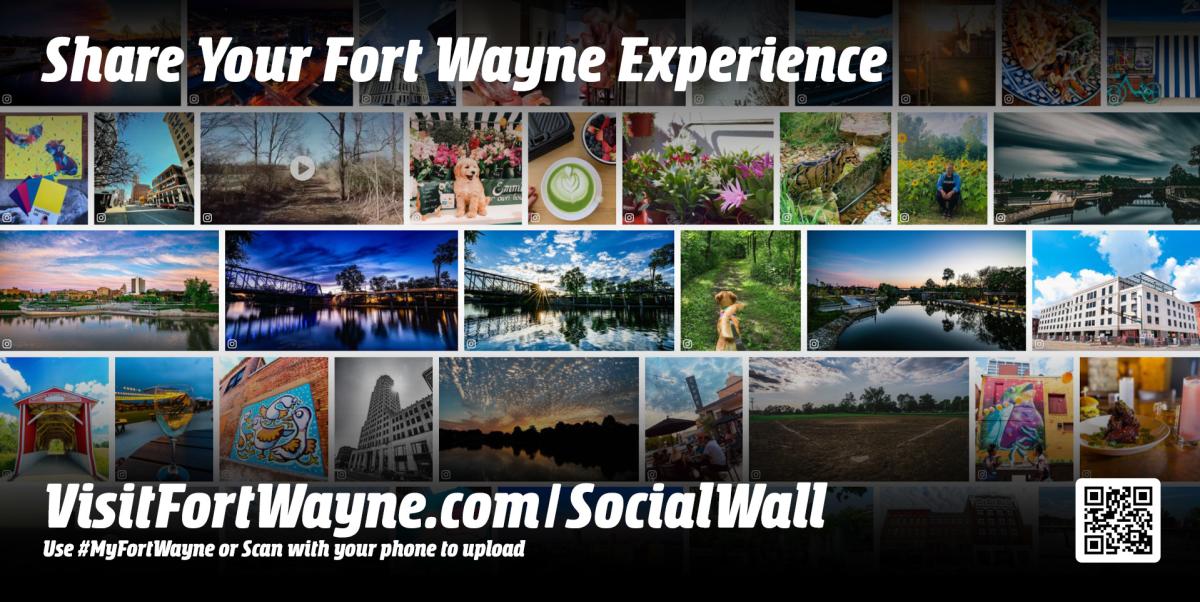 Find Free Employee Resources at Visit Fort Wayne
Connect your employees with Fort Wayne events and resources with these free tools from Visit Fort Wayne.
Current Events of the Week
Each Monday, you can receive an emailed PDF of five "Current Fort Wayne Events of the Weekend" to print and display in your business for employees and customers. Request this free, weekly PDF from Emily Hill at emilyh@visitfortwayne.com, or you can sign your team members up for the e-newsletter version of this piece here.
Digital Welcome Screens
This slideshow welcomes visitors to Fort Wayne, displays the five Current Events of the Weekend, and provides helpful information to your customers and employees. Visit Fort Wayne staff updates the slideshow every Monday from our office, automatically updating the slides on your monitor. Email Tom Boyer at tom@visitfortwayne.com to get started. View this week's slideshow here
Social Wall
This digital display features community-submitted photos displayed in a collage format, providing a vibrant, diverse selection of Fort Wayne photography. Email Tom Boyer at tom@visitfortwayne.com to get started. View the social wall here.
Relocation Kits
Relocation kits are available for purchase in the Visitors Center featuring Fort Wayne Relocation Guides, maps, Visitors Guide, transportation info, and more. Find them online here, or stop by the Visitors Center. For more information on this piece, reach out to Emily Stuck at emily@visitfortwayne.com.
---

Visit Fort Wayne Video Creator Search
Visit Fort Wayne is looking to partner with a local content creator on a series of social media videos in 2022!
The goal of this collaboration is to showcase Fort Wayne as a visitor destination in quick (think TikTok and Reels style) videos created for social media. The videos will share Fort Wayne with potential visitors from a local's perspective — celebrating the best experiences and flavors, the hidden gems, and the creative culture that await in our community. This creator will provide an insider guide to Fort Wayne as a vibrant, inclusive, exciting destination through videos shared on Visit Fort Wayne's social media platforms.
We're accepting entries through April 28.
If you or someone you know loves Fort Wayne and would be a great fit, APPLY HERE