Make a Splash in Fort Wayne
As a "Playful City USA," Fort Wayne offers dozens of options for great FREE outdoor fun (Pools may charge admissions) .
Note: Splash pads open May 28, 2022
Hours of Operation
Splash pads are open 9 am to 9 pm. Hours for swimming pools vary by park. Visit the park website for details. 
Splash Pad Locations
Come play in one of the FREE splash pads conveniently located all around the city:
Buckner Park
6114 Bass Road
This park features a large open-air pavilion with picnic tables and restrooms, a playground with two new playsets and swings, a splash pad, and a trail that runs around the open area behind the playground.
Franklin School Park
1903 St. Marys Avenue
This unique park features architecture from the old school on the grounds, and a fun splash pad for all.
Kreager Park
7225 North River Road
Kreager offers softball fields, Taylor's Dream: Boundless Playground with splash pad, Soccer fields, many natural open spaces for flying a kite, tennis courts, and .95 miles of the Rivergreenway trail. This park ranked second on our splash pad list because the splash pad here is not as large at Buckner's.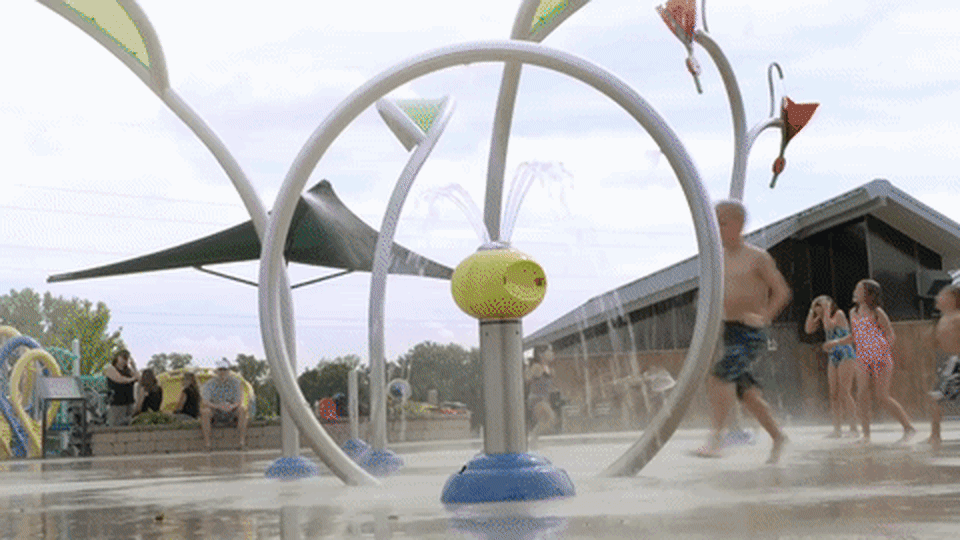 Lutheran Park
3000 Fairfield Ave
This splash pad is in a nice, centrally located park, just south of downtown.
McCormick Park
2300 Raymond Street
This park features a small covered picnic area and a larger enclosed pavilion for gatherings up to 104 people. This park also boasts a basketball court, playground and splash pad.
Memorial Park
2301 Maumee Ave
This park offers a water splash pad in addition to a pool. 
Promenade Park
202 W Superior Street
The Kids' Canal at Promenade Park features a specially built stream for kids to play in the water. 
Riverside Gardens Park
14701 Schwartz Road, Leo-Cedarville
This park lies between the towns of Leo-Cedarville and Grabill, off Schwartz Road. The large, open park features a splash pad, play creek, and playground, along with many other amenities.
Robert E. Meyers Park in Parkview Field
1301 Ewing Street, inside Parkview Field
If you're downtown on a hot day and the kids are getting antsy, consider having a splash in the Robert E. Meyers park splash fountain located within Parkview Field. With a splash fountain area, an amphitheater and performance stage that overlooks Parkview Field you can enjoy the game and a splash. If you wish to splash in the park remember the park will close 3 hours prior to activities in Parkview Field, but it is open during activities with your entrance fee.
Shoaff Park
6401 St. Joe Road
Located just off of St. Joe Road this a great park for a variety of reasons. This park features a baseball diamonds, a golf course, Frisbee/disc golf course, boating access to the St. Joe river, trails, a playground and splash pad, and 2 enclosed pavilions available for rentals.
Waynedale Park
2900 Koons Street
If you're towards the southern part of Fort Wayne, make a stop at Waynedale Park. This park features a basketball court, tennis courts, access to trails, a pavilion that's available for rentals, a playground and a splash pad!
Pool Locations
Note: Fort Wayne pools closing August 6, 2022. Consult website for details.
Jury Pool: 1702 Glencoe Blvd, New Haven 
McMillen Park: Oxford Street at Anthony Blvd
Northside Park: 2400 Parnell Ave
Memorial Pool: 2401 Maumee Ave
Extend the Fun with a Trail Ride
After splashing at one of the many spraygrounds, take a walk or bike ride along one of the many trails around the city, or take a paddle trip on our rivers. 
Plan your route with one of the many Trail Itineraries.
Don't forget your map for convenience in finding the parks, trails, and hidden Fort Wayne gems!