Romance is still alive and well and these Fort Wayne attractions underline that point. Sometimes you need a weekend away with your loved one to rekindle those sparks. Here are a few ideas:
Get Cozy
The LaSalle Downtown Inn is a lovely hideaway in downtown Fort Wayne, at 517 W Washingto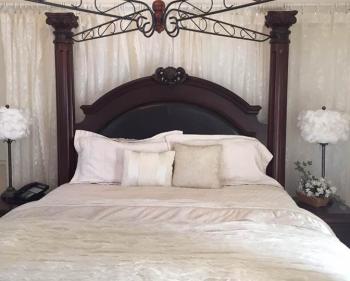 n Blvd. Their historically inspired and themed rooms exude charm. But there's more! Their cabaret package includes a jazz show, room for the night and breakfast in the morning. For inquiries and reservations, call (260) 422-0851. You can also use the"Reservations" tab on their site, to easily book your room on your own.
Warm Your Belly
Once you're settled in, it's time to eat! The Italian Connection is a Fort Wayne favorite for date nights, Located on Taylor Street, just west of downtown, is the place for authentic Italian cuisine with unforgettable ambiance. The owner, Alex, has been known to come out and karaoke on occasion! They are open Wednesday-Saturday. Call (260) 432-9702 to make a reservation. If you're looking for some other great Fort Wayne restaurant recommendations check out a variety of options here.
Indulge Your Sweet Tooth
What's a romantic dinner without dessert? DeBrand Fine Chocolates is world-renowned for its sweet treats. They have everything from traditional milk chocolate to exotic flavors, like chai spice. They have four locations in Fort Wayne, so you're sure to find your favorite spot. Insider's Tip: They also have a caramel apple that's to die for!
Experience Nature
A heavy meal calls for some activity. How about a leisurely stroll in one of Fort Wayne's scenic parks? Lakeside Park kicks things up a notch when it comes to romance. But you really can't go wrong at any of Fort Wayne's parks. 
These are just a few sweet spots to take in. Don't be afraid to be spontaneous too. In a busy world, it's a welcome change every now and then!