Adaptive sports are big business in Fort Wayne, and the upcoming 2018 Junior Nationals are evidence of Fort Wayne's growing connection to the industry. Whether you're a competitor, year-round spectator, or brand-new fan, one thing's becoming clear: adaptive sports are taking the Fort Wayne, Indiana sports market by storm.
Adaptive Sports in Fort Wayne, Indiana
First, a little background for those unfamiliar with the industry: Adaptive sports are competitive or recreational sports adapted to various ability levels. Some examples include wheelchair basketball, power soccer, and goalball.
Check out US Paralympics or Disabled Sports USA for descriptions of many of the adaptive sports that fuel championship-level competition.
Turnstone Center for Children and Adults with Disabilities, now in its 75th year, has evolved into a national hub for adaptive sports. Last year Turnstone hosted the United States Association of Blind Athletes (USABA) Goalball National Championships and served as the first-ever satellite location for the Endeavor Games. Turnstone will again host these events in 2018 and has added another championship series to the Fort Wayne events calendar: Junior Nationals.
Turnstone was selected after months of preparation and an aggressive bid in partnership with Visit Fort Wayne. The Fort Wayne community is already planning for the unprecedented volume of athletes, families, and visitors that adaptive sports will bring to our city later this year.
Why Fort Wayne, Indiana?
Fort Wayne's growing connection to the adaptive sports industry is the result of several factors manifesting simultaneously. We have the venues, the expertise, and enthusiastic community partnerships to support world-class athletics at a time when the industry is ready to grow.
Stephanie Coleman, Sports Group Sales Manager with Visit Fort Wayne, recently attended a national sports trade show and saw an opportunity.
"I learned that there is no single city that is the lead example for hosting adaptive sporting events," said Coleman, "Fort Wayne could set the model for best practices in the industry. Our city is ready to support this growing market."
Visit Fort Wayne also collaborates with Turnstone to offer community training to area hotels to enhance their hosting capabilities for athletes with disabilities.
 "It all adds up to an amazing synergy not found anywhere else," said Coleman.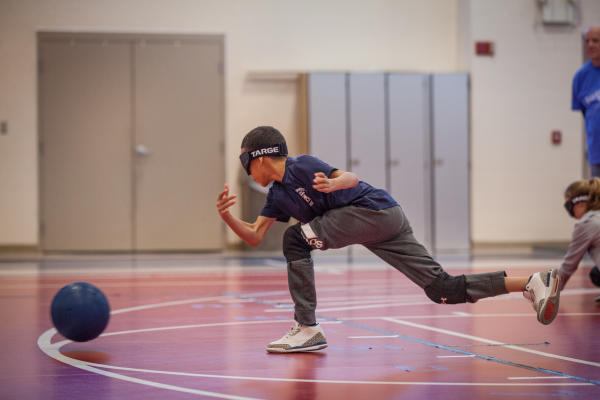 Adaptive Sporting Events to Attend in Fort Wayne, Indiana
Junior Nationals
Adaptive Sports USA, the organization behind Junior Nationals, dates back to 1956. It was initially called the National Wheelchair Athletic Association. Many of the athletes present during the organization's early years were veterans of World War II who wanted competitive options in addition to the already popular wheelchair basketball.
Flash forward to 1984: Adaptive Sports USA (still undergoing various name changes) saw a need for junior-level competition in adaptive sports. Junior Nationals were born and today feature a wealth of events and some of America's finest athletes aged 7 – 22. Junior Nationals also serves as a training ground for future USA Paralympians.
Turnstone's Recreational Sports Coordinator Kevin Hughes is already preparing for the July games.
"We expect many visitors to Turnstone and the surrounding Fort Wayne area. Athletes, families, extended families and sports enthusiasts are already making travel plans," said Hughes, "As for our local competitors, they're preparing every day."
Qualification standards for Junior Nationals are high. Many training hours are spent onsite at Turnstone's world-class facilities. The organization also partners with the Blackhawk Christian Track & Field team for track & field conditioning.
Hughes anticipates 15-20 Fort Wayne athletes in this year's games. More than 400 athletes from all over America are expected to compete over the course of a week.
Save the Date! Plan to attend Junior Nationals at Turnstone in Fort Wayne, Indiana from July 21-28, 2018. The competition promises to be exciting and fun for spectators!
Endeavor Games
July may seem like a long way off, but you don't have to wait that long! In April, Fort Wayne will again host the University of Central Oklahoma (UCO) Endeavor Games. The Endeavor Games are the largest multi-sport, multi-disability championship event in the United States for athletes with physical and visual disabilities. In 2017, UCO saw the need to add a second location and selected Turnstone.
The Fort Wayne extension of this year's Endeavor Games series will take place from April 20-22, 2018. Athletes include children and adults, many of whom are injured and disabled veterans. One hundred fifty (150) athletes are expected to qualify and compete.
"The Endeavor Games appealed to Turnstone for multiple reasons, but especially because of their connection to the U.S. Military," said Hughes, "Their mission to serve veterans was a big draw for us."
USABA Goalball Nationals
Turnstone is home to the United States Men's Paralympic Goalball team. Our men's and women's goalball teams are silver and bronze Paralympic medalists, respectively. The teams boast some of Goalball's top athletes from all over the country and the world living and training in Fort Wayne. In 2017, Turnstone hosted the USABA Goalball National Championships for both men and women. Goalball is a high-energy team sport and fun to watch!
Turnstone is proud to again host the championships in 2018 from June 21-23, 2018. Learn more at http://turnstone.org/sports/goalball/ or on Facebook.
Year-Round Competition and Conditioning
Turnstone also hosts sports programs and competitions such as wheelchair basketball tournaments, sled hockey, wheelchair rugby and sit volleyball that are open to the public. Check out upcoming dates on Turnstone's website or call (260) 483-2100 for info.
Plan to bring the family out to an event soon to find out why adaptive sports are fast-growing into one of Fort Wayne's most exciting attractions.