Sweetwater Sound, located on the outskirts of Fort Wayne, is one of the most respected businesses in the music industry, and one of the largest companies in town. Sweetwater began as the brainchild of Fort Wayne local, Chuck Surack, who started the business out of the back of his van in 1979 with a 4-track recording studio. Today it has grown into a sprawling campus with hundreds of employees, boasting the title of third-largest music retailer in the world! The company sells everything from guitars to recording software, while maintaining world-class recording studios and performance facilities.
The best part about Sweetwater is that many of the first-class amenities that are enjoyed by their customers and employees are also open to the public. Visitors are free to come into the Sweetwater building and explore what makes this one of the best places to work and play in Fort Wayne. Whether you're a huge music fan, tech aficionado, or just want to see what all of the buzz is about, a trip to Sweetwater is like exploring a music lover's playground!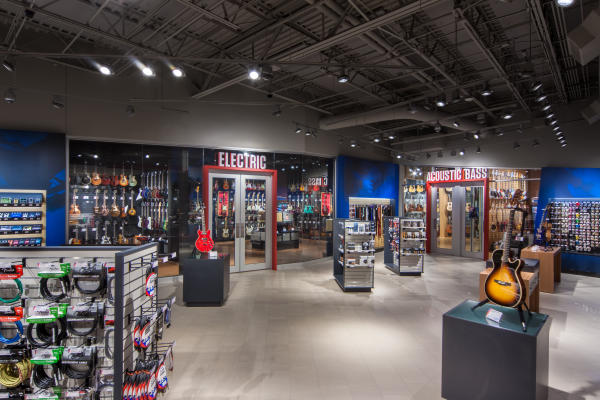 While much of Sweetwater's business is done online, their recently expanded retail store is a must-see! The Sweetwater Music Store features a guitar gallery, drum room, and on-site demos. The store is open Monday – Saturday and features a wide array of instruments and equipment.
Feeling hungry? You're invited to grab a bite to eat at the Downbeat Diner, home to made-from-scratch specialties. In need of a sweet treat? Sweetwater has recently expanded its culinary offerings to include coffee concoctions and sweet treats with the Crescendo Cafe. Take a seat in the Crescendo Club to watch intimate performances from members of the Sweetwater community. You can even take a game break and try your hand at classic arcade games during your visit.
If you want to get a behind-the-scenes look at what Sweetwater has going on, you can take a tour at no cost through their concierge services. The knowledgeable Sweetwater concierge will guide you through the Sweetwater campus, giving you a peek at the distribution center, recording studios, sales department, performance theater – and more! Taking a tour of Sweetwater is much like taking a look around Willy Wonka's Chocolate Factory. There are twists, turns and surprises around every corner. Don't forget to take a ride down Sweetwater's two-story slide during your tour; it will end your visit on a high note!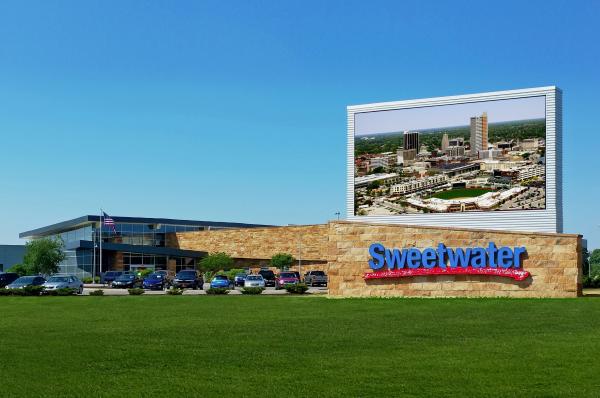 Believe it or not, Sweetwater has even more for the public to enjoy with open workshops, performances and more happening in their state-of-the-art performance theater! In addition, Sweetwater kicks it into high gear with their annual two-day festival, GearFest.
GearFest is Sweetwater's biggest event, attracting 10,000 people over two days, and is often called a music-lovers dream come true. During GearFest the public is invited to explore the newest and most innovative music equipment from big-name vendors, enjoy live performances from world-class artists, and take part in hands-on clinics and presentations from some of the best of the best in the music industry.
Sweetwater Sound is located at 5501 US Highway 30 West, Fort Wayne, IN 46818. Plan a visit to Sweetwater today – it will be music to your ears!