HolidayFest is a Fort Wayne, Indiana tradition that begins the week before Thanksgiving and continues until we ring in the new year. In a typical year, the flagship event is the Night of Lights, which is always the evening before Thanksgiving. The Night of Lights is an absolute joy and also serves as Fort Wayne's official start to the Holiday season.
This year's Night of Lights falls on Wednesday, November 24. Mark your calendar for the big event, and keep on marking as there's more to Fort Wayne's Holiday culture than our stop-in-your-tracks lighting displays. We've got it all!
Fort Wayne, Indiana's Holiday Favorites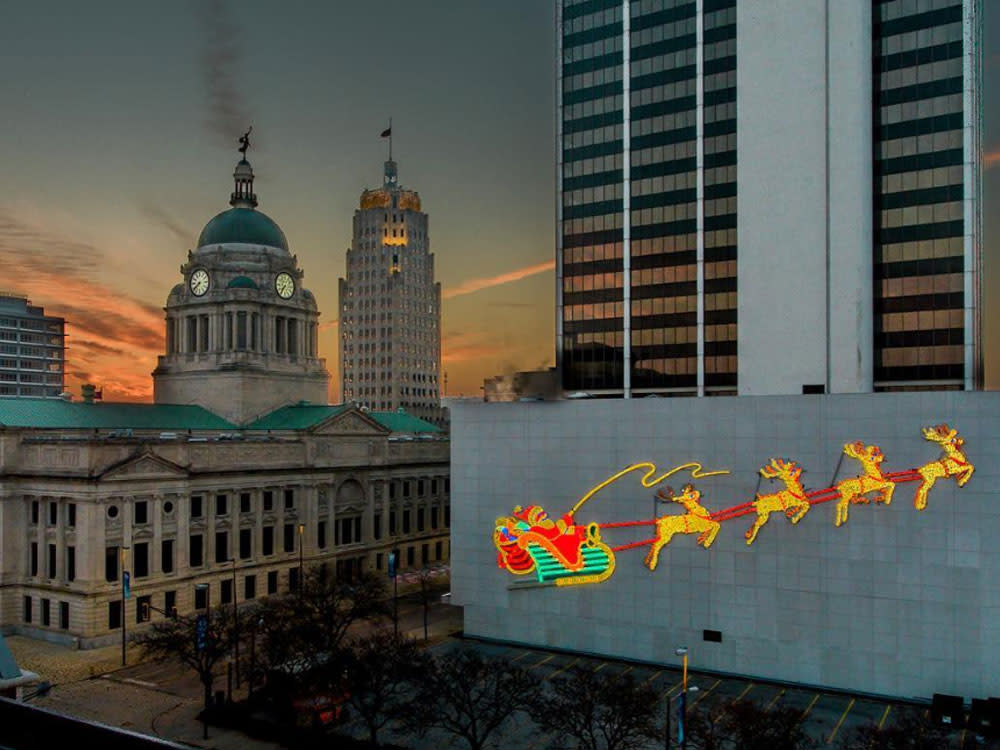 Visit Fort Wayne Instagram
Night of Lights Schedule – Just the Lights
If you're short on time and just want to see all of the lightings - start your evening at the History Center at 5:45 PM, you won't want to miss the light of the Santa and His Reindeer on the PNC Bank building at 6:20 PM and the Merry Christmas Wreath on the Indiana Michigan Power Building at 7:00 PM. Wrap up the night at 8:00 PM with Holiday Fireworks at Parkview Field.
See the full lights display schedule.
Night of Lights – The Activities
Many downtown locations offer Night of Lights activities, the evening of November 24. From indoor warm activities to some great family-friendly celebrations, these are the perfect activities to make your holiday celebrations special. 
Warm Indoor Activities
Visit with Santa and one of his reindeer at the beautiful Baker Street Train Station from 4:00 PM - 8:30 PM, or enjoy crafts and entertainment at the Grand Wayne Convention Center Holiday Open House from 6:00 PM - 8:00 PM. There are plenty of other great indoor activities to help you warm up, but make sure you step outside for the ringing of the church bells at 7:30 PM
The Best Family Activities
After delighting in all of the beautiful holiday lightings with your kids in tow, make your way to the Botanical Conservatory's beautiful Alpine Holiday Showcase, where Icelandic reindeer and Santa Claus himself will greet you with joy! Let your kids explore the Allen County Public Library downtown branch where they can make their own snowglobe to celebrate the season.
Can't-Miss Night of Lights Activities
Make your list and check it twice — you do not want to miss out on these classic holiday events. The Festival of Trees display at the Embassy Theatre features beautifully decorated trees throughout the building and beautiful window displays (available November 24 through December 1.) 
*All events located in downtown Fort Wayne. Times vary with most activities beginning between 4-5PM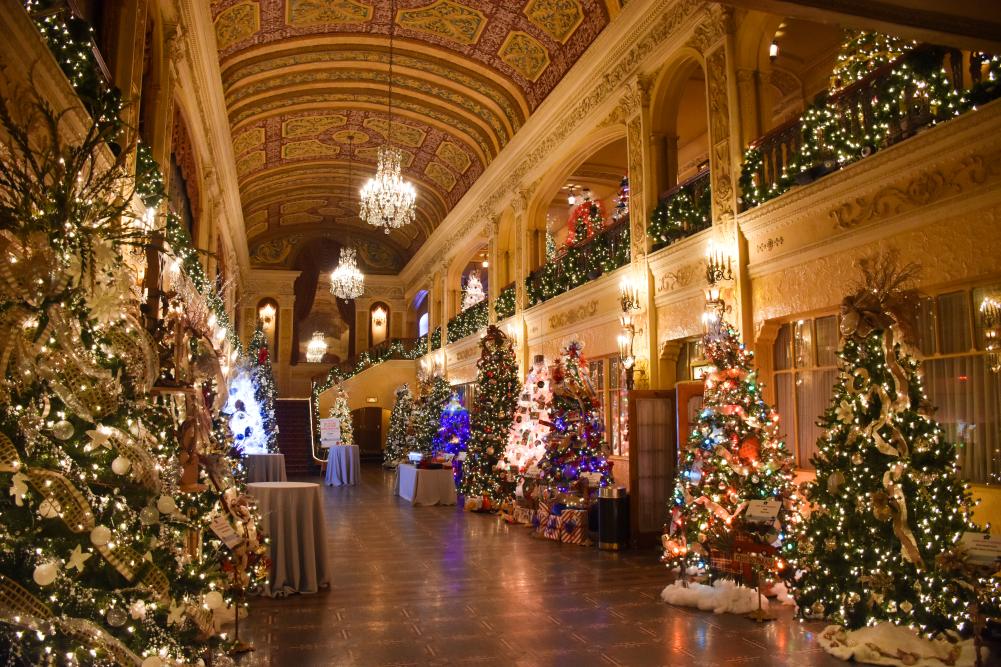 A Season of HolidayFest Fun: Beyond the Night of Lights
Do you have family coming into town between Thanksgiving and Christmas and want to impress them with Fort Wayne's Holiday spirit? The following activities, events, and attractions are all part of HolidayFest. You're sure to find a festive event to fit your interest. Some of the following events are free and some involve a fee/ticket.
The Best Family-Friendly Events
November 25 — Dr. Seuss' The Grinch Movie Screening at the Embassy Theatre
November 26–December 19 — Festival of Gingerbread at The History Center
November 26–28 — Breakfast with Santa at the Embassy Theatre
Insider Tip: This always sells out early. Call the Embassy's box office at (260) 424-5665 to inquire about availability.
November 27 — Christmas Through the Ages at The Old Fort
December 4, 11, 18 — Santa and Reindeer Saturdays at the Botanical Conservatory
December 10–12, 17–19 — Fort Wayne Youtheatre Presents: Elf Jr. at First Presbyterian Theatre
Date Night Events
November 24–December 25 — Miracle on Jefferson Holiday Bar Pop-Up
December 3–5, 10–12, 17, 18 — Dashing Through the Snow at Arena Dinner Theatre
December 7 — A Motown Christmas at the Embassy Theatre
December 10–12 — Three Rivers Music Theatre CHRISTMAS SPECTACULAR! at the Parkview Physicians Group ArtsLab
December 10, 11, 18, 19 — Fort Wayne Philharmonic Holiday Pops performances at the Embassy Theatre
December 16 — Straight No Chaser: Back in the High Life Tour at the Embassy Theatre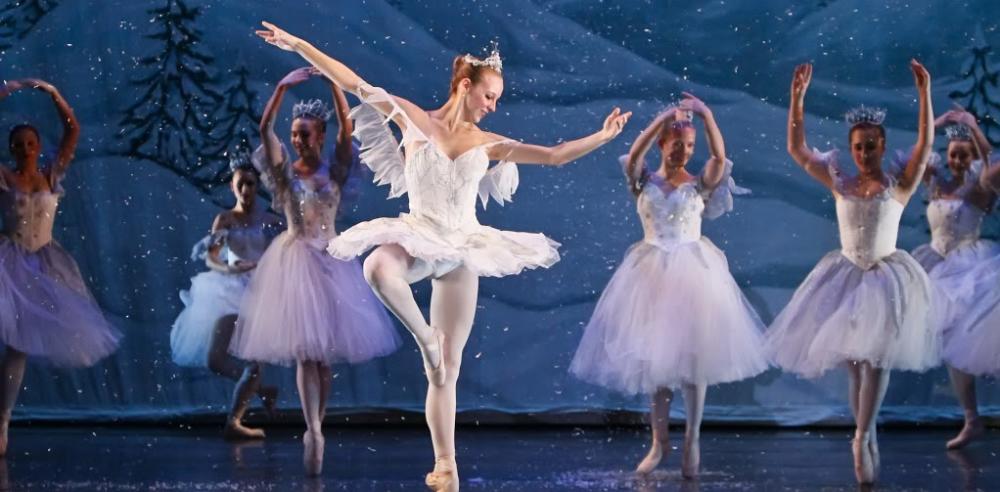 Can't-Miss Events
November 20–February 28 — Outdoor Ice Skating at Headwaters Park
November 27, December 4, 11, 18 — The Days of Holly Shopping at downtown boutiques on Saturdays!
December 3–5, 9–12 — Fort Wayne Ballet Presents: The Nutcracker at the Arts United Center
Insider Tip: The Fort Wayne Ballet presents this classic performance every year and it's a wonderful holiday tradition. Attend if you're in town – it's inspiring to see the hard work of our local youth come to life!
NEW! December 3–5, 10–12 — Fort Wayne Ballet Presents: Kris Kringle Village at the Arts Campus, modeled after traditional German Christmas Markets with food, entertainment, and gifts.
Looking for more Fort Wayne holiday fun? Don't miss the Fantasy of Lights 2-mile driving tour through giant light displays, or check out our annual list of the best Crazy Christmas Houses in Fort Wayne.
This post was originally published in October 2018 and has been reformatted and updated. Last Updated: November 2021