Did you know, you can fish on Fort Wayne's three rivers? The St. Joseph, St. Marys, and Maumee provide a great source of entertainment including adventuring along the trails, kayaking, and enjoying Promenade Park. Fort Wayne's rivers are also a great source for nature watching and fishing.​
You can also enjoy pond and lake fishing from many of our local parks, including Lakeside Park, Reservoir Park, and Frankie Park, or head north to fish at Hurshtown Reservoir and Cedar Creek!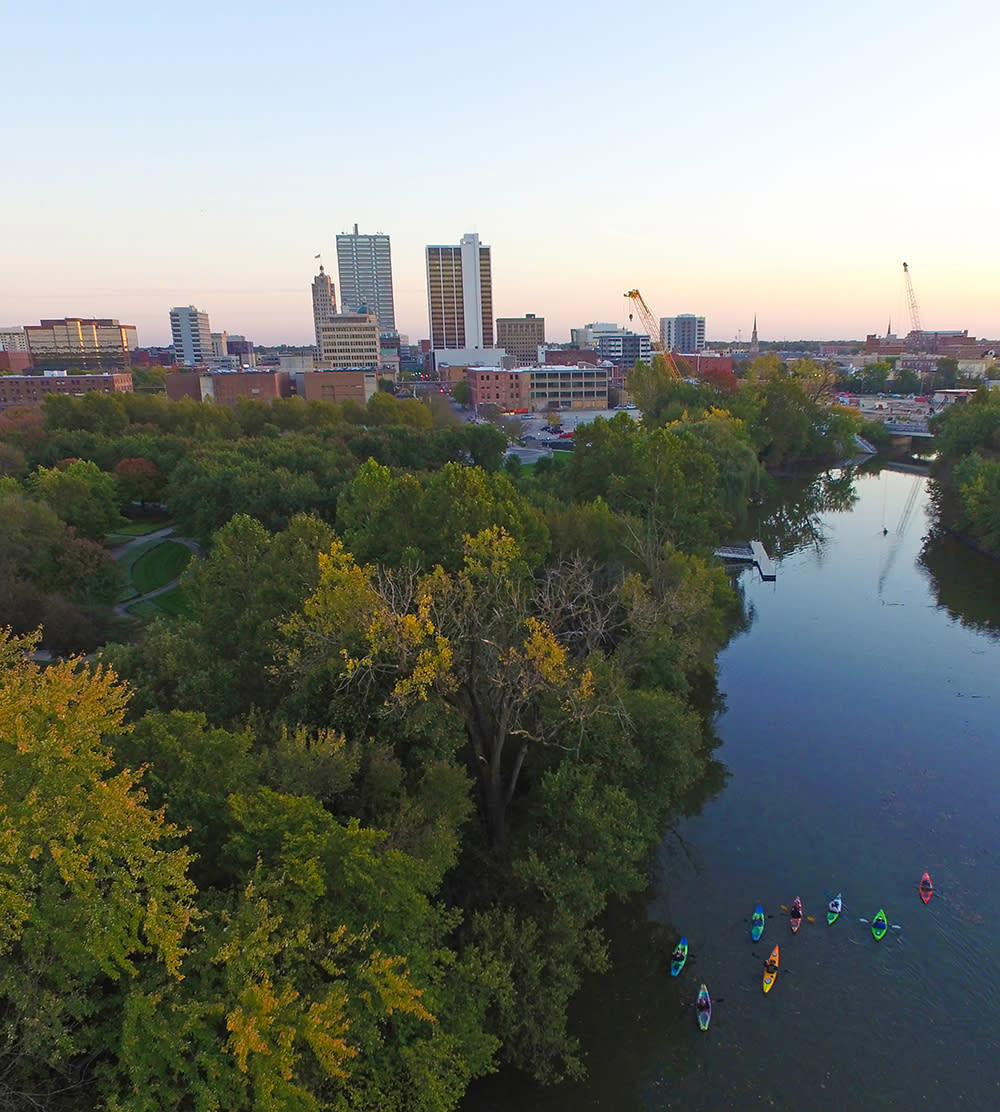 How to Fish on Fort Wayne's Rivers and More
Fort Wayne's three rivers can be fished by boat, kayak, wading, and—the most popular option—shoreline fishing. 
Some of the most popular areas for new and seasoned anglers are at the two major dams. The first is in Johnny Appleseed Park along the St. Joseph River where you can easily access the riverside deck to cast spinners, crankbaits, and live bait. You can also find easy-access shoreline fishing just above the dam at Purdue Fort Wayne, where parking is just a stone's throw away.
The Hosey Dam/Maumee River Dam located on Anthony Blvd is another hotspot for local and traveling anglers alike, the water below the dam has everything from fast running stretches to recirculating deep pools and shallow rocky flats.
Bring along your favorite earthworms tied simply to a large sinker and hook. For a little more action, grab some 1/4oz Pink Jig heads with a White Twisty Tail Grub, cast your line out into the river and bounce off the bottom or just slowly reel them in.
For the more mobile fisherman, there is access along different sections of the Rivergreenway paths, which lie within 30 yards of the rivers' edge for most of the route.
Lakeside Park, Reservoir Park, and Frankie park all offer great shoreline fishing options. Consider a boat at Hurshtown Reservoir and a kayak or canoe at Cedar Creek.
Need to rent a kayak or canoe for your day on the water? Fort Wayne Outfitters offers 2-hour, half-day, and full-day rental options!
 
Fish species in Fort Wayne's Rivers
Fish for the walleye, catfish, smallmouth bass, and some of the best fighting fish pound for pound, freshwater drum at Johnny Appleseed Park. Or, take your lines to the Maumee River Dam to fish for Walleye, Sauger/Saugeye, and Flathead Catfish. The Walleye move all the way up to the dam in the spring.
Other popular game fish found in these locations are; Black and White Crappie, Largemouth Bass, Northern Pike, Channel Catfish, Bluegills and Sunfish.  You may also find other river species like; common carp, Spotted Gar and Smallmouth Buffalo.
The parks are great for catching Bass, Bluegill, and Catfish. If you're looking for Walleye, consider Hurshtown Reservoir, where you'll also find plenty of Bass and Bluegill.

Most popular bait used on Fort Wayne's Rivers
Shallow water crankbaits in bold colors like red, yellow, and chartreuse green with bold black lines that invoke some seriously aggressive bites.
Try knocking the lure off the bottom or bouncing them off rocks and downed trees.  Black, Red, White Spinner and blade baits and various jigging style baits that go into the deeper water can be very effective for Walleye, Catfish, and Pike.
Bait is available at many convenience stores and tackle can be purchased at Walmart and Dick's Sporting Goods.
Fishing Fort Wayne's Rivers Resources
Indiana's Fish Consumption Advisory
https://www.in.gov/isdh/26778.htm
IN Department of Natural Resources (Fishing Guide)
http://www.eregulations.com/indiana/fishing/fishing-regulations/ 
Purchase Indiana Fishing License Online
https://www.in.gov/dnr/fishwild/9339.htm
This blog was originally published in August 2019. Last Updated: August 2020