A guide for your most authentic Burmese experience, right here in Fort Wayne, Indiana! 
Discover Burmese Culture in Fort Wayne, Indiana
Some of us migrated here, some of us grew up here, some of us were born here, but now all of us call it home.
The History 
Aung San Suu Kyi, one of the most influential people known globally, is a name you will often hear when talking about the Burmese culture. As a political civil rights activist, she continues to fight for democracy in Myanmar (formerly Burma). In 1991, she was awarded the Nobel Peace Prize.
In 2012, Suu Kyi made a detour in the Midwest, and ended up here at the Allen County War Memorial Coliseum where she addressed hundreds of Burmese and non-Burmese people alike.
It was her first visit to the United States in more than 40 years.
There is an estimated Burmese population of more than 25,000 living in Fort Wayne, Indiana today. It has become a haven for us — we have a lot of community here, support that allows us to help one another as much as we can. Most of us came directly from refugee camps, and I was one of those people. Our small community here continues to grow as our home country struggles with conflict where we are forced to flee as the only means of escape.

Photo Credit: Chan Sorn Ong
The Culture
As you may know, Fort Wayne has a very diverse community. And if there's one thing Burmese people are passionate about, it is their culture. Because of the current regime's lack of legitimacy and poor human rights record, it is common to use the name Burma as opposed to Myanmar, as it is now officially known.
Rice is the staple food and is always typically accompanied by a raw salad of leaves, fruit or veggies, soup, and curries. The base of most curries is turmeric, chili, fermented fish, or shrimp paste. A fresh bowl of fruit after a meal is very common.
Burma was once the world's leading exporter of rice and continues to export rice to earn foreign exchange.
Traditionally, when it comes to etiquette, it is considered improper to lose one's temper or show much emotion in public, but the Burmese people are friendly and outgoing. Footwear is removed upon entering temple complexes and homes for religious reasons. Almost 90% of Burmese people are Buddhist.
Thanaka is a paste made from ground bark and it makes a face mask when used on women and girls. It is an integral part of the culture, used on arms and occasionally by men and boys. In Burmese, thanaka means cosmetics for beauty and cleansing. It is also used to protect the skin from sunlight and helps to cool the skin in hot temperatures. Additionally, it is believed to reduce acne, smooth skin, and offer antifungal properties.

The Food
Sour. Salty. Bitter. Spicy. Umami. These are all the flavor profiles of most Burmese dishes. And, it hits you all at once! It's quite literally an explosion of flavor. Trying authentic cuisine is one of my favorite ways to explore different cultures. Food is at the heart of how most Burmese entrepreneurs survive and make a living, and that's why there are so many hidden gems here in Fort Wayne where you can try the food. It is served in a very communal style of eating with several shared dishes, curries, stir-fried entrees, fresh salads, and noodle soups, all mostly accompanied by a steaming hot bowl of white jasmine rice. Prepare to transport yourselves to the bustling streets of Burma where aunties are pouring their secret ingredients of love and passion into these dishes. Explore authenticity at its core and discover taste buds you never knew you had.
Food keeps us connected and always brings us back to one another no matter where we came from. It's comfort, and I know I can always count on a savory, spicy curry to come home to in Fort Wayne. I've tried to master it myself, but it will never compare to mom's cooking. (Thanks, mom, you're the best!)
Some of my go-to dishes:
You can never go wrong with white rice and curry!
It's always my favorite. If you know me, just like food influencer Mark Wiens (@migrationology) said, "If it ain't spicy, I'm not eating it!" We like to accompany our curries with a side of fresh or pickled veggies to chase with after taking a bite. It is very common, and by doing so serves as a palate cleanser. This activates all the different flavor profiles — it's an umami party in your mouth!
Mohinga: A rice noodle and shredded fish soup dish.
Kuit Teow (a Thai dish):
This noodle dish is very similar to the popular Vietnamese dish "Pho." When you're in Asia, it can sometimes be referred to as "boat noodles." This is definitely a comfort meal for me — I recommend choosing duck for your choice of protein.
Balachaung Kyaw:
Eat this with rice and you are good to go! This is made from fried dry prawns and fried onion. The saltiness of the dried prawns is balanced by a bowl of white jasmine rice. A simple yet satiating dish that is one of my all-time favorites — it makes me feel like I'm home.

Of course, you can ALWAYS spice things up by adding crushed chili flakes or oil, or if you're feeling bold, by chasing your bites with raw bird's eye chili for the authentic experience. I can assure you that most Burmese households are growing these peppers in their backyards.
The Restaurants
Several Asian restaurants here in the Fort have a lot of Thai influence; you can still find authentic Burmese flavors, you've just got to know where to look. And as a top-notch foodie connoisseur, I can help!
I personally recommend these locations:
Mahnin Asia Restaurant* | 2701 S Calhoun St
Nawarat | 5527 S Anthony Blvd
Yummy Thai Restaurant | 2823 E State Blvd

Here is a list of comfort dishes you just have to try:
Khauk Swè (coconut curry noodle soup)
Khauk Swè Thoke (wheat noodle salad)
Mohinga or Mont Di (fish noodle soup)
Khao Swe Kyaw (egg noodle stir fry) — Typically accompanied by a spicy cucumber + cabbage salad
Nan Kyi Thoke (thick rice noodle salad)
Cha Zen Kyaw (glass noodle stir fry)

"Pad Woon Sen" (Thai translation)

Kyah Oh

Similar to "Suki Yaki" (Thai translation)

Lahpet Thoke (tea leaf salad) / Gin Thoke (ginger salad)
Burmese Tea
And, of course, and curry dish with rice

*Fun fact: Mahnin Root is my aunt. But, that does not make me biased (okay maybe a bit). When I was little, there used to be a tiny Asian grocery store at the intersection of Rudisill Blvd. and Lafayette St. Mahnin used to sell her famous dishes for both dine-in and takeaway in the small corner of that grocery store, and I would sometimes help her too. She was already well-known amongst the Burmese community, but as her business grew, so did her brand.
The Grocers
With the continuous growth of the community, the demand for access to Asian grocery stores increases as well. Therefore, we are constantly seeing so many mom-and-pop shops, well, pop up. You can find a range of noodles, meats, condiments, drinks, snacks, cookware, everyday home necessities, and much much more. It's a gold mine for the best finds (sometimes you may even luck out and find some freshly made curries and snacks for purchase near the register on the weekends).
I can personally recommend these locations to find all your goods:
Asian Market | 2615 S Calhoun St
Cho Oo Asian Grocery | 3508 N Clinton St
Magadoo Asian Grocery | 5945 N Clinton St

Food and snack recommendations:
Mama Shrimp Tom Yum noodles *try eating these without cooking them—makes for a yummy and crunchy snack! Mama is the definition of what childhood looked like for us. We buy them by the box load.
Yeo's Soymilk
Shrimp Flavored Crackers
Dried Squid Shreds
Lahpet Thoke (tea leaf salad)
Tao Kae Noi seaweed snack (tempura one is my favorite)

Miscellaneous finds that may quite literally change your life:
Stainless steel Zebra Spoons (the only spoons I own and eat everything with!)
Handmade Myanmar traditional flip-flops (typically velvet with beading)
3-tiered stainless steel food carrier (Zebra brand)
Jasmine rice, by the pound
A calendar

And while you may just pop in for a few snacks, the energy of the aunties who own these businesses will keep you coming back for more. Got a recipe idea? They can help you with finding the right ingredients. All you have to do is ask and they will make sure you are taken care of.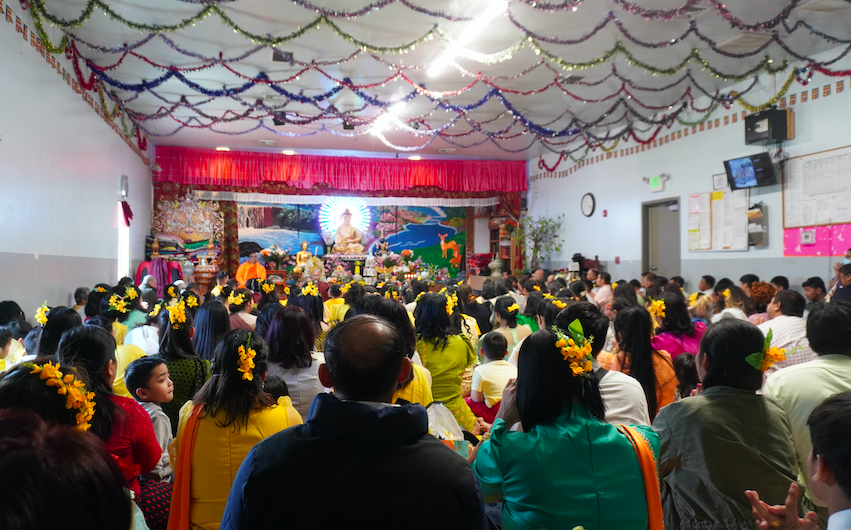 Photo Credit: Chan Sorn Ong
The Temples
The temples are very sacred to the Burmese culture. In the beautiful meditation room (also known as a shrine or praying room), your eyes can appreciate the breathtaking statues of Buddha. These religious pieces have been imported directly from Burma. Tons of people gather during praying ceremonies, fundraisers, birthdays, dance and karaoke practices, and numerous other special occasions. During the summer months, you'll find the younger kids attending language school. The weekends are the most active days, and they would also be the most ideal days to visit if you'd like a tour or just want to learn more. You'll even see a few monks roaming the grounds too.
Mon Buddhist Temple | 6505 Decatur Rd
Temple Jetavan Vihara | 6615 S Hanna St
Dhammarekkhita Monastery | 8133 Hartzell Rd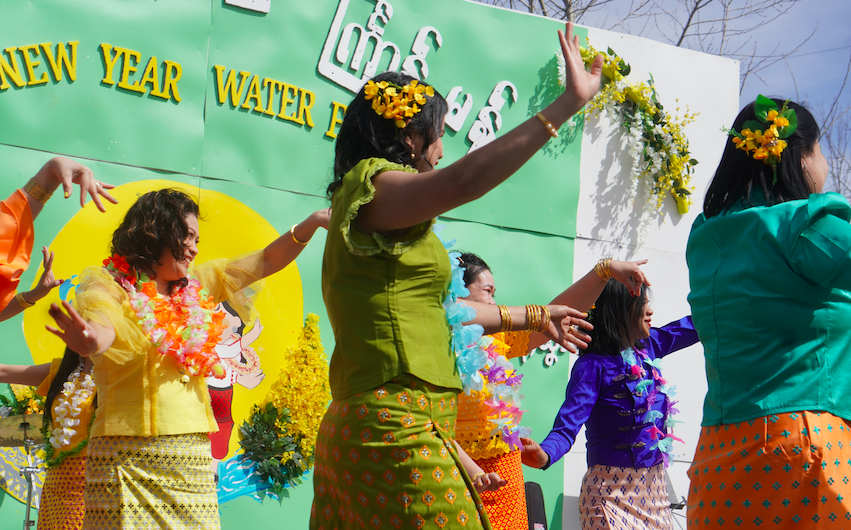 Photo Credit: Chan Sorn Ong / Pictured: Thingyan Water Festival
The Festivals
The annual festivals are what I always looked forward to when I was a child. I used to love dancing in Mon National Day and the Thingyan Water Festival. This is a time I'm able to reconnect and gather with familiar faces as they have moved away over the years. This is also a time where I was able to make new friends from other Burmese communities that come to Fort Wayne to celebrate or perform too. If you can, I highly recommend attending any or all these events. They typically have traditional dance performances with live music played by Burmese instruments. There are also singers who come to perform with live bands. There is dancing and there are also good eats. It's just a good fun time all around and everyone is always so kind! These are events you don't want to miss.
Annual celebrations and appearances:
Three River's Festival
Fort Wayne FAME Festival
Mon National Day — A celebration on the first waning day of the lunar month of Tabodwe in the Burmese calendar
Thingyan Water Festival — In April, the celebration of Burmese New Year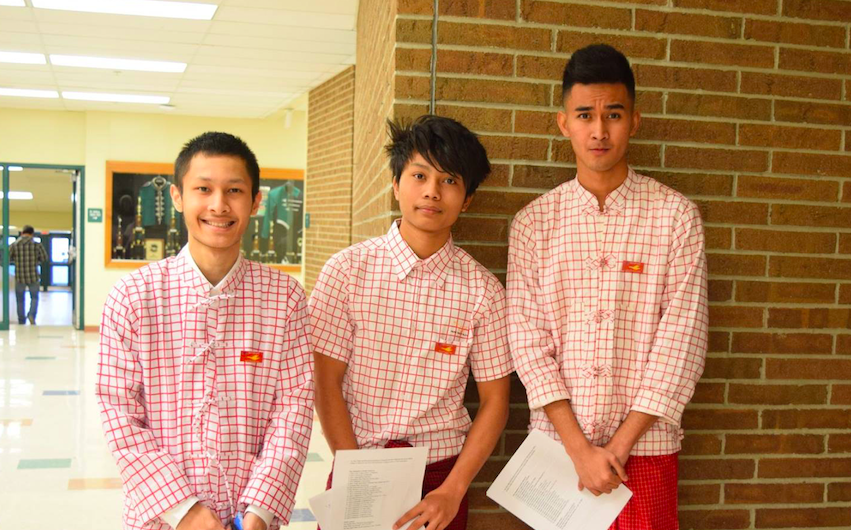 Photo Credit: Chan Sorn Ong
The Traditional Fashion
Both males and females wear longyi, or htamein. This unique piece of garment is made for the weather of Burma as it is a breathable cloth material, ultimately made for comfort and the hot weather. It is not only worn on special occasions, and even those without much money are able to get their hands on at least one. They come in vibrant and neutral colors and there are several patterns to choose from.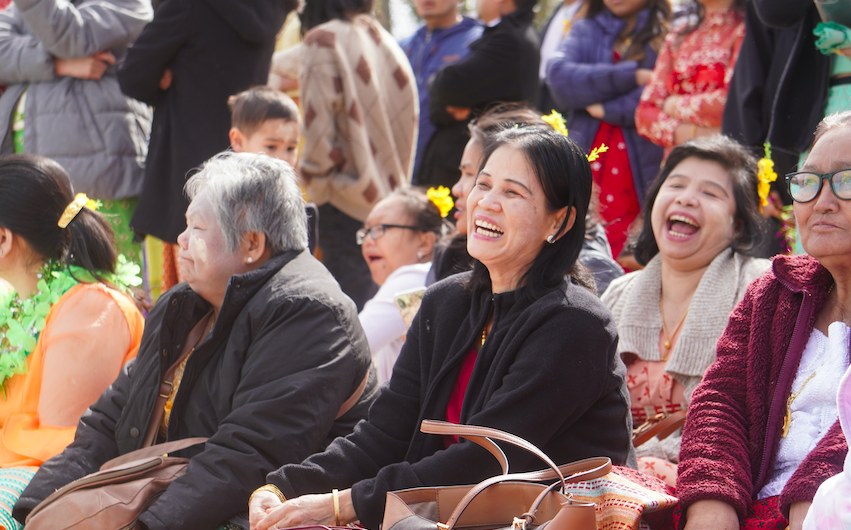 Photo Credit: Chan Sorn Ong
The Language
There are so many dialects and languages spoken in Burma, but these translations and definitions should help you get started with the basics.
Greetings
"Mingalaba" // Ming-gah-lah-bahr // Hello there. (Burmese)
"Nay Kaung Lar" // Nhin-goun-lah // How are you? (Burmese)
"Muhh-nyi-daht-own" // Greetings, hello. (Mon)
Definitions 
(Burmese)
"Daw" // Meaning mature women. It is used out of respect. (ie. Daw Aung San Suu Kyi)
"Endi" // Auntie
"Oo Lay" // Uncle
(Mon)
"Nai" // Mr.
"Mi" // Ms.
(Burmese)
"Thoke" // salad
"Kyaw" // fried
"Thingyan" // water
Burmese is both a noun (sin. and plural) and adjective — "people from Burma"  /  "Burmese people"
Listen to the pronunciations below!