Fort Wayne, Indiana is known as a "City of Restaurants" for a reason. Read on to discover some of the Black-owned restaurants, food trucks, breweries, bakeries, and markets in Fort Wayne. From barbecue to soul food, and everything in between, your taste buds will thank you!
You can also jump ahead to one of these sections:
BBQ | Soul Food | Bakeries | Meal Prep and Carryout | Groceries and Markets | Franchises
This blog is one in a series of posts celebrating and highlighting Black-owned restaurants, shops, and entertainment, as well as Black artists, musicians, and more in Fort Wayne.
*Know of additional Black-owned restaurants in Fort Wayne to add to the list? Email suggestions to erin@visitfortwayne.com.
You can find the restaurants listed in this post, and more Black-owned businesses, in this Facebook group.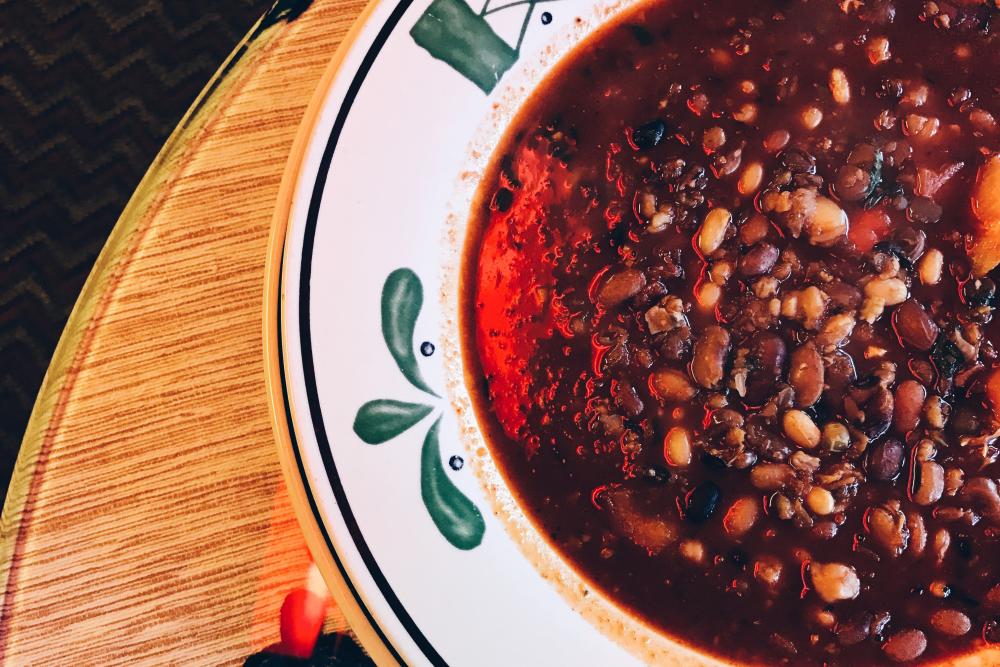 Ethiopian Food Catering
Black-Owned Fort Wayne Restaurants
Elijah's Restaurant and Bakery – Breakfast, Lunch, Dinner, & Desserts
301 W Jefferson Blvd, Fort Wayne, IN 46802
(260) 278-1085
Website  |  Facebook
Hideout 125
10350 Coldwater Rd, Fort Wayne, IN 46825
(260) 206-6192
Website  |  Facebook
Hop River Brewing Company – Brewery
1515 N Harrison St., Fort Wayne, IN 46808
(260) 739-3931
Website  |  Facebook
The Munchie Bin – Food Truck
(260) 232-2381
Website  |  Facebook
Taste Buds – Food Truck
Website  |  Facebook
Zeb's Chicken Shack
3412 Fairfield Ave, Fort Wayne, IN 46807
(260) 744-4888
Website  |  Facebook
 
BBQ Restaurants:
Best BBQ
3004 Oxford Street, Fort Wayne, IN 46803
(260) 446-7088
Facebook
Big Earl's BBQ
2537 S Anthony Blvd, Fort Wayne, IN 46803
(260) 433-2776
Facebook
Big Momma's Kitchen
1307 Oxford St, Fort Wayne, IN 46806
(260) 220-0852
Facebook
Brooks BBQ & Chicken – Food Truck
(260) 999-2281
Facebook  |  Instagram
Dunbar's BBQ
413 W Paulding Rd, Fort Wayne, IN 46807
(260) 206-2262
Facebook
Get Jimmy's BBQ – Food Truck & Catering
(260) 267-6250
Website  |  Facebook
Hoosier Daddy's BBQ
2650 Coliseum Blvd S, Fort Wayne, IN 46803
(260) 423-2555
Facebook
Lewis Street Grill
425 E Lewis St, Fort Wayne, IN 46802
(260) 755-1093
Facebook
Neighborhood Smokehouse
1403 Winter St, Fort Wayne, IN 46803
(260) 739-7041
Website  |  Facebook
Snacks on Wheels
1112 Home Ave, Fort Wayne, IN 46803
(260) 220-5095
Facebook
Vernell and Family Catering
4924 S Calhoun St., Fort Wayne, IN 46807
(260) 573-7933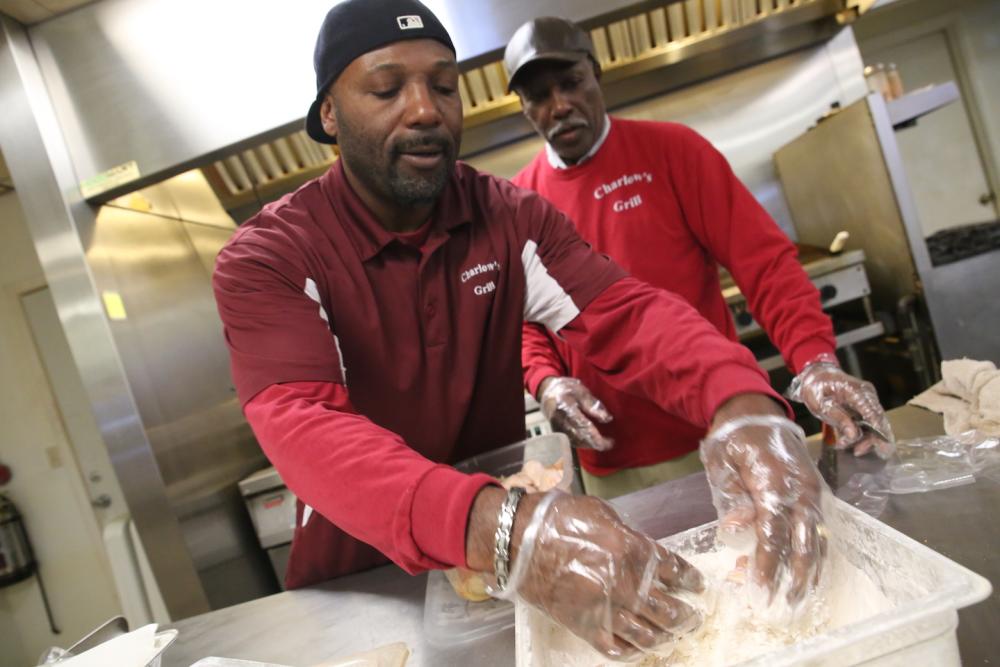 Charlow's Grill / Photo Credit: William Bryant Rozier
Soul Food Restaurants:
Charlow's Grill
3103 Oxford St, Fort Wayne, IN 46806
(260) 745-8313
Facebook
Hawkins Famous Fish and More – Food Truck
(260) 515-8499
Website  |  Facebook
Hawkin's House of Fish
2619 Weisser Park Ave., Fort Wayne, IN 46803
(260) 456-2040
Kelly's Kitchen
3217 Vesey Ave., Fort Wayne, IN 46809
(260) 206-3891
Nona's Soul Food
3103 Oxford St. Fort Wayne, IN 46806
(260) 754-8313
Facebook
One Love – Food Truck
(260) 417-7233
Website  |  Facebook
RMY's Restaurant
3402 Wayne Trace, Fort Wayne, IN 46806
(260) 456-1409
Facebook
Savannah Soul – Food Truck
(260) 418-2822
Website  |  Facebook
ShoNuff Foods - Mobile and Catering
(260) 443-3348
Facebook
 
Bakeries and Sweets:
All-in-1 Cakes and Events
(260) 702-7555
Facebook
Cakes N Plates – Bakery
(260) 385-6671
Facebook
Couture Cakes – Bakery
(260) 418-7849
Instagram: @couturecakesarefabulous
Dom's Desserts – Bakery and Catering
(234) 228-3165
Facebook
Dreamie Pastries
Facebook | Instagram: @dreamiepastries
Goodies - Food Truck
(260) 203-7238
Facebook | Instagram: @goodiestraphouse
Kay's Treats – Popcorn
(260) 234-6398
Facebook
M.A.K.'s Chocolates
Facebook | Instagram: @makschocolates
Puff's Pastries LLC – Bakery
(260) 433-9398
Facebook  |  Instagram: @_puffspastries
R&B Treats – Bakery
Facebook
Robbin's Sweet Table – Bakery
(260) 443-6738
Facebook
Savory and Sweet - Food Truck
(260) 310-9234
Facebook
The Sweet Spot LLC – Bakery
2118 Inwood Dr, Suite 103, Fort Wayne, IN 46815
(260) 203-0951
Website  |  Facebook
Whipp It Desserts & Pastries LLC – Bakery
916 W Coliseum Blvd, Suite 6, Fort Wayne, IN 46808
(260) 502-5858
Facebook
Food Prep & Carryout:
Ethiopian Food Catering
(260) 498-7862
Facebook
Happy Juice Fort Wayne – Restaurant and Bar
(708) 979-2905
Facebook
Set the Table – Carryout Restaurant
(260) 209-9949
Facebook
Smile More Meal Prep – Weekly Food Prep & Delivery
1025 W Rudisill Blvd, Fort Wayne, IN 46807
(260) 414-0227
Website  |  Facebook
Groceries and Markets:
Thomas Brownlee & Sons Market
613 Oxford St, Fort Wayne, IN 46806
(260) 744-1613
Website  |  Facebook
Utopian Community Grocery
608 Oxford St, Fort Wayne, IN 46806
(260) 203-9177
Website  |  Facebook
Black-Owned Franchises:
Biggby Coffee at Georgetown
6568 E State Blvd, Fort Wayne, IN 46815
(260) 245-6078
Website  |  Facebook
Popeyes
2615 S Calhoun St, Fort Wayne, IN 46805
(260) 456-0900
Website
 
TCBY at Georgetown
6422 East State Blvd, Fort Wayne, IN 46815
(260) 493-2795
Website
Wingstop
407 W Coliseum Blvd, Fort Wayne, IN 46805
(260) 755-6397
Website  |  Facebook

Wingstop
5129 Illinois Rd, Fort Wayne, IN 46804
(260) 739-7397
Website  |  Facebook
This blog was originally published in June 2020. Last Updated: May 2022