We all know that breakfast is the most important meal of the day. But how do we know it? Because it was conventional wisdom that was repeated throughout our childhoods. The source of that conventional wisdom, as it turns out, might have been an ad campaign.
From the garbage plate to southern-style cornbread waffles, and griddle toppers Fort Wayne, Indiana offers you the perfect restaurants to start your day or weekend off right!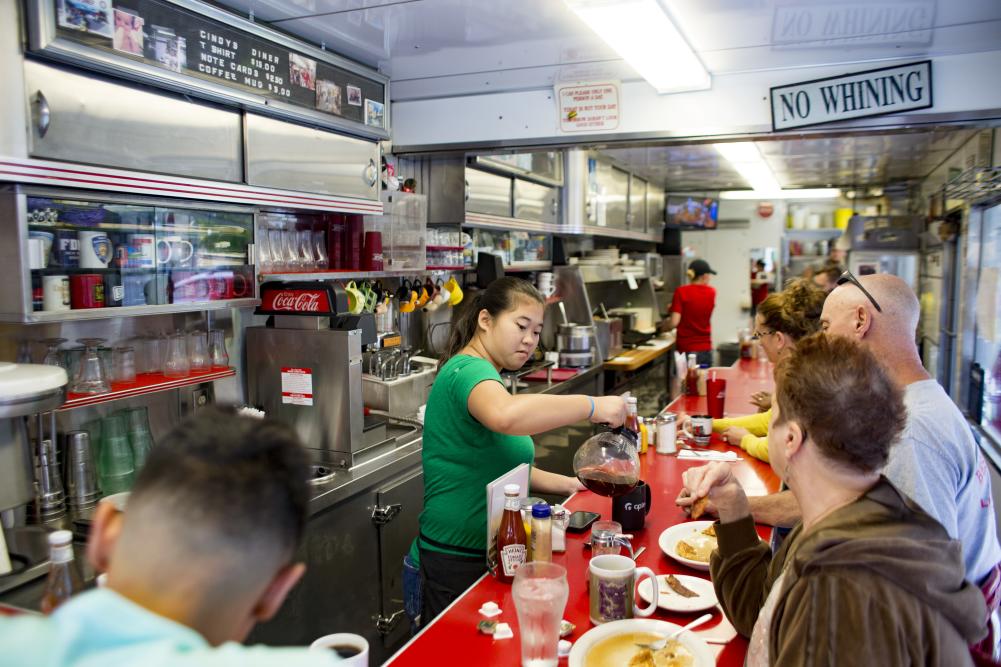 Start the Most Important Meal of the Day at these Fort Wayne, Indiana Restaurants
The Liberty Diner
The Liberty Diner is a Manhattan-styled eatery,
and you know what that means:
smoked salmon for breakfast.
The Liberty Diner offers a bagel with cream cheese, of course, but it also offers a distinctive dish wherein the salmon is paired with savory potato pancakes. It is also known for its Greek-style egg dishes (omelets and frittatas). If you are feeling adventurous, you should try Liberty's Michigan apple and cheese omelet.
2929 Goshen Road, 260.484.9666, libertyfw.com
The Bluebird
One of the things that keep people coming back to The Bluebird is Griddle Toppers. Griddle Toppers are the eleven toppings that transform waffles, pancakes and French toast into any ambrosia you desire. The Bluebird also has angel food cake French toast, the idea of which might seem scandalously decadent, but remind yourself there are no breakfast rules to break. It's open season.

4410 Bluffton Road, 260.478.4976
Waynedale Café
Authentic Mexican and Tex-Mex breakfast options aren't easy to find, which 
is why the Waynedale Café is a treasure. In addition to many of
 the more traditional American breakfast options, the Waynedale
 Café offers huevos rancheros,
 chorizo and eggs, a Mexican-style steak and chilaquiles, a dish which consists of fried tortillas topped with eggs, a red or green sauce and steak or chicken.
5700 Bluffton Road, 260.478.8129
Klemm's Candlelight Café
Klemm's is one of two local eateries in town (Cindy's being the other) that have achieved regional renown for its breakfast "garbage." Naming an entrée garbage is a risky enterprise, but the tasty garbage at Klemm's  (basically, a well-blended omelet) could turn Oscar the Grouch into Glinda the Good Witch. Klemm's ladles sausage gravy over its garbage. People who live in the '05 tend to claim everything in the '05 is better and in the case of Klemm's, they're definitely onto something.
1207 E. State Boulevard, 260.471.6828
Spyro's Pancake House
Among the many things Spyro's does well in the morning is its southern-style cornbread waffle. It is infused with bits of sausage. Add maple syrup and you have the best combination of sweet and savory since Reese's combined chocolate and peanut butter. Spyro's also offers pancakes stuffed with ham and versions of French toast made with angel food cake, raisin bread and croissants, respectively. Fresh squeezed orange juice is a lovely touch.
6455 W. Jefferson Boulevard, 260.436.7797, spyrospancakehouse.com
Cindy's Diner
Cindy's is a historic, 15-seat, downtown lunch wagon that was recently purchased by longtime server and general manager Angie Harter. It is a place where mayors rub elbows (quite literally) with construction workers. Cindy's has many fine breakfast options, but the diner's garbage plate is tops: ham, potatoes, onions and cheese combined in such a deft way that the result is both filling and somehow lighter than you would assume. It also offers fresh doughnuts made with a machine rescued from the long-defunct downtown department store G.C. Murphy's.
230 W. Berry Street, 260.422.1957
Chrome-Plated Diner
The Chrome-Plated Diner is a favored breakfast spot of people who frequent the North Anthony Corridor, a cool span of asphalt that features some of the city's trendiest coffee shops, restaurants and record stores. The Chrome-Plated Diner is known primarily for its homemade pies, and if someone tells you that you can't have pie for breakfast, banish that person from your life. One of the diner's breakfast menu highlights is the Chromed Benedict. The Chromed Benedict is a true eggs Benedict with no frou-frou spins: English muffin, salty ham, poached eggs and Hollandaise sauce.
3434 N. Anthony Boulevard, 260.387.7692
Kari's Cozy Nook
One of the claims to breakfast fame of Kari's Cozy Nook is its Italian omelet. It's an omelet done up like a New York-style Italian sub sandwich without the hoagie bread. Combining French and Italian cuisines this way may offend Food Network sensibilities, but what happens at the Cozy Nook stays at the Cozy Nook.
2896 E. Dupont Road, 260.416.0008
Cosmos House of Pancakes
It almost goes without saying (given the name) that the pancakes at Cosmos are varied and delicious and as big as a house. Well, as big as a dollhouse. But it also has a Greek Casserole — a eggy baked creation consisting of a mix of Mediterranean ingredients — and a crab omelet — featuring a rare breakfast appearance from that titular crustacean. There is the Pancake Sandwich, two flapjacks with ham off the bone in between them, and French toast with your choice of thick or thin bread. Speaking of thinness, Cosmos offers crepes, including the world-renowned Crepes Suzette. Crepes Suzette, named for a French actress, is traditionally made with oranges and orange-adjacent products, but Cosmos goes the strawberry route. One of Cosmos' crepes options features a cheese stuffing. If I didn't know better, I'd say this particular crepe selection is a blintz in disguise.
3232 St. Joe Center Road, 260.492.6262
Sun Rise Café
The Sun Rise Café is known and loved for its creative omelets: the John Wayne (with a ladle of cowboy chili on top), the Pay You On Tuesday (inspired by the Philly Cheesesteak sandwich) and the Hawaii 5-0 (ham and pineapple in that one). Sun Rise Café's pancakes are also widely praised for their perfect balance of crispiness and fluffiness.
10230 Coldwater Road, 260.416.0400
Sara's Family Restaurant
Sara's is known for its historically-named entrees, dishes named after presidents and other American luminaries (Hilary Clinton visited there for a confab during her first presidential campaign). Sara's is also known for its vast sub-menu of ingenious eggs Benedict options: variations incorporating crab cakes and salmon and evoking BLT and Reuben sandwiches. Especially adventurous diners get the jalapeno pancake in orange sauce, a menu
item that challenges your definition
of what breakfast can be — and
leaves you better for it. Sara's will
also add an atypical protein to your egg-and-toast order, including meatloaf or a 10-ounce hamburger. Sara's even has giant breakfast taters, which are stuffed baked potatoes, but with a breakfast twist.
5792 Coventry Lane, 260.436.4185, sarasfamilyrestaurant.com
Lunch Box Café
One reason the Lunch Box Café is so popular is that its recipes were devised by Gerhard Heinecke, who cut his culinary teeth at Gardner's, a beloved and much-missed downtown drive-in restaurant. One of the best things to order is the steak omelet, which is absolutely packed with tender ribeye.
8814 Coldwater Road, 260.490.5722, lunchboxcafefw.com
Joanna's Family Restaurant
If you want food like grandma used to make (and service like grandma used to lovingly provide), Joanna's is a good bet. That's not to say all grandmas are alike, but if yours was (or is) a cheerful comfort food virtuoso, then the fare and bonhomie at Joanna's will feel familiar. Highlights from the breakfast menu include stuffed French toast, ribeye steak and eggs, banana crepes and the artichoke and mozzarella omelet.
10368 Leo Road, 260.471.4848
Rich's Café
Rich's calls itself the city's premier omelet outlet, and for good reason. Interestingly, it's the veggie omelet and the meat lover's omelet which are most often praised. Coffee is included with breakfast — another plus. Rich's also offers a dedicated low-carb breakfast plate, which is a rarity in these parts.
3411 Lower Huntington Road, 260.478.1996
This post is provided by Fort Wayne Magazine. Subscribe to get the monthly magazine delivered to your home.
Article by Steve Penhollow, Header Photography by Dustin Mckibben