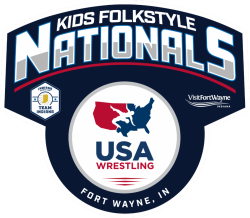 FORT WAYNE, IN (September 21, 2023) -- USA Wrestling has officially chosen the Allen County War Memorial Coliseum in Fort Wayne, Indiana as the host location for their 2024 Kids Folkstyle Nationals. The event looks to bring 5,000 athletes and their families to Fort Wayne, January 26 - 28, 2024.
The 2024 USA Wrestling Kids Folkstyle Nationals was created after USA Wrestling decided to separate its youth age divisions from the high school age divisions at the national tournament level. The age divisions being contested at the event in Fort Wayne include 8U, 10U, 12U and 14U.
This event also brings boys and girls together for their Folkstyle National Championships for the very first time.
Originally, the event, created in 1997, featured competition for boys and has been held in Kansas City, MO, Topeka, KS, and Cedar Falls, IA.
The USA Wrestling Girls Folkstyle Nationals was created in 2008, and has been held in Oklahoma City, OK, Colorado Springs, CO, and Omaha, NE.
The combined events are now the newly designed USA Wrestling Kids Folkstyle Nationals, which has been moved up to an earlier time of the year to better correlate to the Youth Folkstyle schedule across the nation.
This event is included in the prestigious USA Wrestling Triple Crown for both boys and girls at all four age levels.
"USA Wrestling is excited to partner with Visit Fort Wayne and the local sports community with one of our most important youth wrestling tournaments of the year. Wrestling is a growing sport for both boys and girls, and this will be a true showcase of our nation's best young athletes. We are confident that our athletes and their families will have a tremendous experience while in Fort Wayne at the USA Wrestling Kids Folkstyle Nationals," said Pete Isais, USA Wrestling National Events Director.
Jazmin Zavala, Visit Fort Wayne, Sports Sales Manager says, "We are thrilled to welcome this high-caliber youth wrestling event to Fort Wayne in 2024 in partnership with the Indiana State Wrestling Association and the Memorial Coliseum. As we continue to steadily grow as a strong youth wrestling hub of the Midwest, we look forward to providing the best wrestling athletes from around the country with a top notch national experience that the industry has come to expect from our local wrestling community partnerships."
For additional information or media interviews, please contact:
Jazmin Zavala, Visit Fort Wayne Sports Sales Manager
jazmin@visitfortwayne.com
(260) 424-3700
-or-
Pete Isais, USA Wrestling, Director of National Events
pisais@usawrestling.org
(719) 598-8181
##
Visit Fort Wayne, is the official destination marketing organization for Fort Wayne and Allen County. Each year, over 7 million people visit Fort Wayne and generate $803 million in direct economic impact.
Visit Fort Wayne, the Fort Wayne/Allen County Convention and Visitors Bureau, is the not-for-profit organization whose purpose is to expand Fort Wayne's economy by attracting convention and leisure visitors. Each year, millions of dollars from visitor spending generate increased commerce, sustained jobs and enhancement of Fort Wayne's Image.