Visit Fort Wayne Welcomes Jill Boggs as New CEO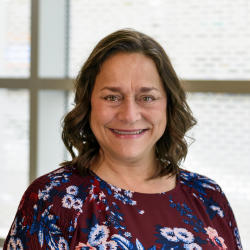 Visit Fort Wayne, the Fort Wayne Convention and Visitors Bureau, has hired Jill Boggs as their new President and CEO, effective February 14, 2022. 
Visit Fort Wayne's Board of Directors retained SearchWide Global, an executive search firm, to manage the national recruitment process for the President and CEO role within the organization. 
Boggs is a decisive and influential executive who has a history of building community-focused organizations. She has most recently worked as the CEO at the Kosciusko County Convention and Visitors Bureau and has also served as the Assistant Vice President of University Marketing and Communications at Trine University and as the President and CEO of the Angola Area Chamber of Commerce. She holds a Bachelor of Science in Social Work from Ball State University and a Master of Science in Management from Indiana Wesleyan University.
"We are thrilled to have someone of Jill's caliber and experience as the next leader of Visit Fort Wayne," said Kelly Updike, President & CEO of the Embassy Theatre and Chair of the Visit Fort Wayne Board of Directors. "Jill's strong knowledge of the destination marketing industry and its emerging trends, and her ability to connect that knowledge to a vision for growth, set her apart from other candidates we met in our national search. She also brings experience in economic development, marketing and staff development to our already-thriving organization. We are excited about Visit Fort Wayne's growth potential."
In her new role, Boggs will be responsible for the overall administration, supervision, and operation of Visit Fort Wayne - Allen County's Convention and Visitors Bureau.
"I am honored to be selected as chief executive of the organization that represents Allen County and Fort Wayne as a vibrant destination in the visitor economy," said Boggs. "Having this opportunity to continue building upon a foundation of excellence, and to work alongside a team of experts, is quite frankly, a dream becoming reality."
---

Final Week of Savor Fort Wayne 2022
Enjoy Savor Fort Wayne in its last week leading up to Sunday, January 23.
Discover a restaurant you haven't yet visited or enjoy a long time favorite among the 68 Fort Wayne restaurants offering special 3-course menu deals to enjoy. Our biggest Savor yet!
Diners can use the STAR Rewards Card to enter for a chance to win $500 in restaurant gift cards—just for eating at participating Savor Fort Wayne restaurants. You can pick up a STAR Rewards Card now at any local STAR Bank location, participating restaurants, or the Visitors Center, or download and print one.
See participating restaurants and start browsing the menus at SavorFortWayne.com.
---
Request Your 2022 Fort Wayne Visitors Guide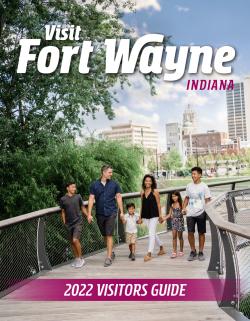 Visit Fort Wayne is pleased to announce the publication of our 2022 Official Visitors Guide, featuring 98 pages about our community's many attractions, museums, festivals, and arts & sports venues. 
 
70,000 copies of the guide will be distributed from our Visitors Center to people who contact us, or through one of the hundreds of distribution locations in our region. The guide is also used in relocation packets by area businesses and real estate agents.
 
The Visitors Guide is just one of the many ways we promote Fort Wayne. Our website hosts 1.5 million visitors annually, our social media reaches tens of thousands every week, and our advertising campaign is viewed over 30 million times annually - all inviting people to visit Fort Wayne.
 
Thank you for helping us promote Fort Wayne to attract over 6.5 million visitors annually, who put $741 million directly into our local economy, sustaining over 14,198 jobs for our residents.
 
NOTE: If your organization or business has received Visitors Guides through our delivery service in the past, you can expect your delivery in the next two weeks. If you do not receive them by that time, or if you need a supply immediately, please contact the Visitors Center at info@visitfortwayne.com or (260) 424-3700. Or, request your free copy by mail.
---

Shop local brands, artisans, and Fort Wayne merchandise at the Fort Wayne Visitors Center's online store! 
927 S Harrison Street, Fort Wayne, IN 46802
---