Accolades and Awards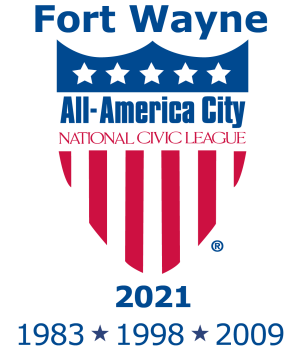 Fort Wayne has long been known for its high quality of life. Now expert analysis is backing up what locals have known for years: Fort Wayne is the place to be. Fort Wayne is a four-time winner of the All America City awards from the National League of Cities. Fiscal Times magazine rated Fort Wayne First in the Nation for Job Creation. Business Week named Fort Wayne as one of the best places to raise children. InsuranceProviders.com rated us the Fifth Safest City in the United States. 
Our world-class attractions are also being recognized. The Genealogy Center of the Allen County Public Library is the largest public genealogy collection in the United States. Our zoo has also won top honors. Downtown's Parkview Field has been ranked the #1 Minor League Stadium in the United States by Stadium Journey magazine. And Street & Smith's Sports Business Journal called Fort Wayne one of the best cities for minor league sports.
Fort Wayne was recently featured on a Travelocity® blog as a Top 5 Best City in the U.S. to visit with Kids. Check out our trip ideas page to plan your next getaway.
View Recent Accolades and Awards
Other Facts & Accolades

Home of the Fort Wayne Daisies - the professional women's baseball team featured in the movie, "A League of Their Own." 

First Night Baseball Game - Site of the first successful night baseball game played under lights. 

Johnny Appleseed - The official burial place of John Chapman (Johnny Appleseed) is located here, and has a honorary annual festival in his name.  

Tree City USA - We have held this designation from the National Arbor Foundation for 18 years. 

Nicknames - Known as the City of Churches, City of Restaurants, the Summit City, the City that Saved Itself, and named an All-America City four times! 

Arts United - The third oldest united nonprofit arts fund in the United States and the second largest arts council in the State of Indiana is located here in Fort Wayne. 

Most Affordable Housing - Fort Wayne was ranked as having the most affordable housing market in five countries (The United States, Canada, Ireland, New Zealand, Australia, and the United Kingdom) according to the 3rd Annual Demographic International Housing Afford ability Study in 2007.
National Business Rankings - Visit the Northeast Indiana Regional Partnership to see how Fort Wayne ranks for doing good business.