You don't have to travel to the shores of Tripoli to pay tribute to America's military – you can stop right here in Fort Wayne, Indiana. From an air park to a coliseum to city parks, Fort Wayne has a lot of sites that commemorate the valor of the Summit City's fighting forces.
Remembering Those Who Serve in Fort Wayne, Indiana

Veteran's Memorial National Shrine and Museum
Located at 2122 O'day Road, the shrine is an outdoor feature that has a chapel-like structure, a Vietnam Veterans Memorial, and the Indiana boxcar from the French Gratitude (or Merci) Train. The boxcar was one of 49 sent from France in 1949 as a thank-you gift to the United States for aid sent to France following World War II.
Each of the then-48 United States was given a boxcar, and Indiana's boxcar eventually found its home here. Contents of the boxcar have largely disappeared, but some artifacts, like a beautiful peasant bonnet, and a tiny working model of a spinning wheel, can be found in the archives of the History Center.
As of Memorial Day 2021, you can now see the previously travelling Vietnam Wall replica, now permanently installed on the grounds. This "Healing Wall" is an 80% size replica of the original memorial in Washington D.C. All are welcome to come and remember those who served by honoring their names on this iconic wall.
The Shrine Museum contains over 5,000 artifacts pertaining to American participation in military conflict, from the Civil War to now. The museum is reportedly open on weekends, but it might be a good idea to call ahead before you drive over (find their information here).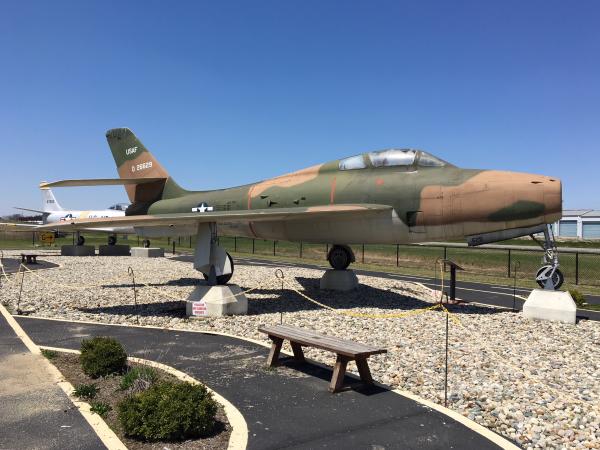 F-4 Phantom II - By J. Danielson
Heritage Park at the 122nd Fighter Wing Air National Guard Base
If checking out military aircraft like an F-4 Phantom II, or an F-16 Fighting Falcon is on your bucket list, then stop by Heritage Park. Designed by CMSgt. John Furge and MSgt. James Wilcox (retired), the park was deliberately placed outside the air base, so that everyone could explore the seven different aircraft - and one land vehicle - mounted for display here.
Furge explained that the aircraft and Humvee featured in the park are all examples of vehicles that "(represent) our primary operational aircraft used in Fort Wayne's base."
Some of the aircraft are relics of the past, like the F-84F Thunderstreak, which, according to Furge, was used in the 1960s. And there are more modern aircraft, like the A-10 Thunderbolt II. The model on display here was a 'gitabird' – a ground instructional training aircraft (i.e. maintenance personnel learned on this machine).
Once it had fulfilled its purpose, the A-10 was slated for retirement. But the Fort Wayne base asked to keep it, for use as a display item. Permission was granted, all useable parts were stripped out, and it found a place in Heritage Park.
A picnic pavilion and a playground are on the grounds of Heritage Park, and it is open from 9 a.m. to dusk every day of the week, unless there is inclement weather or a national security incident that puts the base on lockdown. 
The airpark can be found at 3005 W. Ferguson Rd.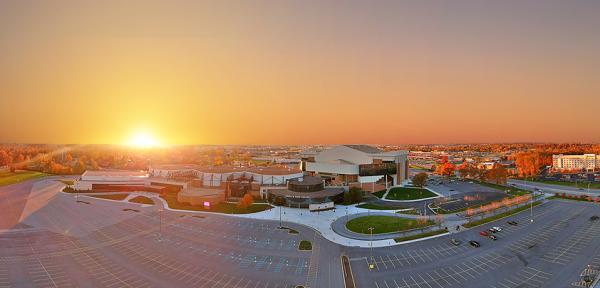 Allen County War Memorial Coliseum
It started in 1944 as an idea: build a fieldhouse as a war memorial. It opened in 1952 and has undergone many renovations. Today, it has an arena with seats for almost 13,000 spectators and is still dedicated to honoring those who serve in the armed forces.
The Veteran's Plaza is outside on the northwest side of the Memorial Coliseum, where any passerby can stop for a look. Included in the Plaza is an F-84F Thunderstreak, a fighter jet that flew in both the Korean and Vietnam conflicts. The jet has been at the Memorial Coliseum since 1973.
Also in the Veteran's Plaza is an anchor from the U.S.S. Indiana, a WWII-era battleship that, among other actions, was part of the invasion of Iwo Jima. Inside the Memorial Coliseum, you will find Memorial Hall, which lists the names of Allen County military service members who lost their lives in service to the United States.
The Memorial Coliseum is located at 4000 Parnell Avenue.
Memorial Park
Memorial Park was designed as a tribute to the fallen military personnel of World War I who were from Fort Wayne and Allen County. The 42-acre park features a memorial grove of trees and some statuary (including a triple arch that is near Glasgow Avenue).
The park, which dates back to 1918, also pays tribute to aviation pioneer Art Smith, who allegedly made some of his first flights at this park in the early 1900s. Smith also helped train WWI pilots, pioneered the concept of skywriting, and became a U. S. Postal Service pilot.
Today, in addition to the statuary and memorial trees, there is a pavilion, a playground, a baseball diamond and basketball courts, a pool, and a sprayground.
Find Memorial Park at 2301 Maumee Avenue.
Lawton Park
Although not originally chosen as a military tribute, Lawton Park features a monument to Fort Wayne's Civil War veterans. Formed in 1866, the park was originally supposed to be "an Indiana State Fairgrounds." But it became Lawton Park in 1900, named after Major General Henry W. Lawton, who died during the 1899 Philippine Insurrection at Luzon. Lawton, a recipient of the Congressional Medal of Honor during the Civil War, became a national hero as a result of his extensive military career. Lawton's statue can be found in Lakeside Park.
Also at Lawton Park, you can find the Kids Crossing Playground, which is a "scaled version" of Old Fort Wayne; a skateboard park; the Rivergreenway; and the Old Fort.
Find Lawton Park at 1900 N. Clinton St.
Fort Wayne also has some smaller memorial/museum areas which can be seen but do not include picnic grounds/recreational space. They are:
The Korean War Veteran's Association Chapter One Memorial
Located inside the main entrance of Concordia Cemetery, 5365 Lake Avenue. Parking is inside the cemetery, and there are benches near the flagpole and memorial area.
The Greater Fort Wayne Aviation Museum
Situated within the Fort Wayne International Airport, the museum focuses on aviation in the tri-state area, including the careers of early pilot Art Smith and WWI-ace Lt. Paul Baer. Tours are about 1 ½ hours long, and there is no charge, but reservations are required at least 2 weeks in advance here.
M41 Walker Bulldog Tank
Formerly situated on the grounds of the Johnny Appleseed Campground, this 51,000 pound Vietnam War-era tank has been relocated to the Riverview Cemetery, 11428 Carroll Road.