When you walk into the Fort Wayne Children's Zoo on the last day of the season, it feels almost like any other summertime visit, but just a little sweeter. 
The Fort Wayne Children's Zoo can be enjoyed through October 30, and autumn is the perfect time to enjoy a fun family weekend getaway to Fort Wayne, Indiana.
Autumn is the Perfect Time to Visit the Fort Wayne Children's Zoo
Any time you visit the Fort Wayne Children's Zoo is a great time! However, if you're lucky enough to enjoy a visit in the fall, you get to experience all of the great classic zoo activities, but with fewer crowds and a cool fall atmosphere. 
The Fort Wayne Children's Zoo Fall Transformation
In the African Journey, there is such a pretty solitude of being outside where only the wildebeests roam and the sky ride floats above. Looking up over the rocks and hills, you see tall grasses and the decidedly deciduous trees coming into their glory of golden red. It feels peaceful, maybe like what an open day on the savannah feels like on the African continent.
In the Indonesian Rain Forest, leaves are everywhere. Inside, the Orangutans blink sleepily in the sunlight filtering inside. It's hard to separate the tropical plants inside the big dome from the outdoor plants on the walkways. The only difference, really, is that the native Indiana plants are starting to change colors.
The Australian Adventure canoes have a distinct thumping bumping noise as they come into the loading area. Zoo helpers balance on the sides of the waterway, wrangling the boats into position so that kids and their families can find just the right spot without getting wet or slipping.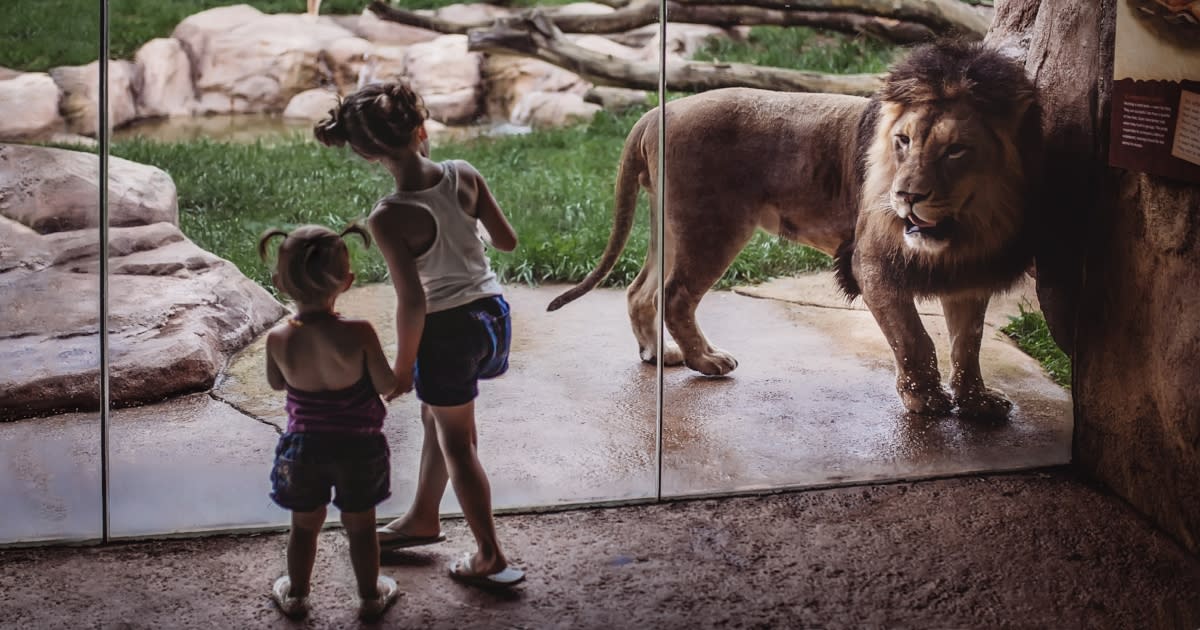 And over in the Indiana Farm area, the goats are on the loose. On the one hand, it's cute to see how they gather at one of their doorways when a zookeeper comes with snacks – each goat eager to get his or her share, and a little more, if possible. But if you visit with the goats, keep your own snacks well out of range. These voracious animals will nibble on shoelaces and take a peek inside stroller carrier bags, seeking yummy things that someone was planning to eat after they visited the hooved munchers.
From the cooler temps, golden hues, and lively animals, Autumn at the Fort Wayne Children's Zoo is a magical time.
Wild Zoo Halloween - Savor the Season
Plus, don't forget about the Wild Zoo Halloween when the fall celebrations are kicked up a notch with activities and fun fall-themed decorations lining the zoo pathways! From 10am-4pm on Saturdays and Sundays, visitors can enjoy trick-or-treating, a Mystery Maze, Creepy Critter Keeper Chats, and many other kid-friendly activities throughout the zoo. Wild Zoo Halloween returns the last 4 weekends in October.
In addition to the Wild Zoo Halloween activities, don't miss these special themes and highlights throughout the month:
October 8-9 — Truck & Tractor Weekend (with music by the Atomic Sharks in the Australian Plaza - 11am-2pm)
October 15-16 — Superhero & Princess Weekend (11am-2pm)
October 22 — Witch & Wizardry Day (11am-2pm)
October 23 — Princess & Superhero Day (11am-2pm)
October 24 — Galactic Day (11am-2pm)
October 29 — Monster Mash Dance Party (11am-2pm)
October 30 — Pumpkin Day (10am-4pm)
*This post was originally published September 2016 and has been updated and reformated. Last Updated: October 2022